Shinigami
Surface
Shallows
Depths
Abyss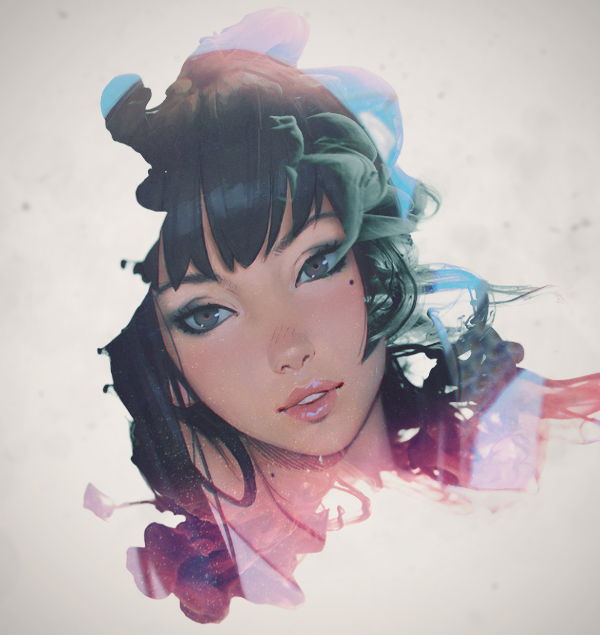 You never really remember
the beginning of a dream, do you?
Name:
Hazuki Tsukimiya, 月宮 葉月
Age:
20
Gender:
Female
Titles & Duties
First Division, Fifth Seat
Surface
No man who says 'I'm as good as you' believes it. He would not say it if he did. The St Bernard never says it to the toy dog, nor the scholar to the dunce, nor the employable to the bum, nor the pretty woman to the plain. The claim to equality, outside the strictly political field, is made only by those who feel themselves to be in some way inferior.
—
C. S. Lewis, The Screwtape Letters
Height & Weight:
160 cm, 45 kg (approximates)
Hair & Eye Color:
Long, lustrous black hair, thick and soft. Eyes a cold, sullen, flinty grey.
Reiatsu
Hazuki's reiatsu is stained a deep pink, and it billows like ink in a glass of water, cloudy and voluminous. It is heady, almost dreamlike, thick and layered like midnight fog. Its tendrils extend outward playfully, teasing Hazuki's surroundings. As with most Shinigami, the color of her reiatsu seeps into her irises during moments of high spiritual resonance, dyeing the otherwise frosty grey a warm rubine red.
Appearance
The average Shinigami's body largely reflects their own self-image, and as such, Hazuki's build is largely what one would expect of a girl with her genetics in her late teens: small, light, and feminine. Her physique is an almost stereotypical reflection of a talented swimmer—lean, powerful muscles in a slim, graceful package that with slightly smaller than average breasts is neither too curvaceous nor too straight-lined. She typically wears her hair long and flowing with her bangs cut short in a style that is not entirely dissimilar to her mother's, but it isn't uncommon to see a ribbon in it or for Hazuki to wear it up, usually in a French twist. She sports two moles: one just below her left eye, and one on the right side of her neck. Her largely Asian features are complemented by minor European characteristics inherited from her mother's side: a narrow nose, large eyes, full lips and pale skin. With little to detract from her appearance, Hazuki is, in a word, beautiful—and she knows it.
Her birth and her beauty, however, have left her with some traits that aren't exactly welcoming. Her posture, for example, though certainly
regal
, betrays both her elevated station and a certain haughtiness: back straightened and shoulders thrust back as if to remind everyone around her that despite her diminutive height she can still very much look down on them. In much the same vein, her facial expressions are polite, but have an air of superiority, another silent reminder of the fact that Hazuki knows she is simply
better
. All in all, Hazuki gives the impression of being a reserved aristocrat—an impression which, all things considered, is largely accurate.
Despite this, her movement is marked with a distinct fluidity: Hazuki typically does not
enter
a room, she
sweeps into
it, and this is doubly true when she wields her blade. Her style is dancelike, flow and balance impeccable, but there is nonetheless an ever-present undercurrent of savagery there, half-hidden by her sophistication. In the same way, her step is light and graceful, but filled with intent; it wouldn't be amiss to confuse her for a member of the Second Division by the way she moved, had it not been done with such elegance. Under her ladylike exterior—proud and high-born, certainly—lies an unmistakeable core of steel, unyielding and resolute, and it shines through clearly in her body language.
Hazuki wears her Shihakushō with pride—eager, of course, to continue the legacy her parents began—and she keeps it unmodified and in good condition in order to adhere to regulations, taking special care to maintain a tasteful neckline. She wears her Zanpakutō on her left hip, and wears no visible jewelry.
When not in uniform, Hazuki adheres to the principle that
fashion fades, but style remains eternal
. As such, much of her wardrobe is what some would call timeless: refined, feminine, of high quality in both material and workmanship, and of equal parts western and Japanese.
Hazuki speaks a clear Kyōto-ben Japanese. She also speaks Norman French.
Positive Traits
PRIMARY:
Hierarchical
- Every successful society in the history of mankind has had one thing in common: a clearly defined societal hierarchy. As far as Hazuki is concerned, the divide between patrician and plebeian is not only inescapable, but wholly necessary. The slow and purposeful attempts at the erasure of the boundaries between social classes have ended in the degradation and fall of some of the greatest empires known to man, and for that reason Hazuki makes a point of always acting as befits her station, aspiring to no more and no less than her capabilities.
MAJOR:
Sophisticated
- Due in no small part to her privileged childhood, Hazuki maintains an air of refinement at all times; coarse and vulgar behavior is beneath her and so she wastes no time or energy on it. For Hazuki, elegance is the alpha and the omega, and all that comes between—from wardrobe to warfare—is invariably steeped in it.
MAJOR:
Persistent
- Never one to give up or lose sight of her goal, Hazuki resolutely pushes forward in the face of adversity in order to achieve what she has set out to do. In simple terms, she does not give up without a very good reason, and her steadfast determination has birthed a rumor that Hazuki may, in fact, be inevitability personified.
MINOR:
Disciplined
- The self-control necessary to sustain the lifestyle Hazuki leads comes naturally to her, and if the price she pays for it is a little spontaneity, she pays it gladly.
MINOR:
Patient
- Most certainly a product of her parents' tutelage—given their professions—Hazuki is in no short supply of patience, understanding that waiting for the right time to strike is just as important as the strike itself.
Negative Traits
PRIMARY:
Elitist
- When every single aspect of oneself serves as evidence of one's greatness and superiority, it is easy to let it go to one's head. Such is Hazuki's predicament: a daughter of captains, the protégée of a commander, and a powerful Shinigami in her own right, it is easy for her to look down on others less talented than herself. Her expectations are astronomical and her demands exacting, and anyone who cannot match her will frequently find themselves the target of her scorn.
MAJOR:
Brutal
- Patience only stretches so far, and when dealing with troublesome elements Hazuki will often—and sometimes with great enthusiasm—seek to resolve the situation in a display of overwhelming violence, unburdened by petty trivialities such as restraint. For her, results are paramount, and if she needs to break a few bones or shed a little blood to get what she wants, then...
MAJOR:
Distant
- Friendships are often based on equality and common interests, but for someone like Hazuki, finding peers has been difficult. Though certainly no stranger to friendships—maintaining only a few carefully selected and cultivated ones—she keeps the vast majority of people at arm's (sometimes
sword's
) length, where they belong.
MINOR:
Brusque
- Not one to mince words with those beneath her, Hazuki often cuts right to the heart of the matter, quite deliberately ignoring pleasantries and small talk. If not for her usual politeness, it would be easy to mistake her for downright rude.
MINOR:
Naïve
- Youth implies a lack of experience, judgement, and wisdom, and despite the unsettling amount of raw power and potential Hazuki displays, she is certainly no exception.
Psychology
Hazuki, as is the case with most Shinigami, is a soul fractured in two: the conscious, dominant strata of her personality forms the Shinigami, and the subconscious splinter forms the Zanpakutō.
Outwardly, Hazuki is a polite young lady whose manners betray her privileged upbringing, though she isn't without a certain bubbly girlishness, an enthusiasm that has grown out of not only her parents' love for her but also her gifted nature. In much the same spirit, she has a habit of speaking her mind, even if a wiser woman would—in some situations, at least—use some tact. The fact that she is Shinigami nobility in all but name is obvious; but with the added edge of knowing her parents worked their way to the top adds a certainty to her privilege that would make even the proudest of nobles feel like they were taking excessive liberties. As such, despite her good manners, there is an undercurrent of haughtiness present in Hazuki, an elitism and condescension that—while often gracious in its execution—serves to remind everyone she encounters of just who exactly she is. It wouldn't be entirely correct to call her unapproachable, but she is certainly far from inviting.
However, she isn't entirely spoiled; her work ethic is second to none and she is a firm believer of not only finishing what she starts, but that in order to continue her family's legacy it is imperative that she continues to deliver similar results. Her patience, in tandem with her persistence, gives her an aura of calm, and while her advance carries with it a certain feeling of inevitability, likening her to a storm would be wrong—instead, Hazuki is like a glacier: slow, steady, and unstoppable. Above all, however, the idea of
noblesse oblige
, which is to say
privilege entails responsibility
, is central to Hazuki's approach to life. The weight she places on a socially stratified society implies that there are those who will inevitably end up in a position above others and rather than oppress those underneath, it is the obligation of the elite to lead by example. Hazuki is well aware of the fact that she is situated far above most of the rabble, and although she can sometimes let her excellence go to her head, she never loses sight of the bigger picture: there are people above even her, and she in turn must look to them for leadership and guidance.
Morally, Hazuki adheres at her most basic level to the idea of
might makes right
. While others may argue that morality cannot be dictated by the outcome of combat, Hazuki disagrees, all too happy to quote Judge Holden's assertion that '
moral law is an invention of mankind for the disenfranchisement of the powerful in favor of the weak.
' Given her own martial nature, the idea of war being the only true test—which is to say that only through conflict can differences be resolved—is extremely appealing to her, and she applies this concept as a form of stark consequentialism: the ends justify the means. As such, she holds neither rules nor laws (both of which primarily govern the
means
) in particularly high regard as long as the end is satisfactory. Instead, she sees herself as
above
the law, which puts her in a unique position to dictate it, as justice to her is an idea born not of
equality
but of
inequality
: it is for the powerful to lead, and the weak to follow.
Hazuki has had a habit of voraciously devouring books since her early childhood, a habit greatly encouraged by both her mother and her father. She dislikes rain—much preferring the stillness of snow—and as much as she tries to pretend otherwise, she has a soft spot for cute things. She is a talented swimmer—the start of Hazuki's day is often marked by a few laps in the pool—and enjoys the art of ikebana.
Shallows
So she sat on, with closed eyes, and half believed herself in Wonderland, though she knew she had but to open them again, and all would change to dull reality—the grass would be only rustling in the wind, and the pool rippling to the waving of the reeds.
—
Lewis Carroll, Alice's Adventures in Wonderland
Zanpakutō Spirit
桜月 Sakurazuki (Cherry Blossom Moon)
Sakurazuki manifests as a young girl, no more than ten, with pixie-like ears, eyes like liquid gold and long, blonde hair to match. Her body language and expression is, in a word, relaxed, as if she was without a care in the world, and her tone is light, cheerful, and energetic. The clothes she wears are western: a double-layered dress which mimics the Shinigami uniform—black on white—and a pink silk ribbon tied around her waist the same color as the silk wrapped around the hilt of the Zanpakutō.
Sakurazuki embodies the sense of tranquility and reflection that Hazuki sometimes seems to lack: a mellow, relaxed facet of a high-strung girl's mind. In what seems like a perpetual state of well-restedness, Sakurazuki never worries about the minutia, never lets external factors cloud her judgement, choosing instead to focus on the bigger picture. Both Shinigami and Zanpakutō share a certain level-headedness, of course, but while Hazuki's is the product of discipline and careful calculation—and not entirely immune to the effects of her youth—Sakurazuki's is on another level entirely: a seemingly effortless ability to see every situation for exactly what it is and what it might entail. In many ways, Sakurazuki acts not as the voice of reason but the voice of
wisdom
; Hazuki is in no short supply of the former, but suffers a sore lack of the latter.
Hazuki does not yet know her Zanpakutō's name, though she
has
encountered Sakurazuki in her dreams.
Inner World
Accessible only in her dreams, Hazuki's inner world is locked behind the veil of sleep but provides a place in which Hazuki can meditate and reflect—often through conversation with Sakurazuki—far away from the distractions of waking.
Shallow red water stretching as far as the eye can see dominates Hazuki's mindscape, its color rich and full, clear enough to easily make out the fine white sand at the bottom. From the water sprouts lush greenery, a mangrove forest of mazelike waterways between tufts of bright leaves and white flowers. Cherry blossom petals—also pure white—fall from above like snow, settling on the glasslike surface of the water and tangled vegetation alike before eventually dissipating. Occupants of the inner world walk barefoot effortlessly on the surface of the water, their steps sending ripples into the infinite. Above, the cloudless sky cycles endlessly through day and night at an accelerated rate: clear blue gives way to deepest black as the ever-present moon—always full and shining bright with the same pink as the silk around Sakurazuki's hilt—hangs there lazily without the company of the stars.
Sealed Zanpakutō
Hazuki's sealed Zanpakutō is unremarkable; the blade is undecorated, perhaps a fraction longer than the norm, and the black saya—lacquer always polished to a bright sheen—is similarly nondescript. The tsuba, however, is a matte black oval discreetly inlaid with silver on the side facing the hilt, forming an intricate maze-like pattern which Hazuki has spent hours upon hours trying to trace through—peculiarly, never with any luck. The menuki and kashira feature cherry blossoms heavily, and like the rest of the sword's fittings are entirely in silver rather than the typical copper or brass. The tsuka-ito consists of deep and vibrant pink silk over white ray skin, adding a playful splash of color to what some would otherwise consider a very
pale
sword.
Shikai Appearance
夢を見ろ、桜月 Yume o miro, Sakurazuki (Dream, Sakurazuki)
Sakurazuki's Shikai form sees no immediate change in appearance from that of her sealed state, but the blade starts
weeping
a viscous, semitransparent red liquid—slightly thicker and a shade lighter in color than blood—as if it were vapor condensing on cold metal. This liquid is prone to spraying off the blade when swung, spattering fine droplets in long arcs of red on the surroundings.
Shikai Ability
Sakurazuki's power is straightforward: the liquid that forms on her blade is a powerful narcotic—in the classical sense of the word—which, if ingested or introduced into the bloodstream, will rapidly induce drowsiness and then a deep sleep. Its potency is such that even small cuts will have a noticeable effect, and for those with weaker spiritual constitutions even contact with bare skin will be enough to induce sluggish behavior. Hazuki calls the liquid
Sakurazuki's petals
and she is completely immune to the effect of the
petals
on her bare skin, but will succumb to it like anyone else if she ingests it or introduces it into her bloodstream. The
petals
, though vividly colored, are flavorless. The effects of Sakurazuki's Shikai persist in her Bankai form.
Bankai Appearance
羞月閉花 Shuugetsu Heika (Abashed Moon, Wilting Flowers)
Sakurazuki's Bankai form does not truly have a corporeal manifestation, and thus cannot quite be
observed
at all, provided one is not caught in it. To an outside observer, releasing Sakurazuki's Bankai seems instantaneous: the sword is held up,
Bankai
is called, and one of the combatants is suddenly, violently—and seemingly inexplicably—eviscerated.
Bankai Ability
True to its name, Sakurazuki's manifestation of Bankai is testament not only to the sheer splendor of imagination and possibility, but also to Hazuki's own beauty. When released, it captures its wielder and any number of targets inside a shared dream from which escape is impossible. Within this dreamscape, the combatants are free to continue their fight, which to the outside observer is resolved instantaneously.
The shared dream operates on a simple set of rules:
1. Hazuki is in control of the dream.
2. The dream affects all dreamers equally.
3. The dreamscape itself cannot hurt the dreamers, only other dreamers can.
4. Dreamers wake up from the dream if they die within it, or are forcibly ejected by Hazuki.
5. The dream collapses if Hazuki is no longer in it, releasing all dreamers.
Shuugetsu Heika's lethality stems from two things: firstly, any wounds incurred during the dream are replicated on the dreamer upon waking up. This applies equally to everyone in the shared dream, and will stop just shy of outright killing them; dying in the dream will result in waking up with fatal wounds on the precipice of death. Secondly, the nature of the dream makes it difficult for those trapped within it to use their own releases.
As with most dreams, those caught in Shuugetsu Heika cannot remember the beginning of the dream, nor is it readily apparent that they are dreaming in the first place. Events and phenomena that may otherwise seem outlandish appear commonplace—
because dreams feel real when you're in them. It's only when you wake up that you realize something was strange
.
Depths
Well, you may throw your rock and hide your hand
Working in the dark against your fellow man
But as sure as God made black and white
What's done in the dark will be brought to the light
—
God's Gonna Cut You Down, Traditional
History
The Tsukimiya family is not, strictly speaking, nobility in Soul Society, nor is it a particularly large family. However, to say that there is not an element of prestige or gravitas in Hazuki's bloodline would be a sore mistake indeed. On the contrary, the Tsukimiya family, modest in size as it is, holds considerable sway in Seireitei for one reason and one reason alone: both of Hazuki's parents serve as captains of the Gotei 13.
Having first met in the Second Division, Hazuki's parents rose through the ranks together, and by the time they had begun their relationship together, Hazuki's mother, Lina, had already been promoted to the lieutenancy. In the years that followed, Hazuki's father, Kyousuke, continued to rise through the ranks and soon found himself in the Third Seat just in time for their captain's promotion to commander. From there it was clear: Lina was made captain, and Kyousuke her lieutenant. This continued for some time, but Kyousuke was unwilling to propose to Lina from a position that was beneath her own and endeavored to match her rank. Eventually, his aspirations were fulfilled and he was selected as the new captain of the Eighth Division and promptly proposed. They were married soon after, and after some decades, Hazuki was born.
Hazuki was raised in a comfortable environment that bordered on lavish, and needless to say, she was wanting for nothing during her childhood. Her parents were doting—if somewhat busy—and in her upbringing not only instilled in Hazuki many of the same virtues that had seen them through to the upper echelons of the Gotei, but also made certain to lay a solid foundation for the skills that she would later have use of when the time came for her to become a Shinigami. The heavy military influences in her childhood left their mark: she became accustomed to the ideas of rank and chain of command, just as she quickly learned that the two greatest virtues of any Shinigami were diligence and obedience. Self-indulgence had its place, of course—that much was clear from the way her parents acted around one another in the privacy of their home—but it was something intimate, shared only with friends and family.
With the utmost respect for her tutors, Hazuki worked hard to please her parents, and please them she did. They were enchanted by their dutiful daughter, who even before her tenth birthday was making significant progress in the Shinigami arts, having already manifested a Zanpakutō of her own. Hazuki devoted herself to becoming someone worthy of her parents' legacy, and like many children who idolize their parents, came to adopt many of their habits as her own. She shared her mother's talent for swordplay and flower arrangement just as she shared her father's keen eye for detail and love of literature, and when she turned eighteen she was enrolled in the Spiritual Arts Academy.
It was, in many ways, just a formality, and she completed the curriculum in record time, graduating a scant year after admission. What the Academy had to teach, Hazuki already knew and surpassed. She found herself assigned to the First Division upon graduating, and was immediately promoted to Fifth Seat, partly a result of Hazuki's skills, and partly a result of the fact that not even the First was impervious to what was taking place in the world of the living. Unbeknownst to Hazuki, however, this had all been orchestrated by her parents. With the aid of the captain-commander, they had seen to it that Hazuki would be granted a position that would allow her to stay out of harm's way and under the watchful eye of the commander's mentorship until the situation on earth normalized.
A year has passed since then, and while Hazuki is growing accustomed to her rank, her lack of experience has left her frustrated. She has yet to leave Soul Society for a single assignment, and though she takes a certain amount of pride in the fact that she is regarded as a trustworthy pair of eyes and ears in matters of particular interest to the commander, she can't help but feel that she is being sidelined on purpose without knowing why.
As her frustration mounts, she finds herself contemplating more radical plans of action. Does the captain-commander's hand need to be forced? Or will Hazuki simply hope for someone to make a radical miscalculation to her benefit? Whatever happens, Hazuki hopes it happens soon.