Post by Sora Shiryoku on Aug 7, 2018 21:06:13 GMT -5
Preface:
Sora is effectively a finished character, and thus I've posted his sheet here. However, in subversion to my original statement that I intended to play my old Quincy, Azuma, as a secondary, I've decided that I will instead be writing a new Quincy character who I'm actually proud of, as well as an Arrancar. Now without further ado, here are the sheets.
Sora:
Sora Shiryoku: "Empty Eyes"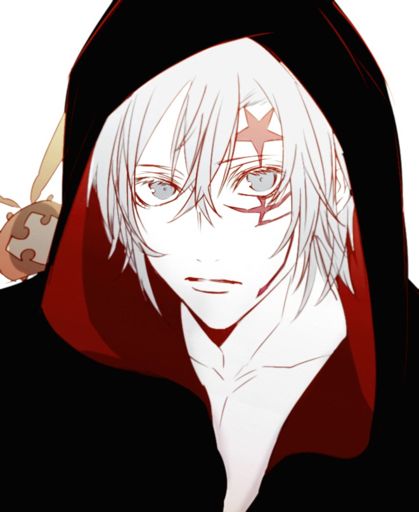 ---
Name:
Sora Shiryoku | "Empty Eyes"

Rank/Title:
Unseated Member of 1st Division

Age/Apparent Age:
251/25

Gender:
Male

Height & Weight:
6'2"/82 Kg
Birthday:
July 2nd, 1771

Place of Birth:
80th Rukongai District, East
Eye & Hair Color:
Grayish-Blue Eyes & Grayish-White Hair

Positive Traits:
Humble, Collected, Honest, Empathetic

Negative Traits:
Non-Confrontational/Pacifistic, Blunt, Cynical/Distrusting
Loyalties:
The First Division, and by extension most of the Gotei, despite his lack of trust in many of those in positions of power.
Snapshots:1771 -
Born blind to two unknown parents, abandoned in the Eastern 80th Rukon district.
1771 -
Found and taken in by a small group of older children (a few of whom were spiritually capable) who would grow to become his "family".

1805 -
Learned what the meaning of the term "blind" was, having assumed everybody else was in the same situation as him for most of his life.

1825 -
As the rest of Sora's senses developed to compensate for his lack of eyesight, so did his spiritual abilities, leading to an upturn in his spiritual energy and by extent, his "sixth sense".

1835 -
Began consciously focusing on improving that "sixth sense", slowly developing it into a rough type of "sight".

1840 -
"Watched" as most of his family was killed in an encounter with bandits from Eastern 79th Rukon District all over some clean water and their few personal possessions. This sowed the seeds of cynicism within
Sora, having coped by justifying his family's death through the idea that no man was able to escape greed and selfish desire, especially in the Rukongai, no matter how deeply pledged to morality they are.

1851 -
Having grown tired of the constant violence and perpetual poverty of the Rukongai and wishing to overcome his disability on a higher level, Sora approached Shin'o Academy and was accepted based on his spiritual energy and (somewhat) impressive reiatsu perception, even then by only the skin of his teeth.

1857 -
Graduated the Shin'o Academy, having improved his reiatsu perception, as well as having taken to the more physical disciplines splendidly, with a focus on Hakuda. Was sent to the Second Division based on these relatively low-key, precision based skills, as well as his background stealing as a child (albeit that was less publicized).

2000 -
Left the Second Division after growing tired of living a life of subterfuge, disliking the intimate deception he had to produce under various circumstances.

2001 -
Achieved his Shikai and transferred to the First Division, seeking a less underhanded path.

2023 -
Present day, is focusing on integrating his Shikai with his Hakuda abilities.
---
Physical Description:
Sora has a lean, chiseled frame, with broad shoulders and a posture that many people note to appear as if its been trained to a level of relaxed perfection. Despite this, his demeanor and general presence aren't particularly imposing due to his naturally calm body language. His skin tone is also a relatively pale white. His legs are relatively long in comparison to his upper body, and appear bony at first glance, but are actually quite muscular upon further inspection. His arms give off a similar visual effect, and much like the aforementioned legs, are also quite muscular. This obscure appearance, interestingly, is a consequence of Sora's continued training in Hakuda, and specifically in a hybrid style of Kung-Fu that incorporates the bone and skin-hardening training techniques of the Shaolin.
Sora's face is much more of a complex focal point than the rest of his body (as you'd expect from… y'know, a face). It is relatively hairless, is not particularly wide, and is just slightly lengthy. Along with this, his chin and jawline are also quite defined. His eyes are colored a stark mix between gray and blue, with the former of the two colors being a result of his blindness, and the second coloration being the result of a natural melanin deficiency. His nose, in tandem with his jawline, is quite defined and slender, starting from a higher point on his face than most. His mouth and teeth are… actually quite unremarkable and average-looking. Not much to say there. However, making up for the lack of interesting lower-face details is his dark birthmark in a shape resembling a star right above his left eye. On top of this, directly below the same eye is a scar received while fooling around with a knife as a young child, still not used to compensating for his blindness. Finally, his ears are slightly large, but are (mostly) covered by his long, Grayish-White mop of hair.
Additional Physical Notes:
Sora's voice is neither deep nor high, and falls into the Mezzo-Soprano range in technical terms. He speaks with a practiced grace, emphasizing every syllable as if it is the most important message one could possibly have to speak. This nature of speaking likely came about due to his passive reliance upon auditory stimulation. Also, if it isn't already clear: Sora is blind.
Clothing: Sora favors loose fitting jeans, long-sleeved cotton shirts, and oversized fleece sweaters while dressing for his own time, as he finds these to be the most physically stimulating. As a blind person, physical sensory stimulation is evidently important to him, something which actually extends as far as his choice in combat styles (Hakuda being his primary method of combat).
Spiritual Description:
Sora's spiritual energy takes on the appearance of green steam, and often causes a warm, but hesitant, sense of comfort within those who feel it. This is a reflection of the collision between Sora's cynicism and difficulty trusting other people with his wishes to be able to trust and comfort them. On another brief note, his spiritual energy also elicits the scent and taste of warm Miso soup, Sora's favorite dish.
---
Personality:

Humble |
Sora was born, raised, and still has ties to, the 80th East Rukongai district. As you might imagine, it is among the poorest places in the Soul Society, and being a spiritually capable child surrounded by other spiritually capable children in an area known for its lack of food and general resources for survival instilled a great deal of humility in Sora from an early age. He accepts any and all gifts, strongly values what he has, and is respectful when discussing himself or talking to others.

Non-Confrontational/Pacifistic |
Sora was raised in an environment where he was surrounded by a lack of people with morals. By extension, he was regularly an auditory witness to terrible acts of violence, often caused by disputes of a material or insignificant nature. On top of this, having only been able to survive by committing what could be called petty crime, he even has personal experience with the less moral side of the world, something which he is ashamed to admit. Thus, in the years since his days spent scavenging for food or watching others be killed over it, Sora has grown rather distasteful of violence, subterfuge, and confrontation in general, and does what he can to avoid arguments and senseless fights if only out of the fear that he will turn into one of the monsters dressed like people that he grew up around.
Collected |
Sora is, by nature, calm and collected. He likes to think through every decision he makes and analyze most situations from the perspective of an observer, not a participant. While doing so, he is capable of maintaining his cool, even under the most taxing mental or physical conditions. Unfortunately, any situation that forces him to be strictly impulsive will likely be his downfall, as he often struggles to operate when he is unable to maintain this calm he is so well known for.

Blunt |
Sora is a relatively blunt person. While he does try to use his strong inborn sense of empathy for positive reasons, he is prone to bouts of uncharacteristic insensitivity, especially when hearing others complain about personal issues. This is likely a result of his blindness, as he sees most issues as lesser than something as debilitating as having no sight at all. Despite all of the above, he does notice this affectation, and is actively trying to fight it, since his usual nature is that of a much kinder person than these bouts let on.
Honest |
In direct contrast to his bluntness, Sora is known for his unwavering honesty, especially in recent years. After his time in the Second Division, he grew distasteful of all the subterfuge and deception he was forced to engage in, and as such, made something of a vow to be honest. While some may see such militant honesty as a negative thing and perhaps even a synonym of the aforementioned bluntness, this honesty tends to manifest in a positive way. Sora sees no evil, hears no evil, and most of all, speaks no evil. In his pursuit of creating an honest, morally pure and democratic world, this comes into play often, as dealing with Soul Society's politically charged officers and its nobles can cause all sorts of underhanded situations to come about, especially in the First Division. As such, he takes it into his own hands to deal with these situations in as honest a manner as possible, usually by reporting them to the higher ups, as direct confrontation simply isn't his style.
Cynical/Distrusting |
Sora was originally a relatively optimistic child, surrounded by a "family" of sorts who, despite their lack of blood relation to one another, were always looking out for each other and seeking to do what was best for the group as a whole. However, while still relatively young, a man whomst he regarded as his older brother betrayed the group, leading a group of bandits to their supply of food, initiating a slaughter that killed all but two members of his family, with wounds taking one of those two later on. From here on out, Sora took on a much more quietly cynical view of most people. While he didn't make it obvious or broadcast his internal suspicion towards everybody he met, he only coped with the loss by no longer trusting anybody at first glance, as he had before. Perhaps this was a valuable lesson, but it hurt in its own right, and still does to this day, further complicating Sora's desire to provide comfort to those close to him, as he often struggles to find anybody he could consider "close". On top of this, as a man who values morality, Sora often tries to read too deeply into other people's motivations for doing things, whether they be dishonest or otherwise. Worst of all, this cynicism causes him to suspect that he is truly motivated by selfish desires, creating relatively intense internal turmoil.
Empathetic |
As mentioned earlier, Sora is an instinctually empathetic and caring person, something which often collides with his other, less positive personality traits. Despite this, he does do his best to provide comfort to those who need it, and makes it clear that he is there to help those in need should they desire help.
---
Goals and Achievements:
Sora seeks to overcome his blindness and prove to the Seireitei that he can be just as useful as a normal shinigami despite his disability. He intends to do this through his already well practiced reiatsu perception, which provides him with a sort of "spectral sight", if you would. He intends to continue training this sight until he perfects it. On top of this, Sora wishes to master Hakuda, particularly the more defensive style which he has formed to suit his reliance on touch-based sensory queues. More importantly, he wishes to further integrate his unique, semi-ranged Shikai into this fighting style, allowing him better control of the battlefield.
Finally, his deepest and most personal goal is to rid the Soul Society of those who work as a Shinigami solely for their own gain, instituting a democratic system rooted in honesty and strong individual morality where every voice has an equal presence, no matter their background. Based on this, one could group him into the Fundamentalist side of the "Traditionalist VS. Fundamentalist" debate, as he detests the idea of power only belonging to those who are born into it.
As for achievements, there are very few to Sora's name, outside of a long, successful stint as an unseated officer in the Second Division, and a recent but somewhat prolific move to the First Division that has resulted in his promotion to the status of an Unseated Officer in a short time.
---
Zanpakuto Appearance:
In its sealed form, Shinjitsu No Tachi takes on the appearance of a simple, black-guarded Wakizashi. Upon release into Shikai, the blade vanishes into two clouds of gray fog which then surround Sora's hands before solidifying into simple, tattered black cloth hand-wraps.
Release Phrase:
"Me o akete, Shinjitsu No Tachi. (Open your eyes, Touch of Truth.)"

Zanpakuto Spirit And Inner World:
Sora, even within his inner world, cannot see, and thus if his Zanpakuto spirit has an appearance, he is not aware of it. Its voice, however, is something he's studied very closely. Whatever gender the spirit takes is not indicated within its voice, but what is clear is that the spirit speaks clearly, but softly and without any intense emotional inflection, not too far from Sora himself. Personality wise, Tachi also comes across as a part of Sora's soul that takes after his more neutral qualities, specifically his honesty and his pacifism. Disliking confrontation, the spirit, already quiet as it is, often goes dead silent during fights; even those with hollows.
As for the inner world… Sora's blind. It is a dark void to him, and may actually be a dark void in reality, as his reiatsu perception based "sight" never seems to reveal anything other than further darkness. Perhaps this is an indication that his blindness is not something he is meant to overcome; Sora pays that idea no heed though.
Power:
Sora's power is quite simple; his hand-wraps can partially unravel and extend up to a length of fifty feet, and have a very powerful grip, capable of wrapping themselves around anything they touch, and are able to support (and throw around!) seemingly endless amounts of weight, with the only real constraint being Sora's own physicals strength. This power has a variety of defensive and offensive capabilities, ranging from the ability to be used as a powerful whip to being utilized to restrain an opponent. Finally, in a manner that Sora imagines exists to compensate for his blindness, Sora's sense of touch actually extends through the hand-wraps, providing him with a helpful sensory ally.
---
Origin:
Sora was born a pure soul in the summer of 1771 to two parents, neither whose identity is known. Unfortunately, as if having no legal parentage wasn't bad enough, he was completely blind from the moment he left the womb, never to know more than a world of darkness. Finally, to top off the shit-cake of a situation, neither of Sora's parents were particularly fond of the idea of having a child. Thus, he would find himself alone, crying on the corner of a street with only a blanket and a wooden basket as protection from the ravenous world around him. The 80th East was a place where resources of any kind were short in supply, especially for somebody like Sora, who was born with spiritual energy and required needed food to survive. Regardless of whether it was "right or not", nobody here wanted to have to deal with a child. Morals simply faded from the minds of most adults once you got this far out into the Rukongai. Alas, unnoticed and ignored, he slowly began to wither away, seemingly forgotten the moment he'd appeared.
But then, a savior appeared.
You see, in the worse Rukongai districts, children were often forced to group together and form makeshift families to protect themselves from the many dangers of the area; Sora was lucky enough to found by a member of one of these groups, who promptly took him back to his group's home, an isolated clearing surrounding by massive trees which provided a form of natural shelter from the violent adult townsfolk. From here on out, Sora actually had a home. It wasn't much, but it was something that allowed him to live a life that he would likely had never been able to live had he not been found on that street corner. His family was made up of four other children, two of whom were older, equatable to teenagers at the time of Sora's introduction to the group. They were named Taka and Hiryu, respectively, and they would grow to become Sora's "eldest brothers", although they often had to play roles more like parents due to their ages. The other two kids were younger, albeit still older than Sora, approximately equatable to "tweens" if you would. Their names were Kaji and Aito, both of whom were also boys. They were much closer to Sora while he was growing up, to say the least. The family made do by stealing, often from old souls who were at the end of their time in this life. When they couldn't do that, they would venture further into the Districts, sometimes going as far to ransack houses for food. None of the children felt good about it. After all, they all didn't want to turn out like the adults around them, yet they stole from the old and infirm! What claim to being better people than the rest of them did they have? Needless to say, it was a conflicting experience, especially for the young Sora, who was one of only two spiritually capable children in the group, and thus was one of the biggest resource-sinks in the family, requiring food to simply live.
There was of course, an advantage to him being spiritually capable though. Upon discovering that viewing only darkness was not a common experience, Sora found himself often disappointed in his inability to do things others could do easily, especially since he required a lot of support. So, you could imagine his surprise when despite being born totally blind, as he grew up, Sora began to feel things around him without touching them; other people, trees, animals, things like that. As a child who had always had to navigate based on his other four senses, which were nothing to scoff at due to the compensation made in exchange for his eyesight, having a fifth, seemingly superficial sense was an odd experience indeed. However, by the time he was old enough to truly understand why he was sensing things around him, these feelings turned into even sharper, more detailed feelings, which had turned into a sense of direction, and eventually, had turned into something that Sora could proudly (albeit barely), pass off as sight. While he couldn't make out the details of a person's physique, he could tell when another person was around him, and could sense the presence of solids in his general area, allowing him to navigate much more efficiently, especially in the more compact "downtown" areas of the East 80th.
The world was dark through his eyes, but when he used this newfound fifth sense, it became a mess of white splotches everywhere, with the occasional color or two popping in from somebody who he imagined had the same abilities he did. Like I said, it could barely be called sight, but Sora was unbelievably proud of it. And rightfully so; as he grew older, this sense grew even more defined, especially since Sora focused on honing it so intensely. In fact, his dedication to overcoming this disability of his often scared his siblings, simply because of how serious he took this pursuit. And, for a while, things started looking up. Alongside this growing spiritual sense as he came to know it came a handful of other unique abilities, including a body that, when trained properly, seemed to have limits that defied those of the normal people around him.
So yes, things were certainly looking up considering that Sora's first days had been spent on a street curb.
Call To Action:
Of course, in a world like the East 80th, such a positive time in somebody's life could never last. Something had to go wrong, especially back here; it was simply as the universe willed it. So, when they robbed a man who happened to be the father of a notorious local bandit, things went South. The family hid out in their wooded home for as long as they could, but with bandits searching for them, they couldn't stay hidden forever. And they didn't. A month into their hiding, a bandit found the group's home, seemingly by coincidence. This of course didn't matter though, because upon realizing what he'd found, the man alerted all of his bandit brethren of the development. They were raided in the night that followed. Sora did what he could to fend them off, as did Hiryu, but despite their best efforts, the battle was not one that could lead to victory. Even worse, the true reason for the family's discovery was horrifying upon its reveal. As Hiryu was about to kill the leader of the group of bandits, he found himself stabbed in the back, literally by none other than Taka, a man who Sora had respected and loved, and somebody who Hiryu considered his best friend. As Sora would later learn, Taka had betrayed the family's location in exchange for protection from the inevitable slaughter, knowing that if the group was found, they would all die. To see such an atrocity unfold simply confirmed Sora's suspicions that even the members of his family were not excluded from the moral corruption that the world he lived in created. Nobody could be trusted, not his brothers, not other people, and perhaps not even himself. After all, he'd stolen from those in need; what made him any different from these bandits?
It was this night, this revelation, that caused Sora's life to change dramatically. Warding off as many bandits as he could in a furious assault fueled by the death of his older brother, he managed to make an escape, but not after watching one of his other brothers, Kaji, take a blade to the chest. With him was Aito, the only other survivor of the slaughter whom he still considered family. Unfortunately, Aito soon died of an illness, and once again, Sora was alone. Where would he go? Who could he run to? How would he live? He was a man, no, a boy, living in a world where he could trust nobody but needed somebody to trust. After almost a decade of life travelling from place to place, surviving on scraps and whatever he could kill that was worth eating, Sora decided he'd had enough of his pointless life. He needed a change, and that changed needed to involve getting out of this society of endless moral corruption, deception, and theft. He would do anything to become a good person, anything to fight the believe that nobody, not even him, could think about somebody other than themselves. Not only that, but he still had that gnawing desire to overcome his blindness and prove to the world, even if nobody cared, that he could be just as useful as somebody with eyesight. So, there was only one real option.
The Shin'o Academy. He'd seen Shinigami before, albeit rarely since he'd been living out in the backwater garbage district that was the East 80th, but still, he knew of them, and knew what they did. It seemed like an honorable enough profession, and they used spiritual energy to their advantage, which gave him a decent reason to figure out how to truly master his inborn abilities. He was accepted to the academy in the summer of 1851, the year he turned 80. He got in by the skin of his teeth, only making it due to his relatively large wells of natural spiritual energy and his supposedly advanced "Reiatsu Perception", which is what they called his spiritual sense. Contrary to expectations, Sora thrived in the academy. He did well in all of his academic classes, always got good grades in his Kido, Hoho, and Zanjutsu classes, and completely excelled in both his Reiatsu Perception classes and his Hakuda classes. Sora personally believed that his affinity for Hakuda came from his already existent reliance on the sense of touch, something his peers begrudgingly agreed with upon seeing his name at the top of their classes. This, combined with his prodigious skills in Reiatsu Perception made Sora a force to be reckoned with in battle. Eventually, this skill with Hakuda began to turn into a style of Sora's own, one which was based on a type of "Kung-Fu", a Chinese-Based martial art that those on Earth had invented almost two thousand years ago. Sora's variation on the "Shaolin" style of this Kung-Fu utilized the bone and skin-hardening training techniques employed by the fighters alongside various redirective moves and counter attacks to create a defensive, controlling style of Hakuda unique to Sora. However, even upon his graduation from the academy, something was still missing from his list of Shinigami abilities.
A Shikai. The first release of his Zanpakuto was something Sora had yet to achieve. This was… disappointing, to say the least. Having excelled in so many of his disciplines, Sora had expected communication with his Zanpakuto spirit to come easily. Alas, this wasn't the case, and despite Sora's most valiant attempts to even catch a glimpse of his inner world or Zanpakuto spirit, he graduated and was placed into a division without having achieved Shikai. Ironically having tried to escape subterfuge and deception, the higher-ups thought it best to place Sora in the Second Division, which happened to be the center for all espionage and covert operations in the Seireitei. This left something of a bad taste in his mouth, but Sora put up with it as frankly, he was just glad to have gotten this far. Blind shinigami were unbelievably rare so he'd be damned if he wasn't proud of himself for at least having achieved this much! Of course, such pride didn't equate to complacency. No, upon joining a Division, Sora began dedicating even more time to training his Reiatsu Perception and Hakuda skills. This continued over the course of almost 150 years until Sora decided once again that he'd had enough of it all; the deception and constant hiding simply didn't fit him. In the fall of 2000, Sora requested a transfer to the first division, deciding upon it as he felt it was the best place for him to spread his ideals, seeing as it was the most politically active division. The Second could no longer be his home. He was already blind, so he couldn't see any evil; why should he have to speak and hear it all day long instead?
It was right in that moment that everything clicked. Despite what I said about Sora's intense training, the one thing he'd all but given up on was achieving communication with his Zanpakuto. He'd strained to see some glimmer of progress for years, all for naught, so you couldn't blame him for putting down the sword. It was only on this day in the winter of 2001 that Sora realized what he'd been doing wrong. He'd spent years looking for something, trying to see something, when all he'd needed to do was just listen instead. His blindness was still a very real part of his existence, and this served as a reminder of just how true that was. He just needed to stop looking. And so he did. After a few months of slowly growing communication achieved through constant meditation, Sora made a breakthrough. The voice in his head finally had an identity. A name. It's persona flourished and exploded into existence, no longer just an ever growing sound in the back of his mind. And on the day that this happened, only one phrase found itself lodged in his brain, or rather, in his soul; "Shinjitsu No Tachi". The touch of truth. A perfectly fitting name for a Zanpakuto wielded by a man who'd come to live on his sense of touch, and his belief in infallible honesty, a belief forged from years spent living among those who didn't even know what the word meant. Better yet was the fact that his new weapon was a pair of old leather hand wraps. It was funny; he supposed it was good not to forget where he'd come from, and figuratively wearing poverty on his hands seemed like a decent way to do that.
From then until now, 22 years later, Sora has spent his days trying to spread his ideals as best he can, all the while continuing to grow as a Shinigami. In these two decades, he's focused almost solely on integrating his Shikai with his unique style of Hakuda, attempting to use the ensnaring properties of his Zanpakuto to manipulate the battlefield and his opponents in an even more effective manner.
Now an unseated officer in the First Division, Sora, for only the second time in his life, feels hopeful for his future.
Nathaniel Moore: