Post by Niseto, Shin on Mar 4, 2018 16:39:00 GMT -5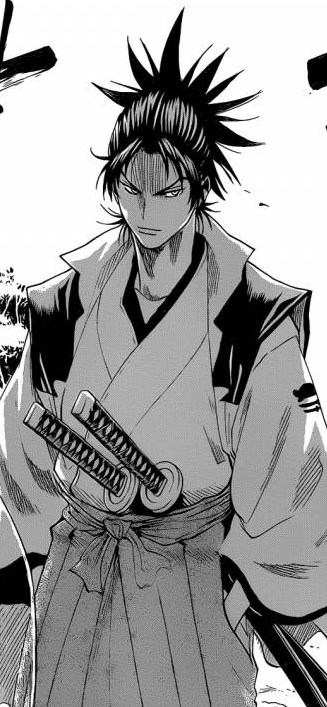 Niseto, Shin – False to TrueUnranked/Fifth Division MemberPersonnel FileAge / Apparent Age:
45 | 22
Gender:
Male
Height & Weight:
5'11 | 190lbs
Hair & Eye Color:
Medium length, red-orange hair pulled back into a wild tail, with offshoots sticking out at the front, and the back of his neck. His eyes are a hard grey-blue, narrowed into a piercing stare that looks confrontational at the best of times.
Positive Traits:
Brave
Open-minded
Merciful
Hard-working
Honest
Negative Traits:
Overly dramatic
Insubordinate
Blunt
Quick to anger
Newly developed distaste for killing anything other than hollows
Loyalties:
Seireitei
Snapshots:
1973 | Born
1983 – 1991 | Adolescence to Adulthood
1994 | Death, car accident
1999 | Developed spiritual power and gained entry to the Academy
2005 | Graduated from the Academy and joined the Fifth Division
Recent times | Survived the Shinigami plague through natural immunity
Physical SpecificationsPhysical Description:
He stands a little taller than average, with broad shoulders forming the structure of a lean, powerfully built man. Years of harsh physical training, specifically dedicated to wielding a melee weapon – the primary focus of his efforts as a warrior – have given him a narrow waist, and wide shoulders, with thick, ropey muscle across his back, around his calves, and his forearms all dedicated to function, rather than the dense pectoral, upper arm and thigh muscle one would find on a bodybuilder. European born, he has the pale, ruddy complexion of a man born in the British Isles. His hair is a red-gold colour, depending upon the light reaching anywhere from strawberry blonde to burnished bronze. It reaches down to his shoulders, but is tied back in a wild, flaring tail unless he dares to let it down. He has a sharply angled face, with a pointed chin and a crooked, roman nose. His brow sits heavily over his narrow, slate-grey eyes, giving him the look of a man trying to look as contemptuous as he could manage without straining himself.
Unless forced to appear in an official capacity, he dons a self-styled black kosode with torn off sleeves, leaving his arms bare down to the wrist, which are wrapped with bandages that offer wrist stability for when he is forced to use Hakudo. His black hakama are also a tighter fit than standard, looking more akin to typical European trousers than the traditional, wide, Japanese counterpart. He wears no socks with his waraji sandals, preferring the comfort and freedom of bare feet in the sandals. All of this serves to give him a unique, wild appearance that often goes down poorly with the more orderly members of the Shinigami population. If an official meeting with his superiors is required of him, he keeps a full set of standard Shinigami robes, hakama and socks – though he loathes to wear them.
An aromatic mixture of leather and sweat follows him – like the smell that permeates a boxing gym, sweat and blood having seeped into the gloves, mats and heavy bags – offset by the gentler, more pleasant scent of sandalwood that makes his presence less of an olfactory insult. It never gets bad enough to be offensive, but it seems to return mere hours after he bathes.
Spiritual Description:
His spiritual energy flows out and around him like a cool breeze after fresh snowfall; bracing, cold, but refreshing and calm. Whilst being around some warriors feels toxic, or oppressive, or draining, his energy holds much less malicious intent. If one were to be of the opinion they could read much about a person in the feel of their energy, one may discern it to be the energy of a person who does not seek to do harm for harms sake; though others may note that winter may seem placid and tranquil, it can also be both unforgiving and unrelenting.
Psychological ProfilePersonality:
Growing up in the 80s, his life was a comfortable one – growing up in an idyllic, lower-middle class family in England. His parents worked hard and filled very traditional familial roles; his mother stayed home and looked after him and his brother, whilst his father worked long hours to maintain their lifestyle, and more importantly the appearance of their lifestyle to their neighbours. Whilst he loved his mother very much, they did not have very much in common. His idea of how he should behave, as a man, grew from the loving, but distanced relationship he had with his father – and to a much greater degree the movies and television shows he watched as he grew from adolescence into adulthood. The list was long, and far reaching: Rambo, Terminator, Cobra, Predator, Aliens, Back to the Future, Lethal Weapon, Tango and Cash, Conan… even Indiana Jones.
All this media culminated in his mind as to what a 'protagonist' should act like. And that is how he saw himself. A protagonist. The hero of his own story. It didn't matter that he was a young man in England, likely never to engage in heroics of any sort. He modelled his behaviour over these people. Whenever it came down to how he should act, he conjured in his mind the amalgamation of a hero - and did what he believed it would do – for better or for worse. This led to the forming of his best, and worst personality traits.
His default attitude is a calm, too-cool-for-this swagger; if many knew where his ideas for how to act came from, they may accuse him of putting up this front, but it has become so ingrained that it is how he typically feels. His cocksure demeaner only ever falters when another person is in danger; an action hero doesn't ever break character if he is about to die, but it's definitely okay if the damsel in distress, or the child is about to be harmed. That is when he permits himself to amp himself up and take a more serious stance on a situation.
One of the few, decidedly positive traits to come from his fixation on movies is his bravery, and willingness to protect or defend others. It is when a hero is at his most heroic. He has no qualms about throwing himself at the most daunting of enemies if it is required to save another. However, as he only places real, significant value on protecting others, he struggles to muster this level of bravery when performing his typical Shinigami duties, or in the defence of something inhuman – such as Seireitei itself.
Much to the distaste of his superior officers, he does not treat them with the respect they are due. Dirty Harry didn't respect the chief of police – he would be damned before he respected a lieutenant for the sake of an arm band. Despite this, he is a hard-working individual, and follows orders closely, but his irreverence of authority could do with serious work.
So fixated is he on his own inner self, and his actions, he doesn't ever feel particularly insulted or bothered by the mannerisms and strange tastes or actions of other beings. It doesn't matter how they look, or if they talk weird, or have horrible taste in music. He treats people as individuals, and it takes a lot to put him off a person. The only thing he will not forgive is if somebody hates some of his favourite movies. Fortunately, among Shinigami, knowledge of movies in general is typically lacking, so he isn't often forced to defend them.
Whilst anger and violence are the default solutions to all problems a protagonist may face, he is not a particularly blood thirsty person. He loves to fight. To watch, and participate in. The more epic the better – who doesn't love the final stand between Schwarzenegger and the Predator? But, he takes no joy in the kill. Whether it be disgustingly brutal Arrancar, or rampaging hollows, he does not find glee in the destruction of his enemy. It is often a necessary task, that avoiding would be tantamount to killing others who do not deserve it, but it is his last call. He strives to hide this from his superiors, but he especially struggles with killing Arrancar. To him, for the most part, they seem sentient, and most of all could not control what they became. He ponders the day he has one beneath his sword, and wonders to himself, "Will I finish it off?"
His strive to achieve the archetype he wishes for himself is a constant, often quite conscious process. Part of his hero-worship is a penchant for drama. His idea of a hero does not revel in drama or get weak kneed hearing an amazing monologue. This is the part of himself he does not force to conform to the character he plays. He merely hides it. He can often be found acting out what he believes would be cool movie-moments, and revels in them as any movie fan would. As much as he wishes to be cool, there is a movie-loving dork hidden away from the outside world, and he quickly becomes that person when alone.
Goals & Achievements:
Developed enough spiritual power to join the academy very shortly after arriving in Rukongai
Fought in, and survived the wars with Hueco Mundo
Survived the Shinigami Plague through natural immunity
Zanpakutō FilePower:Zanpakutō:
When sealed, his Zanpakuto takes the form of a tachi – very similar to a katana, but with a more deeply curved blade. The handle is long enough to accommodate both hands if the wielder were to half grip the pommel, but more comfortably fits the use of one, and unlike many Japanese style swords it does have a small, round, iron pommel instead of a cap at the bottom of the handle. The cross guard takes the form of a small, iron-grey disk, separating the red-cord wrapped handle from the blade.
When released, the Zanpakuto takes the form of a staff of bone-white wood, tall enough to be of equal height to its wielder. At one end is a round, spiked weight the size of two fists, perfectly capable of being used as a long, morning star-like bludgeon. On the reverse end is a short, thick spike suited to thrusting into armoured targets - similar in style to the point of an estoc. Together, this forms the dual ends of a polearm, capable of wide, powerful swinging attacks with the bludgeoning end, and quick precise thrusting attacks with the impaling end; leaving defence to the stout shaft, and manoeuvring the reach of the weapon to keep the enemy far enough away to strike effectively.
Zanpakutō Spirit:Inner World:Documented HistoryOrigin:Rise to Power:Call to Action:
His entire world had been dropped into a chaotic mire, confusion and madness clogged the air like a smog seeking to infect all who breathed the air of the once utopic Seireitei. A plague had broken out, and nobody understood it. All they knew is that it only affected the Shinigami, and that it was contagious, and that it was wholly and entirely fatal. This wasn't Shin's area of expertise. He wasn't a healer, and he sure as hell couldn't fight the plague. But he wasn't sick. He tried to tell them that.
They were rounding up suspected victims, hauling them off into quarantines to try and contain whatever this thing was. He didn't feel crazy. Sure, he recognised he was a bit of an oddball, but he definitely didn't feel 'infected' with psychosis. It didn't matter. Early on, nobody knew the real, tell-tale signs of the disease. They only knew it made you crazy.
All it took was a mob to hear him mutter to himself, barely loud enough to be noticed, and they screamed about how he was clearly going mad and speaking with people who weren't there. He laughed at them. "Y'all are acting crazier than I ever have," he quipped. They didn't like that. Suddenly each and every one of them had to consider whether they had already been infected. It was easier to latch onto the initial accusation than to dare consider that a possibility. Shin's cool veneer slipped as they dragged him off, he struggled and tried to fight but there were so many of them. They tossed him into a cell packed with the afflicted. How could they not see he wasn't like them?
They were laughing, or weeping, or scratching things into the walls, or into themselves. They had thrown him here, falsely, and now he was certain to catch this damn plague. It was almost a sick kind of prophesy. When he went mad, they'd go past and say, "I told ya' so." And think they were right all along. That thought alone almost drove him insane. But he had to hold out hope. He had to be cool. In a few days, they'd see he was fine, and they'd have to let him out. Right?
There he sat, among the mad and the dying, as calm and sane as the situation could possibly allow. The hours dragged on. Dragged on into days. A gibbering wreck of a boy had been marking lines into the wall, but there was no way of knowing if he were accurate. After much too long a time had passed, Shin noticed something. Less of the guards where showing up to feed and check on them. No new faces at all. No new infected, no new guards. The guards that were showing up were behaving more erratically by the day.
It was small at first. A stifled laugh in a silent room. A conversation between guards, both of whom seemed to be talking about different things. Shin didn't want to believe it. He wasn't frightened easily, but his heart raced as the realisation dawned on him. What if their captors were crazy too? How would he ever be released? He began to get desperate. If he tried to break out, wouldn't that condemn him as mad once and for all?
Then, one day it happened. A miracle, from one perspective. A nightmare, from another. One of his two dozen cell mates hissed something, and the guard passing by the cell door went berserk. He rammed the keys into the cell door, tore it open and dived inside, sword first. Everything erupted at once, like a powder keg of fear, and insanity, and violence. It's hard for Shin to remember the next few hours. Either his mind had blocked a lot of it out, or he got caught up in the madness. All he remembers is punching and stomping and strangling his way through the press, which had spilled out into the near abandoned corridors. Finding his sword, set onto a rack of thirty others each neatly tagged with a name and a date. Desperately trying to find the exit, and finding more of his fellow patients, each one blood drunk and ravenous.
He never told anyone about what he did in there. Who could understand? Who would see him as a hero after what he had to do? He forced the memories down. That's what the hero does, right? He pushed them deep down inside, even as he carved through his fellow Shinigami. Stab through the chest, twist hard. Chop the arm, then the neck. Take the foot, leave her to stall the others. Don't think, just attack, and move. Don't stop until you're safe.
When he found the doors to the outside, he burst out onto an empty street. The never-ending daylight beamed down bright and joyous as ever. There was a body, dead for a few days, barely ten yards away. Nobody had collected it. Nobody had been to this section of Seireitei for too long.
He dragged the door shut, and barricaded it with a nearby cart – one no doubt used to transport bodies. He ran, and found a place of solitude. Away from the haunted whispers and the screams of the mad and the dying. He found a place where he could weep, away from the eyes of the world.