Post by Sofia on Feb 20, 2018 23:39:32 GMT -5
BADER, SOFIA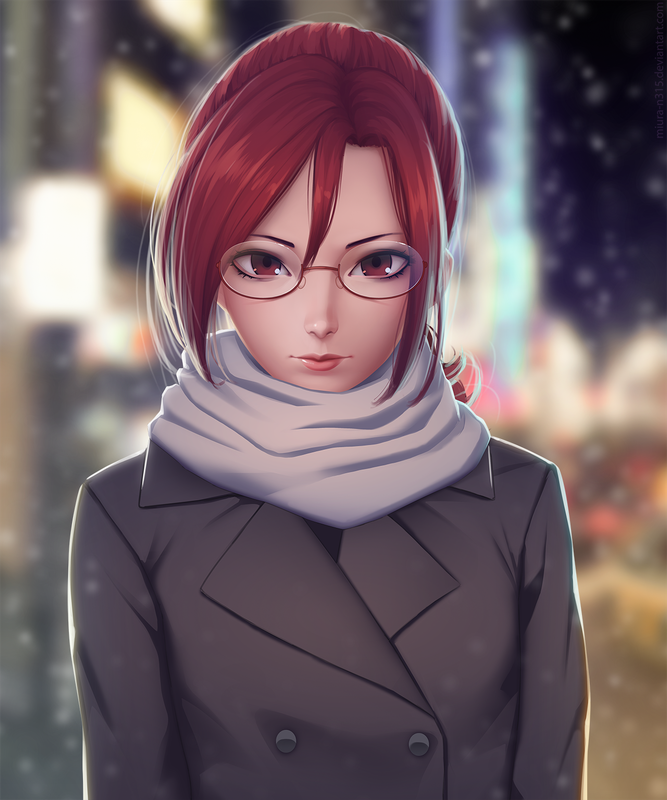 Unseated Shinigami, First Division
---
Personnel FileAge / Apparent Age:
110 / Late twenties
Gender:
Female
Height & Weight:
168 cm (5'6") & 57 kgs (128 lbs)
Hair & Eye Color:
Long, straight chestnut hair, silken and tousled. Eyes a serious, muted brown, cold and burdened by past mistakes.
Positive Traits:
Helpful, Direct, Pragmatic, Deliberate, Focused
Negative Traits:
Subdued, Guilty, Cold, Afraid, Stubborn
Loyalties:
Herself & The Serieitei, respectively
Snapshots:
1913 - Born in Antwerp, Belgium
1940 - Killed during the occupation of Antwerp by Nazi forces; awakens in 13th Rukongai District
1941 - Is saved from starvation by a wandering Shinigami; enrolls at the Academy
1947 - Graduates Academy; joins Fifth Division
1955 - First long-term assignment on Earth
1956 - Returns from assignment early, her entire squad killed in a Hollow attack; goes into catatonic state
1957 - Placed under care of Third Division; removed from active combat duty
2013 - Awakens during The Massacre and is heavily injured in the fighting
2015 - Reinstated to full duty in the First Division
2017 - Sent out on long-term assignment on Earth; unable to return due to The Seireitei Plague Quarantine
2023 - Quarantine finally lifted; returns to Seireitei
Physical SpecificationsPhysical Description:
Sofia is a woman of simple tastes and desires, a quality that is often manifested in her posture; loose and relaxed, with shoulders held flat and chin tilted towards the ground, every move is made with the casual indifference of a woman who has seen much and learned little. Her typical expression --a calm, blank stare with the barest hints of a frown-- usually matches this, deviating only in times of great stress or emotional upheaval. Granted, this alone does not deter most from feeling welcomed in her presence-  it is her tone, cold and to the point, that drives others away, leaving them with the impression that she wishes only to be left alone.
Thick, straight chestnut hair is held up behind Sofia's head in a loose ponytail, the silken strands framing her dull eyes and soft face with as much grace as one can manage in the modern age. Though rarely tended to, her hair still holds up to the touch, each bang as smooth and polished as the day she awoke in the Rukongai, their color still lustrous and healthy, despite the many years of neglect her hair has endured.
Her figure is of similar make; though not quite unhealthy, the woman's pale skin and soft, muted curves speak of the difficult days she has endured, and of the long, slow road to recovery. Despite this, Sofia's duties as a Shinigami have kept a fair bit of meat to her, enough that she comes across as skinny rather than malnourished.
When it comes to clothes, Sofia wears what is required of her; a Shihakushō, freshly cleaned and well-worn for when she is on duty, and a selection of feminine pants and blouses, decidedly European in style, when off the clock. She prefers those outfits of a more muted palette, ranging from dull browns to soft, slate greys and stark whites. When preparing for a formal occasion she sticks to this pattern, swapping out her pants and blouse for a long dress of German styling, cut to showcase her long legs without seeming too bold or restrictive.
Spiritual Description:
A subdued mauve aura emanates from Sofia like steam, wisps of energy floating off her frame without rhyme or reason. Though it has never been powerful, a sense of sadness seeps from her like an over-wet sponge, coating those close to her with a feeling of great loneliness, as if they had just learned the death of a close friend. While her Reiatsu is not particularly impressive, it has a tendency to leave an impression on those who feel it, pushing them away from her without need for word or action.
Psychological ProfileOn The Surface:
Weighed down by the mistakes of her past, Sofia is a withdrawn, directionless individual yearning for a purpose. A slight frown often adorns her face, and she moves with a sense of listlessness that reflects the sadness in her eyes. Her speech is usually polite, if informal, with calm, monotone responses designed to convey what information is needed and little else. Over all, Sofia is a rather apathetic woman whose desires remain unclear, both to others and herself.
A Peek Beneath:
At first glance, Sofia seems to be a calm, laid-back woman; however, at her core she is a troubled, wounded individual who places the full weight of every past failure on her own shoulders. Though she would never admit it, her avoidance of conflict and the slow, subdued nature of her life is a direct result of this pervasive guilt, a feeling that weighs her down even in the most joyous of circumstances. Every decision is made with painstaking reluctance, and every mistake, whether hers or not, is another weight added to the pile. While she rarely allows this hesitancy to interfere with her duties, it doesn't take long for most to see just how uncomfortable conflict makes her feel, particularly when it comes to her work as a Shinigami- nor does it take much for them to see past her cold, apathetic facade and see the sad, broken woman beneath.
An In Depth Guide:
Sofia's personality can be broken down into five key factors: her cold exterior, her guilty conscience, her fear of failure, her childish idealism, and, lastly, her selfish quest for personal freedom.
Her listless is exterior is fairly simple; after so many failures and being forced to watch her friends die over and over again, Sofia has cut herself off from others as best she can, unwilling to make new connections out of a fear for their inevitable loss. Be it squadmates, strangers, or even former friends, she refuses to let others into her life, preferring the quiet sadness of solitude to the possibility of yet more dead by her failures.
Her fear of failure is more difficult to explain. Like all those who have experienced great loss, she is absolutely terrified of failing at anything, and as such has conditioned herself to act only when she is certain of success. This makes her come across as rather slow and deliberate, almost to a fault, and gives her a distinct disadvantage when in combat- an activity she tries to avoid whenever possible.
This ties into her guilt conscience. Incapable of not blaming herself for the deaths of those closest to her (and even those who aren't), Sofia places the blame for any problems, any issues, and any mistakes squarely on her shoulders- even when no such fault exists. She will often go to great lengths to take the blame when things go wrong, preferring the familiar pain of failure than the uncertainty of hope or responsibility.
Delving deeper, we come to the main conflict within her personality; the clash between her guilty, fear riddled conscience and the childish idealism at her core. Though she has suffered many tragedies throughout her life and is undoubtedly affected by them, she can't help but believe that things will ultimately get better. This unrelenting optimism twists her views of the world, pushing her to go out and try fix things she perceives as "wrong," regardless of how afraid she might be. However, this aspect of her self is buried quite deep, requiring a great deal of scrutiny and examination before it reveals itself, particularly in times of stress or anxiety.
Lastly, we arrive at the very heart of Sofia; her selfish desire for personal freedom. If she could simply act as she wished, those she loved would not have died. If her ability to think, to act, to do was not so heavily restricted by others, she would be happy. Everyone would, if they could act without fear of reprisal. This belief snakes its way into everything she does, pushing her to act when her idealism fails and her fear become all but overwhelming- for, from her listless exterior to her childish idealism, she is a woman of
action,
not words, and she will find a way to be free.
Goals & Achievements:
For a woman who comes across as largely flat and unchanging, her goals are rather grandiose and bold. While some might be content with simple achievements or easily reached goals, Sofia aspires to more- the world is full of wrongs that need to be righted, and she
will
be the one to right them, one way or another.
The first, and most obvious, of these wrongs is the state of the Seireitei itself. After five years of slow, inevitable erosion, her home has become a shadow of its former self; a shadow that she feels partially responsible for creating. Though she does not know how, Sofia is determined to bring the Gotei back from the edge of collapse- even if it means putting herself through everything she has sought to avoid.
Her second, and less tangible, goal is somewhat more difficult to describe. Sofia wishes to be "free," to experience true freedom, both in action and in thought. To her, this concept is still very nebulous and uncertain, less a concrete reality and more a feeling, a primal instinct that something or someone is restricting her ability to act, guiding her towards some pre-determined fate. And she
hates
that.
Zanpakutō FilePower:
Sofia has yet to achieve Shikai.
Zanpakutō:
Sofia's zanpakuto comes in the form of a standard Asauchi, approximately sixty-two centimeters in length, with a violet tsuba and a plain saya of lacquered balsa wood. The blade itself is well maintained, with no chips, dents or rust to mar its surface, but is as otherwise plain and unassuming as its wielder attempts to be.
Zanpakutō Spirit:
Vivacious and full of life, Sofia's Zanpakuto Spirit is everything Sofia used to be; enthusiastic to a fault, cheerful, and brimming with a zeal to achieve greatness in life, the spirit is easily the more active the of the pair, her constant smiles and warm words an ever present comfort in times of need. Though their relationship is rather strained, Sofia does her best to visit the spirit as often as she can, speaking with it to gain a new perspective on her troubles and, hopefully, learn its name.
The spirit is similar to Sofia in terms of her physical form with a few minor differences. Soft, cherry-pink hair adorns her head, the strands tied into an artful bun that keeps them from obscuring her face and the vibrant blue eyes that sit within it. Her skin is of a somewhat darker tint than Sofia's, showing more tan than one would expect, but is otherwise unblemished by time or injury.
Inner World:
Manifesting in the form of an endless maze of city streets and uninhabited buildings, Sofia's Inner World is one of solemn peace and quiet, a perfect place to slip into and relax, hidden away from the troubles of the world. The cityscape itself is old and eroded, overgrown with plants and teeming with unseen wildlife, though few dare venture form their hidden homes when the Shinigami visits, preferring the warmth of her spirit over the woman's bland indifference.
Documented HistoryOrigin:
Sofia was born the third daughter of a minor German merchant in the city of Antwerp, Belgium. Her family, while never rich, was better off than most, and as such the young girl was raised in an easy life, sheltered from the harshness of the world around her. Though her father was rarely home for long, the child was never went without some form of loving attention, be from her mother or her two elder siblings, and she soon grew up to be the heart of the family, a vivacious and free-spirited girl unafraid to speak her mind, regardless of the consequences.
Despite this, Sofia's parents were quick to instill a sense of responsibility and politeness within the girl, her zeal slowly tempered by their lessons until she became the picture of a proper, if at times audacious, lady. Neither overly protective nor dangerously neglectful, the girl's parents gave their youngest what luxuries they could afford, teaching her the basics of reading, writing, and arithmetic that should would need if she were to work for the family business.
Come her 13th birthday the girl, now a young woman, was drafted into her father's business, gaining hands on experience with the buying and selling of goods, particularly textiles and easily transported crops. Sofia grew into her new role with exceptional speed, quickly becoming a valuable asset to her father's negotiations, her quick wit and lively demeanor earning the teen the respect of the local merchants guild.
And so life carried on the for the girl, time granting her new experiences and fleeting loves until, on the eve of her 27th birthday, something terrible happened. The tenuous peace of the age had shattered, and every country was quick to take sides in the growing conflict, which soon made its way to her very doorstep. The German army had attacked her country, blitzing through their outdated defenses and pushing the Belgian army to the brink of utter ruin in just 18 days. And then it was over, the King having capitulated and her country, her home handed over without a fight or even a word of protest.
Things changed rather quickly after the occupation. Her family, unwilling to simply lie down and accept the loss of their home to foreign invaders, began to speak out, demanding that the people rise up and fight against the new regime. Sofia, along with many other, joined them; and were, to a man, slaughtered before they could even organize a resistance, cut down by a group of German soldiers who had been masquerading as part of the crowd.
When Sofia awoke, the world was different. Gone where the cobbled streets of her home, replaced instead with dirt roads and strange, paper houses inhabited by people she didn't recognize, wearing foreign clothes and speaking a foreign language. After a brief period of confusion, the young soul was met by a pair of wandering merchants who happened to speak her language, and she learned of the strange new place she found herself in- the Rukongai, specifically the 13th District, a section of the afterlife where the customs and language of Feudal Japan reigned supreme. Unable to speak the predominant language and horrifically depressed at the loss of her family, Sofia did little but sit on a street corner, begging for food, slowly learning the words needed to get her what she needed.
Weeks went by, then months, then a full year, her body wasting away as the lack of a steady diet turned the once pretty woman into a shell of her former self. It was only a chance encounter with a patrolling Shinigami that roused Sofia from her stupor; after a short period of begging the man for something to eat, it was revealed that the woman possessed something called "Spiritual Pressure," enough that she was eligible to enroll in "The Academy."
Given a choice between continuing her life on the streets and entering into… whatever this Academy was, Sofia made the obvious decision, and enrolled in classes just few weeks later.
Rise to Power:
To the shock of no one, Sofia was not a budding prodigy who was simply waiting for a chance to shine. While her entrance in the Academy did wonders for her health (as any steady diet would), her lack of skill with basically every Shinigami art and the massive barrier of learning a second language made her studies difficult, to say the least. Graduating at near the bottom of her class, Sofia was assigned to the one place where all bottom tier Shinigami go- the Fifth division, where she hoped to better her combat and, hopefully, find a place where she might fit in.
Under the tutelage of her new Division, and with a firmer grasp of Japanese form her time in the Academy, Sofia's talents soon began to materialize. Her physical capabilities began to grow well beyond what they had been in the Academy, her footwork became less clumsy, and her skill with a blade matured into something that wouldn't immediately get her killed the moment she tried to attack someone. It seemed, for the first time since her death, she had found something to be proud of- and when her first real assignment came in late 1955, that pride became something even more.
Sent out with a squad some twenty strong to patrol through the Vietnamese countryside, Sofia and company quickly fell into a rhythm, hunting down stray Hollows and purifying Plus souls by day, then shacking up in whatever shelter they could find by night. It was a simple job, an easy assignment, meant more as a training exercise for new recruits than anything else- and so when the group was assaulted by a pack of Menos Grande just two months into their scheduled six, they were whiley unprepared.
Forced to fight for their lives, the Shinigami did everything they could to drive the beasts back, but it proved fruitless; only Sofia, terrified and wholly overwhelmed by it all, managed to escape, opening up a Senkaimon and dashing through the Dangai with the squad's only Hell Butterfly, saving herself at the cost of her fellows. Ashamed of her cowardice and horrified at the death she had seen, the woman broke, her fragile sense of happiness shattering as she returned to her new home, once more a shell of what she had been.
Call to Action:
Catatonic and unresponsive, Sofia was placed under the care of the Third Division and pulled from active duty, left to waste away in some forgotten corner of the hospital for decades. It wasn't until the arrival of Tova Diablo, King of Hueco Mundo, that things finally began to change.
Awoken from her coma by the raw power of the invading Arrancar, the woman found herself once more forced into a life or death scenario; surrounded by Hollows and with nowhere to run, Sofia should have been just another casualty of that day. But she wasn't. Despite decades of atrophy, despite numerous injuries, despite seemingly having no will to go on, she
survived.
And with that survival came change.
For two years she sat beneath the steady glow of the Third Division's healers, her emaciated body slowly returning to its former healthy glow until, at last, she was cleared for active duty in late 2015 and assigned to the First Division.
By 2017, things had once again begun to look up for the young Shinigami; though she was clearly changed by her ordeal, there was a drive to her that hadn't been there before, a drive to right the wrongs that had been done to the Gotei, one that pushed her to train and grow and learn despite her obvious reluctance. She even took another long-term assignment on Earth, uncomfortable with the task but eager to prove herself better than she was before.
And then the Plague came, and nothing else mattered.
Locked out of her home and stranded on Earth, Sofia was forced to adapt; stealing food to survive became a necessity, battling Hollows became a risk, not a duty, and the ever growing threat of infection loomed over her head with every breath she took. But, like always, she survived. Five years passed, five long, hard years, but the quarantine on the Gotei was finally lifted, and what was left of her group was allowed to return to what was left of their home.