Post by Kalen Tiriar on Nov 26, 2017 9:32:21 GMT -5
Tiriar, KalenShinigami/Squad 5
---
[ AT A GLANCE ]
Age / Apparent Age: age 20, apparent age 17
Gender: Male
Height & Weight: 5'10"/ 140 lbs
Hair & Eye Color: onyx black hair with brown eyes
Positive Traits: Determined, Happy to assist, Often calm.
Negative Traits: Low self esteem, Can be cold, Slacks off.
Loyalties: Kalen is loyal to his squad members however this doesn't mean that he is loyal to the Gotei 5's command structure. As such he will disobey orders if he feels they carry an unnecessary risk to his squad. First and foremost he is loyal to himself and his allies.
Snapshots: Birth 1996; Graduation from academy 2015; Joined squad 5 2016
---
[ ON THE SURFACE ]
Physical Description: Kalen has onyx black hair with bangs that could cover his eyes is they weren't always parted and swiped to the side (more so on the left than right), and brown eyes that can almost depict what he's feeling, for the most part they look cold but can burn with determination if the occasion arises. He's an average height and looks thin but is surprisingly strong for his looks. His voice is slightly deeper than what one would consider average. He wears his sheath over his back and has an amethyst pendant around his neck. other than that his appearance is that of an average Shinigami.
Spiritual Description: Kalen's Reiatsu is a royal blue in color and gives off an impression of determination and takes on the form of blue, ghostly flames. When felt in large quantities, such as during or the activation of a release, Heat can be felt coming from his reiatsu. Though it should be noted that it's rare to see or feel his Reiatsu as he often keeps it hidden and supressed in his normal life.
---
[ BEHIND THE EYES ]
Personality: Those who observe Kalen's everyday activities would say he doesn't have a care in the world as he is often walking alone or sparing with one of the few friends he has when he's supposed to be working (you can bet he'll be doing this rather than cleaning). But anyone who has seen him when he is fighting will tell you that he completely changes. At those points when people are counting on him or he must defend others his eyes will burn with fiery determination. Unseen in his usual behavior.
Kalen is somewhat stubborn when he make choices and adheres to his own logic, a trait that is sometimes confusing to others, as Kalen will usually have multiple layers of reasoning going into his decisions. Not all of these reasons are strictly logical ones, and he's unlikely to explain these reasons even if it makes him appear irrational. He refuses to sacrifice others in his place. it's one of the core principles of his zanpakutō's teachings. He also has a rather unique view on equal exchange, believing that nobody should be help accountable to do something in return for a good deed, though he will ask for favors from time to time. This view extends to the opposite end of the spectrum, in that Kalen doesn't often hold grudges, usually saying that it's a waste of mental energy to hold someone accountable for something they did years ago. Fully believing that whatever he does is within the duties of a Shinigami. He absolutely despises pity as he sees it as people feeling bad but not bothering to do anything. He doesn't see any need for it and thus will not pity others either. Rather, he would prefer to offer help or advice to help people move on with their lives.
Kalen is much smarter than he lets on. That's not to say he knows a lot, but rather he is able to connect dots and figure things out very well. Especially when it comes to powers, a field he has developed a very large interest in. He enjoys his own power just fine, but will dive headfirst into someone else's abilities if given the chance. He especially enjoys figuring out the mechanics of the powers people wield, how people harness the rules of the world and use them to gain strength. This interest extends beyond zanpakutōs, but also to quincy powers, something Kalen has done extensive research on. Kalen also has a curiosity for hollow abilities, but to a lesser extent than the other races. He has found limited material on human abilities so he is eager to meet any humans with spiritual powers.
Kalen isn't one to seek out people who need help, to him wandering around for hours hoping someone has a job for him to do is useless waste of time, however if he is approached directly he will only be happy to help out.
Goals & Achievements: Despite his past Kalen doesn't seek revenge. He hasn't developed an intense hatred towards hollows either. He's not going to go out of his way to try and fix something that can't be fixed, it's pointless. It was because of his past weakness that he was able to find strength, so he will continue to move forward. He wants to go to the world of the living and see what has changed, he wants to be able to protect those closest to him, and he wants to be able to repay his friends by protecting others, and becoming as strong as he can. His main objective at present time is to overcome his fears and doubts about himself so he is never useless and relying on others again.
---
[ GUARDIAN ANGEL ]
Zanpakutō Spirit: Hakunetsu takes the shape of a warrior with a white, metal 1/2 mask covering her mouth and nose, and a long ponytail in their black hair reaching waist level. Blue flames engulf her eyes with the flames reaching out towards the right and left of her face (right side reaching right and left side reaching left) and reaching up slightly. She wears light armor, mostly just metal plates on top of clothing with plenty of fabric exposed. She has a long katana strapped to her back. She appeared to Kalen when he felt hopeless and defeated and thus represents his strength and resolve. Since her appearance, Hakunetsu has tested Kalen several times, and usually uses the labyrinth in which she resides to do it. Everything from swordplay and speed training, to combat training in a hostile and uncontrolled environment, a feat accomplished by manipulating the walls and passages of the maze to throw Kalen off. Hakunetsu and Kalen's relationship is kind of like the relationship you'd see between teacher and student, and yet not quite. Hakunetsu truly wants Kalen to grow and succeed, and is willing to help him to do so, and yet she is incapable of giving him her complete trust due to his natural weakness. She wants to help Kalen and yet will not go easy on him. It is her personal mission to help Kalen overcome himself and his enemies. To destroy the weakness that infects Kalen like a plague. It is also because of this obstacle that Hakunetsu had to conceal her true name, she goes under the name of Arathyx until the day Kalen is ready to wield all the power that name can offer and their relationship can go further.
Inner World: Kalen's inner world is a dimly lit underground labyrinth where if he seeks to speak with Hakunetsu he must find her first. where Kalen is always lost in this maze Hakunetsu knows her way around perfectly and will use this advantage for tests. The walls of the maze can be changed and switched around by Hakunetsu. The maze is a representation of Kalen's own weakness. He is too easily thrown off coarse when an obstacle appears in his path. It is his own doubts, fears, and lack of certainty taken form. It is in this place that he will learn to harness his power, the power that will allow him to forge ahead no matter the obstacle.
Power: Soulfire. Kalen's zanpakuto allows him to harness his Reiryoku and use it as a fire-like attack. It is a power that comes from the same soul that plagues him with weakness to give him strength.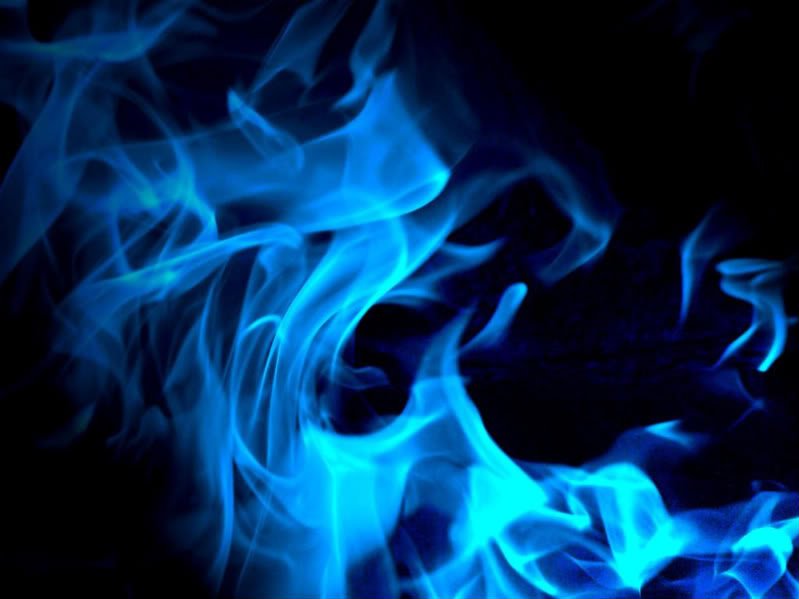 Release phrase: Blaze, Hakunetsu! (Arathyx until Kalen learns the true name of his zanpakutō)
Zanpakutō: When unreleased, Hakunetsuis a simple katana with completely flat edges (the blade never curves) the guard is in the shape of a hexagon and the hilt is wrapped in a black cloth grip. When in shikai, the blade becomes black while engulfed in a royal blue fire.
This is a rough idea of the design of Hakunetsu's shikai . It would be this shape, but with the details mentioned above.
---
[ LEGACY CREATED ]
Origin: Kalen was born in Rukongai, having no previous life in the human world. He had a group of friends there named Jace, Yuzu, and Iris. Him and his friends live a fairly pleasant life there. Well, as pleasant as a life in Rukongai can be. He didn't have many of the normal problems one would have there such as abandonment, poverty, and frequent robbery. But he still had his own issues. He wasn't very strong, which was a huge problem in that area, and found he was often being protected by his friends. Specifically Jace who was the strongest of the group. He always hated the fact that he couldn't handle himself and wished he could become strong enough to not have to rely on his friends.
In terms of how life usually was in the area he lived in, North district 55, Kalen and his friends lived better than most. This was mostly due to their loyalty to each other, something that was sorely lacking in that neighborhood. That and their... adventures, which consisted mainly of stealing things they liked. In their district, strength was everything. And since Kalen and his friends were only children, they had to assert themselves over those who would target them. This was mainly done by setting up traps around the district that they could lead people who were chasing them into, as well as flaunting their above average spiritual powers, which for Kalen's companions were impressive, but for him, not so much. But back to the point.
The most notable of Kalen's adventures, don't knit was a wealthy man or just a merchant, came through the district. This individual was in an exposed cart transporting a variety of items to a place the group never found out about. The alliance of fire, that's what the group of children called themselves as they had adopted the catchphrase "Mess with the fire, and you'll get burned", observed the cart from atop a small house. Jace made a remark about how this guy had to be insane to bring goods through this route, and they all nodded in agreement. "Say, some of that stuff looks pretty good. Any of you want anything out of it?" the unofficial leader of the friends, asked with a cocky smile. "the purple crystal looks cool..." Kalen said softly, seeing a purple crystal in the cart laying among other gems. He hadn't meant anything by the comment, but Jace heard him and, taking a confident standing position said, "Hmp, alright then. Gimme a sec,". Before anyone could stop him, Jace leapt off the house and landed in the cart that was now directly below them. In one magnificent motion, he landed in the cart, swiped the gem, and leaped out of the cart as if he were a spring. He dashed into an alleyway and went out of sight of both his friends, and what was apparently a guard that was chasing him. But Kalen, along with the other two, knew exactly where he was going. So they all got up and went to the abandoned storage closet that was their home.
When they got there. Jace was sitting on a bed they made out of a shelf holding his prize with a cheesy grin on his face. "Here ya go," he said as he tossed the crystal to Kalen. After a few moments of admiring their latest prize, their conversation moved to what they should do with the crystal. The obvious answer would be to sell it, but because they had obtained it because they liked it, that option quickly dissipated. So they were going to keep it, but where. This was by far their most valuable possession so they couldn't leave it in their base unguarded. They were at an impasse. So the subject changed again.
This time it was Iris that spoke up. "Hey, do you guys ever wonder about the future?" She asked out of the blue. It was an interesting point. Thus far the group had only focused on surviving. Never about what happened next.
Eventually he heard about the Shinigami. Powerful warriors who trained and fought monsters. He believed that if he could become a Shinigami he could finally repay his friends for all their kindness towards him. Fortunately his friends had also decided to become Shinigami so for the next four years they learned all they could about the academy where they would train and practiced simple techniques involving honing reiatsu. And when they eventually applied to enter they where all accepted. For Kalen this was just barely a pass in the entrance exam
Rise to Power: When they entered the academy on their first day it turned out they were in the same class. Except for Yuzu who got put in the advanced class. As the year progressed, each of the four companions started to flourish in some areas of their training. As it turned out, Kalen was the best of their group when is came to sword skills. His four years of training prior to the academy had been strength and reflex based to help him in combat. Being the best in their group didn't exactly make him good, but he defiantly wasn't the worst. His skills only improved over time and though he was still lacking in other areas he was quickly climbing the ranks of swordsmen in his class.
Kalen unlocked shikai on a class trip gone wrong. The students were tasked with going out into a field for the day to train in more realistic environments. When a group of hollows attacked and killed most of the guards that had been charged with overseeing the trip. By the time the hollows attacked Kalen's group seven of his classmate had dies and half of the guards were dead. They ran, they ran away into the forest away from the massacre they were leaving behind. Eventually Jace and Iris had composed themselves and were discussing fighting the hollows. After all they had real swords and had been training to fight hollows for three years now. So while Kalen hid in a nearby tree his friends went out to fight a battle for him, again. But this time they didn't win. Kaleen watched his friends fall before the hollows and killed. He drew his sword, but he couldn't bring himself to fight them. "How many more must die before you stand up and fight?", he heard a voice say. "Who are you?", he said out loud. "I am -------, and I am tired of being held by such a weakling", in that moment he was transported to an underground maze lit by torches. "You seek to fight, you seek to be able to protect the ones closest to you, you wish for the strength to stand alone in the face of danger, find me and I shall show you the way". And so Kalen began to wander the unfamiliar halls that he felt he knew. After what seemed like hours alone in these halls he had to rest, "I'll never find my way out" he thought, "I'll never be strong enough, it's pointless". As he was about to give up and go to sleep the voice returned, "Did I tell you to find a way out? why would I give you an impossible task? I believe my instructions were to find me, you cannot escape this maze that is your despair until you find the strength to do so. I am your strength". "My strength?", Kalen asked himself, "the strength to move forward, to escape, to fight", he closed his eyes and took a deep breath. "I will get out of here, no matter what". As he opened his eyes he saw a warrior standing before him. "Good, that's the attitude my master should have. I will help you move forward and I will grant you strength. fight". Suddenly he was back in the forest with a hollow standing over him. Without thinking he raised his sword and cut across the hollow's mask killing the hollow instantly. He heard a commotion in the distance and ran to se what was the matter. He found the rest of the group there surrounding a group of students. He engaged them in battle, "Fool, you cannot win this alone, call out my name so I may aid you", the voice said to Kalen. A name came to him, "Blaze, Arathyx!", he had achieved shikai, and with it he battled the hollows refusing to allow harm come to the people he charged himself with protecting. When the battle was over the voice came again, "Good, you now know the basics of what it means to use my power, never let those under your protection die, never yield to the enemy if you can still fight, and when people are counting on you don't hold back, but remember that your life is precious also and should never be thrown away, and don't give in to despair".
Call to Action: After the events of the trip the academy was more cautious, there were no events like that day again for the time Kalen was there. Unfortunately he didn't benefit much from his heroics. By the time he graduated the event was almost forgotten. And so based on his grades it took a while to be accepted into a division. He was eventually accepted into squad five about a year after his graduation. Yuzu had joined the kido corps, though she could have joined any division she wished from her grades. Initially he was regarded with laughter at most of his grades, most of which were barely passing when he graduated, but after his first mission and allowing the others to see his proficiency in combat he was more or less accepted as an equal. He would speak to his zanpakuto often and she would train him in overcoming obstacles, perseverance, and sacrifice. While he could overcome many issues he was faced with and continue on through strenuous tasks, he was unwilling to make sacrifices. "You cannot escape every battle with your skill and wits, there will be times where you must rely on the sacrifices of others to get you through an impossible situation". "I will achieve my goals, I will become stronger, but I will not use others as a path to get there". "And what goals are these? until now you only goal has ben to become a Shinigami and you have accomplished this, what now?". "I don't know, perhaps I will request to leave the soul society for a while and perhaps find my purpose in the world of the living, or maybe we'll be lucky and get to fight a battle soon". "Hmm, one can only hope. Well whatever you do master, remember I will fight alongside you until the end". And so our story begins here. With a fresh Shinigami who's only spent a few months in his squad looking for something to do.