Post by flaya on Sept 21, 2017 10:49:40 GMT -5
Rockston, FlayRANK/TITLE
---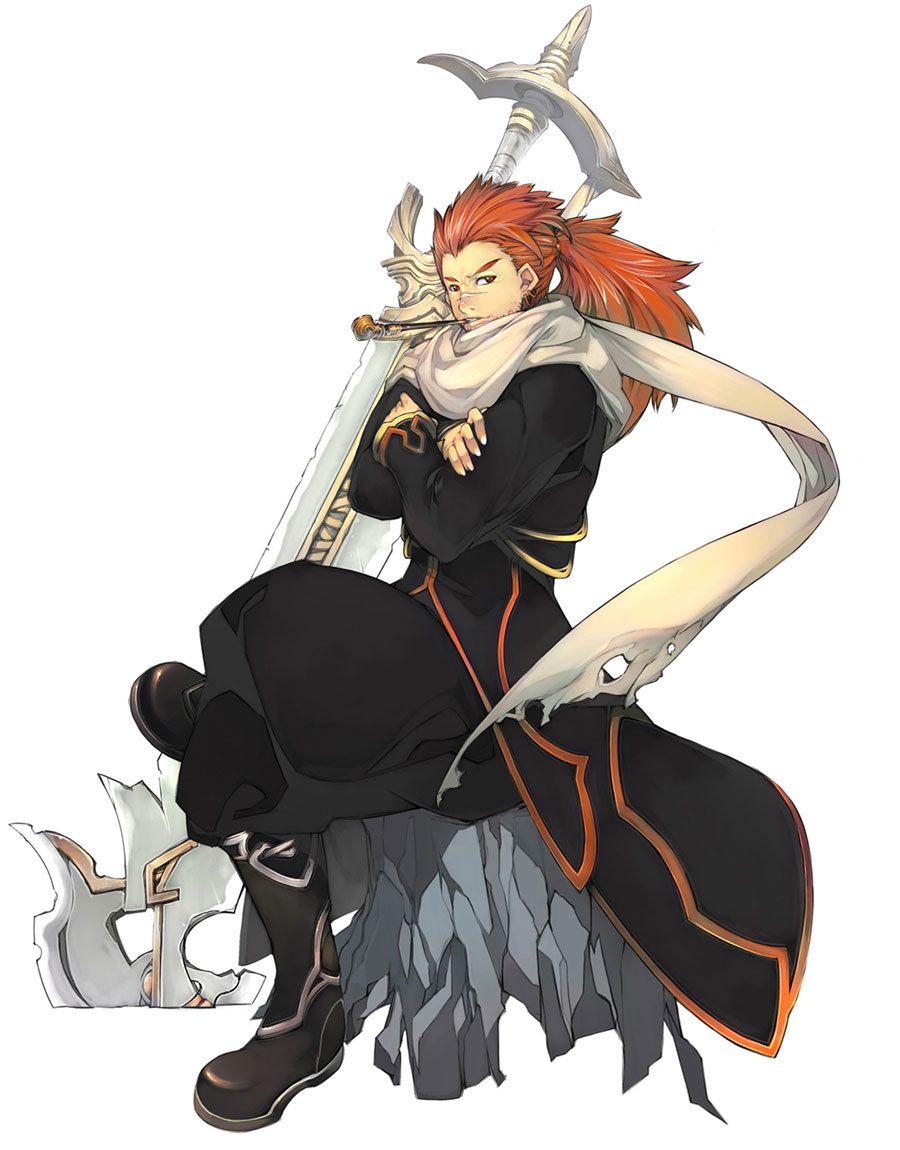 [ AT A GLANCE ]
Age / Apparent Age: 90 (25 as a human; 65 as a spirit) /27
Gender: Male
Height & Weight: 5'8 & 185 lbs
Hair & Eye Color: Crimson red hair, Deep Gold eyes.
Voice:
Flay Gunnar from Mana Khemia 2
-Affable: Flay has an easy going, open, sunny, and disarming personality as well as mannerisms. Almost regardless of the situation. And gives off a vibe of pervasive friendliness.
-Social Butterfly: Flay's extroverted nature, easy going approach, and natural quirks he has about him. Such as 'lowering himself' without 'looking down on' smaller characters, mimicking (and reinforcing) positive body language, and acting with unshakable confidence in everything he says and does (even when he's wrong). Helps him fit into many different social divisions in Soul Society.
-Confident: Regardless of situation, context, or plausibility. Always. Without a hint of doubt. He carries himself with neigh infinite confidence in everything he says and does.
-Resolute: Flay has boundless, unwavering determination, and filled with unshakable sense of purpose. Whatever he's doing, whatever he's planning to do. Is as strong as the earth he controls.
-Overweening: Unabashedly self assured, unwavering confidence, and an unrepentant faith in his skills and abilities. Gives Fray an excessive amount of pride and confidence in himself and everything he does. Partially deserved it can come across as arrogance or being 'too cocky.'
-Stubborn: The dark side of resolute. Changing his mind once it sets is nearly as difficult to move a mountain with one's bare hands. Nearly as time consuming as well. That boundless, unwavering determination makes him implacable, and his unshakable sense of purpose makes him relentless in his finishing whatever he set his mind too.
-Blunt: Completely, and unflinchingly open and direct in his speech. He doesn't beat around the bush, nor mince words. He stabs straight at the heart of the matter, and does so without thought nor care of whom he's speaking too.
Loyalties: Whoever has earned his respect. Usually he looks to himself for calling the shots, and if it lines up with what he's been told he'll do it, else it depends on if they've earned his respect or not.
Snapshots:
Jul 26th, 1927: Born.
Nov 12th, 1952: Died, entered Soul Society recently afterwards.
Jul 27th, 2008: Enters Soul Academy
Jul 15th, 2016: Awakens Shikai, It never goes back to it's sealed state. Also finally graduates the Soul Academy.
Sept 24th, 2017: Is awaiting placement in the second Division.
---
[ ON THE SURFACE ]
Physical Description:A strong, masculine, and arrogant adult he walks into a room with his body and posture radiating cheer, bravado, and confidence oozing from every pore. His stance is loose but grounded, although he rarely walks if he doesn't have to as much as use the earth itself to glide him around, or sit of a cloud of sand for transportation, every now in then to shake things up he'll borrow and travel under the ground (the latter one seeing much use in missions or combat where stealth is key). It at once gives him the appearance of being lazy, as well as laid back. Although he can often be found working out, using his powers in his daily life to add wrinkles and challenges to his training.
His lightly tanned skin rippling with wiry muscles, smooth and taunt, rolling gracefully under his body. At the times one can see him without his modified jacket for his Shihakusho, his constant physical training shows off. With the jacket falling with an audible thump showing it to be weighted training clothes, that he wears almost constantly. From his boots, to his Jacket, everything he wears is weighted enough to slow him down and make him struggle (currently:
Jacket:
300 lbs;
Pants:
300 lbs;
Sleeveless shirt:
100 lbs; and
Shoes:
50 lbs each. To improve both stamina and strength.
His manner of speech and mannerisms can best be described as if sunshine had sex with a category five tornado. Boisterous, jovial, and utterly unshakable confidence where ever he glides, floats, or pops into. Before leaving with the same level of 'style' as he entered if not more so.
Spiritual Description: His Aura, and personal signature can be best described in two words,
Anima Locus
. His power and her personality as so connected to the earth, that his aura seeps deep into the ground taking on the feel of the earth around him, and what doesn't seep into the earth seeps into the millions of minute particles of dirt that float in the air. Where ever he goes he sense less of a person. And more of an extension of the earth in that location. A walking statue, a feature born from the earth, a living, breathing Anima Locus.
---
[ BEHIND THE EYES ]
Personality: A whirlwind of boisterous joviality, extrovertedness, and resolute, unyielding, utterly unshakable confidence. Flay is simultaneously set in his ways and unshakable as a mountain. Yet as transient and shifting as desert dunes. Flay's confidence and pride comes from the versatility that his power offers him, and what he views as the best Zanpakuto Spirit ever. As well as his general skill in combat and strategy. While not quite Batman or Xanatos levels, he takes advantage of the fact that most see him as nothing more than a jock, a meathead, or a hedonistic slacker. Something he admittedly does nothing to dispel since the opinions of others if he doesn't have reason to respect them don't matter in the long run too him.
He's very skilled with coming up with complex, and/or improbable plans that some how work. Or at least have unforeseeable, but usually not disastrous outcomes. But his true strength of personality comes from the fact that he's good at reading people and altering his approach to something that he'd think would be agreeable. Or using his pet golem as an icebreaker. Not one to rest on his own laurels though, in any situation he's always pushing himself to be better, stronger, and more skilled. Even if his skill in learning is mostly in kinesthetic learning, with a hint of auditory, he believes the best way to learn something is to go out and do it.
A major problem with him is that his complex, as well as improbable plans flow out to combat and training. Adding wrinkles, or self imposed limits to make things challenging. Thrilling at the rush of adrenaline from a good challenge. Makes him a thrill seeker that sometimes throws him into the Leroy Jenkin's school of strategic planning. Rather than his usual style of things. All for the thrill of pushing himself past his limits.
Goals & Achievements:
Achievements:
-Achieved infinitely released Shikai during the Academy. As long as he's conscious.
-Repeated the last grade of the Academy 6 times (because he never turned in any work, did any tests that weren't combat, and generally skipped everything. Working on his Shikai and combat training.
Goals:
-Reach Captain Commander level power.
-Achieve Bankai.
-Have fun.
-Be able to break a mountain with a punch some day. Just to be able to say he can.
---
[ GUARDIAN ANGEL ]
Zanpakutō Spirit:
Arkenstone
For Flay his Zan spirit and Inner World are one in the same. Arkenstone's voice seeming to come from all areas of the world from the earth, mountains, rivers of metal, and pools of lava. Every bit of earth being the mouth Arkenstone talks from.
Voice wise it sounds like two people speaking simultaneously a female with a fluid, lilting, and gentle voice. And a males with a strong, steely, and gravely voice. A verbal duality that represents the yin and yang of the earth.
Inner World:Flay's Inner World is a vast desert. With a mix of deep, hard earth. Shifting sand dunes. Beaches near lakes of lava. Rivers that are made of mythril, and gem forests. All mater of metals, earths, stones, and gems habituate this world. Even the wildlife as it is, is more golem than animal. Created and feeding off the vary earth they spring from.
This world represents Flay's love of the earth and all the various things that make it up. For him there is nothing more relaxing than the earth beneath one's feet; the feel of metal being molded by one's hands; the feel of loose soil flowing between the fingers. And this world is the very epitome of that love.
Power:Flay's power is very simple. Yet vast. It's the control and manipulation of Earth (soil, gravel, sand, rocks, dust. Anything that's not flora, fauna, gems, metal (or containing metal), or lava). As his resonance grows the complexity, volume, and range at which he's able to manipulate increases as well. Functionally his power is Geomancy based Kido (where Zan Res = Kido level when going up against other kido).
Zanpakutō: Meet Fluffy!
Standing at 18 inches (or roughly 1/4th Flay's height). When Flay wakes up he releases his Zanpakuto, and creates then stores the hilt in Fluffy. So his weapon is always at hand without him having to deal with it.
Sealed, it's in the form of
Battle Pickaxe.
A perfect weapon for both working the land, and slaying one's enemies, handle extends (is a collapsible handle) from a one handed (8 inches) to two handed (24) inches weapon.)
---
[ LEGACY CREATED ]
Origin: Flay Rockston was born in the rural southern united states, to a family of miners and farmers. It was there that Flay discovered a deep love of the earth. How it could be tended, how things could be gathered from it, and how things formed with in it. When he turned 20 he joined the Armed Forces to get a grant to pay for his college tuition where he could turn that love of the earth into a profession that paid better and with less chance of cancer and death. Or heat stroke and back breaking labor that may or may not pay out each year.
He landed feet first into the Korean War, and was one of the many thousands killed. And with the mass amount of dead it wasn't long till a Shingami came to purify his soul. Sending him to Soul Society. The second he arrived his love of the earth followed him and ignoring the sector that they sent him too which was closer to Seireitei and had better living conditions. Set off to the farther reaches where he could enjoy the earth to it's fullest.
It was 56 years of bliss. Each day throwing himself into the earth, training his mind and body to become stronger. Feeling the shape and nature of the earth beneath him. Meditating on the world around him. Deepening his connection to the earth as far as he could as a spirit. But each year he became more and more spiritually powerful. Until he started feeling stomach pains from hunger, but nature provided that. It wasn't until his steadily growing spiritual energy started harming other souls that he was inducted into the Academy to control his spiritual energy.
Rise to Power: In the Academy Flay had lots of problems. Not really from his personality, but because of his attitude towards what things were called. He kept actively ignoring it, enraging his teachers. Kept focus bettering his skills at combat, or simply ditching it all together to connect to the earth, and his Zanpakuto. The first because it was what he always did, the later because if he was going to wield a magic weapon he wanted to be able to understand and wield it to the best of his abilities. So it's of small note that while he was able to awaken his Zanpakuto relatively quickly, his grades suffered terribly outside a very narrow range of topics.
He couldn't remember Kido spell incantations to save his life, he kept naming Shinigami techniques what he wanted, and generally spent more time in KP or the Brigg for general misconduct, than he would like to admit. Not that he really cared much. They wanted him, he didn't particularly care past getting his Zanpakuto, and it's ability to either let him go to a world that was the Earth Incarnate, or mold the earth he loved so much. And when not doing those things as much as possible, was using it to help enhance his physical training.
It took him 8 years beyond what normally happened for Shinigami to graduate. And despite his actual intellect, got him a pretty well deserved reputation as a jock and a meat head. Opinions which didn't matter to Flay, because he was busy bettering himself in the areas he cared about and could grasp. But it was also those skills that made him inept for all but one division. The second. The fifth would have been great if not for his Kido based Release, nor the fact that he used said power for every facet of his daily life. And fourth was equally as bad with it's libraries and more cerebral or even more patient individuals. Lacking the challenge that he craved.
Call to Action: He's finally graduated the Academy. Much to the relief of his instructors for whom he's no longer their problem. While he has "learned" how to use the correct terms occasionally. But now it's time for him to start his journey as a Shinigami. Test just how far he can take his powers. And more importantly, wreck as much face of those he's sent to deal with as possible. Especially if Second Division is as challenging and dangerous as he's been led to believe. It should be a grand fun time. And he's going to live each day to the funnest.