Post by Sora Shiryoku on Apr 6, 2016 14:37:44 GMT -5
___ S H I N I G A M I ___
The Soul Reaper
On The Surface__
Name: Kazuto "Kirito" Kirigaya
Age / Apparent Age: 24/21
Birthday: 1st Of September, 1994
Gender: Male
Height & Weight: Kirito weighs in at a surprisingly heavy 165 pounds, considering he is 5 feet and 11 inches in height.
Hair & Eyes: Kirito, though when he was younger had dark black hair, as well as brown eyes, has had his facial features completely altered after gaining access to his zanpakuto. His hair, after being exposed to the electromagnetic fields produced by his Zanpakuto, turned a light sky blue. The same actually occurred with his eyes, causing them to change into a turquoise color after being exposed to this lightning infused reiatsu. Some say that this causes his eyes to appear as if they long for something more than what they have, a perfect rendition of Kirito's personality. He wouldn't show it to any old person, but inside he really does long for something more. The thing is, he really doesn't know what that ,"more", is. Due to this change in color on multiple parts of his body, Kirito's general look is far from something even somewhat similar to any other shinigami. Kirito also happens to be actually PROTECTIVE of his hair. Despite his cleanliness in all places EXCEPT it, he still treasures his hair, as he feels it is an extension of his personality, as it is rather flowing. He feels his hair is more free in life than he is, and hence when the static electricity produced by his zanpakuto touches him, he hates it as his hair stands up on end and becomes rigid. Unlike almost everybody he knows of, Kirito's shikai did actual affect his physical appearance after simply being achieved, rather permanently. He doesn't know the reason, and honestly, could care less, because blue is his favorite color.
Physical Description: Kirito has a light voice, almost prepubescent sounding. Whenever a word leaves his mouth, it sounds like it doesn't even have to touch the air to travel to somebody's ear. This represents Kirito's quiet demeanor perfectly. He wears his black jacket and pants all the time underneath a normal shihakusho. Though this gets him hot, he doesn't mind, as he is in battle so often that he'll be sweating no matter what he wears. This doesn't stop him from taking his shihakusho off during a tough battle though. Due to compulsive washing, his clothes never have a chance to get dirty. Also caused by this is a smell of soap which appears to emit from him. He uses lavender flavored wash fluid, so he smells somewhat like said plant. Oddly enough, Kirito is reluctant to wash his hair, as he is worried that due to it's (actually non-existent) electric nature, he could shock himself in the shower. Obviously, he wouldn't actually shock himself, but due to Kirito's naturally eccentric and worrisome tendencies when discussing himself, he avoids doing anything that even a superstitious person would do. To keep the smell down, he manages to take them however, overcoming this rather comedic fear. His skin is a bright white, a color he dislikes, as to why he wears the black jacket. He thinks that if the sun attracts itself to him, he will become tanned. His build is not broad, leaving him with rather compact shoulders. This body type lets him effectively move, yet doesn't stump him from striking with a massive amount of power. This tendency to move around a lot and use his body type to his own advantage by no means makes him a weak man, however. Judging this book by its cover will only get you killed. He has a very calm demeanor, one you wouldn't expect from somebody of his age; somebody who if he was still alive, would probably be in the midst of getting drunk at some fraternity party. This is something which allows him to slip into crowds easily, as he makes no extremely jerky and awkward movements. They simply don't fit him. Despite his small and rather scrawny build, Kirito does have rather wide shoulders. as well as a long neck. His nose and general facial features aren't highly distinctive, and few people really pay attention to anything but his lightly curved lips, which hold a color actually similar to that of his skin. He wears no jewelry, and has no visual implements to speak of either, making his total physical appearance very, very... odd. Most describe him as "almost normal". For example, the skin, eyes, and face are nothing to mention, but his hair and choice of casual clothing when not on duty makes him seem highly out of place in the soul society.
u
Spiritual Description: Kirito has turquoise colored reiatsu, signifying his obsession with the winds and lightning. He sees them as the freest of the elements, the search of freedom being one of his few obsessions. It is also because of this, than when viewed with spirit perception, it appears as if the reiatsu forms wings of lightning behind his body. Of course, this is purely cosmetic. His reiatsu smells like singed hairs, and when released, sounds like a loud buzzing. Almost like that of an electrical generator. It tastes like fresh air, except almost as if you were near the sea, while it was raining. This is also related to Kirito's unique personality. Kirito actually believes his infatuation with freedom causes his Reiatsu to act upon its own, forming into things of uncontrollable nature, despite the fact that this is completely unrelated to the personality he holds. Coincidence can be a funny thing.
In battle, Kirito's reiatsu maintains these features, but feels sharp and menacing, unlike its usual calm static feeling. When released into an aura around him, it takes a smooth texture, surrounding him like an oval.
Behind The Eyes__
Personality: Kirito is a man obsessed with freedom. This is an obsession fueled by his life history, as after he died, Kirito vowed to close himself off to people from the outside. To compensate for this social seclusion, he decided to seek freedom physically and spiritually. Of course, since then his vow has faltered once or twice, but his infatuation remains strong. Despite his young age for a shinigami, he has been all over the human world, as well as the Soul Society. His infatuation with lightning has led him to have a fast acting and very Go-with the flow personality. He feels that if somebody is to move, it shouldn't be forced. It should be where their body feels like going. Yet, due to his other infatuation with wind, he believes that due to the randomness of life, one should never should be focused on a single place. To live properly to him is to be everywhere as much as possible. It is because of this he has his unique spiritual energy. His personality is so powerful, it governs his very being. His goal in life is to life as free as a mortal being can, as he believes all people are given a false sense of freedom. The ability to move where they chose, live where they want. Yet, this is all an illusion to him. He thinks that if something happens, chances are if you didn't do it, somebody else would eventually. The one thing more important to him than his life goal are is relationships with his few friends. He has few because of his hard to approach personality, but the ones he does have are as close as they could be. Sadly, as his personality gives him a one way-or another life view, he is very judgmental. He believes that as a smart individual, those who do not follow his beliefs are wrong in most everything they do. He can be very blunt, brutal, and also rather arrogant about his general smarts and this has screwed him over on many an occasion. Many link his reiatsu to his personality, but to this, Kirito laughs. It is actually just a coincidence that he loves the two elements his zanpakuto uses. When you're a friend of Kirito, he'll be there for you. You see, Kirito himself hates the idea of anybody he loves being hurt, and he actually fights only to gain the power to protect those he call friends. As his emotions go, Kirito is a straight male, he experiences happiness and laughter like other people, though less frequently, and can also feel sad. Finally, we have Kirito's greatest fear, and greatest love. Women. He gets nervous, loses composure, and begins to freak out around most girls. If he finds them attractive, that is. Just kidding. Kirito values personality in his women. If they happen to be insecure, he can become their security. If he's feeling insecure, they can become his security. He looks for nothing more than somebody who he can find home in, who can accept his faults and look past them to see who he really is.
Positive Qualities:
Major Traits:
-Instinctual Carelessness
Kirito can act on a moment's notice through pure instinct, and though a "bad" by conventional standards student, has an IQ of 149. During school, he failed tests simply because he couldn't be bothered to try something he already knew.]
-Caring and Empathetic

This is specific to his close friends. Kirito, though normally rather cold and somewhat of an asshole, is very loyal and understanding to those he treasures.
-Sadistically funny

Kirito has a rather sadist sense of humor. To many, this could be seen as a disadvantage, as it makes people uncomfortable at times. In Kirito's head, that's what he wants to achieve with it.
-Eccentric

Kirito is seen by most as somewhat crazy, while also being recognized for an odd intelligence. To some, like the above trait, this could make them uncomfortable. Once again, like the above trait, Kirito likes it that way. These traits are his layers of defense; If you like him after seeing both of them, he lets you into his head.
Negative Qualities:
Major Traits:
-Arrogant
Kirito is so arrogant, he challenged an expert in hand to hand combat for a seated position he didn't know the details about. Point and center is, he's cocky.
-Brutal and Blunt

If you're looking for somebody to be honest with you, he's the guy. That's all he ever does, though. Kirito wont lie to you even if it may be better for your emotional state, and hence, he is extremely to the point.
-Disrespectful, hating, and infuriated easily by those who oppose his beliefs

I've already explained this, but... please. Don't do anything that may oppose Kirito's belief in freedom as an ultimate state; He'll fuck you up.
-Combat Loving
Kirito, like many members of the fifth, loves fighting. It gives him a rush of fun in an otherwise boring world.
Mental Notes:
-Kirito has developed rather severe ADD over time. Though not related at all, his infatuation with freedom is something people joke about having caused it. As he finds it hard to focus on serious topics, his mind tends to free itself into random erratic, deep thoughts.
-Kirito feels little to no remorse if he kills somebody who he felt deserved it
Alignment:


Kirito is a person who identifies as Chaotic Good. He will do things upon instinct, and like a vigilante, will follow his own beliefs and do what HE believes is right, whether the law agrees with it or not. His friends are people he will protect no matter what, even if the face of danger and demise looms over him. It is for this reason he has been regularly reprimanded for disobeying a mission's orders as to save or remove a friend from harms way. This is something which displeases his superiors, and on more than few occasions, has gotten him into trouble. If the law got in the way of him saving the life of one of his closest friends, Kirito would, though somewhat begrudgingly, break it to save his friend's life.
Strength Of The World__
Zanpakutō Spirit and Inner World : Kirito's Zanpakuto is named Kiri-Hana (rain flower), and lives in a world in which it constantly rains, with endless space to roam in forever. The landscape is that of a grassy plateau, with a pond in the exact center. Kiri-Hana is usually at the center of this pond, balancing on the liquid beneath her feet as if it is solid ground. The funny thing is, Kiri-Hana never seems to get wet from any of the water in her world, always maintaining a smile as she endures the endless world of rain inside of Kirito. The only time it stops raining is when Kirito, while under the effects of meditation, enters his own inner world to converse with her. This is because Hana is happy when he is in there, and her emotions govern the realm's weather. Kiri-Hana is a female human type of spirit. She is rather kind, encouraging Kirito as a friend and not merely a partner in battle. One could even say she was Kirito's closest friend. Kiri-Hana's spirit looks like a white female, with green eyes, blond hair, and a school uniform. She is a being who has actual feelings for her Shinigami partner, and though not romantic, cause the two to not see each other as fighting partners, but as close and tightly wound friends.. The bond they share is something that nobody can break , something pure and beyond the reach of any evil force. Even though Kirito can be strict or even get mad at Hana, (as he calls her), he still remains on good terms, because they really are two people, or in this case, one person, who really, really, work well together. The bond we have discussed simply can't be shattered, as it isn't formed out of need. It is one created from desire. A desire for friendship, a desire for companionship, and above all, a desire for comfort.
Zanpakutō : Kirito's Zanpakuto is very uniquely shaped. In sealed release form, the blade takes the form of a thin rapier, with an (in relative to the blade type) oversized crossguard. The blade in this form is better used for whip like strikes, or for blisteringly quick stabbing assaults. After released into shikai, Kiri-Hana glows blue, and morphs into a single edged katana, which can be wielded with one or two hands. A static aura surrounds the blade after it has been released, caused by the electromagnetic field surrounding it and the lightning energy stored inside of it. Below is a picture of the Shikai form of the blade. A unique feature of the blade that many people notice is its distinct coloring. This coloring is actually a reflection of Kirito's reiatsu's natural color. The blue on the blade represents Lightning, and as there is a majority of blue controlling the color of the blade, it can be said that Kirito does indeed favor lightning over the other element present. The other element represented is wind, giving a green hue to parts of the blade.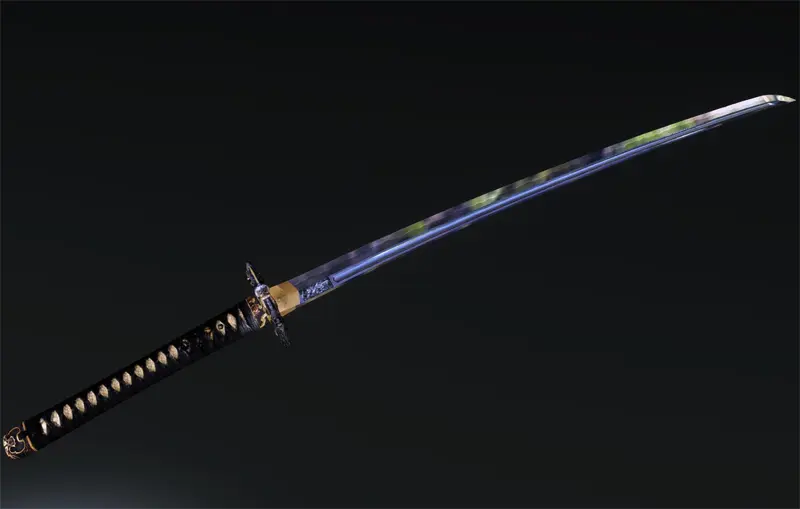 Release Phrase:
Initial Release: Blossom into a beautiful thunderclap, Kiri-Hana!
Looks Post-Release:
After releasing Kiri-Hana, Kirito's jacket changes color due to the paint being effected by the lightning energy released from the blade. It becomes a light-blue mixed with a hint of black and slowly, the black will fade as the blue engulfs it. After returning to normal, the energy will retract itself. Kirito's hair also begins to stand on end as the static aura created by his blade surrounds him, giving it an almost surreal feel. Kirito also becomes much more irritable yet insensitive, as well as rather easily excited. This contrasts heavily with his usually reserved profile and personality. Though rare for a shinigami's look to change after a mere shikai release, Kirito is one of the few in which this change did occur.
Abilities Of Kiri-Hana:

Kiri-Hana's abilities all stem from (in Kirito's mind) the domain of the gods. The sky. Each of the elements he can command originate in the sky, far above the mortal world where people go about their lives. To Kirito, it is the most free, open, and godly place in the human world, as well as the soul society, as it is open, expansive, and contains the most powerful forces of nature. The Zanpakuto he wields, Kiri-Hana, can access each of these elements for simple uses, the elements being Electricity and Wind. Because of this, it's powers are relatively simple. Kiri-Hana can release lightning, wind and electromagnetic fields through three basic forms:
Nagashi (Current)- To affect areas around the user, and not a specific enemy. This is a burst of electricity centered around the user, which expands outwards. Kirito can also use this to simply channel lightning through the blade, causing any metal touching it to conduct the lightning. This would shock an opponent who was holding a zanpakuto made of metal touching Kirito's blade. This can be however, insulated against through and normal electrical insulation technique.
Kyouka (Enhancement)- The lightning and electromagnetic field can be manipulated to effect the blade's utility itself, or increase Kirito's combat prowess in different ways. This Includes the sharpening of the blade, or elongating it through an extension made of lightning. These enhancements improve cutting power and gain an element of lightning to their attacks.
Burasuto (Blast)- Kirito will release targeted blasts, waves, or bolts of lightning at an enemy. He can also use this to release currents of wind. This is the simplest, most raw destructive form of Kirito's zanpakuto abilities.
These abilities are versatile, and can be used on different levels depending on the situation. However, consequently, as the blade is able to affect only rather small to somewhat medium areas being only a Shikai state, Kirito has trouble controlling said strength at his present level of spirit. As he masters his own Zanpakuto, this will change. It should also be noted that Kirito is unaffected by normal electricity from nature, as the electromagnetic static field surrounding him and the blade disperses it, insulating him from it. He is also immune to the damaging effects of his own zanpakuto.
Second Release Description: Arashi no Tamashii (Soul of the Stormbringer)
Once bankai activates, blade's blue aura fades, and then a large shock wave is released from it's hilt, briefly clouding Kirito's and anybody else in the radius' vision. When the shock wave fades, his blade, though retaining it's katana shape, is no longer stained with blue and green, but is now completely white. Along with this change in coloration, Kirito's own appearance changes as well. His shihakusho and jacket dissapear, revealing his tight, ripped black pants, black tank top, and showcasing his now glowing, ornate tattoo of an angel located just above his right pectoral. Kirito's hair and eyes also return to their once black color. These changes signify his acceptance of his human side, and his soul's "completion" as he allows himself to truly be who he believes he should be, even if just for a short while. Finally, Kirito's reiatsu changes from it's original, very erratic and jumpy presence which violently found its way along one's body into a calm, completely stationary energy. His reiatsu functions like the eye of a storm, where all is calm for a moment until you reach the boundaries of the eye. When he attacks, the reiatsu leaps forwards, once again violently crawling over the enemy's body. Kirito's reiatsu still smells as it used to, like singed hairs and a soft summer breeze, but now forms itself into a menacing turquoise tornado centered around him when being seen through visual reiatsu perception.
Second Release Ability:
Kirito's power expands from it's previous control over wind and lightning to total control over the weather. After embracing his full self and pouring his own soul into his sword, he unlocked the ability to control the rain, cloud formations, and such other weather based events. He can cause thunderstorms, small hurricanes and even a localized tornado if he so pleases. Of course, the blade still retains its useful, smaller scale abilities like it's generalized lightning and wind manipulation powers from it's shikai state, though their strength is drastically enhanced by the true form of Kirito's zanpakuto. The ability links to Kirito in that his original ability was narrow minded, focused on freedom, and the elements that he believed were most powerful. With his soul's relative completion, his blade, along with him, has gained respect for the other elements of the universe along with their practical uses. He no longer sees lightning as a mere tool of destruction, but a graceful, pinpoint tool that can counter, stun, and destroy, and he now believes wind is not purely a defensive element, but a graceful shield that can be used to violently slam into enemies and cut people like an invisible sword. His original belief was that his shikai was a representation of the divine, when in reality, it was the opposite: a narrow minded belief of what he believed the gods should have considered themselves useful for. His bankai represents the realization of this flawed belief, and its correction.





Legacy Created__
Current Division: 5th Division
Previous Divisions: This is Kirito's first assigned division.
Snapshots: In all honesty, despite having traveled across the world, Kirito is relatively new at being a shinigami and has been near no notable events. He hadn't yet left the academy when Tova Diablo attacked the Soul Society and was only placed in a division just before Miyuki Wakihisa's innauguration as captain of the third.
1994- Born
1999- Taught the basic Quincy skills by his Mother.
2004- Family was attacked by hollow after a fit which caused Kirito to release high amounts of reiatsu into the air. Mother was killed.
2005- Another Hollow attacks Kirito, only to be shielded by Kirito's best friend, who dies from the attack. Kazuto kills the Hollow using his Quincy bow.
2006- Kirito meets a shinigami. They become friends as the man feels Kirito is similar to him.
2006- Kirito begins training his own spiritual prowess, occasionally with the help of Karono.
2011- The shinigami leaves, shortly after telling Kirito about the Seireitei and explaining shinigami and their powers to him. He also tells Kirito how to get to Shin'o Academy if he's ever interested.
2012- Kirito, out of sheer curiosity, shamelessly kills himself.
2012- Kirito somehow retains his memories after dying, and after remembering what the man said to him about the Shin'o academy, Kirito runs out of the line for being sorted into the rukongai, and rushes to the gate. After showcasing his spiritual prowess, he is let through to the Seireitei and Shin'o Academy.
History:
Basic Overview:
Kirito was born as a spiritually aware human to a formerly Quincy-associated Mother and a normal father. He was five when his mother taught him the basics in regards to his own Quincy abilities, but despite this, Kirito found himself disinterested, something which led his mother to put off his training. Unfortunately, before he could receive more training, his mother was killed, by a hollow no less, which was then killed by a pair of shinigami, confounded at the boy's spiritual pressure. The hollow had been attracted to Kirito due to a temper tantrum he had, causing his reiatsu to leak. At the age of 19, he died, having known about the existence of Shinigami by seeing one as a child of 8 years old. The shinigami was kind, unlike many others who met humans who could see them, and showed Kirito how to understand his spiritual abilities. Before the shinigami left to return to the Seireitei, (when Kirito was about 12), he explained the existence of the soul society and how if Kirito died one day, he could become a Shinigami like himself. A story which ended rather tragically, Kirito killed himself at the age of 19 due to pure curiosity. Upon passing into the next world, Kirito retained his memories due to his high spiritual potential. After being checked into a district, Kirito instantly left the rukongai for the Shinigami Academy the man had told him about. At the gate, by showcasing his reiatsu, he was allowed through and greeted by a few academy members. He was then inducted into the academy and was given a Zanpakuto Asauchi. It was here he first discovered his zanpakuto spirit, and learnt to fully harness his potential as a shinigami. Only recently has Kirito been placed in a division. Despite his young age, Kirito graduated the academy in a short 4 years, being fast tracked because of his much greater knowledge of his own abilities. He's also probably the youngest shinigami in the Seireitei, with most being at least 50 years older. After being placed in a division, Kirito was quickly sent into battle, overconfident as ever. He was quickly dispatched by a Bala from a hollow, and hence has been teased about his ironic arrogance in a battle he was destined to lose. This didn't matter to him however. Kirito is still fighting strong, getting more powerful as each day goes by. His greatest aspiration is to become captain commander of the gotei, and successfully defeat lieutenant Hazuki. Why defeat her you ask? Because she beat up a perfectly nice girl, who in honesty, probably shouldn't be a captain. She was so fragile! Why hurt her! And that brings us to Kirito's last goal. He wants to find a nice girl, and settle down. Despite his general hate for social activity, he's slowly adapting to those around him, and making friends. Something he promised himself he wouldn't ever do again. So yeah, he does want to find love in life. He better kick some ass along the way though.
Childhood and Human Life:
Kirito was born in 1991 on January 2nd. His parents loved him, and he had no siblings at the time. Two years later, his mother late term miscarried a baby girl. After this, his parents made no attempt to have any more children. Kirito was curious as a baby. Always touching things and searching for items which according to his parents, were hidden so well he shouldn't have found them. Then, suddenly, after a tantrum on his third birthday, a hollow attacked their house due to a release of reiatsu from the toddler Kirito. As if being attacked by an invisible force, his parents hid Kirito deep in their house. As the abode was attacked, Kirito's mother was caught in a Bala, and consequently killed. She simply vanished, having been blown to pieces. Then, after feeling a spiritual pressure vanish, Kirito left his protected space, and walked up to the hollow, shielding his father from a normal swipe. Remarkably, he survived with several severe injuries nonetheless. Soul reapers who arrived seconds later were confounded at the site of a boy and his father lying on the ground, alive. After dispatching the hollow, both were healed and had Kikanshinki used on them. Though they considered taking the boy to the rukongai to keep him safe, having noticed his abnormal spiritual pressure, this was voted against. Multiple years later, while in a park, Kirito encountered a hollow being fought by a Shinigami. Surprised he could be seen, the man introduced himself as Karono Misumono. Slowly but surely, Kirito and he realized they were alike. It was from this man Kirito gained his infatuation with freedom. The man was abnormally friendly, so much so that Kirito was disturbed at first. This was something he adjusted to. Finally, after having the reasoning for why others couldn't see the man explained, Kirito asked the man to train him. Eventually, after asking several more times, coming to the area in which the man was stationed every day simply to beg to him, Karono agreed. Over the course of four years, the man taught Kirito to use his powers. The ability to use Lightning, electromagnetic fields, these powers were learnt to be controlled by the young boy. Then, sadly the man had to leave for the seireitei. After a 4 year friendship, and one goodbye, Kirito's life with a soul reaper ended. Before he left, he told Kirito how to get to Shin'o academy from the rukongai sorting line. Onward, Kirito went through high school, had all of the usual going-obs, then suddenly realized that at the rate his spiritual powers were growing, he would have to wait a long time to reach the soul society, as those with higher spiritual pressure tended to live longer (though not by a wide margin), and died of natural causes slower. Kirito wanted to reach the soul society, as the entire idea of it excited him. With this in mind, at the age of 19, Kirito flipped a knife on himself and slit his wrists. He died smiling. His friends, however, didn't smile at this. The few he had were close and dear, and Kirito had left without thinking about them, about their feelings, as well as his now estranged father's own depressive thoughts. However, even then, Kirito knew he hadn't died to actually get to the soul society faster. No. It was because he didn't want the people he loved to be hurt. Ever. His mother had died for him, and 4 years earlier, his best friend had died as well. That wouldn't happen again. Never, ever again. So he closed himself off. His feelings, his personality. To compensate for this social seclusion, he decided to seek freedom. If his thoughts couldn't be free, maybe his body could. And it did. And still does.
Soul Society:
Kirito woke up at the back of a line. Evidently, he was to be placed in a district among the rukongai. This was rather annoying for him, but in the distance, he saw the gates of the white city. The seireitei. Having remembered what Karono had told him many years ago, Kirito ran out of the line and dashed for the gate. At the gate, he was greeted by a giant, one of the keepers of the gates surrounding the seireitei. After explaining his purpose of entry and displaying his reiatsu in the form of a release of spiritual pressure. Though it ended with an unimpressed look, the gate keeper was satisfied and believed Kirito deserved to pass into the seireitei. Upon reaching the Shin'o Academy, Kirito was once again tested, and once again passed. He was allowed in, and hence began his time as a Shinigami. During his time here he received and heard his Zanpakuto for the first time, skipped multiple, though not all of his Kido classes, because who the fuck cares about spells (until he got knocked out by a bala 4 years later because he got cocky and DIDNT KNOW KIDO), and finally, graduated and was placed in 5th division. Since then, Kirito has met multiple people and befriended them, fought several others including the 3rd seat of his own division and the soon to be appointed 4th seat of the fifth as well.
To Be Continued...
Roleplay Sample:
Kirito was in his barracks. As usual. He was throwing a small ball towards the white ceiling. Everything was white around here (Except Captain Minamoto's bed sheets, but that's a story for another day. Actually, now that I think about it, considering he and Miyuki are.... wait, that would make them white!). Fuck, even this ball was white. Not enough for it to blend in with the ceiling when Kirito tossed, but still. White. Nevertheless, Kirito continued to throw the ball as he thought this. Up. Down. Up. Down. It didn't really matter where the ball landed. Or, would have landed at least. Kirito was fast enough to catch it every time. Sometimes, he wished he wasn't fast. Or strong. Or different in any way. Back home, he was different. Here, at least he could be seen as normal. If normal could be said for anybody here. He guessed it was honestly just perspective. Or was it. The psyche of a commonly referred to person as "Normal" was standard. Eats meat, veggies, and some fruit. Occasionally bread. Has a middle level salary. The usual. Here, of course, those in the rukongai would... he supposed, be normal. Those in the Seireitei, specifically Shinigami, would still be called weird by normal inhabitants of the Rukongai, right? God, this was confusing. He supposed that it didn't matter. Kirito then went back to throwing that same ball, at that same ceiling, every 2 seconds, catching each time it fell. Rinse. Repeat.
OOC__
Player Alias: Kirito
Do you want a grade?: As this is being regraded and I've learnt my lesson, I'll say I aim for 600 GP. If I can earn higher, that would be cool, but it really doesn't matter much.
Were you referred by anyone?: Nope. Just ingenuity and want for a non-naruto RP.
Other Characters: None. This is my first on the site.