Post by Yui Shokotsuki on Jul 26, 2017 7:20:54 GMT -5
SHOKOTSUKI, YUIUNSEATED, 2ND SQUAD
---
[ AT A GLANCE ]
Age / Apparent Age: 500 / 16
Gender:Female
Height & Weight: 4' 11" & 95 lbs
Hair & Eye Color: Long purple hair and purple eyes
Positive Traits:
Respectful… in her own way
Competitive
Determined
Task Oriented
Compassionate to the Less Fortunate
Negative Traits:
Touchy (Call her short, see what happens)
Self-conscious
Merciless when working
Unrelenting when training
Loyalties: 2nd Squad Authorities
Snapshots:
1517 – Birth
1529 – Stopped Growing
1533 – Died when village caught in the crossfire
1540 – Shinigami found Yui, performed Soul Burial
1550 – Learning to survive, discovered hunger
1560 – Began to hunt and fish for food, prey for the strong
1575 – Vows to become strong, but unable to muster enough Reiatsu to enter the Shinigami Academy
1600 – Training pays off, and allowed admittance
1607 – Struggling through the Academy, finally graduates, begins training mostly alone
1800 – Discovers Shikai and begins communing with Zanpakutou more than anyone else, tells no one
1950 – Largely unnoticed before, begins to climb the ranks very suddenly
2000 – Begins to look towards a seated position and training with others who show skills
---
[ ON THE SURFACE ]
Physical Description:
A petite female with purple eyes and long hair that she ties up in a ponytail, she is nothing if not easily missed. Being both very petite and incredibly short, she is often mistaken for a child, regardless of her actual age, and she often bemuses that her curse of life has transferred to her soul in Soul Society. She washes often, but nothing that provides fragrance, so most often it is the lack of scent that is best associated with her, as well as a normal lack of any sound. Most often, she speaks only just loudly enough to be heard, and is thought of as reclusive and reserved, but that can change in an instant when someone begins to tease her about her height, age, or her Zanpakuto, which is a reverse edged Wazikashi she often wears horizontally on her lower back. Her clothing is relatively close to most 2nd squad, while also introducing a bit of her own flair to the look without detracting it's purpose.
Spiritual Description: Her reiatsu is a deep pink in color, and if you are unfortunate enough to feel it, it is startlingly without emotion, much like a void. Unlike a lot of other Shinigami, her reiatsu does not spread far from her body, instead binding closely to her form, almost as a representation of her smaller size. As her control increases, it will eventually only be visible as an outline even when she is of a higher level than others, as she wraps the energy tightly around her.
---
[ BEHIND THE EYES ]
Personality:
The easiest way to describe how Yui operates is on one of two levels; she is either serious and not to be trifled with, or at ease and messing around when dealing with other people. She grows serious when she has a mission to carry out or is training, which is most of the time that anyone will find her. She detests failure and weakness with ever fiber of her being, and strives to overcome both, but has never had anyone aside her Zanpakuto's spirit to confide in. Closed off emotionally to others, she seldom will ever speak unless it is something she truly thinks strongly about, until they have proven themselves to be stronger than she is. The moment that happens, she can operate a little more at ease around them, and will actually go out of her way to observe them and try to learn what she can, and these are the only people that jokes regarding her height and age will be tolerated. Having been ridiculed for years for both her stature and her Zanpakutou's shape, she wants to prove to everyone that she will not let people look down on her (metaphorically, it's almost impossible not to do physically) and get away with it.
When on mission, she will follow her orders until she is unable to fight, and will not hesitate when told to take a life, regardless of race. Never one to waste time, she spends most of her waking hours training or observing those that are strong, always looking upwards and setting her goals higher than anyone usually cares to dream. She will not actively engage an enemy unless she is ordered to do so, or must out of self defense, and will only go out of her way to save someone if they have no chance of saving themselves, and it does not pose a risk to her. Now, on that same note, if she were to discover an Arrancar that was stronger than she was, she might observe him just the same way she would a stronger Shinigami, and while she is often found in places she doesn't belong with the lamest excuses for being there, she almost always has a purpose. Stalking strong people aside, she also finds it within herself to challenge fellow Shinigami, hollow, and just about anyone else that she comes across as a challenge and put all her training to the best test possible. When frustrated or concerned, she will often go hunting which helps her clear her mind with it's simplicity.
Fun quirks are that she likes to walk on walls or ceilings, and she loves good food to the point that she will do whatever she can to make sure that she gets some when it is available. A hidden quirk is that she deeply enjoys music, but getting her to admit that is difficult at best.
Goals & Achievements:
Yui has had to endure the world of Soul Society alone since the beginning, and as such, the fact that she survived at all is something she holds as an accomplishment. And then there was the academy, struggling for far longer than most to make it through the ranks with her abysmal Kido and lack of spiritual stamina, and then finally graduating and being placed in a squad of the Gotei 5. Her last accomplishment was finally meeting her Zanpakuto's spirit and entering her inner world, gaining her Shikai, and gaining someone she could trust and look to as a mentor.
As far as goals, she eventually wants to try to become a Captain one day. But above even that, or perhaps a large part of it, be strong enough to be seen as an equal in the eyes of those around her, be them peers, subordinates, leaders or enemies.
---
[ GUARDIAN ANGEL ]
Zanpakutō Spirit: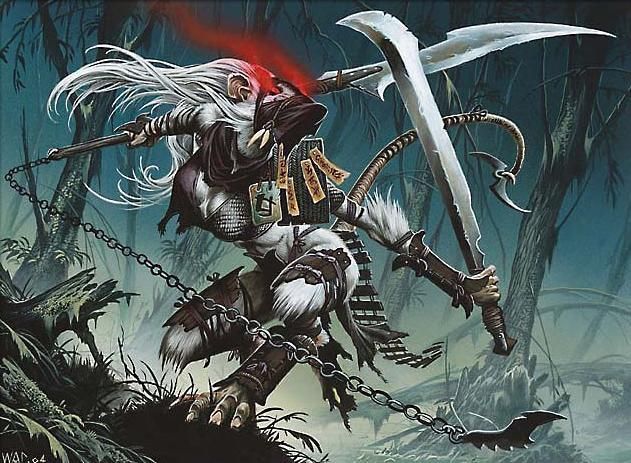 Shiva takes the shape of a large humanoid female rat. This creature is adorned in Armor, Weapons and has a pair of deep red eyes that burn with power. This spirit greatly outsizes Yui herself, and represents more of what she wants to become, as she is someone who is synonymous with capability, power and lethality with nothing more than seeing her and feeling her power. In personality, 'actions speaking louder than words' is the best way to describe this spirit, as often enough, she will not speak at all, and guides Yui in her own way by setting the example of what the Shinigami should become. While Yui often tries to confide in Shiva, most often the result is the spirit coming up with a very simplistic, honest and sometimes even heartbreaking response.
Inner World:
Currently, Yui's inner world is a massive labyrinth full of unexplored areas, rooms and secrets. Currently, because of her self conscious nature, it is covered in vines and moss, the little things that bother her taking root and acting as a source of motivation to grow stronger. In order to gain her Shikai, Yui had to find the center of the maze while being attacked by Shiva, ending in a fight with her that gained a small mote of respect from the spirit for her wielder.
Power: Yui's Shikai is relatively straightforward; she drives her own blade into her body, and then can emit several of the blades from anywhere on her body. The most typical way this is done is by making claw-like sword blades in her fists and feet that compliment her skill with Hakuda.
Zanpakutō: In it's sealed form, Yui's Zanpakuto is a reverse bladed Wakizashi, which has been the source for a considerable amount of ridicule from her peers, both for its reverse blade and small size. It is carried in a sheath attached horizontally on her lower back.
---
[ LEGACY CREATED ]
Origin: Born into a small farming village of Japan during the 1500's, there wasn't a whole lot to expect from her from the beginning. She was the oldest of two sisters, but it wasn't long into her life where she stopped growing entirely, and even her sister began to give her hand-me-down clothes, which hurt her pride. When she was 16, there was a battle between two clans and her village was caught in the crossfire, and she lost her life to a sword while trying to protect her sister. For seven years after that, she watched over her sister as much as she could until a Shinigami passed along and performed a Soul Burial, sending her to Soul Society and Rukongai, 51st district.
It was ten years of learning how to survive on her own, most chances to join a 'family' only serving as a reminder of the one she lost and politely turned down. It was ten years without purpose before she accidently walked by a place where a Shinigami happened to be, and collapsed, where the young man was kind enough to explain about the hunger that she was developing. Rather than try to steal, she moved to some of the outer districts and began to fish and hunt, not wanting to rely on others to get food, but the people who lived around her noticed she would come back with food and began to challenge her for it, often using their superior size, strength and numbers to beat her down and take what she had, so she progressed exceptionally slow. Because of this Yui grew even more anti-social, often staying in the forest for most of the time, working on what she could. After 25 years, she tried to gain admittance to the Shinigami Academy, but due to her low reiatsu, was denied.
Seeking strength, she returned to Rukongai, and began to pick fights with those who had previously thought of her as easy prey, learning the bare basics of hand to hand combat, something she found a natural talent for. She quickly began to grow a reputation as well as a desire for strength synonymous with seeking battles. There was always someone stronger that she could set her sights on and overcome, and she worked feverishly to improve her ability and strength. It was another 25 years before she tried again, but this time, she passed without hardly trying, and when handed her empty Zanpakuto, it almost instantly manifested its sealed form. Even the people who admitted her almost had second thoughts looking at her reverse bladed Wakizashi, but she had passed the test, and was admitted to the Academy.
Rise to Power: Her time in the academy could be described as nothing less than a series of train wrecks. Immediately scorned for her inferior size and non-offensive seeming Zanpakuto, she was quickly finding herself in the same situation as Rukongai; picked on and needing to prove herself. While she immediately took up hand to hand combat training classes without problem, she struggled greatly with Kido and Zanjutsu aspects and was held back as a result. The normal 6 year program took Yui almost 7 years to complete as she struggled to learn Zanjutsu and Kido, finally find a few that she could muster and pass the test with as a result. Her skill in hand to hand combat made her a shoe-in to be picked for 2nd Squad, who specialized in Hakuda and stealth, where she finally felt like she belonged somewhere.
And then the process repeated itself.
Looked down on again by her peers, and seeing the leagues that were between her and even the lowest seated officer in her squad, Yui finally had enough, and didn't even try to interact with her squad and others. Instead, she did whatever bare minimum missions were asked of her position, and then trained like her life depended on it in secret. She would show them who they were messing with, she would make them regret looking at her like she was worthless… It was during one of her private training sessions that she first got a glimpse into her inner world and the spirit within, who saw her determination and dedication and finally decided to reveal herself. The Spirit didn't waste time with pleasantries, and instead asked a single thing; "Do you know why I gave you a reverse bladed weapon?" and then faded away, leaving her with the question.
In shock, but yearning for the answer, Yui began to meditate as well as train on her own and developed a way to train even during simple missions with others; deep seated competition and going all out on anything and everything. Even something as simple as folding the laundry was done with as much speed and skill as she could muster, all so that she could get back to training and trying to find the answer to that simple question. She trained like a woman possessed, but it wasn't until she had reached a high point of exhaustion that she saw the spirit again and slipped back into her inner world. How many years had passed since she last heard her voice? At least five… and she still remembered it vividly, and the question that had plagued her every waking moment. "It is not a blade… but a claw."
From that point on, Yui communed with her blade at least once a day, and the spirit in turn began to train her in the ways of her sword, helping her learn a different type of sword style than was typically taught. It was then that she was tested; placed in the never ending labyrinth maze of her inner world and told to find the center, while the spirit would dart in and out, attacking Yui and bringing her to the point where she was less following instruction and instead surviving. It was days later that she finally reached the center and fought with the spirit herself and discovered she had absolutely no chance of winning. Even with that, Yui still fought and fought tooth and nail, trying anything and everything she could to win until she was laying on the ground, about to lose consciousness. It was then that the spirit, who had been completely silent since telling her to find the center, stooped down and spoke. "You have good determination… my name is Shiva. Let's crush them all together." She then plunged her blade into Yui's body, and she woke.
Call to Action: Yui returned from her training with less than open arms, her first line supervisor demanding retribution for her disappearing for three days, and she defeated him without so much as a second look. For the past 67 years, Yui has continuously trained and crushed everyone who has stood in her way, and she has set her sight on a seated position within her squad and being looked at not for the tiny person she was physically, but the capable and strong warrior she would become. She involved some form of training in everything she did, even something like giving a report being a chance to use Shunpo at her highest speed and push the limits. The hunger in those purple eyes became widely known, her rapid ascent through the ranks has finally gained notice by the upper ranks of her squad.
Along with this, however, has been her reputation for committing reckless acts and challenging people who far outstrip her own powers. She takes extra risks, and with the way she commits to whatever she is engaged it will not be uncommon for her to get into trouble more often than not. She has come to realize through her first real interaction with Captain Kasumi that what she has been doing up to this point had obviously not been working, instead she decided to put her on a few missions to the human world. Now she enters the fray, interacting with the few people in her squad that are slowly becoming people worth talking to, training with a whole different mentality. She would seek her targets and put her life on the line for the sake of making them all see that she was an equal.