Post by Xylo Omari on Apr 2, 2017 0:04:54 GMT -5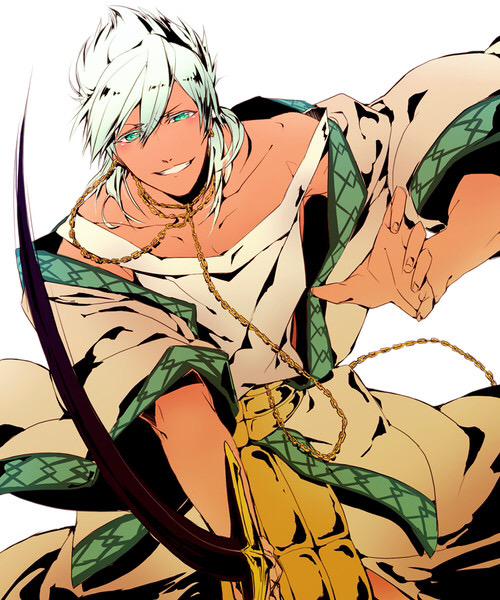 XYLO OMARI
Shinigami

[ AT A GLANCE ]
Age: 216 years old.
Apparent Age: 26 years old (vague mid twenties).
Gender: Male
Height & Weight: 6 feet 2 inches and 216lbs / 188cm & 98kg.
Hair & Eye Color: Snow white & Turquoise/Teal.

Positive Traits:

> Calm ~ And always so, an emotion that is empowered by his overbearing laziness and as such is his most prominent state. Whilst being one of/if not the most common attribute for shinigami to have, Xylo maintains his composure almost all the time. A state which defines his very being, diagnosing and analyzing everyday situations has given him a smooth demeanor in which he can calmly make decisions. Being a double-edged sword, being overly calm has resulted in his inability to feel emotions, or more simply put show raw emotion more than others.
> Warm ~ Tempered by a gentle nature, with ill intentions thought through more forcefully, Xylo emits his kind heart through his actions and words. Heading away from negative vibes, in speech Xylo is careful to say things that would otherwise hurt others, although teasing is a major part of his personality it is always playful. His warm personality is also displayed through his random friendly affection, whether it be pats on the backs or unwanted hugs.
> Pacifist ~ When combat is not compulsory, communicating through problems is an option Xylo takes more so than often. Whilst usually steering clear from conflict, Xylo still has his code of justice, and will stand act upon a threat of his beliefs, combat just being the last resort.



Negative Traits:

> Lazy ~ Often lacking the motivation for success, or put more simply; the motivation to do anything. Not driven by his career choices or his day to day tasks has led the man to fall behind in most/if not all aspects of a shinigami. Directly affecting relationships with others (both romantic and friendship) and hindering his output by slowing his drive, it would be safe to say this attribute within his mental confines has suppressed his ability to excel in the ranks of shinigami, connections with others and his overall happiness. This trait also gives him a general tendency to fall asleep at random intervals, most likely when he is bored.
> Addict ~ Whilst almost nothing fuels his drive, Xylo has strong addictive tendencies. Repetition or slight enjoyment is enough to set him off into a hobby, from candy, collecting pillows (yes, you've read correctly) and consuming alcohol, it doesn't take much for him to feel he needs more than he wants.
> Wreckless ~ Whilst he's known for thinking things through complex decisions when it comes to the minor decisions he has a general tendency to choose stupidly. Whether it be choosing candy over normal foods, or sleeping instead of working, Xylo tends to be quite impractical in everyday life.

Loyalties: The Gotei.
Snapshots:

68BC November 24th ~ Born deaf as Amrah Helio in Cairo, Egypt.
60BC December 2nd ~ Bought from an orphanage by the Roman senate.
44BC March 15th ~ Assassinated Caesar and escaped.
31BC September 2nd ~ Fought in the battle of Actium, escaped injured.
21AD October 8th ~ Died peacefully in deep meditation.

21AD October 8th ~ Born without a name within the alps of North Rukongai.
67AD January 1st ~ Saved by shinigami, deafened by hollow in the process.
132AD March 30th ~ Powers awoke in deep sleep, disrupting nearby village thus beginning a manhunt.
132AD April 31st ~ Escaping villagers he secluded in mediation and began cultivating reiatsu.
800AD January 25th ~ Saved nearby village from hollow attack, regarded as protecting spirit.
1800 December 1st ~ Passed away in a hollow attack.

1801 September 1st ~ Born and died as a stillborn.

1801 September 1st ~ Born as Xylo Omari in the South Rukongai and found by elderly man.
1862 November 31st ~ Powers awoken, instilling elderly man to pass away.
1863 May 10th ~ Began cultivating reiatsu to become a shinigami.
1990 October 5thth ~ Joined the shinigami academy.
1996 June ~ Graduated from the academy and was enlisted to the fourth division.




---
[ ON THE SURFACE ]
Physical Description: Standing averagely tall at six feet and two inches, whilst his weight heavy for his height displays his muscle mass, Xylo has a fairly unusual build, with a plethora of unique features. Starting at his skin tone that graces his bodies exterior in a burnt umber shade. Whilst having white follicles protrude from the top of his head like a roaring, white fire. Whilst usually unkempt, a style is present as medium length hair falls downward across his forehead just kissing his eyes, whilst longer strands at the middle to the back of his hair are swept back revealing six loose ponytails to sway down his back and at times sit across his shoulders. His eye color also being unique is a mix between turquoise and teal, with his iris' both being quite strangely bigger than others. While his teeth are as white as pearls and his facial structure matching those of one with an Egyptian racial background, he embraces this fact and has style his garments a mix between a shinigami and those of the Egyptian background.

In his attire resides an array of unusual clothing pieces, starting with his undergarment; white singlet that is simply a white cotton sheet that has the direct width of the distance of his chest, leaving his sides exposed without clothing, however, is fastened to his body by a white strap that wraps loosely around his shoulders. His white trousers are made of silk and are somewhat 'parachute pants' that fasten to the top of his knees (just below his kneecap), where they are met by white leather straps which climb downward toward his feet which are in fact his white gladiator styled shoes, however keeping his shinigami tradition with wearing white socks underneath. Wrapped around his waist is a golden belt, whilst his most defining piece of clothing is his tunic; in an off-white cream color and around his edges patterned in a turquoise stripe with dark green crosses across it. With jewellery he wears golden studs at his earlobes and at his neck wraps a thin golden chain.

His vocal tone is quite monotone, but strangely as a slight warmth to it, which is usually depicted from his slow way of talking. Whilst his voice is quite deeply pitched, is rarely varies as his emotions or reactions generally don't affect the way he speaks.

Spiritual Description: Emanating outward, Xylo's spiritual pressure holds a color similar to his eye color which of course is a mix of turquoise and teal. It uniquely throbs around his body, displaying its green-hued color. The nature of his reiatsu is cold emotionally wise as if he's displaying his constant calmness and that nothing would really trigger his emotions. A reiatsu of bleak seriousness.
---
[ BEHIND THE EYES ]Personality:
Cosy and clever, Xylo maintains a personality that is always thinking through actions before physical effort is produced. With his emotion well in check, he would simply prefer to not act upon a problem rather than proceed to deal with it. Usually seen standing idly atop building, his lack of enthusiasm is his main emotional weakness as nothing really gets done. With this side of his attitude comes his playful side you wouldn't expect, which includes his teasing tendencies and annoying habit of giving nicknames usually based on appearance, and not using formalities. This is a rather strong contradiction to pacifist urgency as he would usually prefer to stay away from conflict, however over the years has developed this habit and is forever stuck with it. With this playful side has allowed Xylo to amplify his warm nature, which is also quite unusual considering he never shows emotion, however, this is done simply by his choice of words usually being endearing. Another aspect of his personality is his habit to gain new addictions, so for if you were to look in his bedroom, an abundance of different pillows would cover the floor due to his addiction to collecting pillows or even empty beer bottles tossed around. This is yet another of his weird habits, which gains the attention of those around him to look down on him as of he was some sort of slob, which indeed he is. Easily infatuated by his surrounding, he is generally quite the 'daisy dreamer' who tends to be in his own world. However, this persona changes ever so slightly when in conflict or battle. His attention is suddenly caught to the problem at hand, and he anylzes everything to the finiest detail. For this is his true strength no matter the case. His deductive abilities allows him to remain calm and always think through a situation.

Goals & Achievements: Whilst there hasn't been many achievements accomplished in this life cycle, his biggest achievement would be his graduation into becoming a shinigami. However if his past lives accomplishments were included, there are several accomplishments, especially as a non-spiritual aware human fighting in several wars such as the battle of actium in 31BC.
---
[ GUARDIAN ANGEL ]Zanpakutō Spirit:
"Haunt, Sasayaki."
Sasayaki is the name of Xylo's zanpakuto and has the appearance of a young girl, who is cloaked in a black owl hood. Whilst her face never shows as the shadow from the hood extinguishes her facial features, her illuminating white eyes will gleam when displaying pressure against Xylo. Her skin is pale and her hands are soft, but unlike her cute, young girl body, she has owl like tendencies such as her head tilting back and forth. She is usually seen carrying a full coffee cup which steam protrudes and grows from the eternal heat due to the state of the liquid, whilst her other hand usually holds the tea plate. Her personality is quite silent and respectful, which in one way is alot like Xylo, but also very much different.
Inner World: Much like the Spirit, the Inner World is an expression of the soul. It represents how the Shinigami feels about themselves on a subconscious level. Not only that, it is the only place where they can interact with their Spirit and, typically, the Spirit has far more control over this "realm" than the Shinigami themselves.
Power: A brief (1-2 sentences) summary of your power. This only needs to be as complex or as simple as you want it to be, but remember that the full write up belongs in your second post!
Zanpakutō: Most Shinigami have a standard katana as their weapon and, when unreleased, your weapon should fall under that as well. Unless you have a solid reasoning for not having the standard weapon, consider sticking to the basics for this one.
However, your released Zanpakutō should look like something that either represents their Spirit, or the power itself. Either way, feel free to be creative here and use things that might not traditionally be considered a weapon. While nothing can beat a good ol' fashioned sword, having something that compliments your power is always worth looking into.
---
[ LEGACY CREATED ]
Origin: Each of these three sections should be at least a full paragraph (5-7 complete sentences). In your origin, you should talk about where your character was born, describe their death (if applicable) and talk about their time in the Rukongai. This should stop right at the part where they develop enough power to be accepted into the Academy.
Rise to Power: Rise to Power should include the Academy and any time you have spent grinding through the rank and file Shinigami events. This would include you unlocking Shikai and most of your notable events in your history. This is where you explain how your character has gotten so strong.
Call to Action: This is where you talk about the event(s) that made your character shift from an NPC to a player character. For whatever reason, they need to be pulled away from the daily grind and put into the spotlight. In this section, you'll want to highlight that event(s) and justify why your character is they way they are today.