Post by Kalen Tiriar on Feb 9, 2017 18:19:16 GMT -5
Tiriar, KalenShinigami/Squad 5
---
[ AT A GLANCE ]
Age / Apparent Age: age 27, apparent age 17
Gender: Male
Height & Weight: 5'10"/ 130 lbs
Hair & Eye Color: onyx black hair with brown eyes
Positive Traits: Determined, Happy to assist, laid-back.
Negative Traits: Low self-esteem, Disorderly, unmotivated.
Loyalties: Kalen is loyal to his squad members however this doesn't mean that he is necessarily loyal to the Gotei 5's command structure. As such he will disobey orders if he feels they carry an unnecessary risk to his squad. First and foremost he is loyal to himself and his allies. Under normal circumstances, however, he is loyal to the gotei 5 like many other shinigami.
Snapshots:
Birth 1996
Awakened minor spiritual powers 2005
Accepted Into The Academy 2008
Achieved Shikai 2014
Graduation from Academy 2015
Joined squad 5 2016
---
[ ON THE SURFACE ]
Physical Description: Kalen has onyx black hair with bangs that could cover his eyes is they weren't always parted and swiped to the left side, and brown eyes that can almost depict what he's feeling, for the most part, they look cold but can burn with determination if the occasion arises. He's an average height and looks thin but is surprisingly strong for his looks. His voice is slightly deeper than what one would consider average. Kalen's skin is the tone you'd see in someone who doesn't get much sun. This is because he has a general dislike for sunlight, preferring to walk in the shade or during the night. He wears his sheath over his back and has an amethyst pendant around his neck. other than that his appearance is that of an average Shinigami.
Kalen's hair is something he takes pride in. Not because he's obsessed with his looks, in fact, he couldn't care less about his looks most days, but because of it's lack of necessary upkeep. He thinks it looks just fine without doing a whole lot to it. Of course, he still takes care of it, making sure to keep it clean and whatnot. But having the ability to essentially roll out of bed every morning and not have to spend hours in the bathroom making sure he looks presentable is something he sometimes finds others to be jealous of. So he takes pride in his hair, as well as overall appearance.
In terms of clothing, outside of his uniform, he doesn't have any particular preference, likely because of never having to be picky about clothes in the Rukongai. He was told his sense of fashion is awful by his classmates, which was enough to convince his friends, who had gotten similar remarks, to pick out his clothes shortly after they moved to the seireitei. When wearing street clothes, he generally goes for a black zip-up hoodie covering a grey T-shirt and blue jeans with a black belt. Some people have also told him he looks good in a suit while at semi-formal gatherings, but Kalen hates all the work that goes into putting on a suit. At least, that's what he'll say. In reality, he hates suits because he can't get the hang of tying a tie. Something he his too humiliated by to seek help for.
Kalen generally carries himself in a casual manner. He isn't too worried about formalities, a trait which can get him into trouble with his superiors. Something is worried about, however, is speech. Since coming to the seireitei, he's had to change his speech patterns a lot in order to fit in. As such, he's always worried about sounding right but often forgets. This includes the above-mentioned forgetfulness of formal speech to superiors, forgetting common mannerisms, and harsh language which often comes out when he's fighting.
Spiritual Description: Kalen's Reiatsu is a royal blue in colour and takes on the form of ghostly blue flames. It gives off heat that can obviously only be felt by spiritually aware beings. This heat is dependant on Kalen's mood and ranges from a little warmth when he's calm, to searing pain when he's angry. Kalen can also manipulate these effects willingly, but they are more intense when uncontrolled. Though it should be noted that it's rare to see or feel his Reiatsu as he often keeps it hidden and suppressed in his normal life.
---
[ BEHIND THE EYES ]
Personality: Those who observe Kalen's everyday activities would say he doesn't have a care in the world as he is often walking alone or sparing with one of the few friends he has when he's supposed to be working (you can bet he'll be doing this rather than cleaning). But anyone who has seen him when he is fighting will tell you that he completely changes. At those points when people are counting on him or he must defend others his eyes will burn with fiery determination. Something that is unseen in his usual behaviour.
Kalen is somewhat stubborn when he makes choices and adheres to his own logic, a trait that is sometimes confusing to others, as Kalen will usually have multiple layers of reasoning going into his decisions. Not all of these reasons are strictly logical ones, and he's unlikely to explain these reasons even if it makes him appear irrational. He refuses to sacrifice others in his place. it's one of the core principles of his zanpakutō's teachings. He also has a unique view on exchanges, believing that nobody should be held accountable to do something in return for a good deed, though he will ask for favours from time to time. This view extends to the opposite end of the spectrum, in that Kalen doesn't often hold grudges, usually saying that it's a waste of mental energy to hold someone accountable for something they did years ago. Fully believing that whatever he does is within the duties of a Shinigami. He absolutely despises pity as he sees it as people feeling bad but not bothering to do anything. He doesn't see any need for it and thus will not pity others either. Rather, he would prefer to offer help or advice to help people move on with their lives.
Kalen is much smarter than he lets on. That's not to say he knows a lot, but rather he is able to connect dots and figure things out very well. Especially when it comes to powers, a field he has developed a particular interest in. He enjoys his own power just fine but will dive headfirst into someone else's abilities if given the chance. He especially enjoys figuring out the mechanics of the powers people wield, how people harness the rules of the world and use them to gain strength. This interest extends beyond zanpakutōs, but also to Quincy powers, something Kalen has done extensive research on. Kalen also has a curiosity for hollow abilities, but to a lesser extent than the other races. He has found limited material on human abilities so he is eager to meet any humans with spiritual powers.
Kalen isn't one to seek out people who need help, to him wandering around for hours hoping someone has a job for him to do is a useless waste of time, however, if he is approached directly he will only be happy to help out.
It would be an understatement to say that Kalen is unorganized. Not only does he rarely take the time to sort anything, be it documents, possessions, or a schedule, but he lacks any sort of motivation to do so. The idea of organizing and planning things hasn't really gone through Kalen's head, ever. As a result, Kalen's lifestyle is very cluttered, and he tends to just take life as it comes. Something that further extends to his laid-back attitude and overall casual demeanour.
Kalen prefers to not worry about too much. This can often come across as Kalen being absent-minded or indifferent, but this couldn't be further from the truth. In fact, Kalen can become quite invested in things. He usually just needs the motivation to do so if the situation in question doesn't meet his immediate interests. Sometimes Kalen just does things for no reason other than he feels like it.
Kalen's usual "indifference" is likely rooted in his past. It wasn't a conscious decision, but Kalen has shut his heart away from everyone. Everyone he grew up with, the people he thought of as family, are all dead, and Kalen blames himself for it. He knows that this is irrational but he doesn't care. He couldn't do anything to protect them, even with what he believes to be considerable power, and that's all that matters. By closing himself off from everyone, he can avoid being hurt again.
Goals & Achievements: Kalen is a member of the fifth division. While this wasn't Kalen's first choice of divisions to join, he has grown attached to the fifth's way of doing things, and he does see that this is where he would probably find something he's lacking. Perhaps the fifth will be able to give him a reason to live.
---
[ GUARDIAN ANGEL ]
Zanpakutō Spirit: Tamashīnohi, meaning "fires of the soul", takes the shape of a warrior with a white, metal 1/2 mask covering her mouth and nose, and a long ponytail in their black hair reaching waist level. Blue flames engulf her eyes with the flames reaching out towards the right and left of her face (right side reaching right and left side reaching left) and reaching up slightly. She wears light armour, mostly just metal plates on top of clothing with plenty of fabric exposed. She has a long katana strapped to her back. She appeared to Kalen when he felt hopeless and defeated and thus represents his strength and resolve. Since her appearance, Tamashīnohi has tested Kalen several times, and usually uses the labyrinth in which she resides to do it. Everything from swordplay and speed training, to combat training in a hostile and uncontrolled environment, a feat accomplished by manipulating the walls and passages of the maze to throw Kalen off. Tamashīnohi and Kalen's relationship is kind of like the relationship you'd see between teacher and student, and yet not quite. Tamashīnohi truly wants Kalen to grow and succeed and is willing to help him to do so, and yet she is incapable of giving him her complete trust and power due to his natural weakness. She wants to help Kalen and yet will not go easy on him. It is her personal mission to help Kalen overcome himself and his enemies. To destroy the weakness that infects Kalen like a plague. It is also because of this obstacle that Tamashīnohi had to conceal her true name, she will go under the name of Arathyx until the day Kalen is ready to wield all the power that name can offer and their relationship can go further. Kalen is very accepting of Tamashīnohi's help because he realizes that it is only through her that he can gain strength. Because of this, Kalen appears to have a naturally strong bond with his Zanpakutō.
Ultimately Tamashīnohi represents a side of Kalen that he doesn't know exists. Kalen doesn't care about much, and he likes it that way. It makes it so nothing can really bother him, makes it so he can't get hurt. Tamashīnohi is the side of Kalen that does care, the side that has to care. She is the side of Kalen that would encourage him to come back to the world, to get involved, care, get angry, sad, happy, and disappointed. Because no matter how much it hurts, it's worth it.
Inner World: Kalen's inner world is a dimly lit underground labyrinth where if he seeks to speak with Tamashīnohi he must find her first. where Kalen is always lost in this maze Tamashīnohi knows her way around perfectly and will use this advantage for tests. The walls of the maze can be changed and switched around by Tamashīnohi. The maze is a representation of Kalen's own weakness. He is too easily thrown off course when an obstacle appears in his path. It is his own doubts, fears, and lack of certainty taken form. It is in this place that he will learn to harness his power, the power that will allow him to forge ahead no matter the obstacle. This maze is only one half of his inner world. Contrary to what Tamashīnohi has told Kalen, there is an exit. On the surface above the labyrinth, there is a great forest that Kalen can only access once his inner turmoil has been quelled. Depending on how Kalen achieves this, the forest will reflect the state of his soul. Perhaps it will remain a tranquil paradise, or it could turn to another maze, or perhaps the forest will be engulfed in the flames of hatred. But the forest will only appear once Kalen has found something to strive for, a goal to achieve; something to protect, something he holds close so he may defend it; something to improve, to build or rebuild; or something to fight, or destroy.
Power: Soulfire. Kalen's zanpakuto allows him to harness his Reiryoku and use it as fuel for a fire-like attack. It is a power that comes from the same turbulent soul that makes him weak and gives him strength.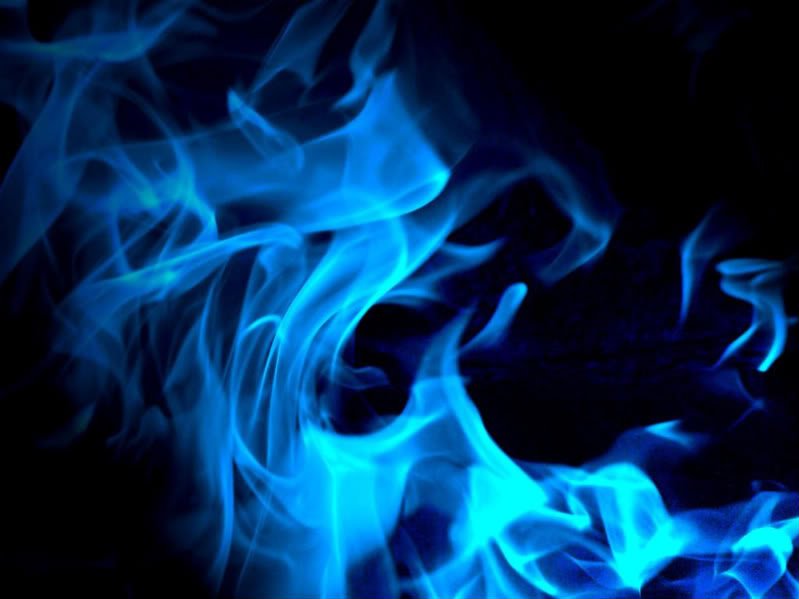 Release phrase: Blaze, Tamashīnohi! (Arathyx until Kalen learns the true name of his zanpakutō)
Zanpakutō: When unreleased, Tamashīnohi is a simple katana with completely flat edges (the blade never curves) the guard is in the shape of a hexagon and the hilt is wrapped in a black cloth grip. When in shikai, the blade becomes black while engulfed in a royal blue fire.
This is a rough idea of the design of Tamashīnohi's Shikai. It would be this shape, but with the details mentioned above.
---
[ LEGACY CREATED ]
Origin: Kalen wasn't born in the Rukongai, however, he didn't have a life in the world of the living either. Though Kalen had no way of knowing, he was the soul of a child that had died only a short time after being born, along with his mother. Of course, the two of them ended up in different areas of the rukongai, so Kalen has never actually met his mother, and it is unknown to anyone if she still lives. Luckily he was taken in by a family that ran a sort of orphanage. It was there that he was raised for the first few years of his life. At the age of five, Kalen was sent out into the world to fend for himself. Eventually, he found himself in north district 55.
He made a group of friends there named Jace, Yuzu, and Iris. He and his friends lived a fairly pleasant life there. Well, as pleasant as a life in Rukongai can be. He didn't have many of the normal problems one would have there such as abandonment, poverty, and frequent robbery. But he still had his own issues. He wasn't very strong, which was a huge problem in that area, and found he was often being protected by his friends. Specifically, Jace who was the strongest of the group. He always hated the fact that he couldn't handle himself and wished he could become strong enough to not have to rely on his friends.
In terms of how life usually was in the area in which he lived, North district 55, Kalen and his friends lived better than most. This was mostly due to their loyalty to each other, something that was sorely lacking in that neighbourhood. That and their... adventures, which consisted mainly of stealing things they liked. In their district, strength was everything. And since Kalen and his friends were only children, they had to assert themselves over those who would target them. This was mainly done by setting up traps around the district that they could lead people who were chasing them into, as well as flaunting their above average spiritual powers, which for Kalen's companions were impressive, but for him, not so much. But back to the point.
The most notable of Kalen's adventures, don't knit was a wealthy man or just a merchant, came through the district. This individual was in an exposed cart transporting a variety of items to a place the group never found out about. Jace made a remark about how this guy had to be insane to bring goods through this route, to which the group nodded in collective agreement.
"Say, some of that stuff looks pretty good. Any of you want anything out of it?" the unofficial leader of the friends, asked with a cocky smile.
"the purple crystal looks cool..." Kalen said softly, seeing a purple crystal in the cart laying among other gems.
He hadn't meant anything by the comment, but Jace heard him and, taking a confident standing position said, "Hmm, very well then. Gimme a sec,". Before anyone could stop him, Jace leaped off the house and landed in the cart that was now directly below them. Jace had decided to steal the crystal, as he often decided things on his own, without the consult of the others. In one magnificent motion, he landed in the cart, swiped the gem, and leaped out of the cart as if he were a spring. He dashed into an alleyway and went out of sight of both his friends and what was apparently a guard that was chasing him. But Kalen, along with the other two, knew exactly where he was going. So they all got up and went to the abandoned storage closet that was their home.
When they got there. Jace was sitting on a bed they made out of a shelf holding his prize with a cheesy grin on his face.
"Here ya go," he said as he tossed the crystal to Kalen. After a few moments of admiring their latest prize, their conversation moved to what they should do with the crystal. The obvious answer would be to sell it, but because they had obtained it because they liked it, that option quickly dissipated. So they were going to keep it, but where. This was by far their most valuable possession so they couldn't leave it in their base unguarded. They were at an impasse. So the subject changed again.
This time it was Iris that spoke up. "Hey, do you guys ever wonder about the future?" She asked out of the blue. It may seem like a very stereotypical question, but the way she said it made it carry depth. It was an interesting point. Thus far the group had only focused on surviving. Never about what happened next. After all, they were only children. Sure, they had spirit energy, but they had only ever used it as a means to get by. "I mean, we can't just keep living like this forever. I don't think I could of that," she continued.
"I've thought about it too," Yuzu said, attempting to add her opinion on the topic. "I've thought about it for a long time. And do you want to know what I thought of? I thought that life must be a whole lot better in the seireitei. So I got the idea... why don't we become Shinigami?" she said, not waiting long enough to allow anyone else to speak. At this, Jace burst out laughing. He was laughing so hard he could barely speak, but he did manage to say something about how ridiculous that idea was. But then Yuzu pointed out, "Well, as far as I know, only people with powers like us can be Shinigami so I just thought..."
she was cut off by Jace who, by this point had recovered and was able to speak intelligibly, "It's completely absurd, and I love it. Do you really think we can pull it off?" he said seriously. "Don't answer that. Of course, we can," he quickly said as he interrupted Yuzu's response.
At this point, Kalen thought he just had to intervene, "What do you mean we can? Sure you guys might be able to pull it off, but not me! I'm not as strong as you, Jace. And I don't have nearly the amount of spirit energy as the rest of you. You have to pass an entrance exam to get into the academy, and I couldn't pass that in 100 years!"
Kalen would have gone on, but Jace interrupted and said, "Shut up! We've stuck together this long and I won't have one of us saying that he's not good enough. This is a team you're not allowed to quit, and that's that. Which means you're going to be good enough, you're going to pass that exam, and we're all going to graduate and be the best damn Shinigami the soul society has ever seen," to which Kalen could say nothing.
"Alright, I guess we're going to be Shinigami then," he finally said after a short pause. Suddenly, Jace appeared to have another idea.
"I've decided what to do with the crystal," was the only thing he would say when the others asked him where he was going.
When Jace returned he held up the amethyst, which was now clasped by a metal band and hung on a string. "I got the crystal made into a pendant. This way, we can carry it everywhere. I've also decided that this is going to be a symbol," Jace said casually.
"What's it going to be a symbol of?" Iris asked. That was the same question that was in everyone's head.
"Duh, it's gonna represent our pact," Jace replied as if the answer was obvious. "The one we just swore. The pact we made to become Shinigami together," he the elaborated, sensing that his first answer wasn't satisfying. "Only question is who's gonna carry it," he the said glancing at Kalen. Without another word, Jace walked over to Kalen hung the pendant around Kalen's neck, "Alrighty then, your now responsible for the safety of this pendant, and of our pact. So you don't get to pull out."
And so, for the next year, the team worked hard to get ready for the future. Yuzu didn't have to train very hard, she already had a better hold of her reiryoku than the rest of the group. Iris was always the agilest of them all, so she focused on her strengths and spent most of her time training in unarmed combat. Jace had reiryoku comparable to Yuzu, and physical abilities akin to Iris's, so he mainly did strength training even though he was already better than the rest of them. Kalen had a lot of work if he was going to keep up with the group. He had to raise his reiryoku if the academy was even going to consider him, so he first worked on that by doing concentration exercises daily. After those exercises were done each day, he would work on his physical attributes. Given his slight build and the limited time he had to train, he decided to take a page out of Iris's book and capitalize on speed and agility. And to end each day of training he would practice swordplay, even carving a wooden sword so he wasn't swinging around a stick like a madman. Kalen had made up his mind that he would stick with the group no matter what. The thought of standing on equal footing with the ones who had protected him and helped him through so many tough times was what kept him going. So for the next year, he kept at it so he would be ready for the entrance exams.
Even with all his training though, he just barely passed. Yuzu had no problems getting in when she demonstrated her considerable reiatsu. Jace also passed by an exceptional margin. Being able to overcome anyone the instructors placed in front of him for the practical exam and scoring a solid mark on the written tests. Iris also passed, but she was only considered average in both grades and ability. Kalen's powers were only just acceptable, though his written exam marks were good enough to earn him a pass. Though it was a small achievement, they all made it into the school that would change their lives forever.
Rise to Power: When they entered the academy on their first day it turned out they were in the same class. Except for Yuzu who got put in the advanced class, much to the dismay of Jace who considered himself to be her equal. As the year progressed, each of the four companions started to flourish in some areas of their training. As it turned out, Kalen was the best of their group when it came to sword skills. His year of training prior to the academy had been strength and reflex based to help him in combat. Being the best in their group didn't exactly make him good, but he defiantly wasn't the worst. His skills only improved over time and though he was still lacking in other areas, seemingly being completely unable to use Kido, he was quickly climbing the ranks of swordsmen in his class. Iris excelled in hakuda, being in many fights during her time in the Rukongai, Jace was adept at pretty much everything, though he wasn't as good as Kalen when it came to swordplay(though Kalen suspected that Jace was going easy on him); and though they didn't get to see Yuzu much anymore, they could always see her name at the top of and kido related test. An unexpected development was that Kalen was the first out of all of them to achieve Shikai, though the cost was great.
The students were tasked with going out into a field for the day to train in more realistic environments. When a group of hollows attacked and killed most of the guards that had been charged with overseeing the trip. By the time the hollows attacked Kalen's group seven of his classmate had died and half of the guards were dead. They ran, they ran away into the forest away from the massacre they were leaving behind. Eventually, Jace and Iris had composed themselves and were discussing fighting the hollows. After all, they had real swords and had been training to fight hollows for three years now. So while Kalen hid in a nearby tree his friends went out to fight a battle for him, again. But this time they didn't win. Kalen watched his friends fall before the hollows. He drew his sword, but he couldn't bring himself to fight them. "How many more of your comrades must die before you stand up and fight?", he heard a voice say.
"Who are you?", he said out loud.
"I am -------, and I am tired of being held by such a weakling", in that moment he was transported to an underground maze lit by torches. "You seek to fight, you seek to be able to protect the ones closest to you, you wish for the strength to stand alone in the face of danger. Find me and I shall show you how to accomplish this ". And so Kalen began to wander the unfamiliar halls that he felt he knew.
After what seemed like hours alone in these halls he had to rest, "I'll never find my way out" he thought, "I'll never be strong enough, it's pointless".
As he was about to give up and go to sleep the voice returned, "Did I tell you to find a way out? why would I give you an impossible task? I believe my instructions were to find me, you cannot escape this maze that is your despair until you find the strength to do so. I am your strength".
"My strength? What the hell does that mean?", Kalen asked himself, "The strength to move forward, to escape, to fight", he closed his eyes and took a deep breath. "I will get out of here, no matter what". As he opened his eyes he saw a warrior standing before him.
"Good, that's the attitude my master should have. Your resolve is still weaker than I'd like, but it will have to do for now. I will help you move forward and I will grant you strength. fight". Suddenly he was back in the forest with a hollow standing over him. Without thinking he raised his sword and cut across the hollow's mask killing the hollow instantly. He heard a commotion in the distance and ran to see what was the matter. He found the rest of the group there surrounding a group of students. He engaged them in battle, "Fool, you cannot win this alone, call out my name so I may aid you", the voice said to Kalen. A name came to him, "Blaze, Arathyx!", he had achieved Shikai, and with it, he battled the hollows refusing to allow harm come to the people he charged himself with protecting.
When the battle was over, the voice came again, "Good, you now know the basics of what it means to use my power, never let those under your protection die, never yield to the enemy if you can still fight, and when people are counting on you don't hold back, but remember that your life is precious also and should never be thrown away, and don't give in to despair". Kalen went back to where his friends lay. His shikai still active, Kalen kneeled by Jace. He was still breathing.
"Wow, is that your shikai? It's awesome," Jace managed to say, spitting out the blood that was pooling in his mouth as he talked. "I knew you could do it. You just needed a push to get started. But look at you now, the first of us to learn our Zanpakutō's name," Jace continued before passing out, his kind words cut short.
Kalen received word the next day that both his friends had perished.
Call to Action: After the events of the trip the academy was more cautious, there were no events like that day again for the time Kalen was there. Unfortunately, he didn't benefit much from his heroics. By the time he graduated the event was almost forgotten. And so based on his grades it took a while to be accepted into a division. He was eventually accepted into squad five about a year after his graduation.
Yuzu had joined the third division, though she could have joined any division she wished from her grades. Initially, Kalen was met with laughter at most of his grades, most of which were barely passing when he graduated, but after training and allowing the others to see his proficiency in combat he was more or less accepted as an equal.
He would speak to his zanpakuto often and she would train him in overcoming obstacles, perseverance, and sacrifice. While he could overcome many issues he was faced with and continue on through strenuous tasks, he was unwilling to make sacrifices. "You cannot escape every battle with your skill and wits, there will be times where you must rely on the sacrifices of others to get you through an impossible situation".
"I will achieve my goals, I will become stronger, but I will not use others as a path to get there".
"And what goals are these? until now you only goal has been to become a Shinigami and you have accomplished this, what now?".
"I don't know, perhaps I will request to leave the soul society for a while and perhaps find my purpose in the world of the living, or maybe we'll be lucky and get to fight a battle soon".
"Hmm, one can only hope. Well whatever you do master, remember I will fight alongside you until the end, so long as you have the strength to wield me".
If only those were still the problems they faced. For it wasn't long before the plague struck, and Kalen's entire world came crashing down. So our story begins here, for not every story begins with great purpose or destiny. Some begin with strife. But Kalen's story begins with defeat.