Post by Sin'ichi Takahiro on Oct 31, 2016 18:18:57 GMT -5
___ Takahiro, Sin'ichi ___
"The world would be a better place if everyone smiled a little more."



On The Surface__
Name: Sin'ichi Kaguro Takahiro
Age / Apparent Age: 65 / 28
Gender: Male
Height & Weight: 5' 10"
Hair & Eyes: Sin'ichi has brown hair consisting of dark brown roots that fade into a more reddish brown as you reach the ends. His eyes are a grayed out blue and are usually decorated with an almost unsettling warmth.
Physical Description: Sin'ichi, sitting at an average height of 5'10", is the physical embodiment of the term 'standard'. On the first inspection, one is bound to note a medium-athletic build comprised of well-muscled limbs, and while he doesn't have a six-pack, his abdomen is generally free of soft fatty flesh with well-defined pectoral muscles and a strong back. On a second look, one begins to see his few defining features most notable of which would be his signature ear to ear toothed smile framed by a shoulder length comb-back hairstyle. Behind that winning smile are two prominent freckles, one on the center of his right cheek muscle just above where his three mirrored dimples appear next to the corner of his mouth when he smiles, and another on the top of his left cheek muscle just below the bottom eyelid area. Beyond these small touches of character Sin'ichi is very average in every other respect, and whereas this might be a detriment to another character, it really serves to make him easily approachable while highlighting his distinct every-man persona.
Spiritual Description: Sin'ichi's spiritual presence is best defined as the comforting warmth of a father figures hand on your shoulder: a presence that is both familiar and distinctly reassuring. The reiryoku coming from him is a facsimile of a wood fire, licking the air and occasionally crackling, and as he grows more into a fight the reiryoku he gives off increases in intensity like a fire after fuel is added to it. The coloration of his spirit is orange with white accents which become more prominent as the fiery reiryoku 'heats up' in battle. The feeling it gives out is akin to the way he felt about his father
Behind The Eyes__
Personality:
Summary - The first thing anyone should know about Sin'ichi, as it is the most notable part of his personality, is that he wants a better world and believes that the ultimate solution to that end is to make people happier. Happy people don't kill, they don't steal, and they do their individual jobs without a care in the world: this is his view of the world and guides most of his personality to the point of fault.
"I have given you an example to follow. Do as I have done to you."
Sin'ichi is a firm believer that he must be an example of the change he wants to see in the world; therefore, when he greets you he does it with a warm smile. He is the man who can't help but keep an open door, and anyone can come in to talk a minute as to forget the troubles in the outside world. He never has a bad day, or a negative opinion because all that leads to is hurt feelings and a sadder world. In life he truly followed this to the letter, always trying to solve conflict before it happened to make any situation he was in just a little bit happier, and always trusting in the potential for good in people even to a fault. After his unfortunate death and the myriad times this was taken advantage of a stipend developed in his personality: never let your trust blind you to evil, and never allow bad people to get in the way of the happiness of anyone else...
"You are the light of the world. A city that is set on a hill cannot be hidden."
Sin'ichi always put on a good face for his peers and was always at the center of attention asking for people's opinions; however, he was not fond of criticism. He HAD to be perfect and anyone who thought otherwise was obviously wrong or exaggerating.
Overall, his lease on life was to make others happy, and he would go to great lengths to do this letting his zeal toward this end control his life in every aspect.
Positive Qualities:
Enthusiastic - Sin'ichi is often the first to get excited about work, relationships, or really anything. If he or anyone close to him achieves something or is trying to reach a goal, he is the first to offer bubbling enthusiasm and support.
Diplomatic - Sin'ichi understands interpersonal relationships and is exceptionally capable of catering to the feelings of individuals involved. This allows him to deal with people very easily often avoiding conflict entirely through his well-spoken methods.
Caring - Sin'ichi genuinely believes in people and puts great stock in their feelings and beliefs. He will go to great lengths to show those around him how much he cares.
Sociable - Sin'ichi is no stranger to a conversation or interpersonal relationship, which makes him quick company and easy to get along with. He has oft been labeled a social butterfly, and his love of being around people speaks volumes to that end.
Confident - Sin'ichi is confident almost to a fault: he will tackle any challenge he is capable of with the knowledge that his abilities will be able to handle anything a situation throws at him.
Organized - Sin'ichi is a master of multi-tasking, able to balance a myriad of individual pursuits with the ease of a professional, and this allows him to make and carry out plans and aspirations with little error.
Faithful - Simply put, this is a man who holds to his ideals and values, as he is unwilling to let go of them.
Intuitive - Sin'ichi has a very creative mind, which allows him to produce successful solutions most would've dismissed.
Negative Qualities:
Easily disappointed - Sin'ichi places a great deal of trust on those around him, unfortunately, this is often more of a burden than a help as it leads him to a lot of pain when that trust is broken.
Vulnerable to peer pressure - Sin'ichi's tendency to immerse himself in the lives and activities of others, as well as his tendency to over-value their feelings makes it easy for him to get roped into doing things he doesn't want to do just for the sake of fitting in.
Interdependent - Sin'ichi tends to let himself overvalue the opinions of others leading to a need for the approval of others to validate his positive self-image. This also leads to a hard time accepting criticism.
Spurious - Because of his natural aptitude at interacting with others, Sin'ichi often puts on a, "mask' instead of revealing his true values. This leads him to be rather non-genuine in relationships as he finds difficulty breaking with his chameleon nature and opening up to people.
Anxious - Sin'ichi does not like conflict and will go to great trouble in order to avoid it, even to the point of allowing things against his own values just to prevent unnecessary trouble with people.
Overly personal - Due to his empathy, Sin'ichi often has trouble using impersonal logic in a situation, even if that is exactly what is needed.
Personality Type: ENFJ
Strength Of The World__
Zanpakutō Spirit and Inner World:
Sin'ichi's zanpakutō is named Bliss: a 16-foot-long white snake wandering through the endless expanse of an abandoned church. Bliss represents the worst extremes of Sin'ichi's personality, turning strong values into an insatiable zeal, sociability into a violent need to be accepted making anyone who doesn't instantly like Sin'ichi a target in the white snake's gaze. When Sin'ichi died he didn't hold enough to his own values allowing his beliefs to be trashed by his own overly trusting nature, and this is what resulted in his fractured spirit and is why Bliss is there: it's his spirits way of making sure that he holds to his beliefs and achieves his goals without letting silly concepts like empathy get in the way.
Sin'ichi's inner world is a never ending church steeple. Row upon row of abandoned church pews lie before a grand podium. The primary feature of this steeple would be the aforementioned podium: currently climbing almost 60 feet into the air when including the 20-foot-tall stage it sits on, this imposing center piece is a spiritual manifestation of his dedication to the mission of making the world a happier and better place by any means. Flanking this podium on the left and right sides respectively are a church organ with a silver statue of him playing it and a choir consisting of silver statues of himself in various positions of musical action. The former of these represents the power of his zanpakutō while the latter is his own strength. The grander the organ, the more powerful bliss is, and the more members in the choir the stronger he is. Bliss roams the entire world, but the part he most often frequents is the organ and that is where he can be found most of the time.
Zanpakutō: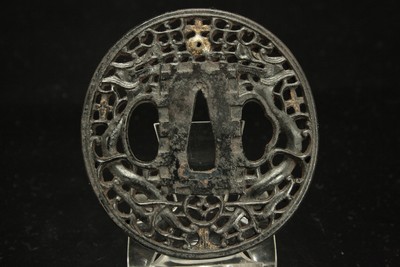 Sin'ichi's unreleased zanpakutō is a simple white-hilt katana with a red sheath and a special tsuba. The design of the tsuba itself is extremely rare in that it depicts Christian imagery, something that comes as a result of his soul's attachment to the Christian religion even if Sin'ichi is unaware of this attachment.
When Sin'ichi releases his zanpakutō he can choose to use one of two releases. His false release consists of a simple change of form with no power. It transforms into a one handed sword with an intricately designed golden handle that transitions into a simple curved silver blade. His true release appears similar to his unreleased zanpakuto, trading a lavender blade for the former white.
Release Phrase:
For the false release: "Turn away from your sins,
Fuannai
"
For the true release: "Know your sins,
Shifuku"
Zanpakutō Power:
Bliss is a peculiar shikai in that it's power is a happiness inducing drug administered through contact with any spiritual being. The effects of Bliss depend heavily on the severity of an injury inflicted by it and the spiritual strength of the victim. While the exact effects are very dependent on the thread and are best decided on by both threading partners a good list of baseline effects assuming a similarly powerful opponent would be as follows:
Simple blade to skin contact would cause a barely noticeable sense of contentment and has a small chance to cause reduced hostility
Minor scrapes or cuts inflicted would cause a more noticeable sense of contentment and has a notable chance to reduce hostility
a large cut or other open wound would cause a sense of happiness and would almost certainly reduce hostility
a serious injury would cause a mind numbing sense of joy and would stop hostility almost entirely
a fatal wound would cause a sense of joy strong enough to completely forget what was going on, lose track of the pain they are in, and in rare cases they might feel at peace with their death.
The number of times a certain wound occurs does not necessarily increase the effects of Bliss; however, possibly the most dangerous facet of bliss is that it also effects the Zanpakutō spirit/inner hollow. An inner hollow, zanpakutō, or hollow breed under its effects would only experience an addictive quality, but this addictive quality increases the longer the zanpakutō or hollow breed is in contact with Bliss. Over the course of a long battle this could cause an inner hollow to rage out of control, a zanpakutō to refuse to end a fight or even to rebel against a shinigami, or a hollow breed to lose sense of control in fighting. This effect is primarily present because of the story telling advantages it could have, providing huge opportunities for character progression among other things.
Legacy Created__
Current Division: He is a member of the first division
Previous Divisions: He has been a member of the first since he left the academy as it was believed to be his best fit.
Snapshots:
March 12, 1951 - Sin'ichi is born Samuel Levi Wakemore in Sevierville, Tennessee
April 23, 1969 - Samuel becomes a youth pastor in his church
January 18, 1975 - Samuel becomes county chairman under the newly elected governor of Tennessee
November 12, 1979 - Samuel dies under mysterious circumstances in his home
December 12, 1979 - After 30 days and thirty nights as a hole, Samuel is found on his knees in his former home laughing and muttering some sort of deluded prayer as a shinigami performs konso.
December 13, 1979 - Samuel transitions into the Rukongai as 25 year old (in appearance) Sin'ichi Kaguro Takahiro. He has no memory of the life before.
April 23, 1983 - Sin'ichi becomes a sort of charity worker, guiding young souls who have just entered Rukongai to families.
August 9, 1990 - After many years of this work, former denizens of Rukongai who were sent to Seretei visit Sin'ichi, giving him gifts to thank him for his help. Touched by their spiritual power, he feels hunger for the first time.
January 31, 1991 - During a visit by royals of Seretei Sin'ichi was again touched by immense spiritual pressure awakening his hunger to the point he began begging them for food. He is taken into the Seretei to train as a shinigami.
November 28, 1993 - Sin'ichi's asauchi finally becomes a true zanpakuto, and he hears the first whispers of his zanpakuto spirit
August 10, 1995 - Sin'ichi officially moves on from academy graduating with average capabilities
June 28, 1996 - Sin'ichi meets his zanpakuto spirit but initially rejects it because of its appearance and actions.
January 3, 1997 - Sin'ichi is made an official member of the 1st division.
October 29, 2000 - After 3 years of being marginalized, Sin'ichi grows frustrated enough to speak to his zanpakuto once more, he asks for a short leave and remains in meditation for several days with his zanpakuto but once again is unsure of whether he trusts his zanpakuto spirit.
June 12, 2016 - Sin'ichi spends 15 years hiding his Shikai and using any free time to train in secret hoping to become stronger and become the man he needs to be to accomplish his souls work: happiness.
History:
It was spring of 1951 in a small Christian home just south of Sevierville proper when I was born Samuel Levi Wakemore to two loving, if a touch overbearing, parents in Ruth and David Wakemore. My father, David, was the Pastor of a local Baptist church where he earned a great deal of respect from our small community. My mother, lovingly known by the local kids as Mama Ruth, was also well respected name in our town, as she ran a daycare for children during long church services so that the parents could enjoy the soul-on-fire energy of daddy's sermon. Now, I had an immense respect for my father, and I would even go so far as to say I wanted to be just like him. The way he could light up a room with the smiles of the praisin' faithful as he called on the spirit of that very God of Abraham, always with a smile wider than the Red Sea parted by Moses: I just wanted to bring that smile to the world.
It was because of this, and my mother's loving care for all the children of the church, that at the age of 18 I became a part of the youth pastor program. After a year of pastoring in that same church with my father I was given my own church to pastor over, always giving that same smile: as wide as the love of God. Now, before I could officially take over my parish, I was sent to the best bible college in that section of the south for a two-year regimen where I met many men, including some of the most influential gentlemen in the whole of the south. It was there in that very place I met the man that, unbeknownst to myself, would become governor a few years later in 1975. At this time, he was already a well-liked Tennessee politician, and when I met him he looked at me and told me, "Young man, I'm goin' to change this here state." That stuck with me, and so it was that I followed after him before he left and asked him if he would take a moment to talk to me. That man gave me the biggest smile you have ever seen and turned right back around to sit down with me. Oh we talked for almost an hour before he had no choice but to leave, and I was floored by his eloquence and his goal. He told me, "Young man, you got a bright future ahead of you. Maybe God has fated us to cross paths. I tell you, if you keep up one day I would like to see you help me make this state a better, happier place." Now I tell you once again, this man's words stuck with me almost as much as that smile of his as he laid out his plans in short form. This was a man of his word, and I believed in him. I believed in him, and I also believed in what he said about making it a happier place. I spent a couple of years in the church, preachin' and touchin' the souls of the praisin' faithful, before I was visited by that same Tennessee politician. It turns out I had touched quite a few people in my time in the church and in the college.
So it came to pass that during my favorite sermon, speaking on the good lord Jesus Christ as he fasted for 30 days and 30 nights under the temptation of that dark usurper, that this man, who was now elected governor, asked me to take a place as the county chairman over my local county. I will be rightfully honest in saying I didn't have much experience in politics; however, what I did have was a want to do good for those people near to me. I spent a few years as county chairman, seeing that good man only a few times, though I found some mighty peculiar things during this time. For one, the governor was not as much of a man of God as I first thought, but I could live with that. He was still a good man, even if he didn't hold the same rigorous moral beliefs I did. One of those times I saw him was during a type of party where he had some of his most trusted officials over and much to my surprise I was on that list. Now I am not the type for wild parties and celebrations; however, I felt like he deserved the requite of my respectful presence, even if I was not willing to participate in the libations provided. It was during this party that, further to my surprise, he wanted to speak with me specifically. Now it was sometime during late 1979 that this party did occur, and he took me to the side to speak with me while greatly under the influence of intoxication. He told me, "Young man, do you wanna be made for life? Now there is a man in your county jail, he has some very important family who are willing to pay a good deal of money if he were to be released. Now, I know words don't speak, and so if you are willing to look the other way about this I might be willing to make it worth your time." Now this stuck with me in how wrong it was. This couldn't possibly be that same good man I met some 7 or so years prior. I took a moment to compose myself, perhaps he was joking, but I certainly didn't want to offend him. Now, I had learned a long while ago from my father that when angry you should always walk away from the situation and come back when you are in a clearer mind, and so I told that good man, "I am afraid sir that I will have to go home and think on this a minute." He did not act offended or angry, he simply shook my hand and told me, "I look forward to your answer," he then slipped a roll of bills into my pocket, "and don't take too long to decide." He left me with a wink and a roll of sin heavier than lead in my left coat pocket. When I returned home I took a cold drink of water and sat staring into the deep bluish glass, stirring the ice and water with a stirring teaspoon, and pondering this temptation. I could not accept this, but I sincerely was afraid and nervous of confrontation and so I spent many more hours awake imagining how I could go about this without unwarranted fighting between myself and that man. It was in this that I had an epiphany, this was a good man I was speaking to, if I just showed him the wrongdoing of his ways he would of course think better of it, and it was with this in mind that I finally got a moment of rest.
I would visit him the next day, after a long day of work I spoke to him and he welcomed me to his home. I sat down with him on his mighty comfortable furniture and he looked at me and asked me, "So, young man, I hope to hear that you've made your decision?" I pulled that roll of money, heavier than the yoke of sin, and set it on the table and told him, "I am afraid I cannot accept this. I know you are a good man; I want to give you some time to decide against committing this treacherous sin. It's a slippery slope you are sliding down, but I am here for you to lift yourself back up." I spoke with a smile, a look of comfort for a man in peril. He smiled back at me and responded, "I do believe you are right. I sincerely thank you for helping me see what it was I was really doing. Now, before you leave, how about a drink with me? They call it the water of life for a reason." A sincere chuckle escaped his lungs. Now, I am not a drinking man, my father always told me it was a bad idea, but after the change of heart in this man I did not want to offend him by turning him down a small sip of liquor. After all, how much could a little hurt? I accepted his offer and he went into his alcohol cabinet for a moment rummaging around before returning with two glasses of his, "finest scotch." He set one down in front of me and then sat back casually, hands laid across his chest as he watched me expectantly with a smug smile formed across his face. I turned up this glass for the first time, the cool liquid belying the burning heat as it poured down my throat. I coughed a bit, detecting the taste of alcohol, a light note of fruit, and the strong taste of bitter almonds. He chuckled a moment and his smile widened before I left for my own home. I remember distinctly feeling sick as I drove to my Tennessee home: perhaps the feeling of guilt at having partaken. I arrived home before I became much more sick, my body cramping immensely. That sincere chuckle was a chuckle of irony as his so called 'water of life' became the death knell of a weak man.
And then came the waiting. Moments into seconds, seconds into minutes, minutes into hours The incessant ticking and ticking and ticking and… Nothing. I fall to my knees. I am being tested. Yes… I failed my lord in my dying moments, but this was a second chance. A temptation, and I will not lose faith. The first day it began to sink in that I was really dead. Kneeling, mumbling in prayer at the foot of the bed where my body lie lifeless and abandoned by its soul. Two days pass, yet still no one has come. Three days pass, I think I might have heard the phone ring, but no I would not fall into temptation. The chance that I might hear the sweet voice of Mama Ruth once more, I couldn't risk this: I could not fail this test. 5 days, worried knocking on the door, a part of me instinctually rose to answer, had I stepped too far? Did I fail the test? Was all the separation between Heaven and Hell really the familiar twitch of a back straightened to get up? No, it couldn't possibly be, not from my God, not from the God of mercy. Yet, still… The knocking was louder, was it that my temptation was over? Was that the very Christ knocking for me to let him in? If so, he was mighty impatient. Glass shattered, twinkling vessels of sunlight scattering on cold hardwood.
"Hello? Oh my God… That smell…"
It was my father rounding the corner. I didn't want him to see, that stinking pile of twisted rotten flesh, my corpse.
"No… No. no. no. no. Oh God. Samuel…"
I had never seen him frown before. This was it, this was my punishment. Such a small movement. Presuming my temptation might have ended. Folly, sin, and this was the punishment: to see the smile of fatherly love broken like the body of Christ on the cross. I never want to see that look on anyone ever again.
How many days has it been now? So many people come and gone. A mysterious death the likes of which had never happened in the small town of Sevierville. Things like this didn't happen in a small town. One more punishment on my tally to make people in a tight knit community fear each other. Fear the capabilities of man. !5. It had been 15 days. Each shorter than the last but again somehow more taxing.
27 days. Watching, waiting, but for all my prostration no closer to Heaven than hell. I think I am starting to forget what words I am even praying. Do I even mean them anymore? Is Heaven worth enduring this Hell? No! I mustn't think like that. Had I gone too far again? Was I to be punished? Surely God would understand the straying thoughts of the weary… But… What was that sound? A rumbling. No, a roaring. Not far off into the distance, a shaking. Was this it? The demon come? I had failed my final temptation. My flagellation before the mercy of God all forgotten to an errant word not even spoken. I prayed more fervently, maybe it wasn't too late. The rumbling kept coming, but so agonizingly slow. It was like, like it was searching for me but had trouble finding me. The devil shrieked again off into the night; was it really night already? Yes, night again, and then back to day, it slowly searched closer to me. Night into day again and I hear it, outside of my window peering in. I do not cease my dire prayer as day becomes night once more and it comes crashing in. Laughing, delighting in its victory it finds me. As it hears my sincere and tearful prayer it chuckles. Slowly its gaping maw comes upon me, row after row of teeth encapsulating my head prepared to snap, but then light. The horrid demon dissolving; dust to dust.
"Fear not, you go to a better place."
The angel of mercy herself: I had succeeded. A sword brought forth and touched upon me, a bright light swirling around me, streams of cascading vermillion numbered as the stars.
A starry night, cool damp air. Was this Heaven?
"What is your name?"
Strange, someone was in the house with me? What was my name?
"Takahiro, Sin'ichi"
"Welcome home."
My transition into Soul Society was slow. At first I wasn't really sure what was happening or where I was. The only thing I reckon I knew was my name, and sometimes I wasn't even sure about that. It was a struggle: a struggle I would see repeated with everyone else who arrived. It was after pondering on the inevitability of this struggle that I decided someone needed to help those lost new souls find their happy home. I made the decision that I could do that for what people I could help. First I only was able to help a couple of people, and I had to search them out. Eventually, however, even if just by word of mouth they began searching me out. Some days I didn't have enough room for all of the souls who sought shelter, but eventually the many members of the local area helped me procure a somewhat sizable area. I tell you, I ran myself ragged tryin' to build that measly little shelter. I received neither the privilege of food nor of sleep for many long nights; however, it was well worth the pain to help put a smile on someone's face. Eventually I finished, I didn't get much for what I did but satisfaction, and yet in that time I found happiness in the smiles of those around me. I did what I could to make the time when new arrivals were with me enjoyable, and in fact I started thinkin' up events for them to participate in. We would make a ball out of straw and rope and kick it or toss it: I would even have everyone gather around while I told a mighty story. Hell, when I got a fire in my belly tellin' stories people from all over would come by and listen. Eventually I put my stories on a schedule: every 3rd and 7th day I would tell one. It got hard for a while to come up with something new that often. Sometimes I would consider recycling a story or two, but then I would think about the smiling faces of all those people. I didn't want to disappoint them, so no matter how long it took I would keep beating my brain till something good came out. It was always well worth it.
Things went on just like that for the longest time. No worries except for the joy of the people around me, and especially no worries for my own well-being. It was easy though. It was easy until it changed like things always do. I first felt the hunger when a group of three souls I used to care for returned to visit. They had managed to make a good life for themselves, even got caught up with the shinigami of Seretei, and they wished to thank me for my help. The young man and two young women visited with gifts. In their presence I felt something… Peculiar… A heaviness from their very presence. It pressed down on me, and I could feel a heaviness inside. The food they brought became fiendishly attractive causing me to all but rush them along so that I could partake politely. That food was the best I ever ate if only because I couldn't stand the hunger. It only went away occasionally; I took time away from the good work I was doing just to try and get more food when the dull ache became an unnerving growl. Slowly the stories shifted to repeats with the occasional new story, the 3rd and 7th day became the 7th day only, and less people started to come. I was miserable even when my belly was full and so for a full 30 days I decided to purge that food from my life. "Perhaps if I ignore it the hunger will go away," I told myself. It didn't. Still I tried, but on the 30th day a group of royals visited. They had extravagant coaches and the heaviness returned. I swore to myself I wouldn't touch food again, but that dull ache became an unnerving growl, and that unnerving growl became an unstoppable need. I fell to my knees in the road in front of the royals. The guards pulled their weapons warily as I dropped my head to the earth with my hands risen far above my head, "Please, have mercy and give me food. I can't stand this hunger." I cried and begged and the guards watched me impatiently when one of the nobles stepped out of the carriage and came to me. She was a beautiful woman and her presence weighed on me like so many lead weights on my back until she lifted me up and gave me of her food. I thanked her tearfully and she told me to wait for her return.
I waited for several days for her return as the food given me began to run low, but finally she arrived. I was taken to Seretei to train as a shinigami: a god of death. The academy was arduous, the instructors strict, the exercises unforgiving. In all honesty I didn't do particularly well to start with. In fact, when we were given Asauchi mine was one of the last to react to my soul; however, it came to pass that one night as I rested I began to dream. I saw them, the people I had abandoned in Rukongai, but they weren't there. I was in a huge building, filled with rows of cushioned bench seats: grand murals of stained glass flanked along an infinite ceiling. Slowly, one by one, the people from Rukongai left the building filtering out into the endless expanse until I was alone. The light glowing through from the stained glass faded leaving this abandoned place even more empty; a dark expanse of meaningless pews continuing without end. The place was nearly silent, so when I heard a voice from behind me I nearly jumped. "hello" I heard in a whispery voice. I could feel something wrapping around me as something flicked at the air by my ear. "Welcome home," with a strange laugh, and then I woke up. My asauchi had become a true zanpakutō, but at what cost?
I graduated from academy not terribly long after making strong but not exceptional marks. I was above average at best and when I became a probationary member of the first division I was treated as such. All around me paperwork and bustling people, but not a single smile. These were people doing a job; they were far too serious. One could really say that about all shinigami. There was no room for smiling or laughter in the day to day. It was all truly miserable if one were to ask me, but nobody needs the opinion of the guy who is just above average. "Do you want to be more?" That whispery voice again, but this was no dream. "Do you want to make them… Happy?" Well, of course I wanted them to be happy. What person doesn't wish for their fellowship to be happy? The world changed, papers faded into the dizzying darkness of a dreamscape. "I can make them happy," I jumped back as the voice came from right next to my ear, turning to face the source, and what I saw was terrifying. A massive white snake, slithering like a silver tongued lire, and its foul words were aimed at me. I recoiled in a combination of fear and disgust as I recognized that this, thing, was my zanpakuto spirit. "No! Stay away from me you devil," I yelled out in anger. It looked at me with its own anger. "A failure in life, a coward in death. So be it, but we will meet again," and with those words everything returned to the shuffling of paperwork.
It wasn't long, maybe a few years, until I got tired of the everyday tedium. I was both bored and appalled at the work I had to do. To these people, I seemed nothing but a good worker, no one worth recognition, and this bothered me immensely. Before I became a powerful god-like being, I was able to do more good. This wasn't what I signed up for, and I couldn't stand it any longer. Once again, against my better judgement, I would meet my Zanpakuto. I asked my superiors if I could take some time to meditate and was approved. I sat down in my uncomfortable room in the barracks to meditate, when the cramped space faded into dreamscape once more. "I see you've come back," the snake spoke with a note of arrogance. "I was about to force you back here, but it seems some things have changed about you." I was unsure of the implication but ignored it in favor of a response, "You said I could make people happy again. I don't want to be this anymore: I don't want to be marginalized and treated like some kind of paperwork dog. I want to be more. I want to do more." He slithered up to me, "A response worthy of me. Don't worry, I won't allow you to fail again." He wrapped himself around me suddenly, coiling until I could no longer move. "What are you doing?" I cried out with what air I had left. "Helping," was his simple response before he dug his fangs into my neck. Bliss. Unadulterated and pure. I felt the happiness building up inside of me. I felt all of my worries and troubles slipping away. The world fell from under me as I drifted on a high of soft lavender. I could feel it all rushing through, even time slipping by… Gone… Gone… Gone… But, I had a purpose. I couldn't just let happiness come to me, I needed to bring joy to others, I needed them to experience this bliss. I felt a smile formed on my face: ear to ear, as wide as the gap between heaven and earth, I smiled as I realized I could bring them joy. I could bring all of them joy. My vision faded back to reality and the snake staring intently. "Shifuku?" I asked. "So you made it. I was getting worried," he chuckled arrogantly. "Perhaps you really will make up for your failures."
And so it came to pass that I trained, working hard to be strong enough to be noticed. No longer would I be, "Just above average." I would bring a smile to the world: after all, the world would be a better place if everyone smiled a little more. It was important though that I didn't resort to Shifuku unless it was absolutely necessary. I couldn't go around attacking random shinigami, or at least not yet. I will try to do this on my own, making people happier I mean, but if it ever comes down to it and I fail: I will rely on Shifuku. For now, I will hide him, he has provided me with a false release so I at least can say I have achieved shikai, but I will become strong enough to make this world happier.
OOC__
Player Alias: Sin
Do you want a grade?: Yes, I want at least 1,000 GP for my grade. If after a read through you feel I am undeserving of this, please let me know so that I can spend more time working on it/
Were you referred by anyone?: no
Other Characters: none