Post by Tachi Omoki on Aug 24, 2016 5:34:20 GMT -5
___ S H I N I G A M I ___
The Soul Reaper
On The Surface__
Name: Omoki, Tachi
Age / Apparent Age: 187/17
Gender: Male
Height & Weight: 6'0 & 175lbs
Hair & Eyes: Shaggy blonde hair which curls around the base of his neck, His eyes a cold distant blue like ice with small flecks of grey.
Physical Description: His frame, underneath the clothes, is rather athletic. Toned muscles fill out his entire body though his attire doesn't show that he is so muscular. His deep blue eyes like a frozen glacier with blond hair falling like a shaggy mop over his head. The man stands at a average height of six feet, with him being more on the slender side weight wise. His skin is tanned but still somewhat pale, his mouth is almost always upturned in a friendly smile and his nose bears a distinct crook in it from being broken. While in the soul society he wears the usual uniform of your average academy student, his zanpakuto slung over his shoulder in a red sheath that reaches to just about knee height. His posture shows that he has a somewhat noble background simply by the manner that he carries himself with. His long legs covered in the blue hakama of the academy and on his feet he wears a simple pair of tabi.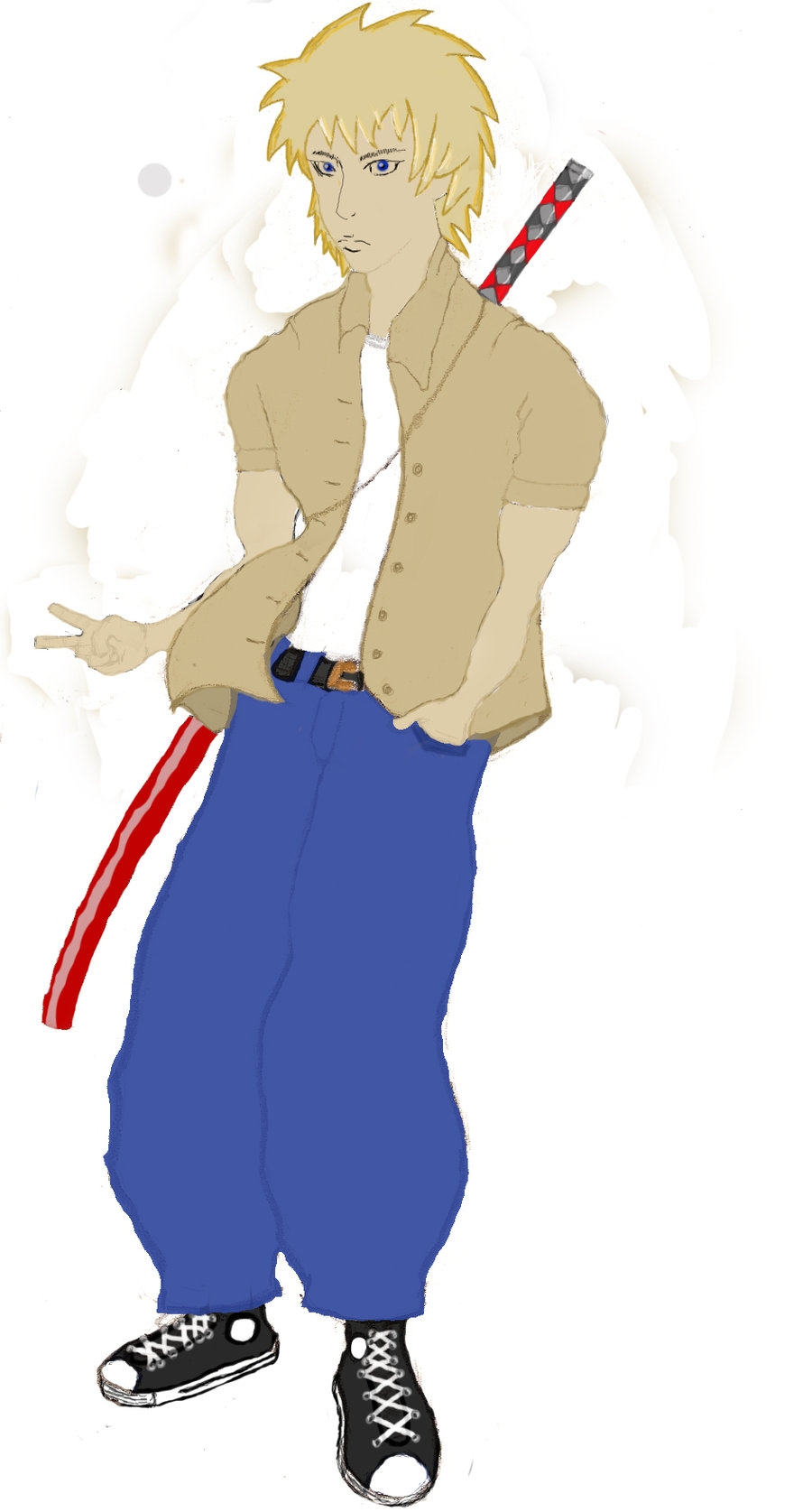 Spiritual Description: Tachi's reiatsu is like the cold grip of the grave, it's colour a deep blue mixed with white that seems to sap the heat from the air, in large amounts it can even make people's breath visible and freeze water. It's presence is calming but can quickly become sleep inducing causing people to lose focus, it's scent is that of freshly turned earth, the moist dirt carrying the aroma of decay with it.
Extra details: Tachi is left handed. As for his demeanor he tries his best to keep a positive and upbeat attitude but has seen enough to know that good is rare in the world, and that you can't always tell which choices in life are the good choice or the right choice making him leave such things for those above him to make the difficult choices in his stead.
Behind The Eyes__
Personality: Tachi tries his best to have a positive and upbeat attitude. Unwilling to let anyone know if anything is wrong, done more out of pride then shyness. With first impression of him at face value most would assume him to be the positive and friendly spirit he claims to be, yet within he is usually more reserved and cold. His thoughts on most matters resolved either through his cold logic or orders from those he follows, more of a follower then a leader Tachi is obedient to the extreme it would be hard to convince him to abandon his duties for any reason. He wishes to join the second division when he graduates the academy like his brother had before him, wanting to find out the details around his brother's death he decided if he joined the same division then surely they would have the answers he sought. He worries deeply about his detachment from the world, how he can never seem to grow close to people without something terrible happening to them, this has caused him to push away those who try to get close to him either by accident or out of fear of hurting them.
Positive Qualities:
Calm:
Due to his distant nature Tachi finds it easy to remain calm in even the most chaotic of situations, he is able to bottle it up and push whatever may be going on around him and ignore it allowing him to have clarity in the moment and not reacting based off emotions.
Punctual:
Tachi has no time to waste between classes at the academy, and training at home, when it comes to being somewhere at a particular time or finishing before a deadline he will work quickly and diligently to be on time, mentally beating himself up should he fail in being as prompt as he would like.
Friendly:
While he may be cold and distant on the inside he does his best to play it off in public, trying his best to improve and uplift other people's mood, even when giving bad news he will try and act happy which can cause some discomfort for people should the topic not be a happy one while he continues as chipper as could be.
Organised:
From his personal space in the dorm of the academy to his uniform, speaks volumes of this mans organisational skills. His books arranged by genre and chronological order they were received in, his clothes laid out for each day of the week to even what order he gets dressed in. Everything has a place and order to go in, never deviating from his routines allows him to keep his day organised and on track.
Negative Qualities:
Detached:
Though as hard as Tachi may try he always feels distant and detached from other people, secretly it eats away at him as he wishes for some to get close but ultimately he always takes the easy way and pushes others out of his life. Deep down he feels as if something is wrong with him that causes him to push others away to keep them safe from himself.
Inflexible:
Tachi is so stuck in his routines and plans that it makes it difficult for him to deviate from them, causing him to stress about minor details that ultimately don't matter or that others won't notice. While he may be stuck in his routines and plans it doesn't mean he can't be flexible on somethings just as long as it's the more logical choice to take.
Repressed:
Tachi's detachment isn't due to some mental illness, he just deeply wants to keep people at a distance for both his sake and the sake of others. This causes him to bottle his emotions and feelings causing a lot of mental strain on the academy student. Eventually though someone will either breakthrough to him to bring catharsis or this nasty worm will snake it's way deep into his soul which will cause much more severe problems in the future.
Subservient:
A small coping method Tachi has developed over time to deal with the stress of the world is to just take orders, he doesn't need to make hard choices if someone else does it for him nor worry if they aren't exactly ethical. While this may make him a prime choice for the second division to scoop up after the academy it causes him to try and shrug off the mantle of leadership. After all if he is the boss who can give him orders so he's not the one to blame if they are wrong?
While not required, feel free to add a few paragraphs to tie up their personality, or add more sections such as: Moral codes, prejudice, likes/dislikes, goals, motives, and/or mental disorders.
Likes:
Music:
Tachi has a passion for music, keeping a old record player in good working order. He used to receive gifts of the different records his brother would bring back after a visit to the world of the living and now has a solid collection of various different era's and genres so he always has something for the right occasion.
Smoking:
At first it was just a smoke when he saw his brother doing it because he thought it looked cool, from there it evolved into a stress relief from dealing with the rest of the family when his brother left to be a shinigami. Ranging from pipes and cigars all the way to your common cigarette, there isn't anything Tachi won't smoke, except he won't do it while he's on the job. If anyone where to ever ask him about he would reply, "Don't mix business with pleasure."
Dislikes:
Drinking:
While coming from a merchant family means Tachi can appreciate a fine drink he avoids drinking the stuff himself, he finds the alcohol makes it difficult to keep his emotions in check and at a distance.
Delegation:
While Tachi may be happy to serve others and obey commands he hates to be in charge of others, one of the very reasons he gave up his position in his house to join the academy was to be rid of the mantle of leadership. Why tell others how to live their lives if he couldn't even decide how he wanted to live his own.
Strength Of The World__
Zanpakutō Spirit and Inner World: The name of Tachi's zanpakuto is Mumaou, otherwise known as the king of nightmares. He is a tall gaunt figure, his clothes moth eaten and decayed are a mock of a captain's uniform with a haori, which has no division on the back. His hands have long fingers with no flesh covering the bones leaving bare for all to see, his flesh is gone in most places leaving a thick black sludge in their place. The sludge seems to shift and move on it's own separate from the figure of Mumaou yet always attached to the skeletal frame of the zanpakuto. The inner world is that of shadows, as if it were in the middle of a graveyard, tombstones litter a open field with a pond near the center filled with the thick black sludge that seems to coat the spirit that resides in this world. The black sheen of the sludge still reflects back the image of whoever looks into it only decayed as if aged beyond their lifespan. The sky constantly shines down starlight with a huge harvest moon hanging overhead. If one where to read the tombstones each one has the name of a person Tachi has met.
Zanpakutō: In it's sealed form Tachi's zanpakuto is a six foot katana, it's hilt wrapped in red silk, making alternating pattern of diamonds running up to the guard, the blade seems fairly average if a little old. In it's released form the blade drastically changes into a set of sharp talons along Tachi's fingers, each roughly six inches long and razor sharp, the tips of the talons drip with a thick black sludge which is cold to the touch.
Release Phrase: To release the blade Tachi has to slice his palm with his zanpakuto and call, "Tear away the face of fear, Mumaou!" The blade will then make a screaming noise as it appears to rust away before reforming as the talons on Tachi's hands.
Zanpakutō Power: When released Tachi doesn't look very different from usual though he will leave black sludge wherever his feet or hands have touched, the sludge will quickly soak into stone leaving a impression of Tachi's feet or hands. As for the power of the zanpakuto it calls forth the deepest darkest nightmare of his opponent and creates an illusion of it, when struck or touched it will collapse into the black sludge. It can move and make noises however and sometimes will reveal dark secrets about the owner of the nightmare, even ones that the owner is scared of hearing out loud, though they aren't all true. This not only leaves opponents distracted while fighting Tachi but can cause serious mental damage to their psyche
Legacy Created__
Current Division: Academy
Previous Divisions: N/A
Snapshots:
(born) October 13, 1829 in the 5th rukon
(kidnapped/father's death) age 10 in the 25th rukon year 1839
(made head of the house) age 35 year 1864
(brother 'died') age 67 year 1896
(adopted brother) age 132 year 1961
(joined the academy) age 182 year 2011
(met his zanpakuto spirit for the first time) age 186 year 2015
History: It was a blustery autumn day when Mitsufumi and Aya brought their second child into the world. Heizo was delighted to meet his younger brother, that was the start of the bond between the two brothers. Growing up in the merchant house in the 5th rukon Tachi never had any wants or needs, he often spent his days playing with his older brother in the training yard, it had always been his older brother's dream to join the Gotei six and while Tachi never had much interest in it he always did his best to encourage his brother's dreams. When Tachi was ten and his older brother at fifteen his father took the two of them on a trip to one of the further out districts not only so they could learn the family business but also so they could see how much better they lived then those in the later districts. Heizo with the help of Tachi sneaked off into a nearby forest where they had been set upon by bandits, seeing this as a perfect chance to kidnap the kids and ransom them back to Mitsufumi. With barely a struggle the grown men captured Tachi but Heizo had not been so easy to keep and he slipped away back to their father.
Tachi had been beaten harder for his brother escaping, his nose getting broken while they had beat him. At night he was tied up and put under watch, the men drank themselves into a stupor and Tachi tried once more to escape only to encounter the boss of these men, some sort of giant of a man. He had scars crisscrossing his body from years of hard living, quickly Tachi was knocked out by this giant. In the morning they met with Tachi's father exchanging Tachi for a bunch of booze and other goods. Just as they let the child go they attacked the caravan in the hopes of taking the whole thing, Heizo collected Tachi and escaped with him however Tachi's father had not been so lucky and was killed. Once they returned home a funeral was arranged for their father, no one blamed Tachi for his father's death yet he blamed himself for it. Slowly he pushed down his grief and played it off as if nothing was wrong and that was the start of his emotional bottling. His brother was suddenly thrust into the roll of head of the house, he was responsible for the rest of the family and Tachi grew up seeing the stresses it put on his brother.
When Tachi had grown older his brother called him into his room and told him that he had been accepted to the academy of spiritual arts. He asked Tachi to take the head of the family position so he could pursue his dreams, to which Tachi nodded his head and took the role so his brother could live his dreams. Slowly the years went by and his brother graduated and was put into the second division, slowly Tachi started to hear from his brother less and less. He assumed it was just work keeping his brother busy until one day he received a letter from the Gotei telling him his brother had been killed in action against a hollow. Unable to let his feeling show he kept them locked in tight, his family unaware of the emotional pressure slowly building within the man.
It was a happy day for Tachi when he met a lively young soul in the rukon that reminded him of himself when he was younger and happier, he invited the young soul to join his family as his brother, Roger told Tachi everything he could about what he remembered from when he was alive which wasn't much but he had heard of America before and the way the boy spoke with such passion about it touched the jaded Tachi. That's when he decided he would live his life for his older brother, he waited a few more years quietly training Roger to take his place as head of the family while he decided to go to the Academy. After fifty years he felt the man now grown ready to take the role while Tachi himself had grown much stronger.
Passing entrance exams for the academy was easy for Tachi at this point, barely having to show any of his skill to pass, once in he put his head down and got to work. Doing everything he could to advance through the ranks trying to fulfill his brother's dream of being a captain, he wasn't in it for himself or the power. He was just trying to fill a dead man's shoes, he didn't make many friends in the academy that way. He acted cheery enough but often put people off with his detachment from everything, often making a friend only to have Tachi become more and more distant as they grew to know him. Entering his final year in the Academy he was faced with the next big step dealing with his newly found zanpakuto. His blade no longer an asauchi but now a full fledged zanpakuto of his own, yet every time he tries to speak with it, it seems to repel him and only comes to him in his nightmares, a tall gaunt figure haunting his dreams causing him to wake in fits while sweating. Always finding himself alone covered in a thin sheen of black sludge, he assumes that he is close to finding his blades name yet he can't endure the nightmare long enough to ask the figure the question he always means to ask. "Who are you?"
Family: The Omoki Merchant family, The head of the family was Tachi's older brother Heizo, currently the family believes him dead however he is actually imprisoned in the Maggot's Nest. The new head of the house since Tachi left for the Academy is his younger brother Roger. The only other members alive of the Omoki other then that are Tachi's mother Aya, and his younger sister Sakura.
OOC__
Player Alias: Caz
Do you want a grade?: Yes, how much GP? 1,000
Were you referred by anyone?: Google
Other Characters: Cazador