Post by scorchys on Jul 16, 2016 17:17:41 GMT -5
__Q U I N C Y__
The Nordic Quincy
"Lady Vanadis"
Queen of the Quincy
---
Name:Freyleif Jökulsdóttir
Race: Human/Quincy/Gemischt
Age:17, November 4th
Zodiac:Scorpio
Gender:Female
Height & Weight:5 feet 4 inches, 139 lbs
Hair & Eyes:Dark green, Long and blonde with several thin braids.
Physical Description:
■Build:The young teen is a slow grower; standing about a straight five foot tall, despite this Quincy teen size her wild dark green eyes can catch your attention as they go through the shades of green depending on mood; light when in a happy mode, teal green when sad, and dark as her normal neutral expressions. Her skin is marred by scarification along her legs and arms by runes and tattoos all depicting a different 'prayer', an old Nordic art of carving Ginto into the flesh. Weaved into her skin using the same reishi based liquid found in a Ginto tube, these tattoos act as both medium and focus. Her stomach also having healed acid claw scar from a hollow attack.
■Hair and style: The Nordic girl was blessed with pale blonde hair of her lineage taken from her mother's side. Her hair reaches all the way down the length past her rear. Sometimes braided in Nordic style weaves depending on the occasion is formal or free to blow in the slightest winds. She keeps it kept and brushed to prevent knots, her bangs always get in her face, causing her to annoyingly flick her hand to move it back.
Spiritual Description: Freyleif's reiatsu only shows when she is under emotional situations. It remains a blue color until her anger shows with a dusty rose hue overlapping her current blue energy. When she feels sad you can feel and see her energy leaking out in a somber mist showing and feeling how depressed she feels. When she is happy, it bursts out like sparks making it easy for people to pin point her as an easy snack. If one happens to be around her when she's angry, the energy gouts out of her like a flame burning in the air leaving a malice intent burning sensation or a smell of smoke depending on how pissed she gets.
Wolf in Sheeps Wool___
Personality: She is a quite serious young girl (and bratty) with a tomboy attitude and an iron will. She is a hard worker and likes to learn new things. Her pride sometimes get her into a lot of trouble even if she is the kind of woman who hesitates to face any danger if she can avoid it. Strong will, honorable are two of her good points. A nasty, short temper, usually expressing her feelings physically. Her actions have been described as brutal at times, even for such a young girl.
Further More in Growth...
Frey is a strict person, who only cries when under a lot of pressure, she will just become violent. She usually copes with stress well, and has a dry sense of humor. She is honest but sometimes forgets important information.Her hobbies are arts and crafts, baking, exploring, and coming up with new music ideas. Frey's' pet hates are disrespecting, nail biting, and rudeness she also can hold long grudges against someone if they get on her bad side.
Blood Type: O+
-People with the Type O positive blood group, are said to be creative, confident and quite popular, they enjoy being the centre of attention. Type O positives are also outgoing and very social, though mostly initiators, they may never get to finish what they start.
Positive Traits

Creativity
:"Watch me use my imagination to make it real!"
With combined imagination, she takes a lot of inner thought to use such in tactical situations. Not only in such she likes to use this creativity in literature and arts, using such to make sculptures out of clay and proficient in drawing.
Energetic:
"I won't let things toss me down. Smiles can be bright as Freyja's love!!"
Frey has lake fulls of energy. Also good for pushing to strive for goals, she can be outgoing with others when she's generally not in a bad mood. Frey needs to be energetic to keep the smiles going despite all the bad in the world, giving her the amplify to
get
along with friends.
Passionate
:"I love doing this!"
Frey has a passion for all things that she will enjoy, be that it may; a strong desire to accomplish her art skills, training, and won't give up in what she believes that would fulfill her towards her goal. Some might wonder if she drives herself too much towards her finish line but to her it keeps her burning like dragon's fire.
Dynamic
:"Move over! I'll take this on without fail!"
Faced with a challenge, she can adapt to to a situation she can take on. She can be sweet and charming to those around her even funny. She makes it great to ride through the tides and charge towards her destiny with determination, you can see it in her eyes.
Protective

:
"I'll be your shield!"
Frey can take the big sister role to those whom she has great bonding with. Becoming the "shield maiden" fiercely to those she has become loyal with, she also can make a great ally in such a need or when times look "Ragnarök", when all things seem lost to an ends.
Negative Traits
"Hatred is a hard thing to kill."
Aloof
: "Nope. I have no clue in Thor's name what you're talking about."
Frey is distant to those unknown to her, being laid back and reserved. Not wanting to get involved just about things she's uninterested in thus being perfectly fine being a speck of the unaware nature.
Grudge

:
"Don't you worry! I shall
not forget
you."
Getting on her bad side, she can also have long grudges against someone but this is mainly against hollows. She has an everlasting one with the salamander hollow that killed her mother. With anyone else, it would take ages for her to be forgiven towards a particular fellow whom harmed her physically.
Angry
:"I will beat the
shit
out of you, and hope you fall to Hel for her punishment!"
Woe to those that initiate in her wrath! Frey can become enraged like a berseker if the bear is poked enough. She looks completely innocent until she shows her bestial side of anger unexpectedly, like the ticking flowing of time clocking down until the dragon awakens. One might just see her as a reserved young lady but then see she has a bad habit in yelling out profoundly.
Jealous
:"Why did Freyja bless her and not me?"
Another flaw she usually leaps down in is jealousy. Being in a group of talented people; be they Quincy, human, or spiritual she would look on from the sidelines telling those how exactly how she feels. Someone has a cookie they wish to not share? She'll get jealous fast. One to be the clingy type if a boyfriend was flirting with another.
Emotional
:
"This pisses me off to no end!"
She bottles serious emotions to the extreme, when it reaches a certain limit, it will start all streaming out haphazardly. Some days she is happy, sad or just outright wants to be alone- some might think she is bipolar or just unpredictable flip-flopping like the seasons.
---
Tidbit other infromation section:
■Religion:Norse
Since the Christianized regions of Scandinavia was converted, most kept to the old or neo-paganism beliefs. Frey was taught such values by her mother when she was excommunicated. Her beliefs in the Old Gods, and that Freyja would bless her with beauty, love, and money. If she ever died in battle, she would hope to be accepted in the fields of Fólkvangr.
■Family Background/ Lineage:
Frey's Quincy sided-family come from a long line of shamanism and runed ginto called "Seiyr" in their terms. Their silver tubes engraved/adorned in runes from the elder futhark runes to other old Norse beautifully handcrafted inscribing. Frey's mother, Bryjna, was well versed in such magics and was called a "Völva", the most wisest Witch. She doesn't know much about her father's lineage side but only rumors he was killed in an car "accident" and she believed such.
■Speaking style:What you hear is a young Icelandic girl around her teens, you can tell her accent is defiantly not native to Japan. Sounding a bit voiceless around the edge, she is most likely so in the dialogue and poor Japanese language skills, she would not be able to understand those in Karakura unless they knew some English. Her second language is English and can speak it fluently to those she can cheerfully converse with.
■Clothing styles/ Favorite outfits/Cross:
Frey likes to wear light clothing; such as jeans and T-shirts. Being a tomboy, you won't see her much in dresses as it embarrasses her. The only jewelry is her Nordic cross she wears from her late mother's, the cross is worn having an embedded "Hagall" rune mark on the lower middle side of it. Farther down is a wolf-headed attachment that connects to a silver necklace she wears that has two wolves heads attaching to a ring.
■Education:Like most people of her economic class she isn't that well educated, but is rather well self-learned due to it becoming a necessity to survive on her own for an extended period after her parents passed on.
Traumas/Psychological scars from past:Salamander hollow killing her mother
Likes:
Sweet toothed:Frey loves sweets! Growing up in a bakery she had fond tastes of cookies. You better make sure your hands are clean of sweets, wave a cookie around and you sure as hell will be pounced...or bribed.
Hobbies:Baking, singing, sewing
Likes ducks and puffins. These birds litter all over the parks in Reykjavik. Frey loves trying to chase the ducks or catch a puffin too
Interests:Video games, Quincy-ing, the vikings
Dislikes
Snakes. Ever since meeting the red salamander snake-like hollow, she has a huge fear of snakes.
Fears:Snakes, death, losing her love ones
Dresses: She has a grown up tomboyish style, you will rarely find her in "girly" trend clothes in this day and ages. None of the skirt wearing, pink dress, and ugly bows in hairs.
Jökullvarður (father,deceased)

Brynja(mother,deceased)

Eiríkur, Grandfather

Adopted to Angeni
Goals:
Master her Quincy abilities
Gain second power
Learn the old secret arts of the Quincy
Ultimate goal
Learn her highest level of power
Become the Empress of the Quincy
Lead the Quincy into a brighter future
Strength Of The Nordics___
Spirit Weapon: At first glance, Freyleif's bow does not seem very threatening at all. A blade roughly two and a half feet long makes it seem at first like a simple sword, made from reishi which glows a blue colour. Upon further analysis however, one would find a revolver chamber just above the hilt, a trigger on the bottom side of the grip, and a long barrel traveling across the top of the blade.
Upon pulling the trigger, the revolver chamber draws in reishi from the air, condenses it into the chamber, then fires it out in a spectacular blast, pulling upon Freyleif's very lifeforce as she fires out a concentrated projectile capable of horrendous damage and destruction. Her thirst for destruction visible in the very air around the bow, serpentine tendrils of reishi bleeding from the gunblade, showing the raw destructive power and thirst for destruction that fuels Freyleif and her bow.
Power:
W — "The Warsong":
Freyleif's new powers have manifested-- effectively being her "true" powers before the loss, and pain in her life twisted her soul. The powers are a reflection of her true mindset that has always been beneath the surface of her rage, a desire to help others, to bring the Quincy into a golden age, increasing her allies powers and bringing forth happiness and joy in others and herself. Due to this, the power itself has altered into an ability that she and Erek have dubbed "The Warsong", the ability to manipulate vibrations in the air with her reiatsu-- causing the reishi surrounding her to shift into varying effects based on vibration, and sound in order to enhance herself, allies, protect those she cares for, raise morale, and increase capabilities of everyone-- not just herself.
Depending on her level of release and mastery, this ability varies widely-- at its basic stage, it allows her to bend and manipulate the reishi around her to create high-speed vibrations to effectively use sonic energy for a variety of defensive and offensive uses-- shields, swords, screams, and so forth are common applications to this ability. These vibrations are able to far more effectively slice through materials similar to the constant vibration and grinding of seele and adding that effect to all of her attacks-- with more specialized applications of this she is able to ignore natural forms of armor to directly target someone's ears and brain, altering the frequency of the sonic shockwaves and screams to do so.
As this power progresses in tiers of release, the ability can be used for far more augmented powers-- to the point that her very reiatsu itself-- not her own screams, but instead her soul, begins to sing. These "songs" are designed to specifically alter the flow of reishi through vibration, cloaking her allies in the same energy, augmenting their destructive potential, protecting them from damage, as well as causing the opposite effect on all of her enemies to weaken the power of their attacks as the reishi itself around them begins to resist the attacks and energy through condensed vibrations before the attacks even near their target. This also allows her to augment the morale, and power of her allies and herself by causing the song to help allies focus, or disrupt the concentration of her enemies by causing the vibrations around them to throw off balance, shut down hearing through high-pitch constant sound, and so forth.
How refined this sound-control may be is based on her mastery of her reishi manipulation as per usual, as is how effective causing these "downsides" to others or "enhancements" to others may be when it comes to raised focus and morale.
First Release
Power Effects:
Freyleif is able to effectively "cast" utilizing sound and vibration as a medium, allowing for a wide variety of effects such as sonic explosions, shutting down hearing capabilities through high-pitch attacks, vibration-enhanced coatings over weaponry, weapon and shield manifestations of vibration and reishi, armor of vibrations and reishi to cloak her body in, and so forth. The degree of refinement, power, defense, and so forth is measured by her normal stats and reishi manipulation skills mastery.
Power Description:
Freyleif's new power allows her to use her reiatsu to "sing" and manipulate the flow of reishi around her through vibrations of varying speeds in order to produce sounds and vibrations of a variety of effects mixed in with her natural skill in reishi manipulation and creation through the skill. This allows her attacks to have added seele-like benefits added on to them at its most basic application, to anything far more effective based on her current level of skill and refinement.
Second Release
Power Effects:
Freyleif's abilities have expanded so that all of her original powers from her first release remain, but she is now able to bend it at will across the entire battlefield, her reiatsu now directly affecting the reishi surrounding the entire front. This allows her to cast and apply her vibration-based enhancements to all of her allies, as well as herself at will-- creating and "casting" from any area of the battlefield at will without having to physically be there to do so due to her song now affecting everything. This allows her to effectively "buff" herself and all allies with sonic-enhancements, armor, more effective cutting potential, and so forth-- as well as enhance their focus and morale should the players agree to such. On the opposite side of the same coin, this allows her to hinder all of her enemies-- the reishi's vibrations attacking their sense of hearing, balance, and purposely condensing to make their movements slower and their attacks weaker-- how effective this is, as per usual, is based on player discretion.
Power Description:
When released, Freyleif releases an explosion of sonic energy and reishi-- the explosion sounds similar to a
great horn of war being blown
, filling the air with the resounding sound of its cry-- the reiatsu surrounding Freyleif exploding in shreds of dusty rose as the entire battlefield begins to hum softly, before the song chosen by Freyleif begins to echo across the entire area, enhancing herself, her allies, and those she cares for-- while tearing into her enemies and hindering their own abilities as much as possible. In this state, she holds a valkyrie-styled helmet with wing-like decorations from its sides, as well as a suit of armor covered in Nordic runes, chain, and leather along the joints holding similar designs to the ancient armor that the Valkyrie were said to wear.
This is the truest manifestation of "The Warsong", at this level of release the entire battlefield becomes Freyleif's-- a commander of the battlefield, her powers now control the reishi across every fight including her own. This enhances her allies in a variety of ways similar to how her first release is capable of enhancing her, cloaks of vibration-based armor, enhanced destructive power as their weapons or spells now use high-speed vibrating reishi that adds destructive qualities to their attacks, and similar effects are all possible. Similarly, this control over the reishi across the battlefield allows her to effective "cast" her reishi-based spells from any angle instead of having to use herself as the point of focus. The final benefit being that now, with her songs having increased in potency along with her control-- she is able to enhance or lower the morale and focus of those in a battle with her to varying degree's through the usage of song and music combined with her reiatsu's natural affinity to uplift her allies and crush her enemies into dust.
Cross: Freyleif has two crosses; one made in a shape of her gunblade and the other is an old worn Nordic cross with the end part having a wolf's head that is used as a hook to the silverchain necklace she wears. It has the rune 'hagall' on the back meaning 'hail'.Though it is not her own, Freyleif values her mother's old cross despite making her own.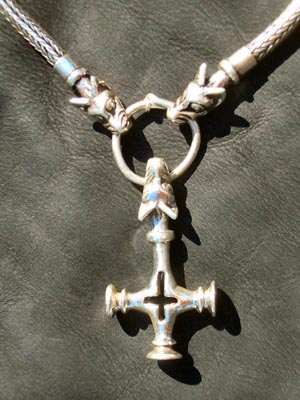 ---
Character BACKGROUND
Snapshots:
-1998 Brynja is excommunicated for breaking an age old tradition for not marrying a Etch Quincy
-Freyleif born on Year 1999 AD November of Woden's day
-2010 Freyleif sees her first gillian hollow sparking her curiosity of the spiritual world
-2010 Brynja is slain by an adjuchas salamnder hollow and Freyleif is taken under the wing of a Quincy mentor
-2015 Freyleif's basic training is finished and her mentor sends her off to Karakura to train and find a new teacher
_______________________________________________________________
Thence come the maidens
mighty in wisdom,
Three from the dwelling
down 'neath the tree;
Urth is one named,
Verthandi the next,
On the wood they scored,
and Skuld the third.
Laws they made there,
and life allotted
To the sons of men,
and set their fates.
- From The Poetic Edda: Voluspo
---
The year 1999 AD November of Woden's day 2.23 PM.
In most Quincy societies, one is required into arranged marriages depending on the nation, tribe, either the law. This tale is spun by the Norn Goddess' threads of the wondrous and cursed fate that occurred to a single family in Iceland.
Freyleif was born to a young woman named Brynja during a long winter night. The birth was a difficult one, especially so given that the father of the young child was not the one arranged for her by her family. But Freyleif's mother did not care, she went ahead to defy fate for the sake of her love. Freyleif had green eyes, shared between her mother and father, who decided that day to stay together for the sake of the child no matter.
But all happy stories don't end well.
It had been a week after Freyleif being born, through those days Brynja and Wynn took turns taking good care of her. Brynja went back to work while Wynn looked after Freyleif upstairs in the bakery though Freyleif would get fussy at times for her mother. Brynja would come quickly as she could between breaks to feed the little one and the three would cuddle up in bed with Frey in the middle as the two watched over her and chatted.
As December came around the corner, it was already getting cold and snowing pretty heavily. It was already a month when Brynja started noticing how sick Freyleif was getting. Brynja tried everything to help soothe the baby. There was another change as she noticed Frey being aware of the reiryoku levels this also worried her if hollows started taking an interest. That day wasn't far off as a snake hollow started stalking the area for a few days, and the local Quincy happened to take note of its appearance throughout the town picking on lesser prey as a game. A murder had gone in panic just a few street levels away from Brynja's shop. There was just no way she could leave her child unattended and Wynn wasn't showing up.
Customers were becoming less with an undiscovered murder about in the news. Brynja had no choice in preparing and calling up her father and friends through this beast was becoming clever attacking in the night time under concealment watching and waiting. The hollow came upon the shop, smelling new delicious prey to snack on of course Brynja was already waiting for it and readied her bow standing on the rooftops keenly sensing for hollow energy.
"You think you can take me on Quincy?" There was a hissing chuckle through the air."I killed many of your kind, you're easy to predict and not all powerful as you seem."
Brynja whirled around taking a shot as she pinpoints the beast. "Your tricks won't work on me hollow," there was a screech as her mark struck true and blood splattered about.
"We're here, Brynja!" and about time her Quincy members showed up. Three of them came to assist.
"Be careful about this one...it's a sneaky one," Brynja said trying to make out the traces of the snakes being.
"Look out!" one of the male Quincy shoved his comrades out of the way as the hollow lunged at them.
Even though Brynja was still recovering, she had to hold out and protect her little chick. "You won't win," the hollow taunted appearing before Brynja and going for a slash, she tried to move quickly back, but the claw had scrapped along her right arm. Just as the beast tried to hide again a bright flash surrounded it as a Quincy managed to bind it in place, the other two soon firing a flurry of arrows tearing into the hollow soon breaking out and panting with skin missing.
"You damn Quincy! I'll take you all out one day!" it hissed out in a screech and fired off a powerful cero towards the building trying to distract them. Brynja's eyes widen as the cero was heading towards her shop, she quickly got in front of it and tossed a silver tube to energy negate it but some of the blasts had knocked Brynja out and she crashed into a rooftop grunting in pain. The rest of the Quincy manages to force the hollow to leave, but Brynja soon passed out from overdoing it.
Brynja soon awoke a bit blurred. It took her awhile she was in her room, just how long did she sleep she thought. Daybreak peeked through the curtains so it must have a few hours, she quickly remember Freyleif and quickly slipped out of bed only to find her father sitting there in a chair cradling the baby. She was doomed, how was she going to tell this now? Her father looked up as Brynja froze instance and spoke sternly. "Why didn't you tell me you were taking care of a child?" he sighed and stood to place the sleeping Frey in her crib. "I'm s-sorry father I did not think you would approve." Eiríkur gave her a dissatisfied look and his frown deepen. "Who are its parents?" he demanded to know. Brynja wished she didn't foolishly over do her body against that hollow.
"She is mine.." Brynja sighed in defeat.
"Yours!?" Eiríkur raised his voice in shock then narrowed his eyes at his daughter."What happen? Tell me everything, don't tell me you.."
"F-father it's a bit complicated." Brynja shifted uncomfortably, still sore and about to sob.
"Don't lie to me, tell me everything," Eiríkur demanded once more. There was no hiding the fact now. She had to explain who she was with, of course. This news did not make Eiríkur any happier.
Eiríkur was taken aback by such he looked over to the child who started to whine, she already had a small tuft of blonde hair growing. "That's not possible.." but it was true even if he didn't want to believe it. Rubbing his brow and lowering his temper he turned around and stepped out. "You've disappointed me."
It was then the Vatican had received word of these couples. They wanted death on both their heads but Eiríkur would not have it for his daughter. He fought the papers from being passed and demanded Brynja be excommunicated he didn't care what happen to Wynn and made sure he would be hunted down.
The child would be spared, but Brynja had to take care of Freyleif on her own without any power to defend herself, her title stripped from her and was closed off from her Monastery.
The year 2010 AD - Sumar of Thorsdagr.
Through Frey's toddler years, she was happy working with just her mother through making new recipes as well taught the dangers of fire. By the time she was eight years old, she helped around the bakery without harming herself with sharp objects or getting into things like most kids do. She was an energetic child always running about and curiously watching out the window wishing to get away on a grand adventure. Brynja spoiled her a lot. After all, her mother told her little of what her father was like only that she was told he died in a car accident on a stormy winter night. She had believed such stories, even though it was the one thing her mother lied about as she never knew her father and there were no pictures of him around the house only the vast imaginary stories given to her.
On her tenth year, she was more curious about exploring the outside world. Frey's mother was strict in her leaving the house and was over protective in fear she would lose her daughter against the hollow that still preyed. Frey would defy her mother's wishes thus often times sneaking out of the house when the bakery was filled with customers. When she tried to sneak back in through the back door, her mother would be there with her hands on her hips. Her punishments were of the verbal kind than physical nature. Her mother didn't like to spank just hoping scolding words reached her, sometimes it would work though often times it also did not.
On a Thursday evening, Frey once again snuck out of the house taking some money from her piggy bank. She wandered through Laugavegur district coming upon the Family Zoo, not like any other zoo but its main focus is on Icelandic farm animals and several wild native species. She had few friends there she would meet and feed the puffins. She loved their silly looking eyes and the ducks swimming in their ponds.
Something had caught her interest. A towering black cloaked being tall as a skyscraper and pointy nose seemed to look down at the zoo. Frey pointed up to the sky trying to get people's attention but they did not see anything or thought her crazy. The giant beast sat there with a peculiar sad like mask, some red sparks forms around its mouth as if it was gathering some energy.
"Freyleif!"She heard the voice of her mother. Turning around she saw her mother form some kind of bow made of blue energy.
Before she could react, the hollow unleashed a cero beam the reiatsu was weak but it was enough to make Freyleif feel faint as she collapsed on her knees along with the unawares, her chest felt tight and could barely breathe. Her mother stopped before her and fired off her own arrow to negate the weak cero splitting it in two as the arrow spearheaded into gillian's mask.
Freyleif tried to stay awake but her vision became cloudy. Soon enough she passed out by her mother's feet.
The girl awoke a few hours later, glancing about she had noticed it was night time and her mother was waiting for her in tears. Freyleif had many questions about the "creature" she saw, her mother knowing it was time to tell her. Telling in a sense she would ramble on her own version of mythical stories and riddles.
In Which we Get a Revenge
Freyleif became increasingly curious about her mother's bow. There was just something about that woman whose soul could not be stricken even after being excommunicated there was a certain determination in her eyes. Frey wanted to find out more about what she saw, but every time was disregarded from the subject. This angered her a lot and she felt disconnected with her mother; all in all, it was simply the best not to open her up to the spirit world even if Frey got mad at her mother.
Frey kept most to her room for a few days, only coming down to pick up a quick snack before running back in her room. Brynja tried to reason with her many times through the day until she meditated on the thought of telling her what her birthright meant. Finally getting over mood against her mother. Frey would exit out of her room to look for Brynja. She must not have been around or maybe shopping on a Sunday evening. Opening the door to her mother's room, she found a very beautiful box carved with old Norse runes and ravens decoration. Curiousness caught her by fate's thread wondering what just inside this box. Moving up to the desk, she pulled the wooden box down then opened it finding an old worn looking cross with a wolf's head on the bottom. The only thought that came to her as if her mother was some religious person of the Christian nature, but looking closely the elder futhark inscribing of "Hagall" was etched in the middle of the other side as she turned it.
The sound of the door closing downstairs startled her. Brynja had come home, Frey came running down asking about the cross which Brynja had finally explained that one day Frey would find this very item important.
The shop was slow the next evening on a nice Friday. Something was nagging at the little girl, the air felt heavy and it she could sense like someone was watching her making her glance behind her shoulder at times pausing between kneading her bread, shrugging upon seeing nothing she went back to work. A crash sounded out in the other room, the sound of her mother screaming made her jolt and run to see what the commotion was, laying there with glass shards sticking to her side Freyleif's mothered was towered over by an adjuchas class hollow. Afraid what she saw, Freyleif tossed pots and pans at the hungry beast in which she could clearly see such a young age. There had been little of what she could do and watch her mother get pinned under a giant snake-like hollow frighten her. The day that was boring became dramatic.
"Freyleif call for help!" Her mother called out to her daughter.
That's all she could do is run. Furious her mother's life was in danger, Freyleif would enter the state of rage, there wouldn't be anyone there to help quickly enough for what Freyleif saw.
"Freyleif! Listen to me!" Her mother shouted again, unable to move from under the body of the snake.
The snake hollow was interested in this reiatsu she had been leaking. "Welllll you might be just the tasty snack I can nab on the way." The hollow cackled wrapping its tail around Freyleif's mother. Freyleif kept tossing utensils objects that just thunk off the hollow's hide.
"Keekekeke! You think such things will harm me little girl? Come on I have some candy..Why don't you join me through my rift?"the hollow taunted, clawing the air and forming a rift in which he tossed the woman inside.
The little girl could do nothing but watch in horror, but having some sense of mind would try to run away up the stairs crying her little heart out. The hollow let out roar going to chase but with its sized got itself stuck between the doors, of course, that wouldn't keep it back much for long. Freyleif ran her little feet trying to find an exit. She ran through her room ignoring the shatters of wood behind her. Coming upon her room, she climbed up into her bed quickly going to open the window and climbing out on the side roof knowing just how risky how far she was up being so small. Puffing up her cheeks she lets out a loud scream trying to get the neighbors attention.
"You won't get far. Your fear just makes it all more fun watching you flail about helplessly." the hollow laughed from the inside. The girl reached a dead end now, something caught her eye as something darted through the air catching a glimpse of a black robed figure leaping through the window.
"What's this!?" the hollow hissed meeting its foe with a sudden clash that shook the building. Freyleif stepped back loosing her balance and fell off the edge with a scream tightening her eyes thinking death had embraced her from below-, but someone had caught her and found herself on her feet safely.
"Find someplace ta hide.." a voice said in gruff Icelandic. Freyleif couldn't get to see who it as she turned as the man was already off. Where would she go? She was only a small child in this war-torn city against the spiritual.The girl panicked as the battle raged on inside her house. She worried if her mother could be saved or if it was too late. Freylief ran down the alleyway as the reiatsu pressure was making it hard for her to breathe, a few moments later the battle had died down and she looked back hearing a scream from the man that came to save her. Maybe the hollow had won?
In which we get Quincy Training?
Frey was alone now on the streets unsure who to reach out to. She kept her mother's old cross on a necklace she wore at least as a memory now. She dares not go home even if she was wanting to.
Now she had to figure out where to go. Luck was at hand as she wandered about in the forest. The hollow that preyed on her mother had stalked her not far from the city. She was cornered and thought of her end of her life it was not soon after an old fella came running out of the bushes firing blue arrows her mother once used too, though he was by far more powerful to push the adjuchas hollow back.
The old man after dealing with the hollow turned around and smiled at the girl. Noting she had a cross of the old clan her mother kept, the man introduced himself as Vilhjálmur. He taught her more of her birthright of the Quincy. They would camp out in the wilderness and begin training the young Frey how to form her own bow; understanding more about the spiritual war between hollows and shinigami. Though Frey was creative in ideas she had a hard time forming her weapon just with her cross, musing the old man gave her some of his old gear, the bangle.
Over the weeks, she became much more dexterous, though the old Quincy was hard on her and made her train every morning. Over the next four years, she was put in strenuous tasks on archery she became more adaptable withdrawing reishi and less reliant on the bangle. Seeing the old man taught her all but the basics. He thought it would be best to get her off this Island away from this preying hollow and to Karakura where she could get stronger.
Frey came back from her training, sweating and exhausted. She found the old man sitting outside his little hut cooking up some reindeer meat. He stood up giving Frey a smile and giving her a pat on the shoulder telling her, he taught everything he could and it was time for her to move on to a place called Karakura.
Current Allegiance: Queen(Empress) of the Quincy

Angeni
Melody
Senban, Kenbou
Heinrich
Raph

Role Play Sample:




"You need to stop worrying.." a voice was heard from behind her. It took her a bit of a moment to jolt to the random voice that spoke to her, was it a Quincy? She quickly looked back but saw nothing. Her imagination playing with her again. "Why are you pushing away? Why did you choose these paths? You wanted to be this and save lives.."


"Look what I was given as a gift, this isn't what I wanted." Freylief furrowed her brow looking ahead at the rushing waterfall. "Do you know what it is like having hatred all the time?

"But..it's part of yourself, you cannot deny such." the voice quipped, she swore it was a Quincy.


Frey threw her hands up in the air and stood up, why was this voice being such a dick. She let her frustration get her all in a huff and left the site, stomping deeper into the forest to get her anger out. She pulled at the tall bramble and weeds that grew tall as a man, punched at a young tree, and kicked a rock like a fussy angry child.


"Hvers vegna gerðir þú það til mig." she spat out not caring to mix up her language in curses.


You could always leave or continue this path. Her head seemed to be telling her now, she hated everyone suffering here and had no means to help those. How much she wanted to follow her parents steps on being a "hero", but she didn't see the other values they could teach her, it wasn't always being a hero every day..each had their own virtues and sins. "Why did you leave me!? Why! Why! Why!" She shouted, scaring off the birds in the process. There was nothing but silence offered and she slumped to the ground coughing as her illness crept up on hers. "Blast it all, do I have to do everything myself?" Once again she questioned..but she would have to find the answers herself.


The night around Karakura's forest was quiet, not a cricket chirped or sounds of wildlife. The rushing waters of the waterfall were all that was heard in its roar.


"Do you think you won?" A deep brass voice was heard breaking Freyleif from her thoughts.


"Your heart's wound won't be mended," the deep voice went on as a camouflage being circled around the teen."Your parents are dead, your murderer's still live...Don't you want justice? Do you think "Forgiving" them will change anything?"


"Whatever you say, won't sway me now, hollow." Freyleif spoke firmly but deep down inside she was scared of this hollow.


"What side will you choose? Will you finally follow what your Path truly means? The destruction of the Reapers who continue to weaken human kind?" The visage of a tall 8 foot muscled being spoke on, its image fluxing in warped distorted camouflage. "Your father failed to save your mother, he would rather live the life of luxury away from the dead Realms," the being looked down at the girl awaiting a reply. "Who will you fight for?" the adjuchas smirked as he could not get a word out of the girl. "Are you conflicted? It is no matter...Seeing how you were born to such union, the Shinigami continue to break their laws and toss their dead into the living. It is freedom and not damnation if i recall, they will mass and go against their Order. Spawn half-breeds such as you..."


"Shut up..shut up..My father wasn't such a terrible man you make him out to be!" the hollow picked a nerve on the girl and she picked the bait.


"Where was he all your life then?"


"He was there once..I have a picture, mother said it was best he was gone," Freyleif finally stood fighting off the fear that entangled her. "Why don't you stop hiding and fight me for once, coward!"

"I would have ended you this instant or many times before, you intrigue me and perhaps one day I will see you finally fall off the string you cling to." the hollow gave a deep menacing chuckle.


"When I get stronger...I'll end you! Just wait and see! You killed my mother, I won't forget that either you scum." With that, Freyleif pushed away from the inlet towards the city.
--sigs and stuff
Lady/Shizu:
Yuki:
OOC___
Player Alias: Scorchy, Frey, Freyleif
Desired Starting GP: Not really worried, if it did good then it deserved high GP
Where you referred by anyone?: Google
Other Characters: My first character here on Bleach Gotei