Post by Tristan White on Jun 3, 2016 11:32:15 GMT -5
___ A R R A N C A R ___
The Ripped Mask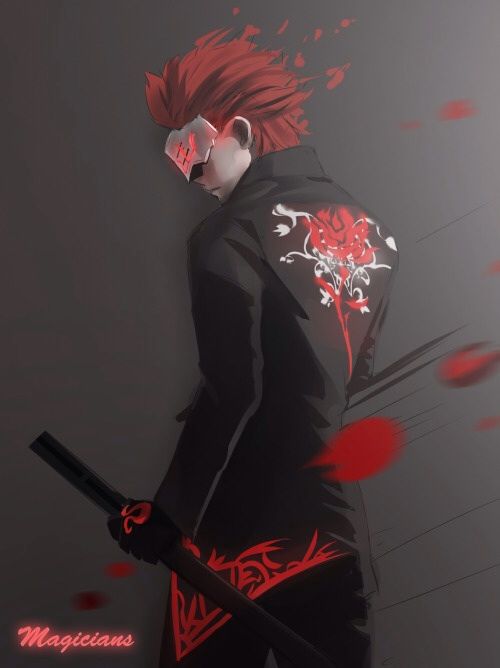 "let's play a song for the unsung hero"




On The Surface___
Name: Gero Sin
Age / Apparent Age: 252 / 21
Gender: Male
Height & Weight: 5"9' and 168 lbs
Hair & Eyes: ear length blood red hair often slicked back and his eyes are wolf grey when they can be seen through his mask.
Mask & Hollow Hole: Gero's mask covers the upper half of his face and his eyes with 2 slits for each eye and intricate red markings upon the mask, his hollow hole sits in the center of his sternum.
Physical Description: Gero is a slender but toned young Arrancar that stands at 5 foot 9 inches tall. His hair is ear length and messy in generality as it falls around his face when not slicked back, it matches the deep red of blood and is almost perfect kept messy. His body tone is athletic with a strong physique of a proud and almost arrogant man with definition to his abdomen and chest. despite his size he does not weight much as he is only 168 Lbs and moves with a form of elegance and grace like a dancer on a stage, using his gracefulness to increase his creepy demeanor. Gero's face is covered most distinctively by what remains of his hollow mask as it covers the entirety of his eyes face from his nose up to the edge of his hairline however unlike some masks it has intricate and elegant red markings upon it matching the delicious colour of his hair. The only break in his mask are four vertical slots from which he sees and when up close you can see the wolf grey of his eyes although few have ever seen his eyes, he much prefers to have people guess what his eyes look like giving an aura of mystery about him, they are deeply hypnotic and full of lust, pain and greed.
Just in the center of his chest is the most significant part to an Arrancar, his Hollow hole. Which is approximately 4 inches in diameter and sits at the top of his sternum. It does not make any difference to him about the size of his Hollow hole and yes I'm sure there is some Hollow Hole 'cock fighting' comparing who's is bigger but frankly he doesn't really care.
His style is more conventional to modern day fashion keeping to his own unique style with a 'bad boy' or 'mysterious' visage given off not only by his mask but also by his choice in clothing. he tends to keep him black jacket on at all times which is embellished with some small markings and an embellished Rose upon the back. this jacket comes down to his knees and is always unbuttoned and is quite light and flowing as he moves adding to his off putting light footed-ness. Beneath lies a red long sleeve fitted shirt half unbuttoned which shows off his upper body tone.
On his lower half he wears a pair of long flowing trousers with only side pockets with no significant patterns or sigils on them. They reach down to his feet in length, as they are also black in colour and are fastened with a black tied sash around his hips. On his feet he wears a pair of shin high fastened black military boots with black soles. They most resemble a pair of sleek riding boots which are often dirtied from the sand of Hueco Mundo. His dual Zanpakuto sit on his hips, with pure black hilts with a square guard and pure black sheath, the blades themselves are blood red to match his hair.
As for mannerisms this particular Arrancar is not much of a talker but he does love sarcasm and to wind people up when he's not sat brooding in a corner (Miserable bastard). His voice has a gentle growl to it the kind that if he whispered in your ear you'd get goosebumps with his silky baritone. His skin matches his voice and is extremely soft to the touch with a lingering scent of apples, sometimes citrus scent to him. He also has a tendency to have his hands in his pockets, which comes across as either an arrogant child or rebellious teenager.
This Arrancar also has somewhat of a souvenir. Over Gero's right shoulder is a huge gouge mark where he had nearly been eaten by an Adjuchas when he was one himself. He had been lying in wait to feast upon some nearby Gillian. However when he leaped out he found himself cornered by several other Adjuchas that had clearly banded together and in a fierce battle he defeated all but one which in a moment of blindness he had been viciously bitten and savaged before managing to escape with his life. But just barely.
Now Gero wears his scar like a mark of passage that he could not have become what he was now without feasting on the weak and the pathetic, as they furthered his own strength. He would not allow himself to become apart of some pitiful Gillian horde as a mindless drone. This was his proof of that.
Spiritual Description: The scent you get when you walk through an orchard? That hint of citrus mixed with the fresh smell of the grass and wet bark... This is what you can smell most of the time from Gero, his reiatsu is a pale apple green and tends to shimmer around his body rather than exploding outwards as many do, he prefers to let his simmer to lure his opponents in, considering the colour red is constantly upon him it is strange that his aura is that of a refreshing almost hopeful presence. This "presence" is most likely due to regaining the memories of his mother and although he is now a ruthless monster he can still remember some small happy memories of her which softens his aura to a simmer and gentle green over an explosive red.
Fifty Shades of Arrancar
This is an Arrancar that is not a stranger to the bad touch, he knows how to flirt when he wants too and is capable of holding a conversation with any female; Shinigami, Arrancar, Human... Well the Human is likely to be eaten... Okay they all may be eaten but he can lure them in with his silky voice as easily as a Mermaid can a sailor. He is a king of manipulation and although he will always try to be as honest as he can he is more than capable of resorting to more sexual stimulation to achieve his goals. He is strictly hetrosexual but he has been known to wind up his more flexible peers when he finds it amusing.
Behind The Eyes___
Personality: Gero is a very cold, callous, dispassionate figure, and is rather arrogant, brooding, and indifferent, willing to harm both his comrades and enemies should they ever get in his way. He find little pleasure in exchanging any form of words with anyone he deems lower than himself, merely staying to cold stares and grunts if he has to comment in any way. Despite this, he is not outright violent as most Hollows and Arrancar as presumed to be, instead he is much more likely to use his charms to get what he wants using his mind over outright power.
Grajo has little interest in the Human world or their pitiful existence as his main goal is purely not to fade away like a memory, he wanted to live on. To become something more than just a regular Hollow, but to lead his brothers and destroy those who oppose him.
He is extremely smart, this is a factor often overlooked due to him being an Arrancar, but he is extremely well crafted in strategy and analysis, often finding weak points and emotional connections that he can use against a foe to claim him victory. Regardless of his arrogant and flip of a coin attitude he hides a much more sinister side to himself than he would let on to others around him.
His tact on the battle field is something to behold as his speed is his main weapon. He utilizes his power through speed, often being used to fighting alone and using quick flashes and bursts of attacks rather than cumbersome powerful attacks. This is not too say that he can not do such things, but he finds them to be more for the walking idiots rather than intelligent individuals like himself.
Gero is not one to take orders lightly, even though he had friends briefly during his time as an Adjuchas they were all devoured or he devoured them at their requests. This has instilled a sense of loneliness within him that forces him to fight solo and has done for many years. This makes teamwork a much harder aspect for him to accept, much preferring to challenge a foe on his own rather than with a comrade.
Gero's attitude towards Shinigami is not one of hatred, which is strange for any Arrancar or Hollow to not despise their hunters. However this Arrancar has no such feelings towards those who dwell in the Soul Society but rather he is intrigued by them. He finds them fickle, compassionate and overladen with emotions that make them weak. But yet he still wishes to know what makes them tick, what makes them choose to sacrifice themselves for 'friends'. This results in him not caring for them because of their weaknesses and until he is shown otherwise he cares little for their actions in this world, that is, unless they choose to challenge him. To which it is a very different story indeed.
One fact that is unknown to any but himself and makes him a very unique individual is that he maintains the memories he had from his Human life. When he became an Arrancar he regained his memories as a boy which includes losing his Mother, his abusive Father and the pain that went with that. As a result of this anyone who brings up the subject of his Mother is cast upon in a fit of rage and Gero will never allow that to pass. This is also a potential weakness and not one that he would openly share with anyone.
Positive Qualities:
• Analyzing - Gero is someone who much prefers to analyse his situations to find a solution over blindly charging in much like his brethren. He will often run simulations in his mind for hunting the weaker hollows as well as a potential escape plan when faced with stronger foes.
He will often also play chess in his mind, thinking of where the enemy will move first, trying to be as many as five moves ahead of his foe often stating "Look closely, because what you see is not there."
• Sincere - Gero, although an Arrancar and ruthless is almost always sincere and will be honest to whomever he speaks, be them brother or foe. E.g. If someone is powerful then he will admit to it, if someone is not wirth his time, he will tell them. Honesty is the best policy!
• Strength of Vision - His strength of vision does not mean his eyes. But more his ability to see his dreams and follow them, unlike others who can only dream of where they wish to be Gero will make it so. No matter how long it may take.
• Convicted - One's conviction to their own cause can only be as strong as their will and in Gero's case his will is to survive, to find out what it is that makes Arrancar so hated. He wants to live free without the prejudice bound to them by the Shinigami and he is not willing to rest until he can make the Shinigami see the wishes of the Arrancar or for them to die in their narrow mindedness.
•
Cocky - Cockiness is somehing that comes with power and given that Arrancar are in themselves the creme of the crop a little arrogance and cockiness is sure to arise, this however is more of a personal triumph in himself as he had no assistance from any other being in becoming what he is today. His cockiness is also his way of finding some small enjoyment in pissing off those around him by boasting his own magnificence or belittling others.
Negative Qualities:
• Bad Tempered - Considering his honesty Gero has a slight issue with keeping a lid on his temper and bad attitude, he dislikes being over looked and is mostly in a bad mood even if he plays it off as nothing he tends to have that "resting bitch face" look.
• Distrusting - Who needs it? This is one Arrancar who you would not ask to take a bullet for you because.... Well. He wont. Gero trusts no one, he wishes to be trusted by no one and will look out for himself over an acquaintance anytime unless it serves his purpose.
• friendless - Gero has no friends. I mean come on would you like this guy as a pal? His arrogance and disbelief in anything material stops him from making friends or wanting any, his solitude will also be his downfall.
Even though he knows that he may gain more power through friends he sees no direct requirement to have any.
• Cold Hearted - He's a cold hearted bastard and thats all that can be said really, given what he remembers now from his past he has a great deal of anger issues and has little sympathy for anyone who wishes to try win his affection with woeful tales.
• Being impatient - Grajo is very impatient and has the rather annoying habit of tapping his fingers on objects as if it's a drum to entertain himself whilst he waits and the beat will get faster as he grows less impatient. He doesn't like to be left waiting too long and especially when facing a foe he despises being left hanging whilst they chat to their friends.
Likes:
• Being Alone - Gero has spent most of his Hollow life alone often venturing out alone even though he knew it could cost him his life. He much prefers not having to work with or be around others for long periods of time unless he is required to do so. He does not require companionship and often finds it fickle and the start to emotions and feelings to which he believes an Arrancar should not have.
• Becoming Powerful - Once he had found out that he could advance his powers and abilities by devouring other Hollows he decided that he would not become the prey of another but instead take it upon himself to grow in strength even surpassing Vasto Lorde to reach Arrancar. Even though this choice almost cost him his life he still believes it one of his few reasons for being.
• Sonido - Being as quick as Gero is, using Sonido is almost like a childish game to him which he thoroughly enjoys to do. Although he prefers not to show much emotion and give much away I'm sure this miserable bastard may just crack a smile when using Sonido to go anywhere he damn well pleases. Guess you gotta appreciate the little things.
• Pluses - These are a delicacy to Gero as he find them few and far between with all of the Hollows running around. However on occasion he can travel to the Human World to try to find something to his tastes, provided no Shingami decide to stand in his was and stop his food from running. This is not something that he will often talk about, he likes to dine in private and most certainly doesn't like an audience. But whilst eating who honestly does?
• Guitar - It may seem absurd thinking of an Arrancar with a Guitar but it is one of the only things that keeps Gero moderately content with his life. He will often sit alone and play various forms of music but he has a particular collection when it comes to Spanish and flamenco guitar. For some reason it brings a very small amount of joy to hear it being played along with his own twists and changes he makes along the way. His guitar is a classical 6 string, wooden acoustic with a lightweight body which is Beach colored.
• Red hair - This is a strange thing that Gero has grown to like over the years. Not often that he would find a Vasto Lorde or Arrancar with red hair, but he still is fascinated by the vibrancy and color of it. The passion that it instills and the fire that it can emphasis is what he finds most attractive. although he would never say it out loud.
• Hueco Mundo - Regardless of what a hell hole it may be, it is home. It is where he has spend the last god knows how many years years growing and becoming who he is, the become the power and force that he is. He knows most of the dark tunnels, which are safe and which are deadly. To him it is where he is at home, amongst the damned and the broken. This was Hueco Mundo.
• His Mother - Unbeknownst to anyone else, he regained the memories of his mother when he became an Arrancar, like a flood gate opening he remembered his life as a human which he holds very close to what remains of his heart. He wishes to become strong enough to try to access the Soul Society to see her again and is willing to do anything to achieve this!
Strength Of The World___
Aspect of Death: Gero's aspect of death could only be Fear. From the fear he felt when he saw his father cower like a child the fear for his mother's life and his own as well as the fear of never amounting to anything. It is that fear that drives him forward it is also his most powerful weapon. Fear is one of the most base animal instincts from the mightiest Shark to the smallest Ant, every single creature has a will to survive and a "fight or Flight" reflex, a centre of self conscious that in a split second tells you that you can win or you will lose. Fear is only one of several emotions that drive this instinct and Gero utilises this most base instinct and turns it into a powerful weapon against any who stand in his way.
Hollow Power: Gero's overall ability is Illusion. It is his powers of illusion that define his Zanpakuto and what he is able to do with it, it is more a Magician's trick for or a slide of hand. Whilst they are focused on the giant scythe (He release) that stands in front of them they are really missing the toxin that is released, or the Crows Illusions that terrify and off put the opponent. All of Gero's abilities work on the human instinct to survive, to protect ones self. If something comes flying towards you, the first human instinct is to defend yourself regardless if it would be real or an illusion. This is what the technique does, it exposes the weakness in the will to survive, in self preservation. That is what makes him such a challenging opponent, you will never know if what you face is real or not, or if you can stop the most basic of human instinct.
Zanpakutō:
Sealed Zanpakuto:
Gero's Dual bladed Katana's sit on either side of his waist. They are jet black at the hilt and are protected with a black square guard on one katana and a pristine white guard on the other. The blades themselves reach 26 inches in length and and straight edged with a deep gore red to them. They also have connectors at the end of each handle to connect the two for more effective fighting. The grip is wrapped in red and blade lace that covers the handle and grip. The Katana's can be connected to become dual edge Katana's for more effective fighting and dealing with more than one enemy.
Released Zanpakuto:
Devorar Esperanza takes the form of a 10 feet long twin edged scythe. The grip and length of the scythe is 10 feet long but the extent of the two blades make it 12 feet wide in length. The blades themselves are long and slender and shimmer as if dripping with blood with two spines that reach out from the top of the scythe. The design itself seems very Gothic and more like a glorified death scythe to an opponent but all in all it is extremely effective.
Fighting Style:
Gero was never one to love the fist fights or the endless killing. To him it was a means to an end, nothing else really mattered. He is well accustomed, regardless of this to be able to fight in close quarters. He much prefers to use his speed over strength in the manner of which he fights, even though he is a capable fighter in using hand to hand techniques of his own design which specialise in using the opponents weight and speed against them, he is also very capable with a blade and his Ressureccion which is no other than a giant scythe, capable of reaching opponents at distance as well as up close.
This sounds all well and good but his true strength lies in his ability in illusion. The use of his Scythe is merely to draw the attention of the opponent whilst he releases his true weapon being the toxin the blood creates which lingers in the air, corrupting the opponent's nervous system. It is a magicians way. Look closer, for the closer you look the less you will see. This is how Gero operates in battle and utilities his powers to the most effective of ways.
Of course none of this is possible without the Illusions taking place. His use of his illusions is what makes him so terrifying, he also uses his wit an intelligence to coax out information about his opponents, tricking them into telling him about friends, family all those little details which can cause so much pain to the opponent either driving them insane or infuriating them so much that they slip up at some point. It does not matter to Gero how many steps an opponent plans ahead because he has already formulated thousands of potential ways to kill you before you have even drawn your sword.
Legacy Created___
Current Allegiance: Las Noches
Snapshots:
1764 Born
1777 (13 Years old) Butchered like a lamb
1778 (1 Year) Lived as a plus in the home he was murdered in
1878 (100 years as a Hollow)
1879 (1 year as a Menos)
1990 (111 Years Adjuchas)
2016 (26 Years Arrancar)
History:
Gero was born just outside of Tokyo, Japan in 1764 A.D. His family owned a smithing yard where Gero's father Tito would make Katanas, Shuriken, halberd and a variety of blades for the Bakufu Shogun and his men. Gero admired his father greatly for his attributes and honour and although his father worked endlessly as well as traveling they were content. Gero would spend time alone playing as a young boy as he would sneak into his father's workshop and try to use some of the blades he had made, which mostly ended in him getting punished and strictly disciplined. Although his father was often gone or working in his workshop, Gero had an unbreakable and loving bond with his mother, as he would often help her tend to her garden and help her cook. She took the place as not only his mother but also his friend, something that Gero was short of.
Gero would spend copious amounts of time exploring and adored being outside in the woods playing and would often attempt to carve katanas out of wooden branches and show them to his father. It wasn't until Gero's 13th Birthday that his life took a dramatic turn. His father after years of loyal service had suddenly been forced out of his trade, or so he told his family. Gero's father in a blind hurry took him and his mother in the middle of the night and left immediately with only the bare essentials and a few katanas. Gero was so young and was so naive to the truth of his father's dismissal. So with no prior warning and no goodbyes to anyone he had grown to care about they set off for Shinjuku in the dead of night. His father merely said;
"I have a new client son and they demand my presence in the next two days"
. Gero knew his father was honorable and took his word as law, but something deep down didn't quite sit right with him in his heart of hearts. They stopped at a nearby Inn around midnight and spent the evening, with his father unloaded the goods and they settled for the night. By early morning Gero was wide awake and decided he would go and see what the world was like this morning, he crept out and began to walk along a rice field next to the Inn. He was playing happily to himself and listening to the sound of the wind whistle through the trees when he saw two men ride up to the Inn on horseback, both clad in armour and weapons. He believed to himself that they must have a connection to his father and so ran back with all his speed to meet the noble samurai who had come purely to see his father. But shamefully, not for the honourable reasons that Gero believed.
As he ran he could feel the heat of the August sun warm his skin and he finally reached the Inn, yet it seemed awfully quiet and almost eerie as he approached the main entrance. There was no one to greet him and no sign of anyone else, he began to feel the fear rise up in him, he quietly called to his parents, but there was no answer… He continued to walk the corridor down to the room they had stayed in until he saw dashed of red and signs of a struggle leading to their room. He panicked as he ran his pupils dilated as fear set in and his muscles quaked as he charged in, his breath became shallow as he reached the door to the room he saw blood splattered on the entrance. He heard the voices of three men;
Assailant 1:
"You think that you can run away Toto after what you did? You dishonour your name and your family! But worst of all you dishonour my family and me!"
Father: "I meant no offence to you, I did not know she was a relation of yours, else I would not have even began to seduce her!"
Assailant 1: "it is too late for apologies. If you had done honour by yourself, then I would have accepted it and left your family alone. But now, you leave me no alternative. As you took a most precious thing from me, I have taken from you."
Father: "please! You cannot! They had nothing to do with it!"
Assailant 2: "Silence! When you chose to push your physical affections on the Shogun's daughter you proved you have no honour. Now as my master orders, you shall die." There was muffled noises and the sound of struggling as Gero desperately though how he wanted to beg for his mother's life, she had done no wrong and couldn't understand what the men were truly talking about! Without hesitation he burst into the room he saw a sight that he would never wish upon anyone. Gero's mother had a blade stuck through her chest as she lay, pinned and hanging from the wall, her throat slit and head hanging, eyes wide open in terror. Blood soaked the wall behind her and ran down the wall into a puddle.
Gero's eyes burned and he felt like his soul had shattered at that moment. He tried to scream as he turned to find his father gagged with a cloth and hands bound as the two men that Gero had seen just a few minutes earlier now held blades to his father's throat, his father made a muffled scream to run, but it was too late. The two men turned to see Gero and charged at him as he tried to turn he was pulled back and down to the floor from his shoulder as a serrated blade plunged into his stomach and tore up into his chest. He spat blood and tried to call out, but no noise came, only a gargle as he spat blood onto the floor. He stared cold-eyed into the face of the horrifying man, his face was scarred down his right eye and he had short black stubble around a bloodied face and eyes as cold as winter. He wondered to himself who was this monster in front of him? His clothes felt hot and wet as his body screamed in agony. He heard them men laugh as Gero's last vision was that of his father crying like a child as the men began to leave as his father, the proud
"man"
lay quivering, he could see the sun just set, scattered among his families blood.
When he came too he couldn't feel any pain? Perhaps it was a dream? He looked down to see his body laying there, the blade still stuck in his chest as his eyes lay open and with a look of sheer terror and fear, blood soaked the floor around him and flies had begun to set upon his corpse in a flurry; "Why am I seeing the world like this now? What am I?" He cried to himself as his eyes burned hot with tears as he looked back at the corpse of his mother still pinned to the wall, he scrambled over in a desperate attempt to pull the blade from her chest; his hands merely went through the grip. Repeatedly he tried for hours as he cried and screamed at the top of his lungs to bring her back, to at least take her down so that she would be at peace and not left like some trophy prize. After a while, he finally could not take it anymore, as he fell to his knees unable to cry and unable to do anything except accept this new fate. He sat with his head dropped as he now realized the chain fastened to his chest, in his blind grief how he hadn't taken notice of it until now? He touched the chains as they let out a small clink.
For some hours, Gero sat with his knees drawn to his chest, head on his knees and his arms wrapped around himself, as he couldn't bear dealing with the sight of his mother or his bastard father anymore. Gero watched as his cowardly father let the two men who had killed him and his mother take her body and throw it into a small orchard next to the Inn like it were simple fertilizer. He felt no sorrow for his father who had no honour and who could only beg and grovel
THANKING THEM
for letting him live! Gero was filled with such pure rage that he set a vow to tear apart his father if he had the power, with such emotions tearing through his body he collapsed to the floor. a It was his father's fault for his poor mother's death and his own and that was all that his mind could comprehend at that moment. He closed his eyes for the first time and drifted into a sleep.
When Grajo awoke he felt strange, as if lost in between spaces, he rubbed his eyes as he looked up he saw his body had gone as had his mother's which was now swinging in the breeze in the orchard now more creature than human. For weeks and slwoly months he watched as the crows devoured his mother's body unable to do anything but sit in the room he had been butchered in as he watched happy family after happy family come and go not knowing the horros that had occured on the floor that they slept. He gently placed a hand on it and began to well up; "Why am I not with her? W-Where is she... Why am I not with my Mother! Fuck!! ARGGHH!!!" He cried out as he smashed the floor but not seeing it move. When he felt a presence behind him looming but feeling of relief and content as he turned he saw a young male standing in a black outfit unlike any he had seen before, wearing a Katana at his side;
"Who.. Who are you? What do you want?" He shuddered as his voice shook with fear, finally an emotion he knew only too well. The stranger merely smiled reassuringly before walking close and placing a hand upon his head; "You have nothing to fear, I'm going to send you somewhere safe and peaceful. You're going to the Soul Society." The Shinigami pulled forth his blade and moved to place it upon Gero's head when a scythe erupted from his chest as a horrific white masked creature laughed insatiably looking at Gero with black, empty eyes. " A new toy! Wonderful! HAHA! you will make good dessert!" He laughed as he began to devour the Shinigami in front of him. It was then that a voice rang out in his head to pull the chain, release it like water in a sink. Drain away... As he gripped the chain tight he pulled with all of his might as the chain came away in his hands he screamed out in agony as white fluid began to explode all over him covering his body. All that went through the mind of the terrified boy was the thoughts of his mother and the shell he placed himself in to protect himself from his father; "Live... live... Live!" He thought to himself as his eyes went black.
When he awoke once more he was in a barren wasteland, covered with nothing but sand and strange dead trees. He looked around and realized he was now completely white. His legs were no more, but instead hung a long tail, his arms were not long and agile but with massive scythes protruding from them whilst his face he felt was hard as bone and elongated. He felt nothing. Why did he feel nothing. What was his name? Who was he? hunger... Why was he so hungry. He felt as if he had never eaten as he slid forward letting out a deafening cry of agony. For what felt like an eternity the young boy that loved his mother so much was no more as his humanity faded away like sand in the wind. He became hungry and only hungry. All that he knew is that his prey got bigger and so did he, he fought more and more facing foe after foe and devouring them.
It was during a particularly easy meal that he felt a sudden surge of power erupt inside him as if he was not himself anymore fighting to reclaim his singularity it was then he grew into the creature known as Menos Grande. A monstrous creature that inspires fear in Shinigami throughout the Seritei. He only knew that others like himself stood and walked the world of Hueco Mundo wishing to grow in power, to grow to what was known as Vasto Lorde. That was his Goal, young Gero knew that much. He only knew that he had to become that powerful, powerful enough to survive as he had seen others do in front of him. His heart was no longer alive, only the will to live as he cast aside all notion of emotion and empathy. Everything was food and a step to power. He felt as though he was spending an eternity lumbering around the Menos Forest like a lost soul letting out cries of pain before deciding to take his mind back, to not be part of a sick collective but to control it and sinking his teeth into other Menos taking their power for himself to grow,
to live.
He had felt for so long as though he were in a dream, seeing the world through other people's eyes, seeing their pain seeing the pain of his brothers as the phrase "kill or be killed" became the notion of life in this hell hole. It was during one of these instances that he saw himself when he first entered this life slowly remembering all he wanted to do was to live to evolve! With his mind no longer held in the thousand hollow haze he came back to senses claiming the minds and power of the Menos for himself. He was furious, how long had he stomped around like a mindless creature being controlled by someone else?! Who would dare to make him a lesser being! his fury and rage was beyond what he could imagine he could see around himself other Gillian and all he wanted to do was tear out their throats with his teeth, to taste the power they would provide with every delicious bite.
He grew in strength, feeling nothing. emptiness became his ally, no others would go near him for fear of being devoured. He evolved once more to become what is known as Adjuchas. His form had changed from the skulking giants that lurked in the depths of Hueco Mundo but now took to the skies. His body was slender with defined muscle tone, his face was completely white with two slits for eyes that were piercing black and devoid of empathy for anything. His arms were still slender but how had the sharpened blades protruding from his elbows, whist on his back he had grown huge wings like that of a crow, his tail also disappeared to give him bird-like legs. Gero had become a monster, caring not for whom he hurt but to only get stronger.
He spent years alone trying to survive whilst runnig for larger more powerful adjuchas living in fear as he had when he was a human. until during one of his hunting excursions he came across a lone Menos Grande, presuming that he could take it alone he slid forth from his hiding spot carefully watching it before taking to the skies in a flurry; "You are mine." His voice was cold and unrelenting, no longer did he sound like a boy, but instead a man, a young adult aged around 20 in human years. He dived and flew around waiting for the perfect moment when he was struck. A bigger monster than him had seen its prey. Him. He crashed into the ground as he felt a horrific pain as teeth sank into his left shoulder making him scream in agony as he plunged his elbow blade into the creatures stomach. He in turn heard a growl as its grip weakened. With his moment at hand he took off with all the speed he could muster flying into the distance gripping his wound tightly as he crashed into the ground believing himself dead. He looked and admired the wound and although it was a wound he had lost no flesh, he had not been eaten and he could still become something of myth, to become an Arrancar.
This was a lesson for the young Adjuchas. Pick your fights. Define your enemy. He had learnt his lesson that had nearly cost him his life at his own reckless attitude. As he slinked away he knew he had to use his intelligence now more than ever to survive as he was wounded he may as well have rung a dinner bell in this devoid wasteland. He began to work on the tactic of exploding upon an opponent using his wings as a distraction to bring forth the instinct to survive which would allow him to dig and claw and devour. He continued this mastery and became a whisper of fear
"the black Crow
". He enjoyed the thought of others fearing him and even though he was smaller than most Arrancar he had the brain to fight and win. However sometimes it takes only patience and good luck as he came across the Hollow equivalent of gold. Sleeping hollows with no sentry, obviously believing themselves safe by hiding in a hollow cave section which would have been the perfect hiding place... If you couldn't fly. Needless to say Gero took advantage of such an opportunity diving upon them devouring the pack one by one. It was a meal that could have easily been had by several Adjuchas but he did not share. He decided one should be moved out of the way as he used a spine from one Adjuchas to pin it to the wall of the hollow cave to continue his feast which would have been luxurious had he not began to crumple as his vision blurred, his solid body began to feel and shudder his throat closed up feeling his body explode with energy his body began to crack and deform to shift in ways he did not know!
He cried out in agony as he hands became more human, his elongated skull changed into a human shape with blood red hair that fell down his face which he gripped feeling the mask still covering from eyes to his forehead. He panted as his wings and legs shifted, cracking and snapping in ways only torture could describe it. Shaking and popping in agony as his wings sunk into his back and his body produced clothes upon his naked body. But most painful of all was the feeling or terror he felt as he stared at the pinned Adjuchas, something never heard of occurred as he had flashes, flashes of a life long lost to him. He remembered his past, his life as a Human and the pain and agony of losing his mother. The feeling was the first thing that had truly hurt him in countless years! He cried out in agony time and time again smashing his hands into ground making it quake with his spiritual pressure until he finally stopped and with a snarl from his new mouth filled with pearly white teeth he sliced his hand with his fingers as he looked down upon the warm blood; "I swear now... I will find my Mother, one way another I will lead all of Hueco Mundo into hell if necessary..." His cold voice rippled from his chest And so the boy who had hated life became something of fear. He had become Vasto Lorde and in turn an Arrancar.
He got to his feet and bounded from the cave feeling his legs wobble slightly as he landed back into the wasteland of Hueco Mundo, he heard the clink and had not noticed the weight on his hips as he noticed the white and black hilts of two katanas strapped to him. He lifted the blades slightly from their sheaths to see the gore red of them glimmering in the moonlight, he admired them as a grin lingered on his lips. "Now where to go now..." He mused as he began a steady walk across the vastness of Hueco Mundo towards the palace. He knew little of who resided there only that any being who wanted to live would not tread there. However he was now an Arrancar, a manifestation of perfection in the eyes of the hollows and he would have their respect for what he was now moving to achieve he would have to find those willing to go to war, willing to destroy the laws of the Soul Society and everything that they may hold dear would crumble.
Roleplay Sample: Gero was staring at the moon as the sands whistled around him, his black cloak covered his body and shielded his face. He wished that he had a method of getting to the Soul Society without being detected or without the fear of getting cut down. He lifted the hilt of his white hilt Katana to look at the blood red blade for a moment before sheathing it once more. He continued to stare upwards as a large group of dark shadows loomed over him; "Oh look boys, somethin' to chow down on." A gravely voice spoke as a few other voices laughed in chorus. They moved closer and Gero could feel that they were most likely Adjuchas level, he chose to keep his Reiatsu hidden and on a low level. "Leave me alone..." The toneless voice crept forth from the cloaked Arrancar. "Oh we can't do that, see, we gonna eat ya!" The large one bellowed as Gero felt the earth shudder slightly with the force of his take off.
A flash of red lit the sky like rose petals as two halves of the cumbersome Adjuchas crashed into the ground, Gero was knelt now facing the remaining Adjuchas with one blade drawn. "Normally I would not have even bothered drawing my blade but since it has been a while I thought it could do with sharpening." He came from kneeling to stand before the remaining four. The look of terror was apparent, it was not something one could easily spot with creatures that naturally do not hold faces but when you witness despair as Gero had to him it was as easy to spot as a clown in a crowd. "What's the matter? I thought you were... Going to eat me." He mused flicking the blood from his red blade watching as it glistened in the moonlight, his cloak had blown free from his shoulders and head to show him in all of his glory now standing before his opponents. "H-hang on?! T-this guys is the black crow?! You're supposed to be dead?!" one of the screamed in terror as they began to edge back slowly. Gero lifted his blade directing it at the group in front of him; "Now now, just because someone goes into myth or does not linger in the skies does not mean they are not around..." He tilted his head as the remaining Adjuchas began to turn and flee "Run!" "flee!" They cried like children for their mothers but it was useless facing an opponent who not only had killed one of your number but also greatly outmatched you was not something you should ever lay upon yourself. He wondered what would bring Adjuchas together? They were the strongest of the Hollows and yet the cling like infants to each other in the hope of furthering themselves.
"You don't deserve to be Adjuchas, Cero Desperanza" The words rolled off his tongue as a pale green Cero erupted from the tip of his blade coursing towards the fleeing cowards; "When you run like that... You remind me of my father." He whispered as he heard a final scream before the sky was ignited in luminous green until all fell silent and the smoke careered in an explosion, smoke, sand and silence. Parts crashed to the ground as Gero put away his blade griding his teeth
"I hated my Father."
He snarled as he bowed to pick up his cloak, throw it upon his shoulders and began his walk to a new location to stare upon the pale white moon.
OOC ___
Player Alias: Meliodas
Do you want a grade?: Yes but I dunno, it's been a while since I did a bleach app so maybe like 800? I dunno xD
Were you referred by anyone?: nope
Other Characters: new character yo.