Post by Inigo on May 18, 2016 14:01:04 GMT -5
INIGO
BASE HOLLOW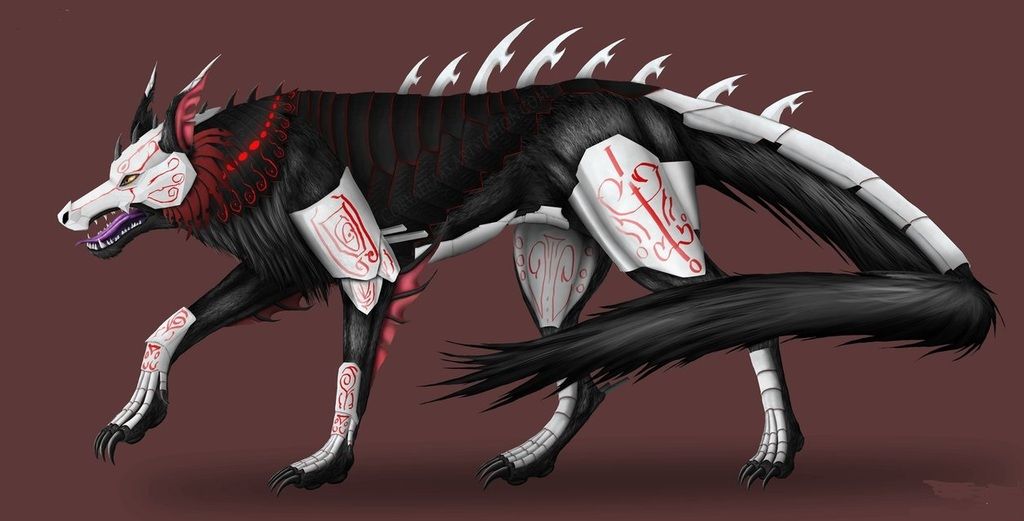 [ AT A GLANCE ]
Age: 47ish
Gender: Male
Height & Weight: 6'8'' to his shoulders and 13'6'' nose to tail and is 441 lbs.
Hair & Eye Color: Black fur with a red mane and amber eyes.
Positive Traits:
Cautious - Inigo has not survived as a Hollow for over a decade by being foolish. He is careful in his actions always on guard for possible threats.
Confident - Despite being aware of the dangers all around him Inigo believes in himself and his ability to survive. He sees himself as a powerful predator even amongst his own kind.
Cunning - One thing Inigo tries to get out of any situation is his goal for profiting and he turns all his bestial cunning towards being the "winner" of any interaction.
Haggler - Despite being a beast with little social experience one thing Inigo has learn from his interactions with other Hollow is how to get the best deal from others.
Objective - As an aside to his cautious attitude Inigo has learnt to try and not allow emotion to cloud his actions. He also seeks to be open-minded and accept the ideas of those he temporarily allies with. However at the end of the day he is still a Hollow and prone to ferocity and viciousness.
Negative Traits:
Over-Indulgent - Inigo indulges himself to excess. Part of his being inflicted by the Hollow Hunger to a greater extent than most of his kind has led to the Hollow feeding at every opportunity even when it is perhaps unwise to do so. His fear of the hunger will often lead him to overeat beyond what is needed.
Traitorous - Inigo has worked with other Hollows and is willing to listen to those who appear to share the same willingness however he is still a Hollow. Only the strong deserve to be followed and if his allies show weakness then he shall turn on them and feed.
Venal - As a human Inigo was a corrupt man and this has carried over into his current existence. It is quite easy for another Hollow, or possibly even other beings, to purchase his "loyalty" in return for being supplied bodies to consume.
Violent - It goes without saying that Inigo is excessively violent. He is a beast. A monster. A Hollow. Violence is the way of their world and everything centers around such acts from determining the worth of other beings to killing prey for food.
Ypositismosphobia - The fear of starvation. Everyday Inigo fears it may be his last and no matter how much he eats his hunger is always there stinging his body and mind reminding him that he must hunt continuously, forever.
Loyalties: None
Snapshots:
Born (Exact date unknown)
Found by military (1971)
Sent to War (1998)
Begins farming (1999)
Dies, becomes Plus soul (2005)
Turns in Hollow (2006)
Forms first pack (2006)
Eats his pack (2013)
Arrived in KKT (2017)
[ ON THE SURFACE ]
Physical Description: Inigo takes the form of a wolf and like a mundane wolf he walks on all four legs, he has a set of pointed fur covered ears and a short furry tail however there are many differences between the Hollow and a mortal canine.
Firstly, and most obviously, is his Hollow mask covering his face. Like all hollow masks it is white formed from a bone-like material, this mask takes the shape of a hound's snout with teeth like fangs filling his maw and bright burning amber eyes glare out from behind the mask. Red marking spread from the eyes, two heading straight from his eyes to his snout. Several markings lead back towards his ears, with a few extra semi-spirals coming off at tangents.
Next is his physical form which appears to be swathed in shadow giving his fur an unnatural blackness to it as if one is staring into a bottomless void, with the exception of behind his head where the fur is a dark red. Flat, bone-like protrusions cover his upper legs, paws and upper tail giving the impression of armour plates. This material seems to be the same as that which forms his Mask. From the middle of shoulder blades down to the top of his tail Inigo has curved, serrated spikes poking through his fur along his spine.
Spiritual Description: Inigo's spiritual pressure is unrefined and flares wildly as he is only a base Hollow and can't control it properly. It has the scent of barley in a warm summer breeze and his aura is tinted an Indigo colour. This is the source of his name, as another Hollow called him 'Indigo' and he misheard it, adopting the word he didn't understand as his name and title.
[ BEHIND THE EYES ]
Personality: Due to Inigo's increased hunger he is driven primarily by it and as a result he sees everything in terms of whether or not it will help him gain something to eat. He can easily be convinced or bribed to help others if they use food as payment. He will use his quick mind and objective outlook to form deals that allow him to come out on top and get what he wants with giving away as little as possible. However once a deal has run its course or becomes 'unprofitable' for him, he will happily turn on his recent ally as a source of sustenance. After running into many Shinigami he is very wary around them but if he believes he can best them in a fight he will attack them and due to his beastial nature he will rip and tear at his opponent and when the opportunity appears, he will always go for the kill.
Goals & Achievements:
Surviving for as long as he has as a Base Hollow
Joining numerous Hollow Packs in the past and always coming out on top when these temporary allegiances end.
One day he hopes to be part of, or hopefully lead, an incredibly potent group of Hollow.
Inigo seeks to end his hunger once and for all. To consume enough and grow far enough beyond his current stature that the hunger no longer gnaws at him.
[ GUARDIAN ANGEL ]
Aspect of Death: Gluttony - During his later years Inigo was driven by his insatiable need for more. It caused him to mistreat his workers and for them, in return, to kill him. The insatiable need carried over into his afterlife and is now the main driving force of his being, this causes his hunger to be have a greater effect on him than the rest of his kind.
Power: Consumo (Translation: Consumption)
Inigo feeds, it's what he does. Feeding to grow, feeding to evolve and most importantly he feeds to stave off the eternal hunger. This desperation to conquer his cravings has led to the Hollow developing the ability to consume harmful Reishi or Reiryoku based attacks. Opening his mouth the Hollow can consume Ceros, Kido Spells or even the dreadful Quincy Heilig Pfeil without fear.
[ LEGACY CREATED ]
Origin: Inigo was found abandoned in an old cottage by a group of soldiers out on patrol. He was taken in and raised by the soldiers. From a young age he was trained as a soldier. every day he took part in drills and exercises the other soldiers did, from the marches to the sparring practice. After every long day of training, he was given his food. A single portion never quite filled him, so the soldiers would give him a bit of their portion, but even so he was never fully satiated.
In his late twenties, Inigo was sent to war with a neighbouring country and although he survived, he was injured and upon returning home was given a house and some land to work on. After many attempts and failures Inigo finally got a crop to grow, barley. After making a deal with the local brewery to trade some of his crops for beer, he sold the rest to various merchants. By his early thirties he had earned enough to buy more land and some workers to work his farmland. Even as his business grew he was never satisfied, he needed more, working his employees harder and keeping the profits for himself, spending most of his days constantly drinking the beer made from his crops.
After several years of this mistreatment, several of his employees became discontented with him and began to poison his beer. He gradually became sick and frail from the toxins until eventually they overcame him and he met his end and became a plus soul bound to wonder his land watching his ex-employees continue to work the farm and reap the benefits for themselves.
Rise to Power: Inigo was bound to his old farm and forced to watch the workers be satisfied with their lives without him, this caused him to grow even more unsatisfied with how his life had gone. As the months passed by his dissatisfaction turned inward and he felt empty inside, he felt hungry. Time went by and the hunger grew larger and larger until he could fight it no more, the feeling spread, filling every fibre of his being. It was painful, more painful than anything he had ever experienced before. He felt his body begin to change shape, he was growing larger and felt his arms and legs change shape. He tried to scream as the pain reached his head but his throat was blocked by something. He felt it climb his throat and spi his mouth and roll up and over his face, as he felt his throat clear he tried to scream again but instead of scream a howl escaped his mouth. As the pain died down only the hunger remained, he needed to eat. Acting on instinct he charged into the fields and in one bite consumed one of the workers. It helped but was not enough, so he bounded around the field and ate every person there. Still not enough, he was still hungry.
After consuming the rest of the nearby village Inigo felt a little better but the hunger still drove him to search for a new source of sustenance. As he approached a city he felt a strange sensation in the back of his mind drawing him towards a children's park. As he approached the open area he saw a strange man dressed all in black, he looked tasty. Inigo dashed at the man but before he managed to get a grip on him with his jaws, he vanished from sight, reappearing behind Inigo and slashing at his back with a sword. The blade dug partway into his flesh then seemed to be deflected away by some sort of hard covering over his spine. With a loud howl Inigo span on the spot and snapped at the stranger, missing once again. As the strange samurai swung for Inigo again another figure dashed from the nearby treeline and grabbed the swordman by the ankle dragging him to the ground. Inigo didn't know why he did what he did next other than it was by instinct. He concentrated on his mouth and began to feel it fill with something, when he felt this construct was ready he opened hi mouth and spit it forward. With a whistle the ball of substance shot forward and slammed into the swordsman's torso, he fell to the ground and the other creature ripped out his throat. The creature seemed to be in the shape of a large cat, it looked up at Inigo and then back at the dead man, it ate his right arm and leg then backed away and sat staring at Inigo. It was obviously sharing the spoils of the kill, Inigo stepped forward and swallowed the rest of the man whole. He suddenly felt a rush of strength and the hunger pangs died down considerably, he would have smiled if he could. He nodded to the feline and started to turn to leave when the feline walked over to him and began walking at his side. It seemed he had gained a companion for now.
Over the next few years as the pair travelled the gained more companions forming a full pack, allowing them to take on more powerful black-robed people that they wouldn't be able to take on by themselves. Due to Inigo's increased hunger he often got the larger share of each meal causing him to grow faster than the rest of the group. Eventually he felt he had outgrown his travelling companions and turned on them when the hunger became too strong to resist. His attacks were fast and unexpected meaning they were all dead before they had time to react, he released a howl before digging into his meal. After finishing every last morsel he left the massacre site and set off on his travels once more.
Call to Action: Inigo traveled across the land consuming everything he could. After several years Inigo felt a large pressure in the distance, whatever was there would definitely help to calm his hunger. As he reached the edge of the town that was the source of the pressure, he realised it wasn't one big pressure but many smaller ones in a compact area. He felt several of the black-robed people as well as creatures similar to himself. And others too, pressures he didn't recognise the feel of, they were new kinds of beings he hadn't met yet, he wondered if they tasted good or if they would satiate his hunger. It was now that he decided that this was going to be his new hunting ground, he would claim it as his own and consume all those that reside here.