Post by Fulfillment on Dec 22, 2015 21:40:58 GMT -5
Fulfillment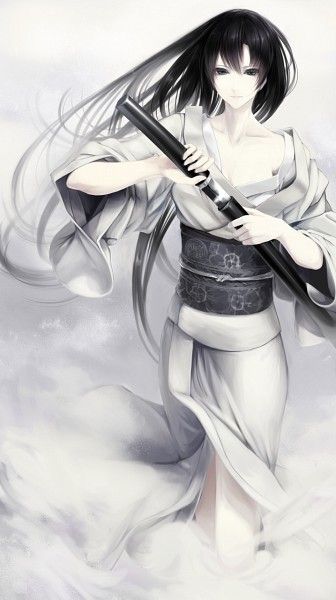 Chinda Kiriko
Age:
120
Appearance Age:
Late twenties
Gender:
Female
Loyalties:
Kiriko has been loyal to a great many things: To her own self-importance, to arrogance, to power, and to many a person. She would grasp at whatever she lacked and hold it deathly close, often resulting in the perpetuating cycle of pain in her life. Finally recognizing this, she let go of those painful loyalties and settled on a more honest devotion. Faith for the sake of faith, for nothing more than the pleasure of believing and of belonging. Her loyalties now lay with the people who shaped her heart, those who helped her realize the gift of life. She owes fidelity to none though, holding paramount the power of her soul. For there is no greater loyalty, no greater obligation than to be true to herself above all others. To finally and utterly listen to her heart and follow its earnest whims and to help others achieve this clarity of purpose.
Character Parameters
Height:
5'4
Weight:
160 lbs
Hair Color:
Black
Eye Color:
Charcoal Black
Spiritual Description:
Kiriko's reiatsu is a dark purple at its center, bordering on black. As it edges outward the color lightens, shifting from aubergine to a shimmering pale amethyst. It flows around her like fire, flames licking the sky like a glittering corona wreathing her body. Carrying with it a blanketing heat that can range from sun-kissed warmth to purgatory hell, her reiatsu has seemed to meld with her natural Shunko Aura such that it is constantly visible to the naked eye. Like wisps of radiating embers strung in circles around her body the coals hang in eternal suspension. Sparks flicker and blur as they split from her body each time she moves, a constant train of light trailing behind her.
Physical Description:
Kiriko is in all actually shorter than one might imagine, standing at only five foot four inches with a squared off shape to her physique. She is a solid if not somewhat small looking apparition. Her skin is pale, unmarked by all but the faintest of scars which trace their way beneath the many layers of traditional Japanese clothing that she adorns. Adopting a rather more gentle color scheme than in her previous incarnation, Fulfillment had found enjoyment in wearing lush fabrics with various modest patterns. Her particular favorite of late appears to be shibori stylized furisode, though in general she avoids elaborate obi or other accessories. Long black hair falls to her hips, unbound in all but the most trying situations it never seems to tangle or obscure her vision. Perhaps the most striking feature is the constant colorful shade that follows her, a twist of the air like a shimmering mirage as the world distorts around her in an innumerable range of hues and patterns.
Personality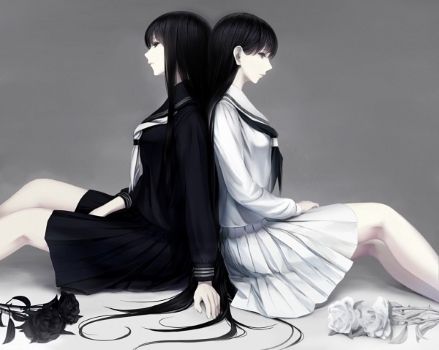 Fulfillment is characterized by her somewhat legendary past. She had done horrible things and seen the peak of wonder, and both have taught her a bit about
patience
if not humility. She has simple desires these days, and finds it easy to abandon herself to those whims. But the core of her person has not shifted entirely, as Kiriko can still be called quite
proud
, with an irredeemable intellect, someone who prefers the more traditional side of life. She is
quick to anger
and quicker to let it go, finding a sort of peace in that sort of
symmetry
.
Her newfound freedom has allowed her to indulge in
tenderness
, a quality she shows towards certain loved ones and in particular her hobbies of shodo. In her own way that tenderness can be just as
sharp
as it was with Penance, a lovingly delivered agony, but she does so only when the circumstances merit it and the suffering is truly needed.
Above all else she finds hope in her own
ability to change
, locating her daily joys in each new revelation as it comes.
FLASHBACK
Pre-Story: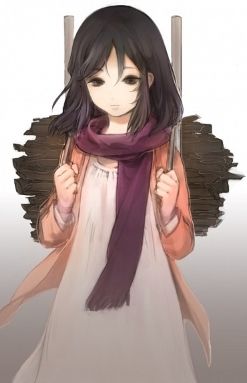 Chinda Kiriko was born to a nomadic tribe in Rukongai. With many members and few resources, this group was constantly moving around in search of opportunities. The tribe was close-knit, with familial ties being very important. Thus it was lucky that Kiriko was one of the children of the leader of the group. But even as a young child, Kiriko was never satisfied with her share of the resources. She felt it so keenly – the hunger from never getting enough food, the chill from never having enough clothing, the rain when there wasn't enough shelter for everyone, the loneliness when there were too many siblings to receive what she deserved from her parents. These were little cuts at her soul, and as they began to build up, Kiriko became deeply resentful and jealous of what other people had that she didn't.

It wasn't fair, since she was just as good as anyone else why didn't she have the things she needed? No one else expressed these sorts of feelings though, and Kiriko had to hide them from her family who took such happiness from their struggles together – as if that was truly enough to keep someone going! From the very beginning, Kiriko wanted to escape this family of hers. As a child, she loved her parents and siblings, but couldn't quite forgive them for taking up the things that she needed and wanted. They didn't love her enough to provide, so Kiriko harbored this deep hatred that warred with her desire to be loved and taken care of.

The one bright spot in her childhood was the presence of her Oneesama. Kiriko was not the oldest child in her family, and in fact had a handful of elder siblings that were like satellite figures, rotating around for various responsibilities but never quite being there. A few of them hardly even knew anything about Kiriko as a person, forgetting her birthdays and ignoring her desires and wants. But throughout this all, there was her Oneesama. Three years older than Kiriko, the age difference wasn't a mountain between them but instead a small hill. Kiriko could look up to the top where her Oneesama resided and wish with all her heart that she was there, gazing up in abject awe and amazement. Because if there was one thing about her Oneesama that Kiriko felt, it was love. Her Oneesama was a blessing in spirit form, she was older and more experienced, but she never forgot about Kiriko. They had a special bond, one fostered from a promise long ago when both were little, to take care of each other through thick and thin.

It was Kiriko's Oneesama who saved food for her from her own plate knowing that Kiriko was always hungry, or her Oneesama who would share her own bed with Kiriko even when Kiriko was wet from working outside all day. They were as close as siblings could be, and Kiriko's Oneesama looked out for her. Because of that she had won Kiriko's total and utter devotion. Kiriko loved her with all her heart, but it still was not enough. The seed of darkness and greed was deeply planted in Kiriko's mind, and despite the good things she had she was constantly wanting more and more. Never satisfied with what her Oneesama struggled to give her, she wanted to have enough at all times.

Kiriko's Father was not a cruel man, but he was very proud. Sometimes this pride gave him a nasty temper, because he had to always be right about everything and all of his family had better bow to that as a fact. Kiriko didn't mind this so much, since she was young, but her Oneesama chafed at the needled comments sent her way whenever she tried to give her opinion on something or recommend a new track. Kiriko's Oneesama was so very kind, that despite their Father's irritable tirades, she continually fought to give the younger children more freedom, less chores, and more shares of food. This was a meddlesome matter, because their Father wanted obedience not some young girl questioning his ways. And sometimes it got violent, but Kiriko was always bundled away in her room at those times, plugging her ears with blankets so that she could barely hear the noises.

Her Oneesama would come back to the room silently, but Kiriko knew that when her Oneesama slept facing the wall instead of her that she was secretly crying. Kiriko respected her Oneesama even more for those times, learning a valuable lesson that emotions should be kept from others in order to appear strong. Her Oneesama knew that Kiriko needed a protector, so she became that person. And Kiriko understood that her Oneesama was suffering, but ignored it due to her own needs. In her mind, her Oneesama was magical. She never showed signs of sadness or strife, only great cheer and kindness. And it was a special kindness, because while her Oneesama loved all the little siblings, she had told Kiriko that she was her favorite. It was a glowing secret that Kiriko hugged to her chest at all times. She was someone's favorite! That had to mean that she was something after all.

Kiriko's Oneesama struggled more and more with their Father as they grew up. The arguments got louder, and it was harder to block them out so Kiriko had to run off into the streets during their fights. She felt panicky when she heard them start yelling, because the one time she'd heard the noise of a slap, it'd been too much to almost admit that her Oneesama wasn't happy and that she wasn't the strongest or the most perfect either. Kiriko couldn't hate her Father, because she had filial duty towards him, but she could still run away when they were fighting so that when she got back everyone would pretend nothing had ever happened.

It happened though that one day, events exploded. Kiriko's Oneesama had asked her several weeks before if she had ever thought of living somewhere else. But Kiriko was a child, and she had explained ardently that she loved her Mother and Father and their family, and that of course she'd never want to live anywhere else. Her Oneesama had turned away at that, and they'd never discussed it again. But on a fresh day nearly a month later, Kiriko realized that something had gone wrong. When she came home from the market to show her Oneesama what she'd found for a bargain, Kiriko couldn't find her. She wasn't in their room, and she wasn't in the field, and she wasn't at the market or in the alleyways they most frequented.

Kiriko was just beginning to panic when she spotted her Mother and Father talking in low voices in the kitchen. Approaching them, she asked fervently, where was her older sister? Her Mother coughed and looked away, but it was her Father shifting in annoyance that caught her attention. He was mad, she noticed this really quickly, and decided to back off. But before she could depart, he told her in a no-nonsense voice, that her beloved Oneesama had gone off and gotten herself killed. Kiriko could only cry in shock, and her Father took on an ugly look as he yelled at her not to cry over an idiot. He proceeded to regale her with the story of her Oneesama's death, as if to teach Kiriko how very stupid her big sister had been. It wasn't even anything important, just a scuffle in the streets - something common and everyday in the current part of Rukongai they lived in. But her Oneesama was dead, and after that destroying conversation with her Father, Kiriko knew never to bring up the subject again.

But she didn't have the chance to ever do so because it only took one night for her life to take on an entirely new focus. The harsh flames of a fire took everyone by surprise, but in the middle of the night someone had set a fire and it spread to the area where everyone of the tribe was sleeping for the night. The thick smoke was deadly, and in the end many people died. Filled with fear at her own mortality, Kiriko had a close encounter herself when her mother was trapped beneath a falling beam that should have caught Kiriko if her mother hadn't pushed her out of the way and been hit instead. Unable to help her pinned mother, Kiriko had to run to save herself, and once she got outside it seemed that a group was gathering with angry faces.

The entire fire was blamed on Shinjo, another member of the tribe who'd joined a while back instead of being born into it. He had always been a flippant and irresponsible person, and Kiriko listened to her father espouse these ugly views with wide eyes. It was Shinjo's fault that Kiriko had nearly died, and his fault that everyone else including her mother had died! When he was cast out of the group, this didn't seem enough to Kiriko. Watching her father's slow descent into grief when he was supposed to be such a strong and powerful individual, it was something she couldn't bear. As if all of his anger and strength during her childhood was being mocked now, as if her Oneesama's struggles were weak and paltry when the man responsible was brought so low. So Kiriko made her decision... She was going to go after Shinjo and avenge her tribe. And when that was done, she would be a hero, and everyone would love her and she would want for nothing. Maybe, maybe she'd even become her Father's favorite by then, and save herself from her Oneesama's fate.

With these burning thoughts in her mind, Kiriko informed her unresponsive father as to her desires and slipped away one night into the darkness. It took a lot of work to track Shinjo's path, but somehow she managed to find herself at the gates of Soul Society. Her ambition never dampening, Kiriko entered the Academy and pushed herself past all of the tests and trials. She made no connections in school, her plan consuming all of her focus until one day she was ready to graduate and become a true Shinigami. Spending several years as an unseated member of various Divisions, Kiriko's plan seemed to waver as her life marched onward. For one, she hasn't been able to find Shinjo here, there were so many Shinigami and she didn't even know if he'd actually passed through the Academy. But also... Life was better in Soul Society. She was provided for... And if she wasn't the strongest, she could work towards that, but her material needs were met, and for once Kiriko wasn't hungry or cold or wet.

Her zanpakuto revealed itself in bits and pieces. Aneue was insidious, materializing only to push thoughts into Kiriko's head. Eventually it got to the point where these mysterious thoughts would formalize so randomly that Kiriko started to fear she was going insane. When she awoke to find herself covered in blood, Kiriko had absolutely no clue as to what had transpired except when other Shinigami would congratulate her on her performance during the last mission. These lapses in memory continued, and Kiriko was utterly terrified as to her mental state at this point but valiantly trying to ignore it all. When the dreams started, Kiriko was too far lost to defend herself. Aneue appeared in the night, infiltrating Kiriko's dreams and running amok. When an introduction finally occurred, Kiriko was in no way relieved to realize that all of these effects had been from her zanpakuto, and one that was demented as well!
Time as a Lieutenant: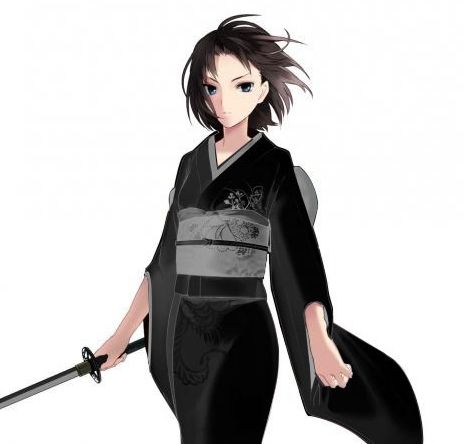 The Second Division was in disarray when Tsukimiya Kyousuke was appointed Captain. Their previous Captain had been an absent leader and many talented individuals had floundered at their posts. Kiriko was chosen, a diamond in the ruff, from that mess of a Second. When she first met with Tsukimiya-taichou, it was a meeting of fate, as he told her that he was giving her the Lieutenant's badge to help him fix the Nibantai. She had been eager for the recognition, but unready for the position. With his help though, Kiriko swore an oath of fealty to her new Captain and embarked on a promise to mold her body and mind into the perfect Lieutenant. The Summons

With the weight of leadership on her shoulders Kiriko proved to be a fast learner and a natural leader. As the Shinigami geared up for war against Hueco Mundo she led her subordinates into battle against the Hollow-breeds as Tsukimiya-taichou went off to fight the Espada. Seeing war first hand changed her, as she realized just how closed death could be. And just how vital her position was. And perhaps even, just how crazy Gilgamesh was to want all of this. Siege of Los Noches: Warzone

Kiriko found herself naturally running the day to day affairs of the Nibantai, her professional mein a quick fit for her position. There were only a few times that she was challenged on a personal level as a Lieutenant, challenged to interact with her peers as one of them. The most important was when Tsukimiya-taichou brought home Takasugi Ayumi, a scarred and hurt woman from the Maggot's Nest and thrust her into Kiriko's care. She was stilted at first, but soon put aside her reservations to help Takasugi. In doing so Kiriko made a promise to herself, that she would protect the innocent people like Takasugi. That whatever dark path she had to walk upon, whatever she had to do in the Second, she would do it to keep the innocent like Takasugi from having to do those things. Sweet Air, Sweet Freedom

With Tsukimiya-taichou as Occupational Commander of Hueco Mundo, Kiriko had a lot more responsibility on her shoulders. When a promising recruit went missing it turned into a fiasco as she personally went to find him, only to find herself paired with a pink haired Third Seat who had unwittingly enriched a Hollow population. Their battle to find the truth and kill the Hollow hoards left both of them drained and nearly dead, and Kiriko's pride sorely bruised. She determined then and there that she would find a way of making a name for herself. I Need an Adult

After realizing that she has neither the strength to make her Hakuda stand out above the rest nor the aptitude with Kido to use it properly Kiriko decides to invent her own form of combat to show the whole world just how worthy she is of her position. Approaching Sakamoto Miki, the previous leader of the Kido Corps before they were disbanded, she confides in her the idea of a Kido aura that would enhance physical strikes. The two agree to help each other develop this technique, and Sakamoto takes Kiriko down into the hidden Kido Library where they research the subject for several days. Finding a brief reference to a similar ability Kiriko is able to create Shunko, her personal masterpiece.

The Massacre occurs without warning, and Kiriko is caught up in the battle. With Tsukimiya-taichou away in Hueco Mundo it is left to her to muster the Nibantai forces. Cornered and attacked by Tova, she finds herself in a desperate situation. Kiriko isn't strong enough to fight him, as he continues to taunt her weakness, and when Aneue offers up a honeyed lie she grabs at it without thinking. Why should everyone else have an amazing Shikai when she can't even talk to her Zanpakutou Spirit after all? Deciding to trust Aneue for once, Kiriko learns the sword's name; Gaikotsu Aneue, and unleashes her Shikai for the first time.

The ensuing damage engulfs her comrades nearby, and Kiriko is forced to watch as their skin peels from their bodies and an army of skeletons comes to her call. Horrified by her own power she tries to throw her Shikai away, but Tova enrages her with his comments about Tsukimiya-taichou, spurring her into a one-sided battle where she tried her best to destroy him.

Seeing her own utter weakness Kiriko collapses, hating the Arrancar King to the depths of her soul. But most of all, hating herself, for not being strong enough to protect her comrades. Her subordinates. For not being the best Lieutenant ever. Unable to cope with her loss, she dissolves into tears and is only released when Tova accepts her weakness and tells her that she can be strong. Find solace in her darkest enemy, Kiriko does the unthinkable when Tova embraces her, she hugs him back.

Tova, enthralled by her power and her mental confusion, instills in the young woman one of his "truths." Injecting into her mind a new reality where she loves her Shikai, and Aneue as well. Where she is her true older sister instead of a horrifying denizen. He leaves her with Tsukimiya-taichou's bloodied haori, telling her to take care of the Second until her Captain can return.
Time as an Acting Captain:
Kiriko, irrevocably changed from that encounter, returns to find a Seireitei in utter ruins and many Captains missing. She is forced to take the Acting Captain position of the Second, and does so with some small amount of relish as her newfound companion, Aneue, remarks upon the rank she should have always held claim to. The two of them are a fit couple, and Kiriko apologizes for ever ignoring her kindred spirit. In duo companionship Aneue convinces Kiriko of her entirely new persona. Of Pride, and Arrogance, and Unlimited Power. This goes to her head rather quickly, and she descends into flights of fancy, lulled by Aneue's desire for blood and death that seems all too convincing. It is during this time that Kiriko commits her worst crimes, travelling frequently to the human world to vent her frustration out on defenseless humans and Quincy.

Finding herself more at peace with her Zanpakutou Spirit, and looking back at her previous life of fear and pain with such disgust, Kiriko realizes that she doesn't feel right about her old Inner World. When she goes to it once more, she sees just how fabricated the entire place is. It is simply her home from when she was a little girl, resplendent with all those weak feelings. And it no longer fits her new mood. So she tears down the locked door and enters her true Inner World, a manse of blood and gore. After exploring she comes upon Aneue, who pushes her to her limits to ensure that Kiriko no longer clings to those pesky emotional crutches she had before. During the test Kiriko realizes that she no longer has to be afraid of death, because it is just a part of life. And neither does she have to be afraid of her relationship with Aneue, because they are sisters. Embracing Aneue in the end, Kiriko cries for the first time in her adult life, pleased to have finally found her family. Smoldering Flames

Filled with bliss at her new sense of self,, Kiriko begins her iron rule over the Nibantai. No longer satisfied with hard work, she demands perfection. From both herself and everyone under her. Long hours begin to take their toll on everyone involved. During one of the few breaks in training Kiriko goes out to Rukongai to meet with Sakamoto, one of her rare friends. They decide to battle, to test out Kiriko's invention of Shunko against Sakamoto's amazing ability with her Bankai. The battle is fiercer than either could know, but in the end Sakamoto's taint from Tova reveals itself as an Inner Hollow that takes over her body. When Kiriko finds out that Sakamoto had been holding back the whole time she is furious, but has little ability to react as the Inner Hollow tries her best to kill Kiriko! A deadly battle scores the very ground around them, but somehow Kiriko maintains her life until the very end, when the Inner Hollow grabs her by the neck and tries to choke the life from her. That is when Sakamoto beats the Inner Hollow and regains control of her own body, releasing Kiriko from her plight.

After the battle, Kiriko decides to keep Sakamoto's secret. For her own gain, blackmail is what she gives as her own excuse, but on some level it is because she wants to keep Sakamoto as her friend. Extracting a promise from the woman to keep her Inner Hollow in check, Kiriko wearily departs with new ideas to perfect her Shunko.

After the Captains and Acting Captains of Seireitei meet and discuss their options with Gilgamesh missing, Kiriko has to question her faith in Tsukimiya-taichou. She determines that he was injured somehow, or kept away, even though everyone else believes him dead or AWOL. Keeping her faith strong is a hard task as the days roll on, and Kiriko gives her all to searching for any clue as to his whereabouts. Finally her faith pays off as Tsukimiya-taichou returns.

He senses something wrong with her immediately, or perhaps he always knew. But in talking to Kiriko her Captain brings out the ugly feelings she has been harboring against Aneue, who while her sister and comrade in arms, was far too controlling and obsessive to be a good support. Realizing that there was something wrong with her relationship with Aneue, the two embark on a trip to Kiriko's Inner World. Buffeted by the rage of her sword, Kiriko cannot control the angry spirit who tries to overpower her and win control. Aneue was not pleased at all to have her say being questioned.

Tsukimiya-taichou gives Kiriko the strength to confront Aneue, but only by giving the spark to the Inner Hollow within her own soul. Hahaue is created then, giving voice to the darkest most suppressed parts of Kiriko. Her pure soul. Hahaue immediately speaks truth to power, helping Kiriko to realize that both Aneue and Hahaue are parts of the one. That she is them in reality, and not entirely different people. When faced with a raging Aneue, Kiriko finally realizes that Aneue wants what she herself wants. Acceptance, love. Once given those things, the Zanpakutou Spirit allowed her Inner World to calm. Though their relationship from thence forth was still not determined.

Awaking in her room where Tsukimiya-taichou had left her, Kiriko receives the present of personal understanding from Hahaue and gains the ability to form a Vaizard's Mask. Too tired to leave the room and find Tsukimiya-taichou, it isn't until the next day that she hears about his escapades as Captain Commander and her new role as real Captain of the Second.

Time as Penance: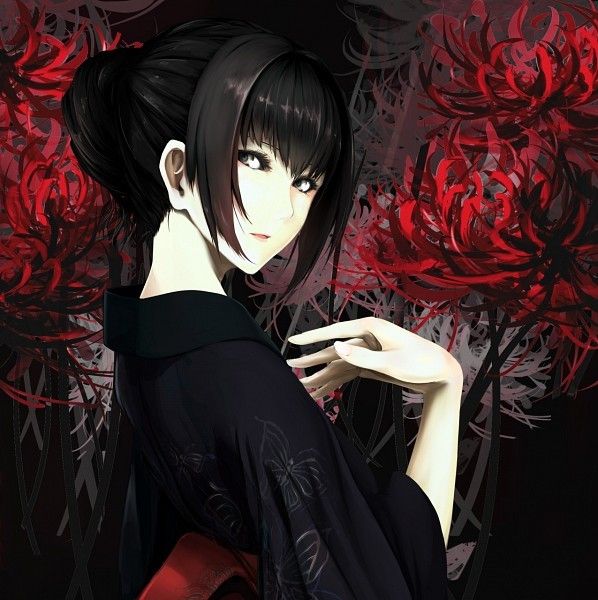 Everything is great. Peace is restored. Kiriko becomes a Vaizard. And Tsukimiya-taichou leaves her once again. This time for real. He leaves his gift, the power to see both sides of herself, and expects that to be enough. But Kiriko has never been perfect despite her projections otherwise. And in the absence of her Captain she flounders. Hahaue is fantastic. Amazing. A glorious moral compass. But Kiriko is flawed. She has committed so many sins. Made so many mistakes. Gone down a path that cannot be reversed. And Hahaue's idea of the right thing, of the right choices, are too absolute to be followed through on. As much as Kiriko wants to listen to Hahaue, she knows that if she is to create a future where no other Shinigami will have to follow in her footsteps, that she will also have to make the hard decisions. If she wants to truly repent for her past sins then she has to ensure that no one else will fall prey to the hardness of reality that she weakened to before, to change the very nature of that word – reality, so that not one more soul has to wake up and look around themselves with dawning horror at their own corruption that was brought on only by a desire to fit, to function, to escape pain.

Kiriko regains her sense of purpose, her knowledge that she must do what was needed rather than what was right, but in doing so she steps away from a path that could have led to something brighter. She cannot listen to Hahaue, not for the sake of her own happiness, not when the world is on the line.

Aneue broods and Hahaue preaches but both are extremes that Kiriko cannot follow. She struggles with her choices, with balancing reality, and she grows into her role as Captain of the Second. But things are not as they seem beneath the surface and Aneue begins another covert attempt at gaining control once again. Disappearing entirely, the sword spirit refuses to surface while dangerous dreams plague Kiriko's nights. Dreams about control, about her mistakes, about the joy she used to feel taking a life for no reason. Dreams where Aneue is always there, always bigger and taller and ready to crush the life out of Kiriko's defiance. They splinter further, and all along Hahaue tries to force Kiriko to do what is right. To forgive herself her mistakes and focus only on being good. As if solving her own problems would fix what she had done.

But how could Kiriko be good when her very soul was rotten to the core? How could she continue to strive for this purity that she didn't even believe she had until recently, when she knew just how dangerous embracing any extreme was? She couldn't trust either of them. Give an inch and they would take a mile. What was once a gift becomes a curse. A balancing act that Kiriko never agreed to partake in.

Things come to a head when Kiriko turns to use her Shikai in battle and finds that Aneue has abandoned her completely. Removing the ability to awaken her blade. While Hahaue dogs her every thought with disappointment and all along Kiriko has to make a choice. Make a choice. And Fujikagi Tokiyo, her trusted Lieutenant, is there to stand as a catalyst. Having lost in a battle to Minamoto Shun, her Lieutenant proves to Kiriko that he is not as strong as she believed him to be. That he lacked the mental willpower to persevere no matter what. Afraid to lose him along with everyone else that has slipped by her, Kiriko calls him into her office for one last stand. Unlike the people in her past who she's lost, Fujikagi is someone she can force change upon. He is her subordinate and he has to listen to her.

Except he doesn't. And as Fujikagi pushes back on her assumptions that the world is really run by power, that might equates both justification and reality, Kiriko begins to feel cracks forming in her own safety net. She cannot stand the idea of Fujikagi dying because of his idealistic views, so she challenges him, prodding and threatening until finally he pushes back one last time and she snaps. Either he submits to her superior knowledge or he dies – it's a painful way to teach a lesson but the only thing she can think of doing. She can't let him go on like this.

But when Kiriko goes to strike, her blade poised above Fujikagi's heart, something holds her back. A terrible force from within, as Hahaue paralyzes her body and tries to shake some sense into Kiriko. In that monumental pause, everything becomes clear for one crystalline second and she understands. Understands it all. The path that she paved herself from the very beginning, the teetering game between two sides of herself that she gave life to by her own insecurities, her own inability to see them as merely herself. All her life she projected the blame inward, but never with any understanding. She thought that hating everyone else would keep her fragile heart safe. Then she thought that hating herself would calcify that heart into diamond, so that it could never be scratched. But what she never understood was that that heart, and the accompanying negative emotions that she carried around like her shield, were just that – emotions. Feelings. Parts of her very own being.

Aneue. Hahaue. They were her. And only her. Her battles for control were the flapping of broken wings because she'd never even needed to fly anyway. All that Kiriko had needed was to look around and analyze. Killing her Lieutenant wouldn't save him from anything! Why would she tear herself up when she could be happy? Hadn't she done enough to atone? And even if not, what was she serving by being this way? By remaining broken? Peace – she could nearly touch it with her fingertips.

Hahaue and Aneue were no more extreme than the range of choices she could make at any one moment. She was neither evil nor good. But both. A splendid mix of both. She knew that she could recognize them, and this new truth. She was one step away from recognizing both Aneue and Hahaue and the story that they told about her own soul. But that tiny little step, that leap of faith, was something that Kiriko couldn't complete.

Instead, she does the opposite, an abortive measure of refusal. Because deep down Kiriko isn't happy to realize these things – she is afraid. Afraid of accepting Hahaue and Aneue. Afraid of accepting that she is gray in a world that had always been black and white. Afraid of being happy because it meant changing. It meant letting go of the past that she never really could release and embracing the terrible and frightening future that she couldn't control. It meant accepting that life is not black and white, that things are not straightforward, and that humanity is complex.

It was too painful to look upon herself with kindness, to reach for a happiness that she wanted instead of a pain that she needed.

At its crux, it meant accepting the gray line between morality. The very nature of humanity. Kiriko thought she understood it, but in her heart she didn't actually get it. More than that, she refused to let it sink in after coming so close to full realization. Recognizing that there is no good or evil would cause her entire world to shatter. She would no longer be bad. She wouldn't be a sinner. Wouldn't be evil. Wouldn't be the kind of person who has to do anything within her power to make up for incredible and indelible mistakes. If Kiriko was just normal, then there would be no reason for what she had done her entire life. All of her sacrifices would be empty.

Cutting away her childhood, her naivety and her purity to no longer be susceptible to pain.

Slashing at her family ties so that they couldn't impact the future she wanted to create.

Destroying her heart to be a better Shinigami, a better soldier.

Fighting against happiness in order to be more professional.

Paring away everything until her core was so mangled it could no longer resemble the needy child she was trying to escape from.

All of that suffering. For nothing.

If there was no reason to suffer then all she could do would be to prosper. And Kiriko could not handle that. Indeed, she refused to accept that. The very chance of that happening, of her reality being rocked and her mind forced to accept the possibility of fulfillment had her so scared that she was willing to rip her soul apart and cast out the parts of her that could ever lead to being balanced. To being normal. To being whole.

This was her response to the threat of losing control. Racing away to the one person she thought would be there for her, Tova, Kiriko is confronted by yet one more loss. Tova is dead. Gone. Without even a word to Kiriko the last of her closest relations has abandoned her once more in her time of greatest need. Kiriko learns this from the lips of Amaya, who proceeds to offer her help as the Sovereign of Severance.

She cannot let go. She cannot stop her penance. She tells herself it is for the greater good, sacrificing for the future she wants so desperately. In reality, deep inside, she knows the truth. If her suffering was empty, then so is she. And Kiriko refuses to let that be reality. Let her be anything else, but let her choices so far be worth it. And so she removes any chance of her Inner Hollow or her Zanpakutou Spirit of ever trying to find harmony again. She asks Severance to cut out the parts of herself that would risk the chance of robbing her pain of all meaning. She sacrifices once again, the ultimate sacrifice of happiness, and in doing so she finds her own sort of peace. A peace that allows her to eternally roast in her self-made hell. There is no escaping, she has made certain of that. No forgiveness. No way out. And that's okay. Because she deserves every ounce of it. Every pained thought, every agonized day. She was the worst type of being and she deserved to suffer for the rest of her life. Nothing could ever atone for her sins. No amount of penance would clean the slate. But that was good, Kiriko liked to sacrifice after all. She was made for it. Nothing else was allowed.

She returns to Soul Society no longer a Shinigami but set upon the warpath. Her goal: cleanse the world of all its taint, wash it clean in blood until there was no longer a need for ruined people such as herself. No cost would be too high for such a utopia, no sacrifice too dear.

Kiriko cut away the vital parts of her own soul because she was unwilling to face them, to face the truth of her past, of her own nature, and she sweetened the deal by telling herself it was all for the best. It was all to protect her dream of a better world. Everything was for that one goal. Her past suffering, her current suffering, her own life and future happiness, all of that she would lay at the alter in trade for a world without sin. That was the lie that she wrapped herself in, and yet, once the deed was done, once Severance had opened Kiriko's chest and ripped out her heart, once Kiriko had murdered her own Zanpakutou Spirit and her Inner Hollow, she was left empty.

Empty of the relief that Kiriko had been expecting. Without a heart things were supposed to go a certain way. The pain was supposed to stop. The emotions. The need. Without a heart Kiriko was supposed to finally transcend her weaknesses, become unfeeling and unyielding, the only thing to dictate her choices should have been logic and that final lofty goal.

But it didn't turn out that way. It wasn't even close. Without the careful balancing act of Aneue and Hahaue, she was left on a precipice that continued to crumble away beneath her feet. Thinking that this was the pain she had sought to embrace, Kiriko willingly threw herself off that ledge and into free-fall. Realizing that she was surrounded only by suffering, her own emotional agony, Kiriko embraced it with all that she had, trying to turn this too into something useful. A tool. A purpose. A goad. Anything, anything to make sure that she never looked back at what she had been doing this whole time. Never regretted just what she had thrown away for a reality that was turning out to be the opposite of what Kiriko had imagined it would be.

She becomes embroiled in her own bitterness, caught up in a world all of her own making. Everyone had wronged her and they all must pay for their slights. Penance is a true monster, and she knows this, but the very nature of her colossal sacrifice means that she can do whatever she wants now to make it worth it. The ends justify the means, and her ends are far more illustrious than anyone else can imagine. And yet things continue to fall away, Tokiyo has betrayed her and run off to another division, Ametsuchi has been stolen by the First, and all along the way, there are irritants that pop up and try to force her hand.

She meets Hatred, makes friends with Severance, and finds an enemy in Nothing. Throughout all the other Sovereign's stories though the thread of decay and insanity is bright, and watching the downfall of the strongest opponent she had ever fought against, Kiriko promises to herself that she will not be Broken like Kirishi or Jomyaku. Nor will she allow pride to hide the truth from her eyes like Amaya did.

Struggling to find balance in her own soul, having accepted the mantle of Penance and her position as sword and shield of the Gotei, Kiriko is assaulted from all sides by people who wish to warp her goals and chain her strength to their own dreams. Kenshou Ine finally extends her the courtesy of his respect, and she finds herself following another man once more, but struggling to realize the autonomy that she never had before in these relationships. And all along her soul continues to crumble, pieces falling away as her rage builds and her arrogance swamps the logic that had once ruled in its place.
Captain Commander:
When Ine departs for the Soul King's realm, he leaves Kiriko with one last entreaty. Remember your humanity. And she scoffs and hisses in his direction for such audacity but cannot help but hear the warning in the words, aware of just how much she has been slipping lately. Forging a Key So she makes an effort, finding the people who still mean something to her and trying to piece back together her life. But now she has reached the height of power, and it seems as if time is only just beginning to show how valid her world view is. Might makes right, that is the story of her entire life. And only now can she begin to teach the world this lesson, for only through pain and suffering can she force everyone to do what is right.

Many disagree with her decisions as Captain Commander, but she is proved right again and again as fear overpowers them all.

Until one day someone rises up to question that world view. Minamoto Shun challenges the Captain Commander in her very own home, throwing his concerted mettle against her very real willingness to strike him dead. After being goaded into unleashing her Sovereign state on him, Kiriko is shocked to see that Minamoto does not collapse under the force of his own regrets. This is categorically impossible in her world, and so she tries to shove him harder and faster, to break him with the force of her belief. When she finally stands before him, pulling his mind apart and reading its innermost contents, she cannot deny that he is not afraid of her. That fear is doing nothing to hold him back when it is fear that has created the backbone of her entire life.

And Minamoto does worse than that, he looks up at her and throws all of her assumptions about guilt and forgiveness right back at her. Penance is not one to care for words, though, as words lie just as men do. But as the fight rages on and Minamoto's resolve never wavers, she begins to consider just where her ideas are rooted. And all along she has been aware of the subterfuge going on, this great giant lie her life had become, because at one point in the past she had been close enough to touch forgiveness. And close enough to throw it away as well.

And there was Minamoto, putting physical representation to her conceptualizations. Except unlike all the rest, he did not fall to her superior strength. He did not cower and beg for his life. He didn't even allow her the decency of clinging to her self-caused pain and regret, forcing his own forgiveness out into the open. Steeped within his mind, she had no defenses against this sort of attack, not when she could feel the very real emotions he had and see into his memories to tell that this was all real. There was nothing deceitful about Minamoto's words, unlike her own. And it called into question just what she had been doing this whole time. If she had honestly been torturing herself because she thought that was the way to get approval. How twisted she had become in her search for power, which was merely a hidden keyword for acceptance.

Pride pricked, Kiriko raged forward, she would let no one call her a coward. Call her weak. Call her unable to change. And realizing that her idea of power as the only arbiter and pain as its weapon was flawed, she let it go and dared Minamoto to call her any less dedicated than he was. She realized in that moment that this whole time she had been the one causing all of her pain. Ever since her Oneesama had died and left her all alone with her Father, ever since that first cut, she had done anything to mold herself into something lovable. When that failed, into something useful. And when even that failed, into something no one could deny as powerful. All to get to this day, when at the height of her power, as the strongest soul alive, even still Minamoto could stand there denying her.

All of it was so meaningless even if she clung to her own pain to try and make her past matter. No matter what she did from that point forward, it was all on her. She had caused this and she was going to be the one to accept it, to grow the stronger for it. She wouldn't let some upstart remove her from power just because she had been wrong once before.

But Minamoto just doesn't stop, and soon he has Kiriko surrounded on all sides by the ultimate bakudo. Cut off from all of her power, she realizes a truth that has always dogged her. Kiriko doesn't want to die. Not even that, so much as her life is worth more than a death. All along she had been trying to find her place, trying to be someone important or useful, and that meant dying for the cause. At least, in death, she could offer something clean. But staring down Minamoto's sword for the last time, she realizes all at once that that's not enough. It's not the end that she wants, it's not the end to her wants.

She has always wanted. More and more and more, but all along she told herself she wanted the wrong things. Because she felt like those might be achievable, that they were less dangerous, better traits to reach for. In that moment, she understood that she had never even given herself the chance to want what Chinda Kiriko wanted. She had valued herself as less than nothing, even when posturing as a grandiose god, and it was finally time to learn who she was and what she needed, not what the world needed or wanted.

In the silence of that revelation, Hahaue and Aneue appeared at her side, her strength and her mercy and all the sides of herself she had never even tried to understand. Realizing that it was time, finally, the three embrace, and her sword spirit and her inner hollow melt into her skin. Their strength pooled together proves too much for the bindings which shatter as Kiriko makes her first honest choice.

Staring Minamoto down, she smiles and opens her arms wide. Not to embrace his blow, or death itself, but to take in all the desire in his own headlong attack. She understands why he is doing what he is doing, just as she understands what he wants. And in the same way that she had found her own fulfillment, finally allowing her wants to matter and to be accepted, Kiriko lets that knowledge wash over Minamoto Shun. He stops, no longer needing to finish the blow, because everything that he was looking for had already come about.