Post by Iko on Aug 9, 2015 20:15:45 GMT -5

Art done by the wonderful Cheesewoo.

___ H O L L O W ___
The Mask
Can All The Real Hollows Please Step Forward?
On The Surface ___
Hollow Name: Unnamed
True Name: Iko Amane
Birth Date: November 10th 1988
Age: Twenty Seven
Gender: Male
Height & Weight: 170 Cm || 60 Kg
Hair & Eyes:

Iko is completely hairless, this is because his Hollow Mask covers the entirety of his head. His eyes are small black pupils so well-hidden, they can only can be seen at extremely close range. They are disguised by subtle folds, which are part of the mask.

Mask & Hollow Hole:

The helmet-like mask Iko wears, covers his naked instinct and protects his head. Like any Hollow Mask it is white with the added addition of coiling markings, that switch between every colour of the rainbow. The patterns these swirls form on the white surface of the mask reflect Iko's emotions. They default to indigo, however each colour reflects a different emotion (red is anger, blue is sadness, green is sickness, orange is passion, yellow is irritation and, violet is hunger). The mask itself is separated into two halves, a top and bottom. The halves are divided by his mouth which is lined with razor sharp teeth and contains a long red, sticky and slimy tongue, often habitually, he'll be found grinning.

Iko's Hollow Hole can be found on his neck.

Physical Description:

The Hollow known as Iko stands tall and proud, he does not acknowledge fear or people that would seek to challenge him. He is exceedingly narcissistic and shows it in his posture, all of his actions are noble and dignified. Even when hunting he has the feeling of an apex predator as he calmly and methodically hunts down unfortunate prey. Contrary to what a spectator might assume, he moves like a simian, with his knuckles digging into the ground and his back arched, except from when climbing or leaping of course. His body save for his Mask, feet and hands is jet black and reptilian. The leathery flesh that comprises the majority of his body is cold to the touch and dries easily when wet.

His leathery flesh gathers at a distinguishable vertical crease along his spine, when this crease opens, it is revealed to be a large purple eye that of course, does not have eyelashes. This third eye rarely opens, mainly due to Iko rarely using his full strength. It functions as any normal eye would, allowing the Hollow to be able to see behind him. The eye does not have any fancy mechanisms that allow it to close or shut and opens at the same speed as any regular optical attachment would.

On his arms and feet is scaled plating which keeps them protected when he is fighting, these act as gauntlets and boots and can be regenerated, however provide no true defensive benefit. The plating can slide back to allow his toes or fingers to extend or contract. His toes and fingers are tipped with sharp claws and Iko likes to "shoot" them at people by rapidly extending them towards an opponent like a bullet. His fingers and toes are the only parts of his body actually capable of extension and are often found caked in dried blood.

Iko smells of carrion, a scent that can be attractive and repulsive to members of any race. He is ambidextrous however uses his right hand more despite being so. He lacks any sexuality purely because he has no interest in it, if anyone attempted to romance Iko he'd eat them or laugh, but probably eat.

Spiritual Description: The sensation of Iko's spiritual pressure comes creeping across your body, it's the sort of sensation that causes goose pimples to rise on your skin. It's uncomfortable, the uncomfortable sensation you feel when you just wake up and can't get back to sleep. It creeps in and clogs your senses, weighing you down and breaking your will to continue. Then, just as you're about to give up and scream out, the sensation will lessen and seemingly dissipate before building up again moments later to deliver slow psychological torture. The Hollow's spiritual pressure when viewed is a dull humming purple that coats an area like slime, it never changes and forever undulates, watching and waiting. It moves like a tide with it's master.


Vocal Patterns: To affirm to himself that he is the dominant spirit within the Menos, Iko will refer to himself in third person. This is a way to maintain dominance over the other spirits a Hollow is comprised of, this particular vocal tick does not happen constantly. He also has a habit of replacing present tense verbs such as "speaking" with the plural form "speaks". As such a typical sentence for Iko might be something along the lines of "Iko wants to plays, how does I plays? I knows! I will punches it!" as you can see, most verbs in the sentence are distorted for their plural counterparts, this is a mental tick that comes from the Hollow being comprised of many souls. Instead of just "one" punching, there is many. As of a weird evolutionary tick in how Iko's mask was formed, whenever he speaks his mouth makes a loud cracking sound when initially opening.
Behind The Eyes ___
MBTI: ENTJ || Enneagram: The Challenger || Alignment: Chaotic Neutral || Racial Prejudice: Purist

Personality:

Iko is motivated by two things, his hunger and his aspect of death: Temptation. As long as he can satisfy either or both of these things, he does not care what he has to do. This Hollow has an ego, a big one, he wants to do great things and become powerful no matter the cost, he is a predator first and foremost and by preying on those weaker then him he can sate his hunger. Rarely backing down to a challenge and acting strategically and calmly in the face of all situations despite also going forward with a bloodthirsty view on life, this Hollow-breed is not one to be taken lightly. From his seemingly jovial smirk and presence on the outside, the inner parliament of the Hollow is anything but happy. A Hollow is a thousand, thousand spirits waging in an eternal debate with each other, arguing over who gets to be in charge. Iko was just the strongest and most dominant, despite his actions being precise and calculated they are all weighted, weighted with the pressure that if he slips up one of the other Hollow will take control and he'll lose his independence. He is determined to not lose his independence by any means necessary, he does not care who he has to cross to feed and get stronger as long as the end goal is the same.

When interacting with anyone, Iko will only speak to them if they give him reason to. If they seem like a strong foe, or they offer a good topic of conversation Iko will talk to them. Otherwise, the Hollow will initiate combat or flee. Really it depends on a variety of factors including their power level, how much they peak his interest and if they look delicious. The latter is a Hollow concept "to feed" as an Adjuchas, Iko is slowly coming to the understanding that his actions are no longer defined by hunger, rather he can "be happy" without needing to eat to "be happy". When he speaks to somebody he could see as a potential threat, he will never break eye contact, despite his foes not being able to see his eyes, he will always have his head turned towards them, a habit born from his death and the inevitable paranoia of being stabbed in the back (literally).

The world's that he travels to don't really interest him either. He separates them mentally as "The one with lots of sand" (Hueco Mundo), "The One With Shinigami" (Seireitei) and "The One With Lots of Prey" (Earth), despite knowing their names within his brain he finds it easier to distinguish them by their separate characteristics, if not for peace of mind from the other souls that engage in vigorous debate as he himself tries to think. In that regard Iko is a descriptive thinker, thinking in traits and characteristics rather than numbers or shapes. When he examines somebody he will look at their characteristics and determine what they are, rather than their uniform (Denoting a Shinigami) or a mask (Denoting a Hollow). Fundamentally Iko is under the belief that all races are the same.

Positive Qualities:

Capable
To survive in Hueco Mundo, one must be exceptionally talented and skilled to survive. Survival is a priority in the land of Hollow and Iko knows how to survive, he knows that Hueco Mundo is a hunt or be hunted world and he's more than capable to survive in it. Iko is a predator at his core and will kill without a care in the world. When interacting with objects the Hollow is prone to experiment with them, if the object does not work for him, he will force it to ensure it's usefulness. Adapting comes easy to a Hollow who can adjust to environments rapidly and confront a variety of new allies or foes alike. Luckily he also understands the value of having allies, he just requires whoever wants to be an ally of his, to prove themselves.

"Surviveses? That's easy!"

Decisive
Quick decision making within Hueco Mundo decides if you live or die. If you are too slow to react, you are killed mercilessly. Iko understands that being precise and decisive and he is fully capable of making decisions in a split second. He is constantly aware of everything happening around him and will do anything it takes to survive and grow. Often with the way the world works, Iko will have to pick if a person is a friend or foe immediately, he usually does this by a few rapid cues based on their spiritual pressure, if he recognises their race and if they're a Shinigami. If the person he is examining turns out to be a Shinigami, more often than not he'll be hostile towards them.

"Yes, right! Now left!"

Imaginative
Thinking outside the box is the best way to handle any situation. It makes you unpredictable and in a Hollow's case, deadly. Iko's movements are extremely hard to predict and his thought processes are extremely varied. This reflects in his simple phrasing and descriptive language, the ability to make imaginative sentences out of a simple vocabulary is quite impressive however intelligence and imagination should not be confused. Despite Iko once being an academic, his intelligence has degraded greatly in favour of a more instinctual-survival based imagination. The difference between a Hollow and a Shinigami is not only logical and reasoning (for a Shinigami) but creativity and survival (for a Hollow).

"Oohoo! Okay, new game"

Methodical
Sensible decision-making and an imaginative thought process allow Iko to plan out attack-plans or movement-plans in his head. This allows him to approach situations in a seemingly random, but carefully thought out plan. Despite every plan being different, it is all well planned out in mere moments before hand and executed perfectly. Long exposure to Iko will lead somebody to the conclusion that despite his spontaneous ideas (often in combat) being imaginative and creative, the Hollow will fall into methodical patterns it determines are safe. It is due to this that his imagination and decision making skills are heightened in battle and his methodical reasoning and empathy are heightened outside of combat. a form of alternating co-dominance.

"One. . . two. . . three . . . four"

Empathetic
Empathy is surprising for a Hollow, seeing as Hollow are cold-blooded killers but, Iko's empathy is distorted and warped. Just because he is empathetic doesn't mean it's a good thing from a Human perspective. Iko's Empathy allows him to understand how people feel and what makes them tick, this allows him to cruelly torture anyone he speaks to psychologically and mentally because he understands how emotions work.

"I feelses you, now I hurtses you"



Negative Qualities:

Barbaric
Iko is a brutal killer, his methods of killing can be considered barbaric. He enjoys torturing people who succumb to him in fights and maiming them in ridiculously violent ways. His methods of fighting and killing are so barbaric that other Hollow avoid trying to be friendly with him, accusing him of being insane even to Hollow standards. Engaging Iko in combat, the rules of "chivalry" simply do not apply, he will attempt to maim threats so he can kill them easier. When speaking to the Hollow, people will note the childishly violent tone that he speaks about fighting in, he sees it as a game in which he can hurt people.

"Snapses goes the bones! Out comes the marrow"

Disturbed
Iko's penchant for always being in a good mood can make him seem friendly to most people that manage to talk to him. He is in fact a highly disturbed individual bordering on completely insanity even by Hollow standards. His motto of "Getting things done by whatever is necessary" means he is highly unpredictable and highly unhinged, a combination of extreme narcissism and brutality. The slightly unhinged mind of Iko (driven to being severely disturbed by the racial existence of Hollow) causes him to treat most things like a game. His insistence with the fact that his killing is "beautiful" is reflecting on his narcissistic impulses to be called handsome.


"Hey, do you want to playses a game with Iko?"
Impulsive
Iko acts before he thinks, because of his aspect of death he is tempted by almost everything and thus can react impulsively to any situation. If he sees something he wants, he will take it. If he wants to kill somebody, he will kill them. He is a free-spirited who acts largely through his own motivations and anyone that gets in his way he will shove aside. This is the coin-flip of the "Decisive" Positive trait, as he is good at decision-making, often he will decide before thinking of the consequences. This leads to the Hollow unintentionally offending people who converse with him, because he does not understand the concept of subtlety.

"Mmm, that's pretty, can I haves it . . . GIVES IT TO ME"

Narcissistic
Iko loves himself, he loves everything about himself. He loves how he can kill without feeling and how easily he can accomplish his goals. Being his own biggest fan makes Iko unbearable to be around as he will most likely comment about himself in any given conversation. This is further followed by his subconscious desire to be forever acknowledged, lack of acknowledgement irritates the Hollow and he will always make it clear that he caused an event. This trait has more dominance outside of combat, as the Hollow naturally will drop it if it means it will hinder his survival.


"Yes, my art is beautiful, thank you"

Opportunistic
Taking advantages of situations guarantees your survival. Taking advantage in every situation possible to the point of isolation however is not advised. Iko will look for every opportunity to kill or further himself in his selfish pursuit of power. This also leads to him constantly asking questions when spoken to, usually about things that could advance himself in some way. Random questions like "What's the quick route to __?" and "How do I __?" could ultimately lead to the same goal.

"What way is best?"

Goals:

"Here's the deal! As long as I get to grow stronger then you get to live, if you are weak you might as well get in mouth. If you are strong then lets be friends and get stronger! Oh, and we should play lots of games, lots and lots of games. One day, I'll be an Espada and that means I can make Hollow important again, but secretly that's all I really want, for Hollow to be scary again and for Hollow to be powerful again. We haven't had powerful Hollow since Yaksha, that makes me sad. Once I'm a Vasto Lorde, I will bring a new age for pure Hollow"
Strength Of The World ___
Aspect of Death:

An aspect of death is the concept that drives your character, it manifests from their heart and their deepest most base desires. An Aspect of Death gives a Hollow purpose beyond that of their hunger, it gives them motivations and goals to grow stronger and a cognisant being. All through his life Iko has been defined by Temptation. He was a forbidden fruit for everybody in his Human life, so his Hollow Nature twisted this into his base motivation. He is cursed to be forever tempted, by power, by desire, by lust, by greed, by war and by hunger. He will strive to sate his Aspect of Death till the end of his days, to be forever tempted and to tempt others, that is the goal

Hollow Power:


(The Flower)
To understand Iko's Hollow Power, one must first understand what "El Flor" is. El Flor manifests as a jet black flower with five petals, in the centre of which is an eyeball. Often the iris of which is coloured in shades of purple. Each instance of El Flor is in it's own right a Hollow Parasite, acting to absorb nutrients from the world to extend it's own temporary half life (As it only lasts as long as it can sustain itself). It does this through burying roots into the ground that feed on the subtle (or obvious) reishi in the area and absorbing it. What this does in places such as Hueco Mundo or Seireitei is it causes the areas to vaporize, in the case of the Human world things begin to crumble.
Each instance of El Flor acts as part of a Hivemind, as it's roots interconnect with other instances of El Flor to create a complicated network of flowers which through the aid of Iko can perform a variety of different techniques from drawing on his reserves of power. El Flor can perform two different types of attacks by acting as mediums for Iko's power. The first is channelling Cero or Bala (As they are extensions of Iko) and the second is Hypnosis the
true
power of El Flor. Furthermore, if El Flor is grown on a living or non-living entity, El Flor can take control of the host until the vessel they are using expires entirely (in which case the flower will fail to supply itself with energy and it will die) .
El Flor can manifest on any surface Iko touches or casts his spiritual pressure onto (by paying stern attention). Often he can mount El Flor on an object, but as his prowess with Hollow Evolution grows Iko can punch the air and creates tears in the fabric with the black roots of El Flor and cause them to flow almost anywhere.
Tree of Anguish

(The Awakening)
Tree of Anguish is the awakening of El Flor. When activated black roots spread out across the surface of anything that Iko is in contact with and disintegrate the surface turning it into white sand (mimicking the sand in Hueco Mundo). The Hollow absorbs the spiritual energies of the world around him and turns the life of his surroundings into parasitic half-living Hollow pollen that create vast purple spore clouds that Iko can control. On contact with flesh they will be absorbed into the targets bloodstream and attack their muscular tissues and soul sleep weakening their physical strength and lowering their agility. The idea of this release is that it weakens the physical capabilities of Iko's foes. Iko can control the clouds of spores he creates telepathically and they deal damage when direct contact is made equal to Iko's spirit.
Cero Color:
Violet || Specializes in Cero Cornea.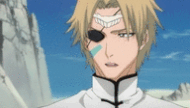 Legacy Created ___
Current Allegiance: I Walk Alone.

Snapshots:

1988 - Iko is born.
2009 - Iko is killed.
2010 - Iko Hollowfies.
2010 - Iko becomes a Gillian Menos
2015 - Iko is an Adjuchas class Hollow.

History:

To Be Human

When Iko felt a chill running up his spine and his arms beginning to lock into rigor mortis, he felt doubt for the first time in his life. His eyes were lingering on the sharp steel that protruded from his chest along with the feeling of a warm hand caress his chiselled features. "You could've been mine" the woman behind him hissed through clenched teeth "But you spent so long rejecting my advances" her hand twisting the knife deeper into his back, only allowed him to dreamily watch the crimson droplets of his blood steam on the ground beneath him.

"M'dear, if I had married you, it'd have been a carnal sin" he murmured his eyes closing. Thinking to himself in those last few moments before dying "A tragic loss", as the female behind him began stabbing his body with renewed vigor, he finally began screaming out in pain. Only when his voice was hoarse did he collapse to the ground, the sound of footsteps and then nothing.

Suffice to say Iko had always been cocky. Growing up, he had been the kid who was naturally gifted with vast intelligence and athleticism. This was probably due to his parents spoiling him rotten and showering him with affection, not to mention his genes were the cream of the crop and he was a walking Adonis for twenty one years. Yes, twenty one years he was a narcissist, twenty one long years he shunned lovers and tempted woman. It was a great life and he had loved every minute of it, right up to when his last rejected lover thrust a knife into his back one cold Karakura morning.

He'd graduated from the University of Tokyo with a degree in Paranormal Studies having always been interested in the supernatural happenings of the world. He'd documented everything, from the founding of the Vigilance to anomalies that occurred all over the world and the more he marked them down on his map, the more he realised they all centered in one place. Karakura, a small town in Japan that had seen more paranormal things than New York City or the country of Germany combined.

He moved there when he was twenty, fresh from university and loaded with scholarship funds from his research into the unspeakable. On the outside he was a wealthy successful philanthropist, on the inside he had been living a life where he'd seen what shouldn't be seen. Yes, my friends, the intelligent, attractive and wealthy narcissist also was endowed with a sixth sense and had been motivated by it over the course of his life.

Now he was dead. The special snowflakes departure from the world got minimal coverage, in fact the only person who actually went to his funeral was the undertaker. Not even the police cared that he had died nor his parents who had grown tired of their son's beauty to the point in which they loathed him.

The most wanted man in Karakura for his looks alone was now the most unwanted. His lingering spirit however did not move on, it stood in the exact place it had died for months. He spent a lot of time in morbid fascination over the decay of his dead body, not to mention the rotting chain that hung from him. He'd spent a lot of time uncovering books that spoke about the afterlife, he knew this was a soul chain and it spelt out his end.

As a teenager he'd spent afternoons documenting the destruction of the soul chain by spirits he found that failed to move on. One would question how Iko wasn't killed by the Hollow that would inevitably emerge from the rotting chains and corrupted emotions of the spirits he investigated. He was not stupid, he simply set up cameras with special lenses that could view the transformation. How did he afford this all as a teenager? He simply smiled at the right people. Even as a teenager he was attractive.

Alone, he stood awaiting death. He knew it was coming, every passing hour another link in the chain was eaten away. You would think he would've been afraid knowing the inevitable outcome, the loss of his Humanity. He was excited, he wanted to lose his humanity, he wanted to become something more than a beautiful human, he went out of his way to avoid Shinigami so that the chain would degrade further.

When it eventually did he had a moment of apprehension. Thinking to himself he wondered if this was the best choice, but he quickly shrugged it off as the last link of the soul chain shattered and he felt his body twist and contort. Whispering "Enter. . . Stage right . . . Hollow" he let out a final scream of pain before he lost his final dregs of Humanity.

To Be Hollow

Clawing the ground, it emerged. It's body predominantly black and it's mask as white as snow. It's eyes opening and closing were adjusting to it's new-found existence. The mask it wore hiding it's instinct was a perfect circle with a singular glowing purple eye in the center, blinking the surface of the mask rippled like water and changed between the colors of the rainbow.

It's arms muscular and strong were host to a deadly arsenal of cable-like fingers that detracted and contracted with each breath that the monster took. Leaping into the air on powerful hind legs it grabbed the rooftop of a nearby building, cracking the wall and crushing the spouting. It stood on the rooftop. The nameless Hollow blinked it's singular eye and a wave of spiritual pressure resonated across Karakura.

Countless spirits in unison began appearing around the Hollow and dying instantly as their lives were drawn into the eye. It was gorging itself on their spirits as it's hypnotic eye charmed them to come towards it. The feasting continued as more spirits from Karakura wandered helplessly into the proximity of the eyes gaze. Each spirit fed the beast's hunger rather than satisfying it and the gaze pressured even more and more of Karakura.

Two Shinigami, a male and female drew their Zankaputo and landed on the rooftop with the Hollow. The spiritual pressure that had held Karakura in a stranglehold stopped.The eye blinking focussed on the two death gods who were drawing their zankaputo and preparing to fight. One approached him from the left, the other the right, their swords drawn and ready to make two slices to end the Hollow immediately. Then it moved, lifting it's hand and sending five bullet-like fingers rending through the chest cavity of the female soldier who collapsed paralyzed from five precise finger holes scattered across her body.

The other Shinigami was transfixed in the air as the Hollow's eye began examining every detail of the death god. The nameless Hollow began noticing things it hadn't noticed before, like the tears in the males eyes as it felt things about the female. The Hollow couldn't remember what "feeling" was, it knew it had done it once and it knew that the closest thing it "felt" to "emotion" was hunger. Then it's attention turned back to the Shinigami it was watching.

A cracking sound echoed through the air as the paralyzed shinigami began to sweat profusely as a jaw detached itself from the bottom of the mask. With one hand it grabbed the immobile Shinigami from the air and drew the body closer to it's gaping maw, before closing it's mouth over the head and tearing it clean from the shoulders.

After it finished devouring the body of the male and felt the energy rush through it's body it turned to the paralyzed female who lay bloodied on the ground. Once more the tear streaked eyes nudged something loose in the back of the Hollow's head. "Feeling" it's claw reached and scooped one of the tears and tasted the salt. It wasn't satisfying, it did not fill him with anything, it just made him more hungry. The tear had been tempting to devour but now there was a more satisfying prey in front of him.

She started screamed when he cracked her bones and sucked out the marrow. Her will to live was impressive but at last he severed her head from her neck as he grew bored of the screams and feasted on the delicious nourishment that her soul provided.

With new-found powers in tow the Hollow found it's hunger could no longer be sated by normal spirits. It's gorging session on the rooftop of Karakura had accelerated it's evolution beyond what normal Hollow would obtain in months. It's strength had skyrocketed but so had it's insatiable hunger. Tearing a hole in reality it vanished into the darkness of the void.

To Be Nobody

"Ladies and gentleman, I solemnly swear that we are up to no good" a voice was booming loudly and awoke Iko from his slumber. He stood up and looked around, he was inside some sort of … well it was hard to say. Blood was all he saw, he was in an expansive bar fight that seemed to stretch far as the eye could see, spikes protruded from the ground haphazardly and fires clogged the sky with smoke. It was a nightmare, plain and simple, a nightmare that was driven by some inhumane need to fight until you died and were reborn again.

Men and woman clad in varying types of clothing were fighting each other in what seemed to be a neverending brawl. Everytime they died, they'd be spat from the ground to rise again a few short meters from where they'd fallen. He rolled just in time to be missed by a flying chair thrown by a large burly male with two women stabbing at his legs.

"Our quest is for the lily! He who has the lily controls us!" continued the voice. Figuring where the voice was coming from, Iko stumbling over a few corpses saw a man holding a microphone who seemed to be fighting like the rest of them. He ducked under a sword swing from another man and grabbed an axe from the ground, swinging and beheading the foe with uncanny ease.

"Control of what?" Iko managed to shout over the din of the crowd. Dodging the swinging fist of a woman and pushing her with his shoulder into a bonfire, he watched her burning body and then realised the man with the microphone was right next to him brandishing a terrible blade. He once more dove and avoided a cleaving blow from the weapon.

"Control of the Menos Grande my dear boy! He who has the flower and soothes us all will be the King of the neverending Brawl" yet more speaking into that infernal mic. Iko grew tired of these games and the endless fighting, who cared about the flower? If he could just speak to the people to make them stop fighting for the damn flower, then that'd make things so much easier.

"Well then, fight me!" Iko shouted, causing the man to respond with laughter as he ran at Iko with his sword swinging. Iko stepped to the side and stuck out his foot letting the man trip and fall onto the spikes he'd been standing in front of all along. Retrieving the microphone he kicked the now dead corpse of the man and began speaking into the microphone.

"All of you, stop fighting, there is no need. We'll set up an organised search and find this flower and with it we will work out how to get out of this never-ending bar" he stopped speaking and the inhabitants of the world stopped fighting and turned to Iko, looking at him. Slowly they all began to kneel one by one causing a confused Iko to look at a now shimmering microphone.

The microphone warped into a flower and with that Iko began remembering why he was here. He was a Hollow, a Gillian Menos, one among thousands and he'd been asleep whilst the rest of them fought over a flower to show leadership. But, with the memories came the hunger, the terrible hunger gnawing at his insides. He ate the flower which completed his evolution.

"Mischief, managed"

To Be A Predator

Awakening in the sands of Hueco Mundo was as refreshing as it sounded to somebody who had no logical thoughts of Hueco Mundo prior to their transformation into a Hollow. Right up to this moment Iko's existence had been chaos, but now, despite the dull murmur of voices in his head that he could silence with a thought; he was his own man. His eyes blinking he looked at the eternal night of the Hueco Mundo sky.

Standing now, he grabbed a fist full of sand in his gauntlet-like hands and let the grains run through his fingers. Extending and contracting his fingers he knew he'd retained some of his former powers from his time as a Hollow. He then began tracing his mask with his hands, a smooth surface which was divided into two portions by the smiling terrifying mouth that was his own.

Opening it and closing it without swallowing something was a new experience. The hunger that controlled his every need as a lesser Hollow was dulled and now he was hungry, sure, but that did not define him. Something else defined him however as the two tiny black pupils that watched from the deep recesses of his mask spied an Arrancar approaching.

The Arrancar drew his sword "Yo, Adjuchas, what're you doing out here? Don'tcha know the desert belongs to the Arrancar and the forest, the Hollow?" Iko however wasn't listening. Instead he was searching deep within himself to discover what the new feeling was that accompanied his hunger. He could feel it, but how to describe it? A budding sensation? An integral part of his being he could just about reach. . .

"-YO! Adjuchas are you even listening?! This is Arrancar turf man, if you are walking around here you're gonna get killed" the Arrancar was loud and annoying. If he'd realised sooner that he was dealing with a newborn Adjuchas maybe he'd have realised how savage they could be, maybe he'd have ran and waited until the Hollow's raging hormones had dampened a bit.

Iko's eyes which had been sweeping the horizon since the Adjuchas had arrived, swept back onto him. "My name is Iko". The Arrancar's jaw dropped, not out of astonishment but rather because his words had gone completely unheeded. "Yeah, yeah, Iko, I don't care. Just go back to the forest with your other Adjuchas buddies and leave us Arrancar alone".

"Iko is my name" the fledgling Adjuchas began walking towards the Arrancar, the toothy grin of the Hollow growing wider and wider. "Iko is who I am" one by one, the surface of his smooth black skin rippled and flower buds grew out of the creatures pores covering his hands. The Arrancar dropped his Zanpakuto and began taking a step backwards, never before had he met a Hollow that so blatantly disregarded anything he said and then started approaching him, not to mention the freaky skin trick.

"Iko will kill you now" he whispered softly. As the buds began opening, each revealing a bloodshot purple pupil staring at the Arrancar. With a burst of static, causing the Arrancar to trip and fall only to find it's face caught in the grip of Iko's. He stared into the purple eyes and the purple eyes stared back, then his skull exploded in indigo light.

Iko let the headless corpse of the Arrancar fall to ground before sitting and watching his flowers bloom from it. He waited a moment before opening his mouth as the entire body burst into petals and were sucked into his maw.

Standing Iko looked towards the white castle in the far distance.

Iko said softly. "I want to play" and with the flowers retracting into his fists. He now knew what was accompanying the hunger, it was temptation.

Then, static.


Roleplay Sample:

Destroying the stability of the sand dunes of Hueco Mundo was amusing as one by one they fell to the immense speed of his Sonido. The clouds of sand seeking to obscure his vision were flicked away by the currents of air that greeted him like friends as he embraced the air pressure against the body that was his and his alone - in part. At his core he was still a menos class Hollow, at his core he was still one dominant soul above many and he savoured that. Never before had movement felt so easy, never before had the world literally crumbled at his footsteps, this was the pinnacle example of what it was to be an Adjuchas Hollow, to be primally free.

He easily snatched up lesser Hollow that lived like parasites on the desert surface and began toying with them as he neared the white castle that he felt his aspect pulling him towards. His mere spiritual pressure alone drove them mad, twisting and squirming they'd try with no avail to escape his grasp and then he'd crush them in his hand absorbing their spiritual energy. It was a trick he'd quickly learnt in the few seconds following his evolution, like gonzui any Hollow could absorb "departed" spiritual energy assuming the target was in close proximity and of course, dead.

The exhilaration he felt from travelling distances with his new body was beyond compare. Ah, he could feel emotion for once, that was what this feeling was "joy" not just hunger and temptation, he felt this "joy" at being his own person. Despite being primarily a beast, now that he was dominant and sufficiently in control of what he was, he could feel emotion. "Hello joy" he whispered greeting it like a friend "Iko is my name", yes this joy and he would get to know each other very well. The concept was mind-bogglingly grand to the Adjuchas before this joy would've accompanied hunger, he would been happy because he was eating, now he was happy because he could be himself.

At last he stopped himself, staring up at the white castle. What was it's name? He knew he knew, he could feel it in the back of his mind now bubbling, it was all those lesser spirits that comprised his mind. What were they saying? "Las Noches" he looked up whispering the words. "Hello Las Noches, I am Iko" he murmured greeting the inanimate structure. Yes, he was Iko and that was quite a pleasant experience for him.

"Entering. . . How does Iko gets in?" the Hollow stood musing to itself. How indeed? From this angle it just seemed like a smooth white wall with no entrances whatsoever. It tilted it's head "Punches it?" Iko charged the wall and delivered a firm strike with his plated fist on the surface of the wall resulting in a satisfying crack. However, there was no opening to enter, the Hollow's prominent smile turned upside down. "Kicks it?" he spun his leg in a circle over his head and delivered a firm kick to the crack, once more there was a satisfying "thunk!" but no more than a few more cracks.

"Oohoo, Iko knows! Shoots it!" clicking his fingers a small purple orb appeared on the tip and grew larger and larger before with a pillar of energy in tow, striking the wall and opening a gigantic hole in it. He began to step inside and looking around spotted an Arrancar drawing his sword and walking towards him "I'm Iko" the Adjuchas said smiling a toothy grin. "You're dead" the Arrancar replied swinging his sword at Iko who caught it with a confused look on his face. "No, you are?" and he snapped the Arrancar's wrist and finished by crushing his neck.


OOC ___
Player Alias: Tits
Desired Starting GP: 2000 + Probably. Idk.
Were you referred by anyone?: Nope.
Other Characters: Inactive or deceased.