Post by Mirabelle Bonnet on Feb 10, 2015 16:57:29 GMT -5
Old App
S H I N I G A M I
The Soul Reaper
On The Surface
Name: Mirabelle Bonnet
Name Translation: Mirabelle; wonderful/beautiful Bonnet; Good
Age: 244 (Appears to be in her early thirties)
Gender: Female
Height & Weight: Mirabelle stands at 5'9" tall and weighs 180 lbs
Hair & Eyes: Mirabelle has firey red hair that trails down to her rear, and intense forest green eyes
Division: First
Theme: Link
Battle Theme: Link
Voice Sample: "What is your purpose, Sam?"

Physical Description: Mirabelle is very ladylike, she keeps herself looking poised and proper at all possible times. Her excessive length of hair is kept in a single ponytail, tied in place with a black silk cloth. She wears the typical shinigami robes, with little variation. The single difference being that she removed the sleeves to allow for less restriced arm movement. She keeps a small pouch attatched at her hip that holds a small notepad and an assortment of pens and pencils.

Mirabelle has a wide genuine smile, and has a literal melodious laugh. While her eyes are a dark emerald green, they are bright with a dancing light and always observant. Small tendrils of hair occasionally fall from the ponytail and find their way into her face, and she has been known to tuck them behind her ear in favor of redoing the entire ponytail.

If she ever catches someone engaging in lewd behavior, her fair skin doesn't do much to hide the blush that will inevitabley creep it's way up her neck and spread across her face. While she hates the fact that she blushes so easily, she takes mild solice in the fact that it hides the freckles that spot her cheeks and nose.

Those who spend a fair amount of time with Mirabelle may begin to note that she has a subtle scent of candies and sugar that surrounds her. When she becomes agitated, they could also detect that this changes to an acrid scent of char and phosphorus.

Mirabelle walks calmly and never seems to be in a hurry. She sits with her back straight, and perfect posture. While she's still working on it, Mirabelle is capable of "speaking" through radios and other objects that use radio frequencies by influencing them with her reiatsu. At the moment, she's capable of dialing in and out of channels and stations to form sentances, though she has to be able to touch the device. This being said, she's capable of pulling channels and frequencies to "speak" whatever the dominant language of the area is.

Dominant Hand: Right

Noticeable Differences: Mirabelle has a set of six lines that appear to be tattoo'd into her skin running the entire length of her left arm, starting at the end of her wrist and ending at her shoulder's socket. Having no memory of attaining these marks, Mirabelle simply believes she woke up with them once in the Soul Society. She also has a faint scar going across the front of her neck, all that remains of the knife slash that ended her mortal life. While this is not a visual difference, it should be noted that Mirabelle is mute in the sense that she can not form words, with the exception of her release phrases. with her vocal chords. Rather, she is only capable of producing music notes. She's capable of producing any note from any instrument that falls under either the string or wind category of music.
Behind The Eyes




Positive Traits
Polite "Excuse me, Miss..."

Mirabelle believes that one must always be respectful to others, unless given reason not to. So, she is always polite and courteous to others preferring to call them Ma'am, Mister, Sir, ect, over their given name. This is a remnant of her training to "Be a Proper Lady".
Protective "Keep warm!"

Mirabelle is very protective of those she cares for. Often, she's described as being Maternal and occasionally overbearing. Though, most know she only means the best for them. This does and has extended into combat, as she will try her best to protect those who ally themselves with her.
Caring "I know how you feel."

While she doesn't remember her mortal life, and the struggles of coming up in a less than wealthy household, there's something at the back of her mind that urges her to do things for people. She wants everyone to succeed, and if they can't she at the very least wants the best for them. Mirabelle does her best to care for people in a manor that isn't self sacrificing, though sometimes she fails and sacrifices her well being for that of others.
Patient "I have time, don't worry."

Mirabelle is never one to rush things. She knows very well that some things take time, and are better left than to rush through them. Respect is important to her, so she is patient with anyone, be it a child or a captain she will show the same level of patience.
Cautious "Is it worth the risk...?"

It's very rare that Mirabelle does anything without weighing the outcomes in her mind first. Typically, she will run through scenarios and determine the best course of action given the situation.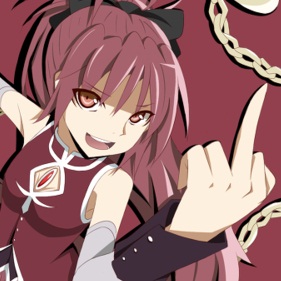 Negative Traits
Rigid "No, this is the only way."

Mirabelle doesn't like to cut corners. While she may follow orders well, if anyone strays outside of them she will refuse to follow along. She believes that things are done a certain way because that's the way it works best.
Distant "Is that all?"

While Mirabelle cares for people and is a generally nice person, she isn't very open. For the most part, she keeps what she feels to herself. She believes that to divulge her feelings is to be a burden on other people, and that she should be able to handle herself.
Worried "But...the risks don't warrant this....."

While caution is good, Mirabelle tends to go overboard. She costs herself precious time debating on what she should do. In combat, this has proven to be a massive hinderance.
Reserved "C-Cover yourself, ma'am!"

She can't stand the way some women walk around with their breasts almost exposed, or men walking around shirtless. She's quick to avert her eyes and steer conversation in "safe" directions.
Vengeful "I trusted you, once. My mistake."

Mirabelle does not tolerate liars, while she doesn't remember the deception that ended her life, it is embeded in her to be unforgiving to those who have wronged her. People that invoke this fury in her are shown no mercy, and she is known to be ruthless to them.
Likes:
- Sour: When upset, Mirabelle is often found seeking something sour rather than the typical sweet item.
- Casual Conversation: Mirabelle finds a kind of joy to exchange pleasantries with others, as it often allows her to find things out about the person.
- Books: While she does enjoy being around others, Mirabelle does tend to take time for herself. When she does, it's often in a quiet room with her nose buried in a book.
- Learning: There's no such thing as too much information for her, she has a desire to know anything and everything she possibly can. She feels that the more knowledge she has the better suited she is, in the event she finds herself in battle with a stronger enemy.
Strength Of The World
Zanpakutō Spirit: Theme Simply put, her spirit manifests as a standing shadow. It seems to sway and bend, though in reality it is flickering. The times it is most solid are when La Belle Dame sans Merci (the beautiful lady without mercy), Beldame (hag or witch) for short, sits in council with Mirabelle. It seems to toy with Mirabelle for a time before selecting a spot for them to converse, walking between the booths of the circus and reappearing wherever she happens to not be looking. Occasionally, the spirit has been known to carry a doll, which at one point was likely a pize to be won at one of the numerous games. While some may find her to be an uncooperative spirit, Mirabelle knows this to be untrue. Her spirit cares deeply for her master and would do anything to save her.

The two seem to share a telepathic bond, as Beldam doesn't seem to speak and Mirabelle can't speak in words. Their sort of council consists of Mirabelle and Beldam staring at one another. In the event Mirabelle can't find her Zanpakuto spirit, she follows the trail of glowing lights that float about the grounds.

Inner World: Theme A circus, ragged and run down worn by time. What were once bright cheery colors, are faded and dreary. The faint moving lights that flit around the circus grounds are what help Mirabelle find her Zanpakuto spirit. When she reaches to touch one, she's presented with a myriad of sounds. Laughter, and faint echoes of the wonders the circus once held, accompanied by a series of music notes which all grow louder the closer she gets. The surrounding forest doesn't fare much better, the trees are thick and shade whatever may lie beyond them. While Mirabelle may never know what lies in the forest, that doesn't mean there's nothing there. Graves, haphazardly dug litter and pockmark the ground. Limbs, rotting and maggot ridden can be seen sticking up from some of the less put together ones.

There seems to be a single path that leads out from the circus camp, but when one ventures down it you would find yourself walking right up to the circus once again. A plethora of games and attractions still stand, and at the center is the big top, which Mirabelle has been warned against entering.

Sealed Zanpakutō: Beldame takes the form of a Grenadier a Cheval de la Garde Sword. Though, the blade and sheath are completely black, and relatively reflective. Should a bright enough light pass over the blade, a rainbow would appear inside. The hand guard is comprised of several lines that circle around the handle to completely guard the hand, similar to The sheath is a bit peculiar, as it is covered in metal wire that has been tightly wound around and secured so that it can't be removed.

Release Phrase: (Les Attire, Beldame) Entice them, Beldame!
Shikai Appearance: The blade of the sword extends, and hollows itself out to form something akin to a violin bow. The lines that run the length of her left arm raise up, and act as strings, while a plate of metal forms on the other side of her arm in the shape of an over-sized violin body. Surrounding her, ten feet in any direction, is a ring of fire.

Shikai Power: Mirabelle can manipulate shadows while she plays the strings on her arm. The shadows simply raise up, and move according to how quickly she saws at the chords on her arm. Their actions, however, are dictated by the notes Mirabelle "speaks". For example, should she wish for a shadow to strike versus restrain she would produce any note played by a piano. Various other things may be accomplished by Mirabelle using other notes from other instruments.

In the event that she wishes to manipulate the ring of fire surrounding her, to raise it to prevent someone passing or to alter it's temperature, Mirabelle must relinquish control of all of her shadow puppets.

Fighting Style:​ Mirabelle prefers to keep the fight away from her, valuing her proficient use of Kido over getting close enough to actually have to use her Zanpakuto.


Legacy Created
To Set the Stage
Year: 1771
Born a bastard child, conceived out of wedlock between two nobles, Mirabelle was hidden from the world. Immediately after her birth on her father, Charles Alexander, gave her to one of his servants to raise as their own. Delighted to be given such an honor, the couple took her in and gave her their last name, Bonnet, to avoid suspicion. On the surface, Mirabelle seemed to grow up happily with a loving mother and an adoring father who only wished to see the best for her.

Behind the Scenes
1776-180
What passersby seemed to notice of her life, was all a lie. Forced to practice "Being a Lady" beginning at the age of five Mirabelle hardly left the house. She was taught to look proper, be her best and to be polite. Mind numbing endless lessons were ground into her skull. The couple always told her that her "real" father would come back for her. That he would come and take her from their home to a life of luxury. Whispers of change, rebellion...revolution...were on the rise. Murmurs of a corrupt monarchy, a time for change, these were topics discussed in dark alleys or behind closed doors. As she entered adolescence, she often caught tail ends of conversations that caused an early fear to seed itself deep in her heart.

A Fall from their Spotlight
1785
Words tore at her, from the only authorities she'd ever known. Mirabelle hid in the corner of their small run down kitchen, her parents on either side of her. She had only wanted someone to love her, someone to hold her while she wept. He was a neighboring farmer's boy. Only two years older than her, and he had done all of those things, everything she'd ever asked...and in return he'd wanted something so small. While yes, the church might have frowned on it being done outside their union...she had loved him, and she thought he'd loved her too. At the age of fourteen, who was she not to believe? Mirabelle stared out the single window of the kitchen, humming a dull tune to herself.

<del>Heaven </del>Hell on Earth
1788-1790
Fear like she had never known was the only thing that kept her moving. From safe house to safe house under constant watch, she hardly saw the sun anymore. The rebels, those who wished to overthrow the crown and to see death come to all those loyal to it, found out about her. In cold blood, they had killed her faux parents. Somehow, Mirabelle knew they were dead because of her, she'd been warned against spilling her lineage. But, inexplicably, the rebels had found out and now they were after her. She knew she couldn't run forever, and was often told so, but Mirabelle had faith she could outrun them to that life of luxury she was promised so long ago. Filth stained her clothes, grime covered her body, and she smelled like sewage...she had a long way to go before she reached that princess like image she was trained to be.

Unrelenting terror took hold with an icy iron fist, constantly in her mind working its way even into her dreams. Nights wraught with fitfull sleep, and days spent looking over her shoulder wondering when their next attack would be, hardened her heart to those who hunted her as some...animal. As though she were something they could hold for ransom...once she was free, once she was out of this mess, once she was rescued...they would know no mercy from her.

Tired mechanical heart, beats 'till the song disappears
1791
Mirabelle lay in a pool of her own blood, knowing that the wider the pool spread the closer to death she was. She vaguely recalled the way her parents had berated her for laying with that farmer's boy. The same boy had grown into the man who, now, walked away from her wiping her blood from the blade of his knife.

A faint memory tickled the back of her mind, steamy breaths and the scent of hay. The boy's frame atop her own, keeping the evening chill at bay. Pleasure like nothing else she had known before filled her body and prickled her skin. Then, when it was all over, his body next to hers and murmurs of sweet nothings and meaningless trivia...

She turned her head to the skies, so that was it. She'd told the boy her identity in that pleasure induced haze. Mirabelle closed her eyes...they were so heavy. Finally death had found her, at the age of twenty and at the height of her countries revolution, she could run no longer. She hoped in the next life, she would find that life of luxury she never got the chance to taste.

Her mind wandered, or some would argue it began to slip away, what lay beyond this life? What lay ahead for her country...and what was that strange person in the black garment doing?
Encore
1791
Mirabelle remained staring at the sky long after she had finally died. Rage burned in her chest, fury at how naive she had been. A heavy weight pressed on her chest, growing heavier the longer she lay there. People walked around and through her, no one seeming to acknowledge her presence. An acidic burn flared in her chest, and for the first time, she looked down. Atop her breasts was a heavy metal plate with a chain that was four links long, but as she watched the last one began to erode away.

'So, this is my fate. To lay here and fade to nothingness...' she thought to herself. The pain increased to the point where she cried out in pain, a cry wrought with rage and sorrow. It clawed its way out of her throat leaving her feeling raw and exposed. She pushed herself up into a sitting position, only to be stricken with fear. A beast of massive size was barreling down the alley toward her. Struggling to her feet, Mirabelle tried to run. She got a few mere feet before the beast's hand slammed into her, pushing her into the wall. While this encounter was hardly pleasant, it did bring about a revelation in her. If she was dead, how could she feel pain?

A voice, loud and authoritative, found its way into her thoughts.The beast now had her just above its gaping maw ready to consume her. The voice came again, and the beast dropped her. Instead it spun around and charged at another black robed figure. This one, through her blurred vision, seemed to be a female. Soon enough, it seemed the black figure had won the confrontation, as the beast seemed to disintegrate into nothing. Her head swimming with pain, Mirabelle could hardly comprehend what had just occurred. Now, the figure was in front of her. The...woman? Was asking questions, it seemed.

The pain flared in her chest again, the memory of betrayal rising to the surface. Hands flying to her chest, Mirabelle clutched the chain. What sort of curse was this for someone to be settled with? To die, only to awaken again on Earth to watch themselves fade away? The woman's voice came to her again, asking if she'd like to be at peace. With Tears pricking the corners of her eyes Mirabelle nodded, that's all she'd ever wanted. Just before everything faded, her vision cleared and she could clearly see the face of the woman for the first time. Her hair was a few shades darker than Mirabelle's own, and her eyes were a deep dark blue.
Rebirth
1799
Waking in a strange place with no memory of how you got there, and really hardly any memory at all, is a terrifying experience. On top of that, finding out that you can't communicate, well that just kinda wrecks almost any and all chances you have at getting answers. Determined and not too disgruntled by her set backs, Mirabelle made her way through what she later found out was the Rukongai. Eventually, she found herself a home of sorts in an apartment above a small noodle shop. The owner had been perplexed that she had found her way there, given her peculiar way of speaking. Seeing an opportunity, the man had asked her a simple favor; in exchange for a room, she had to sing everyday to the customers of the shop. He was a kind older soul who had taught her to read and write, and had even given her a pad of paper and some pencils so she could communicate.


A Rising Star
1850
People were drawn to the small shop, not because the noodles were any better but rather because Mirabelle's singing was like listening to an orchestra. People couldn't seem to get enough of her voice and the melody it carried. Some called her a siren, others a saint for blessing them with her song. Eventually, enough attention was drawn to the tiny shop that the police of the area, Shinigami, were drawn to it. One such shinigami happened to be the one who walked her dreams, the one she never got to thank. Emotion welled up inside of Mirabelle, and she couldn't help but try and speak. Though from her mouth came a sqwak, from the tiny radio in the kitchen came a loud "THANK YOU". To those with any real sort of reiatsu perception, they would have noticed the large pulse Mirabelle had just emitted.

It seemed one of the shinigami thought Mirabelle something special, the one whom she had remembered. Overjoyed, and eager to speak again with the woman, she rushed to meet her. After a briefly awkward encounter, they sat together over the shop's signature soup. Listening intently, Mirabelle found out about an academy for those who showed promise in becoming a shinigami. While a bit hesitant, she agreed to give it a try.

Back to Basics
1852-1856
Mirabelle found the routine of school soothing. The lessons were easy, and she found she was very skilled in the peculiar magic they called Kido. It seemed that while her way of speaking was far from normal, it was easier for her to command the energies and incantations. The memorization of the material on hollows and the moves with her sword came with ease. It seemed she was a natural fit for the role of a shinigami.

When it came time for graduation, Mirabelle was immediately drawn to the third division. From what she had heard people there excelled in kido, just as she did. Before making any final decisions, she made herself look around at the other divisions as well. The fifth seemed the least appealing, as they relied heavily on physical strength and hardly at all on anything else. While initially, she hadn't considered it, the second division had also caught her eye. Stealth and secrets, being in the loop and having access to almost infinite information sources...it was intriguing, but something about it just didn't quick click for her. Settling on her first decision, and siding with her gut, Mirabelle joined the third division.
Climbing the Ladder
1860-1950
Serving the gotei was no simple task, it required dedication and sacrifice. Long grueling days of patrol, hard decisions on who to leave behind, begrudgingly Miabelle succeeded in all of these tasks. She was immensely reluctant to leave anyone behind, she always sought some way to save everyone but she learned the hard way that sometimes the life of one must be forsaken for the lives of many. She grieved the loss of those whom she couldn't save, and rejoiced in the company of those whom she could. Though at the beginning of her stay in the third division, she was shy and reluctant to speak out Mirabelle grew quickly into a leader. She found that her skills in kido often made her an excellent mentor to the new recruits, even if they did have to wait for her to write out instructions. Opportunities came often to her for advancement, but she let others take them because she knew her indecisiveness would be the downfall to any operation in which she directed.

She found that as she grew, and fought along side her zanpakuto her spirit came to reveal itself to her. It came first in small voices urging her to progress and to expand her horizon, and eventually she found herself sitting in her inner world having lengthy conversations and debates with the spirit. It was evident to her that her spirit, whom she called Beldame, bore her no ill will and only sought to guide her. It was this close bond with her spirit that saved her from near death on what was to be a regular patrol mission. Her instincts told her that there was a powerful arrancar guiding the mob of lesser hollows on their rampage, and if not for Beldame finally releasing her power to Mirabelle in the form of her shikai she would have been long dead.
Guidance
1950-Present
Feeling more than a bit lost, Mirabelle sought council from one of the only two sources she knew to get it. She found Beldame closer to the big top than she had known possible. The spirit had urged her to take the next opportunity for advancement she had, bringing herself up in the world she had been living in would give her a new sense of purpose, something to be driven towards.

That opportunity came in the form of a transfer to the first division. They had found her to be skilled enough, she supposed, to accept her. While she was a bit hesitant, Beldame urged her forward to find new challenges to overcome. Renewed in her drive, Mirabelle accepted the offer. She had no doubt she was a leader, and that she could fulfill the duties her new squad would bestow upon her.


Roleplay Sample:

Mirabelle held her zanpakuto out in front of her, trying to clear her thoughts. The fall air already held a heavy chill as winds rustled the trees of the forest around her, Mirabelle pressed her back closer to the trunk of the sturdy oak tree she used as refuge. That damned new recruit had run off, and she'd been ambushed by a mob of low level hollows. Normally, this wouldn't have been a problem, but they moved as a pack and it seemed as though someone was directing them. Damn it, this was supposed to be such an easy mission, but instead it seemed as though one of those rumored arrancar was in the area. She glanced down at her arm, a gash ran from her shoulder to her elbow, making it look as though she had a seventh line tattoo'd on her arm...she had defended herself well enough, aside from that, not having sustained much more than a few scrapes here and there but her energy was waning. She racked her brain trying to come up with a solution, sensing the hollows closing in again.

"Miss Beldame, please, what do I do?" Mirabelle called in her special tongue to her zanpakuto spirit, an obvious edge to her voice.

"My child, it is time. You already know my name, and I shall give you my strength." The spirit responded, sensing her wielders distress. Relinquishing her control on her powers, freeing them to her master.

Mirabelle felt floodgates in her mind open, and a surge of power tore through her just as the hollows appeared from the underbrush. She never took her eyes off of them, but she moved away from the tree and led them into a clearing. A vicious grin spread across her face. After the numerous hollows advanced on her in the clearing.

She stood, calm, knowing that her zanpakuto spirit had finally given her her ability. For the first time, she pointed her zanpakuto somewhere other than the hollows. Mirabelle grinned as one of the hollows charged at her, thinking she had given up. She drew the blade across the mysterious tattoos that lined her arm, and spoke "Les Attire, Beldame"

A raging fire incinerated the next few hollows advancing on her. She immediately bashed the closest hollow with the metal on her left arm, before impaling it with her now bow-like zanpakuto. The immediate danger gone, Mirabelle began to play. Drawing her zanpakuto across the strings on her arm, Mirabelle began to play a melody only she could hear.

To any onlooker, she would appear a terror. She repeatedly drew her zanpakuto across her arm, and spoke out commands to what appeared to be her shadow puppets. The hollows fell quickly to what were literally their own shadows, having no defense against what they didn't see coming.
OOC ___
Player Alias: Marhsal, Knox, Alice (or some derivative of Mirabelle's name)
Desired Starting GP: I'll attempt for 2000+ (and likely fail)
Where you referred by anyone?: No one
Other Characters: Marshal Corvus
___ S H I N I G A M I ___
The Soul Reaper
__My Body__
Name: Mirabelle Bonnet
Age / Apparent Age: 244 | Early 30's
Gender: Female
Height & Weight: 5'9" 160 lbs
Hair & Eyes: Her hair is a thick fiery red mane that falls just short of her waist. Most often it's held in a lengthy ponytail by a simple black ribbon. Stray hairs have been known to frame her face, greatly complimenting her dazzling green eyes.
Physical Description: Her face has a natural radiance most women would covet, seeing most of her features as fitting the traditional standard of beauty. Her cheekbones come from a lineage of royalty long since fallen in the mortal world, high and angled falling to a beautifully sculpted smile. Her eyes dance with a newfound fervor, a hunger for more than what she is, a zeal for life that invigorates anyone who takes heed to her words.
While her idle expression isn't as happy as it once was, it would also be wrong to say she has a resting bitch face. Most often, she appears to be lost in thought, her bottom lip finding itself just inside her top row of teeth with her eyes drifting up and to the right.
Her skin is a fair shade, falling just short of white, and is only made paler when coupled with the blackness of her uniform. Freckles lightly dust her face and shoulders, gradually fading in intensity the further away from her nose they get. Her left arm bears a set of six fading lines, the only physical mark of the betrayal from her Zanpakuto spirit.
While her physical presence lacks anything domineering, anyone who's sparred with her can attest that she's quite nimble and incredibly flexible thanks to her well toned muscles. Those muscles are often kept covered by her uniform which she can be found wearing everywhere except to bed when she changes into pale blue peignoir.
Spiritual Description: Her soul is a curious one, having spent so long compressed and confined into something it wasn't. Her growth having been stifled from the inside out, her reiatsu reflects this. Orbs of varying colors surround Mirabelle, drifting lazily about her as she moves but never drifting too far away. The ones who lag behind are suddenly tugged forward, much like a ball on a string. The orbs themselves are surprisingly sturdy and give resistance to that which presses on them, though they can be popped if the right kind of pressure is applied. After even one is popped the rest follow suit and they all spill their colors into the world, eventually the colors all meld into one rainbow sea before fading into a deep red hue.
__My Mind__
Personality: Mirabelle is a person that's trying to find herself. Having the very recent revelation that her spirit hid memories from her, lied to her, and made her into a puppet really made her question who exactly she is. Deep down she knows that she wants to be nothing like who her spirit wants her to be, but that does also come with the fear that she will end up like her spirit. So, she's fighting to be the best person she can be given what she knows lives in her soul.
She is who everyone wishes they could be when it comes to people, she doesn't form opinions of people until she's met them and began to understand who they are as a person. Unless it for some reason interferes with her own plans and goals, she will move heaven and hell alike for those she deems worthy to ensure they meet their goals.
Much as one would expect, she will also ensure those who have scorned her will experience whatever kind of hell she can bring down on them. The only "person" so far to have earned that much anger thus far has been her very own Zanpakuto spirit. Betrayal is an unforgivable sin in her eyes and her spirit has gone above and beyond what she ever could have thought possible. Another good way to get on her bad side is to take something, or pursue something, that she believes is hers. Regardless of whether or not it was hers, it's all about her perception of what she believes to be hers. Unless the person has taken something major, it's not guaranteed to make her hate an individual but it's certainly not going to get her to do any favors for the person either.
As of now her biggest fear is becoming like Beldame. While she recognizes the negative aspects of herself, she strives to ensure they never swallow her and make her into anything like her spirit.
Positive Qualities:
Loyal
Resourceful
Curious
Negative Qualities:
Vindictive
Jealous
Possessive
__The Shared Soul__
The Witch: Beldame is a spirit of vengeance, one who seeks to end any and all who oppose her. And, by extension, anyone who would stand against her wielder. Having had her visage ripped to shreds by Sadako, she's now forced to display her grisly true form.
Befitting the era in which Mirabelle was born, Beldame takes on the physical form of a headmistress of sorts. Rather than the put together and respectable appearance one would expect upon hearing that, she's everything but.
Her charcoal grey hair is piled atop her head in a knotted mess, held up by what appears to be a strip from one of her sleeves. More often than not, rather than a gentle smile and words of encouragement, her face is contorted into a snarl and spewing obscenities at the damned who walk her plane. What visible skin there is, is a ghastly white. As though the body had been drained of blood. Despite this, blood still trickles from the wound in her neck and down the front of her gown.
The Mystery: Sadako seeks nothing but truth. She seeks to be everything for Mirabelle that Beldame is not. So where Beldame is for lies and treachery, Sadako is for truth and understanding. Her form is rather simple, lengthy black hair that reaches past her waist, covering everything but the bits of mask that protrude from its veil. Her main body is covered in a simple white gown, one that would be very sterile looking if it weren't for the blood that soaked it from the waist down. Her secondary body, forged in an attempt to escape Beldame's binding, is that of a child. The body itself is naked and devoid of anything that would identify it as male or female, overall the body itself is lacking in definition beyond its face. It's eyes are deep set into the skull and inherently wide to the point that she, more often than not, seems afraid. The lips are pale, to match every other part of the body, and hide a deceptively wide mouth. Sadako's bodies are connected via an umbilical type cord that connects at the child's naval and disappears beneath her main body's gown. Despite the fact that they are the same entity, the two bodies can on occasion be seen having a discussion. When referring to herself, she alternates between using me/my/our/or the royal "we."
Main Body
Secondary Body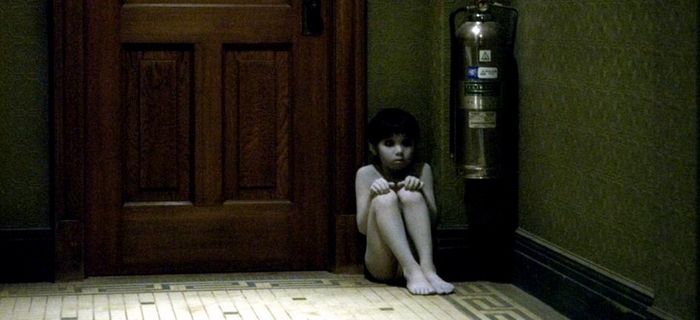 Their World: Her world is not a simple one, as it is ever changing as she comes and goes. Often times, Mirabelle will find that the buildings or landscapes she's only just left are twisted and decrepit as though left to time itself. She finds herself walking the ruins of the buildings most often, as the tombstones are the most sparse there. Outside of the ruins gnarled and petrified trees stretch toward the sky, perhaps pleading to free their roots from the Earth that has become nothing but a dumping ground for the Witch and her disciples. The witch comes only when called, while her disciples walk aimlessly around the plain. Their gaping mouths and bloodied eye sockets making them grotesque disfigured memories of the people whom they once were. Despite lacking any source of light, there is a pale glow like that of a full moon that washes everything in a blueish hue.
Her Body: In no sense of the word is Beldame "traditional." The blade seems simple at first glance, a length of curved black metal that gives off an errie shine. Upon closer inspection, one finds that there is a rainbow of colors flitting just beneath the surface of the blade, despite the fact that no liquid can be seen, heard, or felt when swinging the blade. Her guard is that of a series of intertwining lines, seemingly sporadic and nonsensical yet one can't shake the feeling that it resembles a web. The sheath appears to be made of the same material as the blade, a shimmering rainbow of color just below its outermost surface.
The Curse:
Release Phrase: The true release phrase is "Condemn them, Beldame" however Mirabelle chooses to bastardize this and often will just use the phrase "Release" or, if she's feeling sentimental, "Resolve"
Shikai Appearance: Upon release, the blade makes a loud popping sound and the liquid within it falls from the pommel to her feet. The blade, now crystal clear from tip to pommel, seems to be made of a clearer crystal than it's sheath. Through the course of a battle, the blade will begin to fill with a sickly and vile looking substance that sloshes about inside of the blade, leaving a filmy residue as it recedes or as the blade is swung. Aside from the cosmetic shifts, nothing else about the blade itself changes.
Shikai Power: Beldame is very protective of her wielder and while she, in attitude, has a very strange way of showing this her power is very reflective of this part of her personality. Any act against Mirabelle she considers a sin and all sins, in her mind, must be atoned for. Acts against Mirabelle, in combat, are as one would expect. Any attack that is fired at her, any punch thrown, or blade swung is an irredeemable offense in the spirit's mind that must be punished. For each attack levied at her, the volume of sickly liquid inside of the blade grows. It's volume grows and grows until the blade itself is about to burst. When it reaches this point, Mirabelle must throw the blade or be at risk to suffer the effects of the sins against her. After being thrown, or the blade otherwise bursting, the liquid inside the blade oozes out and becomes like tar. Ideally, the blade is thrown directly at the opponent so as to weigh them down with the effects of their sins so that Mirabelle can enact revenge for what the opponent has done. The substance from her blade releases noxious fumes that become dangerous to breathe the longer they're exposed to open air. While these fumes can linger even after release, any and all 'tar' from her blade vanishes upon sealing her blade.
__My Memories__
Current Division: Third
Previous Divisions: Third and First, in that order.
Snapshots:
April 20, 1771-Born a bastard child to French royalty [Age: Newborn]
April 20, 1771- Given to servants to be raised [Age: 15 minutes]
1776- Forced to practice "Being a Lady" for the day her father returned for her [Age: 5]
1785- Fell in "love" with a local farm boy and slept with him [Age: 14]
July 14, 1789- The French Revolution begins, her family moves [Age: 18]
November, 1789- The Farm boy joins the rebellion [Age: 18]
December, 1789- March, 1790- Her family moves from town to town in an attempt to flee the growing rebellion [Age: 18]
May, 1790- Mirabelle is captured by the rebellion and held for ransom [Age: 19]
June, 1791- Mirabelle escapes her captors and is chased by the rebellion once more [Age: 20]
July- 1791- Caught in a backstreet of an unfamiliar town, Mirabelle is killed by the farm boy [Age: 20]
July, 1791- Hisui konso's Mirabelle [Age: 20]
1799- Mirabelle wakes in the Rukongai and begins to wander [Age: 28]
1780- Hibiki takes Mirabelle in and begins to offer her songs as entertainment at his shop [Age: 29]
1850- Mirabelle encounters Hisui once more at Hibiki's shop [Age: 99]
1851- Begins the Academy [Age: 100]
1856- Graduates the Academy [Age: 104]
1857- Joined the Third [Age: 105]
1950- Transferred to the First for advancement [Age: 199]
2015- Confronted Lethas and lost her arms [Age: 244]
2015- Met Obsession and gained an Inner Hollow [Age: 245]
2016- Transferred back to the Third after the First was dissolved [Age: 245]
2016- Discovered Beldame's treachery [Age: 245]
History:
[April 20, 1771]
Mirabelle was born to a lowly servant, fathered by a French noble. Still squawking and bloodied, she was passed off onto a local peasant by her father. The couple was already paid off, and were of the understanding that they'd have to raise her as their own daughter until the day he returned for her.
[1776]
Her "parents" reveal the plan that her real father had hatched. Her world quickly turned upside down as they began to demand she call them by their first names around the house, as well as forcing her to practice 'proper posture' among other forms of edicate.
[1785]
A local farm boy, Elliott, snared the young girl's budding heartstrings. She fell hard into his sweet nothings, thinking that the fleeting feelings she felt for him were true love. Ultimately, the two wound up sleeping together and sharing secrets.
[1789-1790]
Her parents pick up and move, unnerved by the raising tensions in her "home"town. The small family moves from village to village, often camping out in the countryside between towns.
[May, 1790]
Mirabelle's family is cornered by the rebel force. As she was dragged from the building her family was just coming to call home, she caught a glimpse of Elliott amongst the milling rebels and the cold wash of realization began to come over her.
[June, 1791]
Exploiting a flaw in the caravan's security, Mirabelle escapes her captors. The ransom they'd been holding her for didn't seem to be coming, and she feared an end was near.
[July, 1791]
Making it only a measly month, she finds herself tracked down to a backwater country town by the rebel group she'd been avoiding. Elliott is the one to find her, and rather than taking her hostage once more he confesses to her what he'd done before killing her in cold blood.
[July, 1791]
Waking to find herself as a Plus, Mirabelle begins to wander the small town. Not knowing where she is, or what's going on around her, she quickly runs into a hollowbreed. The beast isn't terribly powerful, but without a weapon or powers of her own it's more than a match for the freshly woken plus. Before she can be eaten and added to the amalgamation of the hollow's gut, it's purified by a patrolling shinigami. The woman assures Mirabelle that all is well and she'd going to a better place before konso-ing her.
[1779]
After being reborn into the Ruklongai, Mirabelle had a rather uneventful few months as she adjusted to what was her new life. She moved rather freely from district to district, mostly doting between the two she'd first appeared in, before Hibiki found her. Her hair caught his attention as she rummaged through the garbage behind his restaurant, finding that she had no means of speaking and was essentially a child, he took a sort of pity on her. He took the time to teach her how to read and write, and even offered her a room above the shop. Of course, this wasn't without its benefits to him. He offered these things only should she perform daily in the shop for his customers.
[~1780-1850]
Their bond grew over the years, he coming to look on her as a daughter much as she looked at him as a father. He'd far exceeded the burden of compassion that would have befallen a mere concerned citizen, while she'd come to pass the sort of begrudging acceptance she'd first felt at his 'kindness' and come around to truly appreciate everything he'd done for her.


[1850]
After finding the Shinigami who'd performed the purifying ritual on her, Mirabelle came to Hibiki with a heavy heart. She was now torn between pursuing the career of a shinigami and living the life she'd come into. His centuries in the afterlife came in handy when consoling her, offering that he knew she wasn't abandoning him should she choose to leave, proving that in this life he was the father she should have had in her first.


[1851-1856]
The academy, while challenging in its own right, was soothing for her soul. She'd found rest in the repetition of the class schedules. A sense of belonging was a fitting description for how she felt amongst her peers, something that was almost like the familial bond she'd shared with Hibiki but also inherently of a different nature. It was hard for her to put a finger on it, but she relished in the fact that she felt so at home.
[1857-1950]
While the Third division was most certainly best fitting of the divisions, it lacked that sense of belonging she'd felt in the academy. The sense of uneasiness stayed with her for the first few months of her stay, before she made a more stable relationship with her Zanpakuto spirit.
As the months grew into years of her serving the division, her relationship with her spirit grew. [1857-1950]The two would spend hours talking together in the curious realm of her Inner World. Mirabelle would frequently find herself lost in the words of her spirit's wisdom, often forcing herself to leave the spirit in favor of her duties outside of herself. The spirit was persistent enough to convince Mirabelle that her best way of moving forward was to accept the invitation into the First division, despite her own reservations about leaving her current 'home.'
[1950]
She quickly found that the duties of the First were not all that different from that which she'd expected, at least not those that she'd been handed. While they had recruited her for her expertise in Hado, it'd be years before she'd be assigned anything that had to do with her talents. Questions as to why her spirit had pushed this on her were met with silence or subtle diversions meant to curve the conversation.
[1950-2015]
It was here that her soul plateaued, neither growing or shrinking in power or depth. She did and did, lived and lived, but without purpose. Slowly, her soul began to wither. Any internal spark of growth or ambition was snuffed out before it could fully form.
Slowly her personality degraded, until she was little more than a malleable puppet. The perfect tool for a Spirit to manipulate and control from the inside.
[2015-2016]
Before all was lost, she finds the budding seeds of romance anchoring her in reality and pulling away the threads of the Spider's web. The web itself was almost set ablaze as a third party was introduced to her soul in the form of Sadako, but she'd quickly been stuffed away before she was able to shed too much light on the goings on of Mirabelle's soul.
[2016]
Sadako makes her first appearance before Mirabelle, destroying Beldame's illusion, as well as the relationship between her Shinigami and Spirit.
__My Creator__
Player Alias: Mira
Do you want a grade?: Yes, my last grade would have been 0 (before the change, I got 1500/300)
Were you referred by anyone?: Nope
Other Characters:
Marshal Corvus