Post by Sol on Jan 8, 2014 1:02:10 GMT -5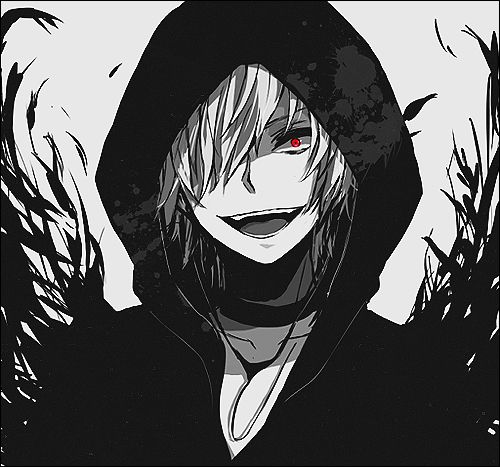 "Oh how the fires cry out for the blood,
the blood of the father, the blood of the son.
A taint has slithered into the pattern,
a corruption that decays and rots.
And what say the children who scream in turmoil,
when the hunger surges and ravages the world. "
---
Statistics
Reiatsu: 150
Stamina: 75
---------------
Strength: 30
Defense: 40
Speed: 30
Spirit: 50
Unspent GP / Total GP: 50 / 1700
Inital GP: 1700
Character Class: Middle
---
Skills
Personal Custom (Eye of the Harbinger): 200
Universal Custom: ---
Custom: ---
Mortal Custom (Demon Eater): 100
Mortal Custom (Psycho Medley): 200
Hohō (Mad Dash): 100
Hakuda: None
Reiatsu Perception: 50
Custom Skill: ---
---
Eye of the Harbinger (Szem a Hírnöke)
Direct Power | Personal Power
"Born to the legacy of a man that was corrupted by the hand of a demon."
There is no need to sugar coat it: Sol is a wanton hate-machine for those of the dead. It is a primal urge that sends the voices in his head roaring to the surface, clamoring and vying to drown out his own thoughts. His right eye takes on a red glow as he nears Hollows or Shinigami, the intensity of his power increasing the longer he is around one. The more there are, the more powerful he becomes and the more he loses all sense of self. His irresistible instinct to destroy them does not differentiate between the two. Both are in dire need of a second death.
Beginner: Agitate
Basic: Scorn
Intermediate: Enmity
Advanced: Loathe
Master: Vehemence
Grandmaster: Abhor
Transcendent: Fury


Perks
----
~~~~~~~~~~~~~~~~~~~~~~~~~~~~~~~~~~~~~~~~~~~~~~~~~~~~~~~~~~~~~~
Demon Eater (Démon Evő)
"Devour the gluttonous and feast on the riders of pale horses."
Sol becomes a ravenous beast as his sanity wanders off and the madness is given free reign. He feeds off the very essence of his opponent to regain his vitality, to heal his wounds. With just a simple bite he can rip free an enemy's strength. But could you ever have just one bite of something delicious? Of course not, don't be difficult.
Beginner: Appetite
Basic: Starved
Intermediate: Hunger
Advanced: Famished
Master: Voracious
Grandmaster: Ravenous
Transcendent: Insatiable

Perks
----
~~~~~~~~~~~~~~~~~~~~~~~~~~~~~~~~~~~~~~~~~~~~~~~~~~~~~~~~~~~~~~
Mad Dash (Hohō)
"Run, run, as fast as you can..."
Like most of his abilities, Sol uses his telekinesis without concious thought. Stimulating the muscles in his legs, causing them to expand and contract rapidly, Sol is able to attain a super-human burst of speed. Perfect for maiming a fleeing opponent...
Beginner: Basic Step | Costs 4 Stamina | +15 Speed
Basic: Basic Step's price is reduced to 2 Stamina.




Perks
----
~~~~~~~~~~~~~~~~~~~~~~~~~~~~~~~~~~~~~~~~~~~~~~~~~~~~~~~~~~~~~~
Psycho Medley (Pszicho Egyveleg)
"Thought lacking consistancy of power unfettered."
A projection of thought given form. A rush of mental power that sets the brain ablaze. However you want to flavor the description, Sol's telekinetic abilities allow him to express his emotions and his will into a physical manifestation. To crush, to push, to repel, a single thought is focused upon and rips into reality to better wreak havoc on his opponents. Use of telekinetic force.
Beginner:
Basic:
Intermediate:
Advanced:
Master:
Grandmaster:
Transcendent:


Perks
----
~~~~~~~~~~~~~~~~~~~~~~~~~~~~~~~~~~~~~~~~~~~~~~~~~~~~~~~~~~~~~~
Reiatsu Perception
"Fancy Words Here"
Reiatsu Perception dictates the level of skill with which your character influences and perceives the ebb and flow of spiritual pressure around them. For each rank a character's Reiatsu Perception skill exceeds their opponent's, they are granted an instance of a +10 boost to either Strength or Spirit when attacking or Defense or Speed when defending. This boost stacks up to a maximum of two instances.
Beginner: Unlocks Sense.

Perks
Sense
6–x Stamina, No Action
Allows the user to locate spiritual entities in their immediate vicinity (Long Range). Can detect base race of entities whose Reiatsu Perception rank is is equal or lower than their own. Cannot sense entities whose Reiatsu Perception is three ranks higher than their own.
Price is lowered by 1 Stamina per rank in Reiatsu Perception above Beginner.
---
Techniques
0/7 --- Starter Pack
*WIP, more or less...